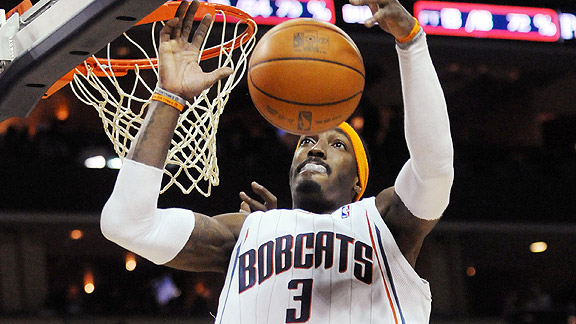 Sam Sharpe-US PRESSWIRE Charlotte Bobcats forward Gerald Wallace's rebounding numbers have skyrocketed this season
1. NBA New Year's Resolutions
By Dave McMenamin
ESPN Los Angeles
LOS ANGELES -- Back in 1999, the Y2K scare kept everybody preoccupied, and coupled with the not-yet-quite-complete proliferation of the Internet age, the general public was spared a parade of "Best of the Decade" lists heading into the new year.
Not so this time. Anybody with half a social (media) conscious will tell you his or her Facebook account, Twitter timeline and RSS feed have been inundated with a constant flow of top-10s ranging from sports to news stories, movies, TV shows and even celebrity deaths over the past couple of weeks.
Here at the Daily Dime, we'll spare you another one of those lists and opt for a more traditional mailed-in story idea on the eve of 2010: NBA New Year's resolutions.
I know New Year's resolutions traditionally are made to be broken, but let's hope these actually come true this year.
That voters for the Most Improved Player award resolve to change the parameters they consider and give the award to Washington's Gilbert Arenas for coming back from three knee surgeries in 17 months to average 22.7 points and 6.9 assists per game, instead of giving it to a second- or third-year player just for averaging more stats because he is getting more minutes.
And that Arenas resolves to think twice about the next thing he brings to the Wizards' locker room for show and tell.
That NBA referees resolve to be more consistent with their calls.
That the Clippers' Blake Griffin resolves to not be satisfied with just returning to the court and strives to win the rookie of the year award, because right now the Kings' Tyreke Evans is running away with the competition.
That voters for the MVP award resolve to get it right and award it to Kobe Bryant to recognize the best player in the game and atone for his fourth-place finish in 2006, still one of the most perplexing MVP outcomes in league history.
That Deron Williams resolves not to stop being his same humble, down-to-earth self when he finally is named as an All-Star for the first time in February.
That NBA arena operations crews resolve to play something other than "I Got a Feeling" by the Black Eyed Peas over the public-address system.
That whoever is assigned to guard Jamal Crawford in the first round of the playoffs this spring resolves to peer into Crawford's eyes to see what satisfaction looks like.
That NBA bloggers resolve to lay off the "black hole" jokes when it comes to Zach Randolph and rather respect him for being one of only two players in the league (along with Chris Bosh) averaging 20 points and 10 rebounds.
That Allen Iverson resolves to be a man of his words and do whatever it takes to win in Philadelphia after failing to do so in Memphis.
That middle-aged media types who cover the league resolve to quit making lame jokes mispronouncing "Twitter" and "tweet" like they were some foreign words.
That those same media members resolve to give Gerald Wallace his fair share of national coverage for being a 6-foot-7 forward who is averaging 12.1 rebounds per game, even if he is doing it in a small market like Charlotte.
That front-office executives for NBA teams resolve to keep their mouths shut in regards to making a coaching change until they actually make the change, to save their employees the public embarrassment of being left to twist in the wind after years of dedication to the franchise.
That the Portland Trail Blazers resolve to research special strength-and-conditioning training methods for their big men so Greg Oden, Joel Przybilla, LaMarcus Aldridge and the rest of the bunch give the Portland fans a team they can cheer for in May and June.
That Oklahoma City Thunder GM Sam Presti resolves to nab a high-priced veteran free agent to push his band of young bucks into contention as soon as possible.
That Houston's Daryl Morey resolves to find Tracy McGrady a home where he'll be given the opportunity to extend his career.
That Kevin Garnett resolves to pace himself and not burn himself out so we can see a Celtics-Lakers rematch in June.
That Doug Collins resolves to not go for the Bulls' coaching job if it opens up because we'll miss him too much in the booth.
And finally, that my fellow Syracuse basketball alums Demetris Nichols, Eric Devendorf, Mookie Watkins and Paul Harris resolve to continue to work as hard as they possibly can to join Carmelo Anthony, Jonny Flynn, Hakim Warrick, Donte Greene, Jason Hart and Etan Thomas in the league and represent the Orange.
Dave McMenamin writes about the Lakers for ESPNLosAngeles.com
Dimes past: Dec. 15 | 16 | 17 | 18-19 | 20 | 21 | 22 | 23 | 25-26 | 27 | 28 | 29 | 29 | 30
2. Rockets and Mavericks A Contrast Of Identity
Matt Moore
TrueHoop Network

Brooks
It's January 1, 2010, and the Houston Rockets are not going away.
You can't blame the continued skepticism for this injury-ravaged, no-name All-Star led squad. This is a star's league, and without nearly $40 million in salary assets between Tracy McGrady and Yao Ming, the Rockets were supposed to probably be a tough win, but a win nonetheless for their competitors, especially in the gauntlet that is the Southwest Division.
But here they are.
With Thursday's win against Dallas, the Rockets improved to 20-13, 2.5 games behind the Mavericks for the division lead. They did so behind Aaron Brooks, whom teams still seem to continue to ignore as a legitimate offensive threat. Brooks scored 30 points including going 6-for-12 from the arc. Carl Landry, who received extensive dental work after the Rockets' last match with the Mavs, added 15, while Dirk Nowitzki, who ended up with those broken Landry teeth in his arm, only managed 11 points.
The game provided a fascinating contrast in identities between the two teams. As in, the Rockets very much know what their identity is, while the Mavericks? Not so much.
In the last 30 days alone, the Mavericks have wins over Denver, Cleveland, and Phoenix. When they're firing on all cylinders, they're capable of beating anyone, and that includes the league-leading Lakers, whom they toppled back in October. At the same time, in their 10 losses they seem to lack any cohesiveness or identity.
Nowitzki has certainly been brilliant, but the squad still seems to be searching for a statement game, if you can have one this soon. They can turn to the three too much (as they did against Houston), fail to execute smoothly, run when they should stall, and stall when they should run. Their roster is so loaded that they're in prime position, but it's an interesting quirk they're still working through.
The Rockets, on the other hand, know exactly who they are and what they do. They bring their hard hats every day, make smart decisions, and on every possession, every quarter, every game, they commit to outworking their opponent. So often you hear coaches talk about consistency, and Rick Adelman gets it out of his crew. From versatile forward Luis Scola down to backup instant offense guard Kyle Lowry, the Rockets thrive on getting their players in position to succeed at what they do, as they did against the Mavs. Throw in a team effort on defense, and the Rockets may not have the muscle to knock you out every night, but they'll make you wish you never stepped in the ring.
With a new year upon us, the contrast between the two teams is fascinating. And while the Mavericks are a shoo-in for a top seed in the West (and a scary draw in their own right provided they're healthy), the Rockets have got to be the team opponents will dread meeting from now through the playoffs. For the Rockets, it's not the flash in the gunfire, it's the steel in the bullet.
To read more, check out Moore's TrueHoop Network blog, Hardwood Paroxysm.
3. Daily Dime Live Recap
ESPN.com writers and TrueHoop Network bloggers chatted with fans and gave their in-game opinions throughout Thursday night's slate of games -- all in Daily Dime Live.
By Maurice Brooks
ESPN.com
THURSDAY'S BEST

Noah

Joakim Noah, Bulls: The rugged big man had 15 points and 21 rebounds as the Bulls earned their first road win since Nov. 14, stopping the Pistons 98-87. It was the third time in four games he grabbed at least 18 boards.

THURSDAY'S WORST

Iverson

Allen Iverson, 76ers: The jersey said Iverson on the back, but who was the guy in the Philly uniform who took only four shots (making just one) in 29 minutes? He finished with seven points in the Sixers' 16-point loss to the Clippers.

QUOTE OF THE NIGHT

"We've been talented for a long time and now we're finding a way to win even when we don't play well."

-- Thunder forward Nick Collison after Oklahoma City won its fifth game in a row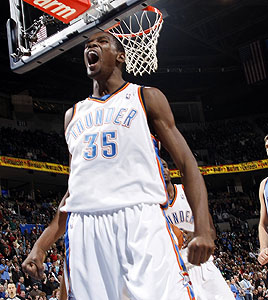 NBAE/Getty Images
Kevin Durant shook loose for 31 points -- tying a franchise record by scoring at least 30 for the sixth straight game -- to lead the Thunder past the Jazz 87-86.
7.

Player Of The Decade: Duncan
By John Hollinger
ESPN.com

Duncan
Today I'm introducing my list of the 10 best players of the decade.
By "best," I mean the ones that did the most to put their teams in position to win games. Championships matter, obviously, but players aren't responsible for selecting their teammates (in most cases), so to me the building blocks of championships are just as important.
And by using these criteria, I should emphasize that it's different from "most famous," "most memorable" or "most entertaining." Allen Iverson, for instance, would easily crack the top five based on those criteria, but fell short of making this top 10. He won one fairly questionable MVP, his fame never matched his impact on the standings and his output faded late in the decade.
Finally, to be clear, we are measuring only what a player did from Jan. 1, 2000, to Dec. 31, 2009. Tim Duncan's championship in 1999, for instance, carries no weight here.
To read more, check out Hollinger's PER Diem by clicking here.
By Chris Broussard
ESPN The Magazine

Jones
Former NBA players continue to find out that the grass is not always greener on the other side of the pond.
Damon Jones, Robert "Tractor'' Traylor and Travis Best are on the verge of leaving their Italian League team, Martos Napoli, because they haven't received their paychecks for the past month, according to several sources with knowledge of the situation.
After returning to the United States for Christmas, the three players have decided not to go back to Italy until they are paid. Representatives for the players are in discussions with Martos Napoli to work up legal documents that will allow the players to leave the squad and become free agents.
To read more, check out Broussard in TrueHoop.
9.

Quite A Decade For Spurs

Parker
The Spurs ended the decade with 574 wins, the most for any NBA team over the past 10 years. Only two teams in NBA history had more wins in any decade. Both did it in the 1980s: the Lakers (584) and Celtics (580).