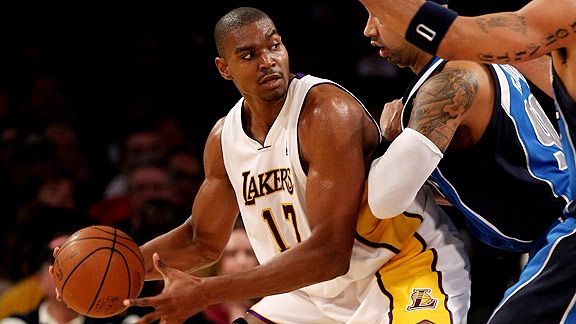 NBAE/Getty Andrew Bynum went 8-for-8 from the floor, scoring 19 points, as the Lakers cruised past the Mavs.
1. Gasol Injured As Lakers Rout Mavericks
LOS ANGELES -- The only doubt left by the Lakers in their 131-96 victory over the Mavericks on Sunday is why the Lakers don't do things like this more often. It seems they have to be forced into this type of performance instead of choosing to do it on their own.
There were a number of situations that compelled the Lakers into a night of 63 percent shooting (led by Andrew Bynum's perfect 8-for-8), a 66-point outburst by the maligned bench, and a defensive effort that held the Mavericks to 38 percent. The Mavericks handed the Lakers their first home loss of the season on Oct. 30, the Sacramento Kings had embarrassed the Lakers' defense with a 64-point first half on Friday, Pau Gasol left with a left hamstring injury in the first quarter, and Kobe Bryant felt the need to pay back some team from Dallas "for what the Cowboys did to my Eagles" earlier in the day.
Both sides knew enough not to read too deeply into this one game, which was the second of a back-to-back for the Mavericks. The biggest ramification might be the extent of Gasol's hamstring injury, which will be examined by an ultrasound test on Monday. Gasol injured his other hamstring in the preseason and missed the first 11 games of the regular season. Gasol felt worn down after trips to the NBA Finals in the previous two seasons, and he time spent with the Spanish national team in the summers. He was extra-cautious with the hamstring, to the point of frustration among the Lakers coaching staff. Once he came back, the Lakers went 19-3 in games in which he played, including his cameo appearance in this one, as he combined with Bynum to give matchup problems galore.
Phil Jackson said Gasol had complained of some tightness in the hamstring before the game, and wasn't able to play through it. Gasol came out after playing seven minutes and didn't return.
"Obviously, it's something that we have to take seriously," Jackson said.
In the meantime, Bynum is taking advantage. The one downside of Gasol seemed to be his adverse affect on Bynum's scoring, which dropped from 18 points per game in November to 11.6 points per game during December, when Gasol played the entire month.
On Sunday night, Gasol went down and Bynum stepped up, scoring 19 points and passing out of double-teams to rack up four assists.
"I'm comfortable with or without [Gasol], it's just I'm more needed without him," Bynum said. "My focus goes up a little bit."
Again, you wonder why the focus isn't at its highest level no matter who's on the court, but for the Lakers, at least they know they have this option if Gasol is out for another extended period.
Bryant said Bynum has to understand "there's a pecking order" and has to find a way to still be effective when he is the third option after Bryant and Gasol. Bynum was upgraded on the priority list Sunday, first when Dallas center Erick Dampier couldn't go because of an injury, then when Gasol went out. So Bynum got to go against the likes of Drew Gooden and Shawn Marion.
"I was getting lower position," Bynum said. "Once that happens, I'm close to the rim -- I feel a little more comfortable out there.
L.A. didn't seem to have any answers defensively for the absence of Ron Artest, who has been out since suffering a concussion on Christmas. The Lakers had allowed more than 100 points in each of the first four games Artest missed, and looked particularly helpless in the Sacramento game Friday night, which Bryant bailed them out of with a 3-pointer at the buzzer.
Against Dallas, "I just thought that we reacted a little bit better to the ball," Jackson said. "We [forced] some turnovers, which is always a big key. We got a couple of blocked shots."
Farmar led L.A. with 24 points (tying a career high) and seven Lakers reached double digits. That group included Sasha Vujacic, who scored a season-high 11.
The Lakers should get deeper and the bench more productive, since Artest will return to practice Monday. He said he no longer feels symptoms of his concussion, such as the world spinning around when he looks to his left, and said his head is no longer swollen.
"So that's cool," Artest said.
Luke Walton is about to return to basketball activity after missing a month and a half with a pinched nerve in his back.
So, in theory, the Lakers can get better. They still have to manifest that potential, though, because for the most part this season has consisted mostly of easily handing lesser teams at home, struggling on the road and losing against the toughest competition. This was a convincing victory over the team with the second-best record in the West and one of only three teams (along with Houston and Cleveland) to beat the Lakers in their 22 home games.
At some point, the Lakers had to stop relying on their status as the defending champions and actually accomplish something this season. Yes, you could say they needed a night like this one.
J.A. Adande is an ESPN.com senior writer and the author of "The Best Los Angeles Sports Arguments." Click here to e-mail J.A.
Dimes past: Dec. 17 | 18-19 | 20 | 21 | 22 | 23 | 25-26 | 27 | 28 | 29 | 30 | 31 | Jan. 1-2
2. Ford Demoted, On Trading Block
Chris Sheridan
ESPN.com

Ford
NEW YORK -- Pacers point guard T.J. Ford is on the trading block, which is and isn't news.
It might be news to those of you hanging onto him in fantasy leagues clinging to the hope that he'll soon get his starting job back from Earl Watson, but it isn't news to anyone in an NBA front office.
Indiana has been trying to trade Ford for "years," an NBA source told ESPN.com on Sunday night as Ford sat out the entire 48 minutes and Indiana was steamrolled 132-89 by the New York Knicks. "Not weeks. Not months. Years," the source said.
Ford, the eighth overall pick of the 2003 draft, was demoted from starter to third-stringer (behind Watson and rookie A.J. Price) prior to Indiana's victory on Saturday over the Minnesota Timberwolves. Ford's pecking-order status has dropped to just above the doghouse level that was occupied by Jamaal Tinsley all last season in Indiana.
It is a far, far fall for a player who started 25 of Indiana's first 30 games this season, a fall that appears will remain permanent barring an injury to Watson or Price. The source cited above said Indiana has practically given up hope of trying to trade Ford, who is making $8.5 million and has a player option worth another $8.5 million for next season. He is so certain to exercise that option, we'll go ahead at this early date and name him to the starting five on the 2010-11 dead money team.
Chances are, it'll be money that will still be on Indiana's cap a year from now, when "expiring contract" will be required to always appear in the same sentence with the words "T.J." and "Ford."
Because unlike two weeks ago when O'Brien switched Ford for Watson as the starter but then changed his mind a few games later (the huge difference in their plus/minus ratio was a major factor), this time the move sounds permanent.
"He responded like the man I know he is," Pacers coach Jim O'Brien said of Ford, who has now lost jobs or been given up on by Milwaukee, Toronto and Indiana over the five-plus seasons since he was named Naismith Player of the Year at Texas in 2003. "He said, 'Coach, I'll do whatever. You've got to make the decision, and I'll do whatever I need to do to make this a better basketball team.' I have the ultimate respect for him, and I really like T.J. a lot, but sometimes you have to make decisions that impact people you like."
Watson played well Saturday but certainly didn't bring much Sunday on the tail end of Indiana's back-to-back, committing three turnovers in the first three minutes of the game and finishing with just a single assist (Price also had only one assist, and center Roy Hibbert led Indiana with seven dimes). The Pacers fell behind by as many as 48 in their 43-point drubbing by the Knicks.
So as much as this move seems to be about Watson's being a more solid performer (not counting Sunday) than Ford has been this season, it's also about seeing what they can get out of the rookie from Connecticut who was a part of the epic six-overtime classic between UConn and Johnny Flynn's Syracuse team at Madison Square Garden two seasons ago.
Price played 22 minutes, shot 5-for-11 (including 0-for-3 on 3s), scored 11 points and committed only one turnover. The biggest move for Ford was removing his headband midway through the game, most of which he spent conversing on the end of the bench with (injured) teammate Troy Murphy.
"T.J is struggling in some areas," O'Brien said. "We're not spacing the court with him, he's only made one 3-pointer [in 28 attempts], and Earl, just in my mind, is the best option at the starting position. My job is to win basketball games now and build young guys, and I can't build a young guy like A.J. Price having him sit on the bench and watch. It's not like we're a .500 basketball team. We have some key guys hurt, Earl is on a one-year contract, and it's a time to see what A.J. can give us because we have to know by the end of the season exactly who A.J. Price is, how solid he is as an NBA guard."
So for the remainder of this season -- unless Indiana can find the taker for Ford they've been seeking for years -- A.J. is going to be a more valuable commodity for Indiana (and for those with Ford on their fantasy rosters) than T.J. will be.
3. Daily Dime Live Recap
ESPN.com writers and TrueHoop Network bloggers chatted with fans and gave their in-game opinions throughout Sunday night's slate of games -- all in Daily Dime Live.
By Maurice Brooks
ESPN.com
SUNDAY'S BEST

Lee

David Lee, Knicks: The Knicks set a season high in points and led by as many as 48 on the way to a 132-89 win over Indiana thanks to his 22-point, 16-rebound effort.

SUNDAY'S WORST

Kidd

Jason Kidd, Mavericks: He had a plus/minus of minus-32, missed all six of his field goal attempts, and didn't score in Dallas' 131-96 road loss to the Lakers.

QUOTE OF THE NIGHT

"for P Vecsey-ur articles r very entertaining and exciting..its like AND 1 basketball..great to watch but just not the real thing."

-- Wizards guard Gilbert Arenas via Twitter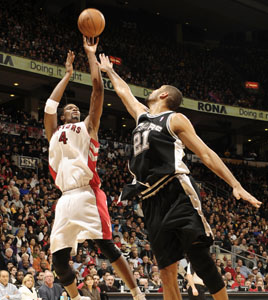 NBAE/Getty Images
Raptors forward Chris Bosh scored 22 points against the Spurs to pass Vince Carter as Toronto's all-time leading scorer. Bosh now has 9,428 points -- eight more than Carter.
7.

What We Learned This Decade

Francis
The same way that Wall Street wizards will have to explain how Pets.com could raise $82.5 million in its initial public offering in 2000, we can only shake our heads as we look back at some of the contracts given out earlier in the decade: $84 million for Zach Randolph, $86 million for Andrei Kirilenko, $80 million for Mike Bibby, $85 million for Steve Francis, $126 million for Jermaine O'Neal, $91 million for Kenyon Martin, $73 million for Erick Dampier.
You could look at Bibby as an example of how drastically things have changed; the contract he signed this summer was for $18 million over three years. Ben Gordon got the biggest deal this past offseason, at $55 million. Some of the reductions are due to a different collective bargaining agreement, but there's also a noted change in philosophy. No longer is being the best player on your team enough to get you a max contract. Owners and general managers will still find ways to overpay players, but as one agent said, the challenge now is to get $4 million for a guy worth $2 million a year, not to get a pretty good player a contract that will load up the trust fund for his unborn grandchildren.
To read the entire Adande column click here.
8.

Cracking Open Tough Juice
By Kyle Weidie
TrueHoop Network

Butler
Prior to practice on New Year's Eve, and before the Gilbert Arenas media-market saturation, Flip Saunders pulled Caron Butler aside for a conversation.
"We had a talk about how he's played and how I thought he could play," Saunders said. "Maybe I've given him too much credit, been soft on him. But I said that's not going to happen anymore."
Saunders wouldn't go into details about his issues with Butler, but on the court, Caron has often looked for his own opportunities instead of trusting the offense and has lacked a full commitment to defense. Butler responded with what Saunders called his best practice since the coach was hired last April.
On Saturday against San Antonio, Caron played the "hardest he's played over a 48-minute game, defensively doing things," according to Saunders. Butler also scored 24 points and had a field goal percentage over .475 for just the seventh time this season. The Wizards lost to the Spurs 97-86, but Butler indicated he was satisfied with the progress, calling it "a process."
Saunders needs Butler to keep his end of the deal on defense and set an example for his teammates. It's a mess in Washington and the Wizards could look drastically different in the coming weeks, but you don't get the feeling this group is quite ready to give up.
To read more, check out Weidie's TrueHoop Network blog, Truth About It.
9.

Sixers Run Past Nuggets

Iverson
The 76ers took the lead with a 16-0 run that started late in the third quarter and held on for a 108-105 victory at Denver. That matched the longest streak of unanswered points by a visiting team against the Nuggets over the past three seasons. The only other Nuggets opponent to score 16 straight points at Denver during that time was the Timberwolves in their 106-100 win on Nov. 29.