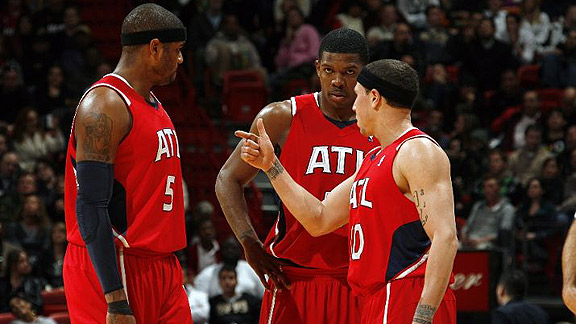 Issac Baldizon/NBAE via Getty ImagesJosh Smith, Joe Johnson, Mike Bibby and the promising Hawks are pointed the wrong way lately.
1. Slumping Hawks Leave No Doubt This Time
By Bret LaGree
TrueHoop Network
The first three losses in the Atlanta Hawks' current four-game losing streak -- a loss at Cleveland sandwiched by home losses to Cleveland and New York -- were marked by fast starts squandered through an inability to score late in games. The Hawks (21-12) built leads of 10, 17 and 15 points, respectively, in those games, averaging 126.9 points per 100 possessions while building those leads over the first two-thirds of the games before giving the leads back by averaging 73.4 points per 100 possessions over the final third of the games (plus overtime in the loss to the Knicks).
The efficient version of the Hawks' offense featured the entirety of the rotation moving with and without the ball, working together in the pursuit of easy shots and taking advantage of transition opportunities. The inefficient, lead-blowing version of the offense featured a willfully slow, exclusively half-court attack predicated on Joe Johnson, in isolation, trying to break down as many defenders as the opposition chose to throw at him before he took a contested shot or found, late in the shot clock, a teammate who was then forced to take a (hurried) jump shot of his own.
In Monday night's 92-75 blowout defeat in Miami, the Hawks passed on building an early lead (their largest was 2-0) in order to put the inefficient version of the offense on display for the entire 48 minutes in all its stagnant, jump-shooting glory. Forty-one of Atlanta's 71 field goal attempts were jump shots. They made just 11 of those as they scored 91.1 points per 100 possessions, 21 percent below their season average entering the game.
If Jamal Crawford had not mitigated his poor shooting from the field (5-of-13 on field goals, 1-of-6 on 3-pointers) by making 12-of-13 free throws, the Hawks wouldn't even have managed those 75 points (on the season, Crawford averages three made free throws per 13 field goal attempts). Joe Johnson, the only other Hawk who reached double figures, needed 15 shots to score 11 points.
Even the typically efficient Al Horford and Josh Smith lingered on the perimeter and combined for just 16 points on 19 field goal attempts and eight free throw attempts.
It was not only execution but also effort that failed the Hawks. Their highly efficient offense has been predicated on decent field goal shooting over a large number of field goal attempts courtesy of not turning the ball over and rebounding their own misses at a high rate. Though they kept the turnovers (nine) to a minimum, they grabbed just seven of 46 possible offensive rebounds, thus attempting eight fewer field goals than Miami in addition to making their attempts far less frequently. At their best, the Hawks also take full advantage of the opportunities for transition offense that their otherwise slightly-above-average defense creates.
Miami didn't allow the Hawks those opportunities, both by taking care of the ball (just 11 Heat turnovers) and attacking the offensive glass (the Heat rebounded 36 percent of their own missed shots). Atlanta tallied just four fast-break points.
Until the Hawks demonstrate the ability to create high-percentage shots through a diverse half-court offensive attack, the game plan for stifling them won't change. That it took more than a quarter of the season for that game plan to become consistently effective speaks to the team's potential.
Bret LaGree writes about the Atlanta Hawks at the TrueHoop Network blog hoopinion.
Dimes past: Dec. 18-19 | 20 | 21 | 22 | 23 | 25-26 | 27 | 28 | 29 | 30 | 31 | Jan. 1-2 | 3
2. Raptors' Recent Success Earns D Grade
By John Hollinger
ESPN.com

It says almost all you need to know about the Toronto Raptors that "O" appears four times in their name while "D" doesn't make a single appearance. For the first five weeks of the season, the Raps embodied that theme to a historic extent. I wrote about their impotent defense in mid-November, and it worsened in the following days.
Yet teams can and will change trajectories during the course of the season, and the Raptors' shifting defensive fortunes have enabled them to make a charge in the Eastern Conference playoff race. Yes, I'm using the Eastern Conference playoff-hopeful definition of "charge" here, as in "briefly compiling more wins than losses and thus gaining several games on the competition." Regardless, the Raps have looked much better lately.
They've won six of seven, and it was easier to dismiss the competition before they knocked off the Spurs on Sunday in Toronto. Moreover, they've held seven straight opponents to fewer than 105 points, something that previously didn't seem possible without extraordinary rule changes. As a result, the Raptors find themselves with a stronghold on the East's No. 6 seed, and they're closing in on Miami for No. 5.
Perhaps these Raps aren't a team to be feared -- they are 17-18, for crying out loud, and have won only five road games. But given the dire state of the East, it appears we'll be seeing this team for at least a week or two in the postseason.
Toronto's quiet journey to quasi-respectability began a month ago in the wake of an embarrassing 146-115 loss to the Hawks. Afterward, several players, most notably Jarrett Jack and Antoine Wright, called out the coaching staff for not holding players accountable for defensive mistakes.
To read the full Hollinger PER Diem, click here.
3. Daily Dime Live Recap
ESPN.com writers and TrueHoop Network bloggers chatted with fans and gave their in-game opinions throughout Monday night's slate of games -- all in Daily Dime Live.
MONDAY'S BEST

Brown

Devin Brown, Hornets: Goes for a career-high 30 points in a 91-87 win at Utah. Brown continued his strong season from the arc (41 percent) by making 5-of-8 3-pointers in the win, the Hornets' third straight.

MONDAY'S WORST

Salmons

John Salmons, Bulls: The guy who dropped 35 points on the C's in the playoff last year manages three points on 1-for-8 shooting in a 98-85 home loss to OKC. The Bulls are 2-8 when Salmons fails to reach double digits in scoring.

QUOTE OF THE NIGHT

"That's the way the season is. There are highs and lows. Right now, this is our low."

-- Hawks center Al Horford, whose team was held to season rock bottoms in points (29.9 below its average) and field goal percentage (35.2).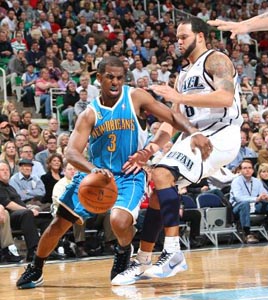 Melissa Majchrzak/NBAE/Getty Images
Chris Paul earned his third win in 14 tries going head-to-head with Deron Williams. Paul's late steal and drive sealed a 91-87 win in Utah.

Durant
• Kevin Durant 's streak of seven consecutive games with at least 30 points ended on Monday night when he was held to 25 in Oklahoma City's win at Chicago. But Durant committed five turnovers in the game and that continued a different pattern. He has turned the ball over at least five times in five consecutive games, tying the longest streak by any NBA player over the past two seasons. Stephen Jackson had five or more turnovers in five straight games in February 2009.
8.

Bigger Loss: KG Or Pau?

Garnett
Chris (LA):
Who's worse off: Boston without
Kevin Garnett
, or LA without
Pau Gasol
?
Chris Sheridan: Good question. My answer is Boston, because KG is the heart and soul and defensive leader of a defensive team. The Lakers lose Gasol (or Andrew Bynum), and they plug in a guy (Lamar Odom) who is a triple-double threat any night he gets starter's minutes.
To read the entire Sheridan chat wrap, click here.