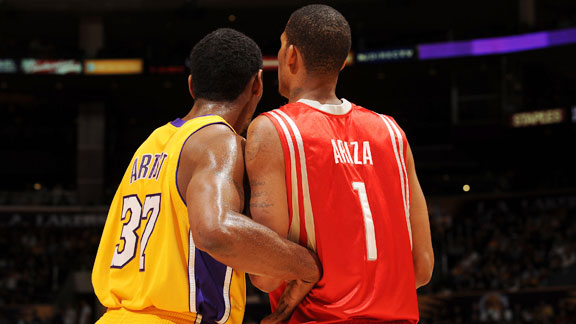 NBAE via Getty Images Ron Artest returned after missing five games, but it was Andrew Bynum who stole the show.
1. Bynum, Lakers Grind Out Victory
By Kevin Arnovitz
ESPN.com
LOS ANGELES -- The Los Angeles Lakers and Houston Rockets each play a beautiful brand of basketball. The Lakers space the floor with their triangle offense, each player moving fluidly and with purpose. The Rockets deploy coach Rick Adelman's read-and-react system, moving the ball from side to side with precision and intelligence in search of high-percentage shots.
Little of that was on display Tuesday night at Staples Center.
The Lakers fought off the Rockets for a sluggish 88-79 victory that featured a combined 37 turnovers, the unspectacular return of Ron Artest and 22 points from Kobe Bryant on 9-for-23 shooting from the floor.
For the Lakers, it was a far cry from their previous win, a 131-96 thumping of Dallas on Sunday night.
"For a team that scored 130 points the other night, it was a struggle to score for us tonight," Lakers coach Phil Jackson said. "The pace was much slower. A lot of things were happening out there where [Houston] stopped our pace and the way we wanted to run it."
So what do you do when an undersized, opposing defense is mucking up your game plan? You throw the ball into the post.
With Pau Gasol nursing a strained left hamstring, that meant feeding Andrew Bynum on the block. Lakers sixth man Lamar Odom, still recovering from flu-like symptoms, moved into the starting lineup alongside Bynum.
Gasol in street clothes is never a good development for the Lakers, but Tuesday night his absence had some positive, if unintended, consequences for both Odom and Bynum. Both have struggled during the season's first 10 weeks. Bynum hasn't recorded at least 10 rebounds since Nov. 17 and many nights has been a nonfactor. And that old trope about Odom being disengaged? It's seemed all too relevant of late, as he's posted numbers well off his career averages.
Tuesday night, the Lakers' front-court tandem responded by punishing a Rockets team that's been tough in the paint on the defensive end even against much bigger opponents. All seven of Odom's field goals came beneath the basket, two of them on offensive putbacks.
"The guy who was unable to practice yesterday and pretty sick was the star of the game," Jackson said of Odom. "With 19 rebounds, he had great energy out there, pursuing the ball and doing all the little things -- nine assists, 17 points. It was a terrific game."
Odom received a bundle of praise for his valiant effort, but when the Lakers needed buckets down the stretch against a scrappy Rockets team, they turned to their 22-year-old center.
"I just got more touches, and I got my touch back around the rim," Bynum said. "Shots started falling for me, and it just got easier from there."
Bynum had a decent-enough first half with eight points, but he finished with 24 -- his highest point total since Nov. 22. He drained 10 of his 16 shots from the floor. That upward trajectory throughout the evening was by design, according to his coach.
"We went in directly to him early in the game, then came back later in counteraction," Jackson said. "So he had an opportunity to gain some space and find the ball in the middle of the lane. That was important to us. I think that's probably the best thing we did in the course of the night." That space down low to which Jackson referred was evident during the fourth quarter, when the Lakers went to Bynum repeatedly. He made a big basket inside the 10-minute mark when he took
Luis Scola
one-on-one with a pretty spin move along the baseline in a four-point game.
A few minutes later, Bynum called for the ball from Jordan Farmar. When he caught the entry pass, Bynum deployed a big drop step against Rockets center David Andersen, then launched a right-handed hook over his left shoulder to extend the Lakers' lead to eight and force a Houston timeout.
Two possessions later, Odom lobbed a pass to Bynum beneath the hoop over the Rockets' transition defense. Did Bynum punctuate the break with a ferocious alley-oop? Nope. He collected the ball carefully, then went up for a putback, drawing a foul in the process.
"He had the paint to himself," Odom said of Bynum. "Especially with me playing high."
That high-low combo gave the Rockets fits all night, as they struggled to push Bynum off his spots and contest his shots.
"He's about 6 inches taller than anybody we have," Adelman said. "He was catching the ball really deep. We could've done a better job keeping him out, but that's the best I've seen him finish against us."
For the Lakers, Adelman's last point might be the most salient. Bynum's performance wasn't necessarily dominating, but it was steady and very effective -- exactly the kind of outing you see from a seasoned center who understands how to find shots for himself in a deliberate game.
Can Bynum build on this effort?
That's the eternal question for the Lakers and their center.
ESPN TrueHoop editor Kevin Arnovitz is a regular contributor to the Daily Dime.
Dimes past: Dec. 20 | 21 | 22 | 23 | 25-26 | 27 | 28 | 29 | 30 | Jan. 1-2 | 3 | 4
2. Grizzlies Rolling Thanks To Randolph

Zach Randolph always has been a numbers guy, but this time the most impressive number of all is a mere digit: 7.
From 2003-04 through 2008-09, Randolph had three seasons in which he averaged 20 points and 10 rebounds. The only player with more in that span was Kevin Garnett at four. The biggest difference between those two: Garnett's 20-and-10 seasons also included a Most Valuable Player award and a trip to the Western Conference finals in 2004.
Randolph had as many teams as he did playoff game victories during that stretch: three. For all of his voluminous numbers, they didn't correlate with victories. That's why three general managers thought they could improve their teams by trading him. This past summer, the Clippers became the fourth when they sent him to Memphis.
As a coach once described Randolph: "He can get you 20 and 10 ... and get you fired. In the same game."
It's a new Randolph. This season he actually got Lionel Hollins the Western Conference Coach of the Month award for December.
It's not that he decided to sacrifice his numbers. They're bigger than ever, as he's averaged 27 points and 16 rebounds in his past eight games. Most significant of all is the Grizzlies are 7-1 in that stretch, including a 109-105 victory over Portland on Tuesday that gave Memphis a 17-16 record. He posted 27 points and 14 rebounds in the win.
Hollins was genuinely excited to acquire Randolph during the summer, having worked with him at Denver Nuggets assistant Tim Grgurich's summer camp in the past and believed in Randolph's ability. Now he has Randolph believing in the greater good of the team.
"He's still going to get shots and numbers," Hollins said. "It's about five-man basketball. You can't win by yourself."
Of course, Randolph's blend of stats and victories could be part of another number: 28 years old.
"They got him at the perfect time," the same coach who made the earlier wisecrack said Tuesday.
One more thing: Randolph is even averaging 2.3 assists in his past eight games, which surpasses the best season average of his career. For Randolph, it's more of everything.
J.A. Adande is an ESPN.com senior writer and the author of "The Best Los Angeles Sports Arguments." Click here to e-mail J.A.
3. Daily Dime Live Recap
ESPN.com writers and TrueHoop Network bloggers chatted with fans and gave their in-game opinions throughout Tuesday night's slate of games -- all in Daily Dime Live.
By Maurice Brooks
ESPN.com
TUESDAY'S BEST

Randolph

Zach Randolph, Grizzlies: The "Zach Randolph deserves to be an All-Star" tour continued in Portland, where the forward posted 27 points and 14 rebounds to lead Memphis to its fourth straight win.

TUESDAY'S WORST

Carter

Vince Carter, Magic: Orlando's leading scorer made just 2 of his 15 shots from the field, scoring six points in the Magic's 97-90 loss to the Pacers.

QUOTE OF THE NIGHT

"I didn't think they were going to call it, but I saw the ref with his hand up, and I am thankful that he did call it."

-- Nuggets guard J.R. Smith, who drew a foul and hit the winning free throws with four-tenths of a second left against the Warriors.
5.

Hibbert's Career Night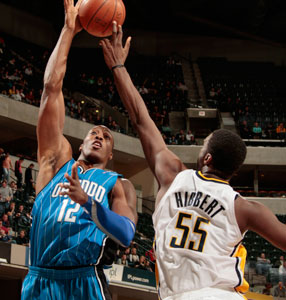 NBAE/Getty Images
Roy Hibbert dominated his battle against Dwight Howard, scoring a career-high 26 points, grabbing 8 rebounds and blocking 4 shots as the Pacers stopped the Magic.
7.

Dalembert Sees 20-20 In Defeat

Dalembert
• Samuel Dalembert recorded 20 points and 20 rebounds and did not commit a turnover in the 76ers' loss to the Wizards. Dalembert is the first player in a 76ers uniform to register at least 20 points and 20 rebounds in a game without turning the ball over since the NBA began tracking individual turnovers in 1977. Only one player in the league has done that in the past three seasons: Antonio McDyess (21 points, 22 rebounds and no turnovers on March 11, 2009).
By Rob Mahoney
TrueHoop Network

Terry
Jason Terry is, in many ways, a counterintuitive player. After years as a starter, Terry posted his most impressive statistical season coming off the bench. He's a shockingly efficient scorer, and yet the long 2-point jumper (the least efficient shot in basketball) is his calling card. He's a combo guard but has dodged the stigma associated with undersized shooting guards and found acceptance in the mainstream.
So it's not at all surprising that a player who makes a habit of turning convention on its head has done the same with a familiar idiom; when it comes to Terry, what goes down must come up.
It was only a matter of time before Terry's slump ended. Although JET had put up some impressive scoring totals in recent games (20 in a loss to Houston and 23 in a win against Memphis), Tuesday's victory over Detroit was a grand declaration of his return. For the first time in weeks, Terry's game was in full effect, as he scored 26 points on just 19 shots and threw in five assists for good measure. He found his way to the basket for easy points, refused to force the issue despite having the hot hand (as evidenced by his zero turnovers) and executed pull-up jumpers so beautifully that they should be on display at the Smithsonian.
His timing couldn't have been better, as the Mavs' miserable offensive display in the first quarter put them into an eight-point hole against the Pistons. JET championed the Mavericks' second-half comeback with his unselfish and effective play that epitomized Dallas' inspired offense.
If the Mavs want to be considered among the league's truly elite teams, they need Terry to continue to do the improbable: remain efficient while feasting on midrange jumpers, operate completely within the flow of the offense and prove once and for all that there's a legitimate place in this league for shoot-first guards of diminutive stature.
To read more, check out Rob Mahoney's TrueHoop Network blog, The Two Man Game.
9.

Nets Play To Competition
By Sebastian Pruiti
TrueHoop Network

Lopez
After a solid performance against the Cleveland Cavaliers on Saturday, many were going into Tuesday's game against the Milwaukee Bucks expecting a close game, if not a win. Instead, the Nets laid an egg and ended up losing 98-76, and it wasn't even that close.
This has been a trend for the Nets all season. Whenever one of the top teams plays New Jersey, the Nets seem to hang for a half or longer, but when they play lesser teams, it usually ends in an embarrassing loss.
There are two possible explanations for this trend. The first is that the better teams in the league take the night off when they come into New Jersey. I just can't buy that, though. Yes, maybe for the first quarter or half, teams play down to the Nets, but any time these teams give them a shot, the Nets seem to respond, as seen in the most recent Cavaliers and Rockets games.
So what is it then? Well, the Nets' core is still very young. Brook Lopez, Chris Douglas-Roberts and Courtney Lee are all in their second seasons. Yi Jianlian is in his third season, and this is Devin Harris' first season as the Nets' de-facto leader.
The positives that come from a close loss or win probably get in the Nets' heads, so they go into their next game thinking they should win and then get thumped. If the Nets go out there thinking it will be a cakewalk, they already have lost.
To read more, check out Sebastian Pruiti's TrueHoop Network blog, NetsAreScorching.