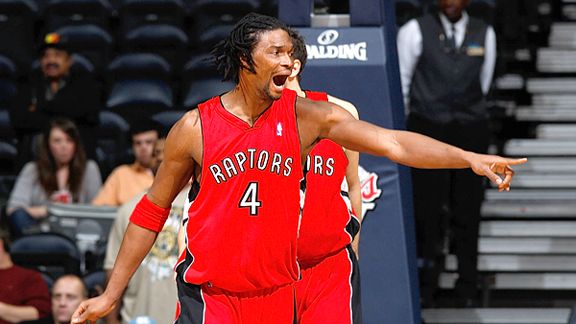 Kevin C. Cox/Getty ImagesBefore this summer arrives, will Chris Bosh be pointed in the direction of the Rockets?
1. Houston, We Have A Target
BOISE, Idaho -- Here are the best (and last) dribbles of chatter from the NBA grapevine as collected from various executives, scouts and insiders who gathered to watch 16 teams play two games each in a four-day span at the annual D-League Showcase:
Some 40 days from the league's annual trading deadline, no one in Boise could say with any certainty that the Toronto Raptors are going to be willing to move Chris Bosh ahead of the Feb. 18 trade buzzer.
No one has a firm read on Toronto's intentions yet.
What we did hear, though, is that the Houston Rockets have made it known that they would be willing to trade for Bosh immediately … even if they don't get a guarantee they can re-sign him this summer.
That's the problem with any sort of Bosh deal at midseason. Even if the Raps do decide they want to make Bosh available now and avoid the threat of losing him without compensation in free agency after July 1, there's an overwhelming majority of teams that wouldn't dare consider trading for Bosh in February without some sort of assurance they could keep him.
But Houston is different.
Sources say the ever-aggressive Rockets are sure a half-season in Houston could convince the native Texan to pledge his long-term future to a city players love as well as a team that sits four games over .500 without the injured Yao Ming and the exiled Tracy McGrady.
This season's success without marquee names also suggests that the Rockets have the requisite stash of assets -- depending on whom they're willing to surrender from a group that includes Aaron Brooks, Carl Landry, Trevor Ariza and Luis Scola -- to assemble a legit deal for Toronto to consider. It's likewise believed that Houston can put a decent package together without insisting that McGrady's mammoth $22.5 million salary has to be part of it, which complicates matters even though it's an expiring deal because so many more players have to be included to make the trade math work.
You figure Chicago, Miami and New York also are on the short list of teams that would be willing to risk trading for Bosh before we get to the summer. Those are the teams thought to have the best shot at signing him in free agency and could inherit Bosh's Larry Bird rights with a deal before the deadline. None of them, though, can offer a better talent deal than Houston. The Heat and Knicks -- with their heavily stripped-down rosters as the countdown continues to July 1 -- can't come close.
The Raps recently have inched back to .500, just got point guard Jose Calderon back from a hip injury and still expect bruising forward Reggie Evans to start playing in the second half of the season after recovering from a foot problem to provide some needed toughness. So there's a good case for Toronto to put off any major decisions until the offseason.
The Raptors have long believed, furthermore, that Bosh will participate in a sign-and-trade this summer -- if he decides to leave Canada after saying repeatedly that he loves the place -- before walking away outright from the franchise that drafted him.
I nonetheless was advised this week to expect Houston to make a hard Bosh push during these next 40 days if the Raptors invite it. Or perhaps even if they don't invite it.
That tale alone made it a worthy trip.
---
There also were some rumbles in Boise that the Timberwolves are prepared to start exploring the trade market for Al Jefferson amid questions about Jefferson's compatibility with Kevin Love and how he fits in Minnesota's more free-flowing triangle offense under new coach Kurt Rambis. A case can be made that either Jefferson or Love -- undeniably good players individually who are still both developing -- would be helped greatly by playing next to a more athletic sidekick no matter what the system.
When we checked it out, though, one source with knowledge of the Wolves' thinking insisted any such rumblings about the centerpiece of Minnesota's Kevin Garnett trade with Boston in July 2007 are off target and Big Al is staying put.
The consistent message out of 'Sota has been that any significant changes are on hold until after this season at the earliest, when the Wolves will rely on a possible $13 million in salary-cap space to console themselves following a painful first season for Rambis and new team president David Kahn.
---
Any urge to celebrate obviously has to be tempered by the fact that the Nets are in the midst of a 3-32 start, but playing for Kiki Vandeweghe sure seems to be working for Yi Jianlian.
In seven games since returning from a long-term knee injury, Yi is playing with newfound aggression and freedom, averaging 20.3 points and 7.0 rebounds.
The result?
Some would say Yi's more prominent role has sliced into Brook Lopez's effectiveness, but the Nets don't see that as a lasting concern. I was told this week that while Lopez remains New Jersey's only clear-cut untouchable, Yi suddenly is pushing Devin Harris -- who has taken an undeniable step back this season amid all the losing -- for the No. 2 slot on that list.
---
At least one team executive in attendance was convinced the Hornets are going after New Orleans native (and current ESPN analyst) Avery Johnson in the offseason to take over on the bench for GM-turned-coach Jeff Bower.
"I just think that job's got Avery's name written all over it," the exec said.
We'll see. What the exec couldn't answer is whether the Hornets will be willing to spend on a coach in the offseason after spending the regular season obsessed with shaving $3.3 million off the current payroll to get under the luxury-tax threshold. There are other unanswered questions, too, including whether Bower would return to his GM-only status in that scenario.
Also unknown: Would the hard-driving Johnson and the equally demanding Chris Paul be a fit?
Here's what we do know: Next season will be the last season on Johnson's old coaching contract with the Mavericks, which pays him an estimated $4 million annually.
As for the Hornets' more pressing luxury-tax issues, rival teams continue to say All-Star forward David West has not been made available in trade talks as the deadline approaches. Which suggests New Orleans believes it can move Hilton Armstrong and one other small-salaried player such as Bobby Brown or Devin Brown (who nearly was dealt to Minnesota last week) to get under the tax line.
---
McGrady's availability and pretty much anyone you want to name from the Washington Wizards also were popular topics at the Showcase, despite the fact that no one could seem to offer up a live or workable T-Mac trade scenario.
As for Washington, one source close to the situation said in the wake of Gilbert Arenas' indefinite suspension this week: "The Wizards are 100 percent going to try to void Gil's contract, and they're 100 percent going to clean house. There is now not a single player they wouldn't trade."
Dimes past: Dec. 20 | 21 | 22 | 23 | 25-26 | 27 | 28 | 29 | 30 | Jan. 1-2 | 3 | 4 | 5 | 6 | 7
2. Film Session
Marc Stein joins the Hot List on ESPNEWS with host Bram Weinstein to trace the path Gilbert Arenas took to an indefinite suspension in Washington.
3. Anatomy Of A Gooden Deal

Gooden
Only $1.9 million of Drew Gooden's $4.5 million salary was guaranteed coming into the season. The rest of Gooden's contract officially becomes guaranteed Sunday, but the actual date of consequence was Wednesday, because that was the last day Gooden could have been released in time to clear waivers to make the Sunday deadline.
Because of the partial guarantee in the one-year contract, teams faced with worrisome luxury-tax bills -- such as New Orleans, Utah and Denver -- undoubtedly were attracted to it before it became fully guaranteed. A team that acquired Gooden and then released him by Wednesday could have realized far greater savings than by acquiring a standard expiring contract.
The reality, though, is those deadlines haven't been a matter of much focus in the Mavericks' front office.
One source with knowledge of the team's thinking says the partial guarantee in Gooden's contract essentially was included to give both sides a natural, early-season bailout amount in case either party felt the experiment wasn't working and wanted to sever ties.
Greg Buckner had a similar contract for this season when the Mavericks reacquired him as part of the four-way trade in July that netted Shawn Marion, but they elected to waive Buckner before the season as opposed to keeping him around as a trade chip.
Gooden's case is different. The Mavs are relieved to have him for the season, as evidenced this week when coach Rick Carlisle spoke glowingly about how hard Gooden "pursues the ball" whether it's off the boards or on the floor and applauded him for embracing the new "challenge" of regularly coming off the bench.
Gooden hasn't been an every-night force and did not displace Erick Dampier as Dallas' starting center, as was widely forecasted coming into the season. But he certainly has helped the Mavs win a few games, most recently in Denver, where he supplied a crucial 19 points and 10 rebounds in Dallas' victory over the Chauncey Billups-less Nuggets.
In his 10 starts, Gooden is averaging 10.9 points and 10.7 rebounds.
So ...
It remains possible that Gooden, with an expiring contract, still could be thrown into a deal between now and the league's Feb. 18 trade deadline. But sources say the Mavs' recent trade pursuits mostly have been end-of-the-roster discussions aimed at reducing their luxury-tax bill, primarily involving little-used reserve forward Kris Humphries.
• For the full ESPNDallas story, click here.
4. Marc's Quote

Calderon
"Last year was just one thing. Everybody's got to be calm. I'm going to try to do my best. Hopefully I can be over 90 percent [at the end of the season]. But 98 [percent] -- let's forget about that."
Toronto's Jose Calderon, on the science of free throw shooting.
Calderon returned this week from a hip injury that cost him all but seven minutes over 13 games, during which Toronto went 8-5 through a soft stretch of schedule with free-agent newcomer Jarrett Jack starting at the point.
So coach Jay Triano's decision to work Calderon back in as a bench player predictably emerged as the story of the week with the Raps, given that Calderon was Triano's starter when he got hurt.
The greater curiosity here, though, remains Calderon's success at the line after last season's preposterous 98.1 percent shooting from the stripe.
Calderon didn't attempt a free throw in an otherwise glorious comeback Wednesday night, when the Raps went to Orlando and beat the East's defending champ in a five-point game. Yet you'll recall that Calderon missed 10 of his 47 free throws this season before getting hurt, which translates to a mortal 78.7 percent.
The Spaniard missed only three of his 154 free throw attempts in 2008-09, which is why the whole league gasps every time he misses one now. But Calderon insisted in our chat on the subject back in November that there still was time to get his percentage back in the 90s for the third consecutive season.
5.

One More All-Decade List

Bryant
We're more than a week into the new decade, but Gilbert Arenas has forced us into retrospective mode one last time thanks to the indefinite suspension he received on his 28th birthday from NBA commissioner David Stern for firearms possession -- and his subsequent lack of contrition and sensitivity.
The contract so many expect Washington to try to void, as mentioned at the bottom of Box 1, was exceeded in value by only five other contracts in the 2000s.
Big Money
| Player | Year Signed | Total |
| --- | --- | --- |
| Kobe Bryant | 2004 | $136.4M |
| Jermaine O'Neal | 2003 | $126.6M |
| Chris Webber | 2001 | $122.7M |
| Tim Duncan | 2003 | $122M |
| Rashard Lewis | 2007 | $112.7M |
| Gilbert Arenas | 2008 | $111M |
Six players were waived this week to remove their nonguaranteed contracts from their teams' payrolls in time to prevent those contracts from becoming guaranteed Jan. 10.
The victims, all of whom will have cleared waivers by Friday at 6 p.m., were Houston's Mike Harris, Boston's Lester Hudson, Atlanta's Othello Hunter, Cleveland's Coby Karl, Toronto's Pops Mensah-Bonsu and Portland's Shavlik Randolph.
Fourteen teams still owe a luxury-tax payment in July unless they can make moves before the Feb. 18 trading deadline to get under the tax threshold. The list of taxpayers:
| TEAM | TAX OWED |
| --- | --- |
| Lakers | $21,430,778 |
| Mavericks | $17,891,714 |
| Celtics | $14,324,318 |
| Knicks | $14,107,734 |
| Cavaliers | $13,011,251 |
| Magic | $12,574,601 |
| Spurs | $10,185,572 |
| Wizards | $8,658,888 |
| Nuggets | $5,490,379 |
| Suns | $4,887,977 |
| Jazz | $4,858,225 |
| Hornets | $3,331,809 |
| Heat | $2,817,658 |
| Rockets | $2,611,747 |
Footnote No. 1: Atlanta has only 12 players on its roster after waiving Hunter and has until Jan. 19 to sign a 13th to at least a 10-day contract.
Footnote No. 2: With nearly $135 million in the tax pot, non-tax teams are on course to collect a $4.5 million payout in July.
Footnote No. 3: The Wizards will end up getting a tax rebate of nearly $74,000 per game for every game Gilbert Arenas is suspended but will not get that refund -- which could reach $3.7 million if Arenas is suspended for the remainder of the season -- until after luxury-tax bills are paid leaguewide in July. Orlando and Denver will likewise get rebates of nearly $820,000 and $200,000, respectively, when earlier league suspensions imposed on Rashard Lewis and J.R. Smith are factored in.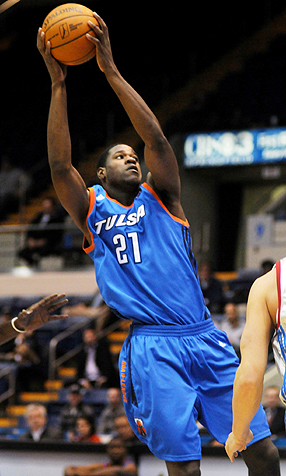 (Darren McCollester/NBAE via Getty)
Latavious Williams of the Tulsa 66ers went straight to the D-League rather than play one year in college or overseas. (See Box 8.)

Williams
Five questions with Tulsa 66ers forward Latavious Williams, who is a rookie making $19,000 as the first player to jump directly from high school to the D-League:
Q: Has the transition going straight to the pros been harder than you thought?
A: Kind of what I expected. I'm playing against a whole bunch of guys that are bigger than me and stronger than me. I never thought I was just going to walk into it and put up 20 and 10 every night.
Q: How much pressure do you feel knowing that the spotlight is on you more than most D-League players?
A: To tell you the truth on that, I don't got no pressure on me. I'm just here to get better. I don't think about it. … Since I can't get called up, I'm just here working on my game, playing better competition.
(Note: Although he's already 20, Williams is ineligible to be called up because he has yet to spend a full year out of high school. However, he will be automatically entered in the 2010 NBA draft after playing in a professional league this season.)
Q: A lot of people see you as the Brandon Jennings of the D-League because he did something similar [going straight from high school to Italy before getting to the NBA]. How often do you hear that comparison?
A: I just tell [people] I came here to get better and just leave it at that.
Q: What's the biggest difference between this level and where you were a year ago?
A: From coming out of high school averaging 20 and 10, and then coming here just being a role player, it's different. But you just got to do what you've got to do to get to the next level. They want you to hustle and rebound. Just got to come here and listen to your coaches and play your role.
Q: Do you think we'll be hearing your name on draft night next June?
A: Hopefully I will be there. Hopefully I will. Just got to see how things work out at the end of the season. … I think I'm on the right track. I'm on the right road to get there.
10.

In Other Wizards News ...

Butler
Caron Butler continues to be the player most frequently nominated by rival teams when asked to project the league's next big name to be traded.
Yet there is also a sense that the consuming nature of the Gilbert Arenas gun-possession case -- combined with the Wizards' presumed preference to move the older Antawn Jamison before Butler and the leverage they've likely lost because everyone knows that the Wizards are eager to deal -- has complicated Washington's efforts.
Another factor two Western Conference executives threw out Wednesday: Whether it's the secondary nature of his role with Arenas back from his knee issues or his struggles to adapt to Flip Saunders' offense, Butler just had his two best seasons when Arenas wasn't playing. The prospect of a long suspension (or worse) for Arenas could give Washington further pause when it comes to moving its next-best player.
But the sense in the stands here in Boise -- where each of the D-League's 16 franchises plays two games in front of an audience mostly comprised of NBA folks -- is that more teams than not believe Butler could be moved before the Feb. 18 trading deadline.
To read the complete TrueHoop entry, click here.