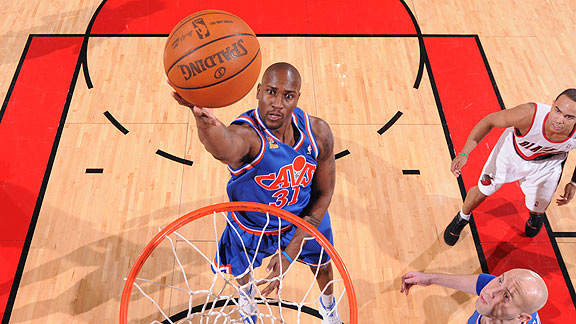 NBAE/Getty Jawad Williams scored 10 points, including a key 3-pointer, as the Cavaliers topped the Blazers.
1. Little-Used Lineup Lifts Cavs Past Blazers
By John Hollinger
ESPN.com
PORTLAND -- Mike Brown has a reputation as a by-the-book coach, but in Sunday's 106-94 win over the Blazers he showed he's not afraid to color outside the lines once in a while.
Heading into a tense fourth quarter after the Blazers had cut a 17-point Cavaliers' lead to four, Brown turned to the unlikely frontcourt combination of Jawad Williams, LeBron James and Anderson Varejao for 7:37 of the final 12 minutes to preserve the victory.
It's a rarity to see the Cavs go to a small lineup such as that for more than a minute or two, and even more rare to see Williams figure so prominently in it. According to basketballvalue.com, the trio had played a grand total of five possessions together as a frontcourt unit -- three on offense, two on defense -- before Sunday.
Yet with the Cavs trying to hold off a Blazers' comeback before a raucous Rose Garden Arena crowd, that was the crunch-time unit Cleveland used to subdue the plucky home underdogs.
They succeeded thanks to two fourth-quarter 3s from Williams, a couple of huge defensive plays by Varejao, and the usual brilliance from James, whose 41-point, 10-rebound, eight-assist effort prompted immediate speculation that we'd see much more of his one-orange, one-blue sneaker pair.
However, Brown's alignment may provide a more lasting takeaway from this game than any footwear trends. It provides another example of an ongoing theme with the Cavaliers' season, the one striking difference between this season's squad and last season's: The ability to play different lineups and styles depending on the opponent.
"It's something we can go to," said Brown. "It's something I like about this team, is the versatility. We can play real big, real small, or play our normal game."
That wasn't the case last season, when the Cavs won 66 games but couldn't match up against big, athletic centers or tall wings, weaknesses Orlando thoroughly exposed in the conference finals. This season, Cleveland's offseason additions have given the Cavs a versatility they simply didn't have last season. On Sunday, it showed it once again as Brown went to a rarely used alignment for most of crunch time to hold off a Portland comeback.
"Versatility is something we've [added] this offseason," said James. "We have guys who can play different positions, guard different positions, and that definitely helps us when you're going against teams like Orlando and the Lakers."
This wasn't Orlando or the Lakers -- whom the Cavs went a combined 3-9 against last season, including the playoffs, thus explaining James' pointed reference -- but it was a tough opponent in a hostile environment.
The key this time was Williams, a little-used sub last season (and so far this season). He is getting his chance with Jamario Moon injured and making the most of it. He scored a career-high 10 points in 17 minutes off the bench while seeing extended duty on Blazers star Brandon Roy.
"Jawad goes against a guy like LeBron almost every day," said Brown. "He goes against our bigs when we slide him to the 4 in practice. He's tough and he's not afraid. He's earned his minutes."
Varejao, meanwhile, made arguably the play of the game when he switched out on Roy on a screen-and-roll, reached in to deflect the ball, and knocked it off Roy's foot out of bounds for a turnover. That was one of two steals he had in a 4:17 stretch when Cleveland held the Blazers scoreless, a game-sealing 11-0 run. He also guarded LaMarcus Aldridge throughout the fourth and held him to two points.
"He has a motor that's indescribable," said James.
James, meanwhile, was his usual brilliant self, especially early. He made all eight shots and had 20 points in the first quarter, and had 31 by halftime.
"LeBron was just unbelievable," said Blazers coach Nate McMillan. "You normally don't make adjustments in the first quarter. His 20 points came so fast. We wanted to double-team but we couldn't get close [enough] to do that."
James didn't cool off in the second half so much as he stopped shooting -- the Blazers began swarming him and forcing him to find secondary players, and as sometimes happens in that situation, Cleveland's offense grew stagnant and jumper-happy.
Cold shooting from Mo Williams and some missed chippies by Varejao didn't help, and as a result the Blazers got back into the game after trailing by 15 at the half. Portland briefly tied the game at 89 before the Cavs turned the screws with their small-ball lineup.
Oddly, it was the Blazers -- normally a team that goes small at the drop of a hat -- who stayed big this time. Portland kept two traditional big men on the floor the entire fourth quarter, pairing Juwan Howard and Jeff Pendergraph with LaMarcus Aldridge rather than inserting guards Jerryd Bayless or Steve Blake.
The Blazers held to that setup even in the final minute. Down eight points and coming out of a timeout, it was Howard -- not Blake or Bayless -- who shot a 3-pointer that missed everything and sent the locals scurrying for the exits.
"Bayless [1-for-6] didn't have his eye and [Steve] Blake is coming off of pneumonia, and so our bench wasn't as good as they've been," said McMillan.
The Blazers are getting healthier, at least. Rudy Fernandez and Nicolas Batum should be back in the lineup soon; in the meantime, Portland has surprisingly kept itself in the Northwest Division race despite its many injuries. Even in defeat, the Blazers could take solace in Roy (34 points on 14-of-23 shooting), who nearly matched James shot for shot. Despite the late drought, the Blazers played a strong game offensively. Portland had just nine turnovers and was the first Cleveland opponent in 29 games to make half its shots (51.4 percent).
Nonetheless, the Cavs prevailed and raised their East-leading record to 29-10 in the process. They're on top of the Power Rankings and on top of the conference, just like they were last season. This time around, however, the difference is that they can beat you in so many different ways. On Sunday, they showed yet another one.
John Hollinger writes for ESPN Insider. To e-mail him, click here.
Dimes past: Dec. 21 | 22 | 23 | 25-26 | 27 | 28 | 29 | 30 | Jan. 1-2 | 3 | 4 | 5 | 6 | 8-9
2. Injuries, Injuries And More Injuries
By J.A. Adande
ESPN.com

Redd
LOS ANGELES -- Apparently, the only thing more painful than watching the horrid shooting in the Lakers' victory over the Bucks on Sunday night was actually participating in it.
Michael Redd had the worst of it, having to be helped back to the locker room in the second quarter with what the Bucks called a sore left knee. Watching him limp to the tunnel with his arm around a teammate and an athletic trainer, it looked more than sore. And any injury to that knee has to raise concern after he tore the anterior cruciate and medial collateral ligaments in his left knee last January, finishing his season.
Redd is scheduled to take an MRI exam on Monday.
"I felt a pop," he said in describing the injury. "The replay, they said my leg buckled. It doesn't feel as it did last year, as far as the ACL. So I'm grateful for that. We'll just see [Monday]."
For Redd, it's just another in a series of frustrations. This season, he has yet to regain the form that made him an All-Star and Olympian, and his average of 12.6 points per game is on track to be his first time under 21 points since 2002-03.
"I don't understand it," Redd said. "You go from one high of being in the Olympics, being at the pinnacle. And then a few months later you have the ACL. And then you work so hard all summer long to get back, and then this happens again. It's all mental right now for me."
It was mental for Ron Artest, as well; the Lakers forward became unsettled after falling toward the floor in his fourth game back since missing a week with a concussion.
"He got banged in his head and I think it affected his game," Lakers coach Phil Jackson said. "He asked out of the ballgame."
Artest had two points and four rebounds in 19 minutes.
The Lakers expect much more point production from Kobe Bryant, but he gave them only 12 on 4-for-21 shooting. In the past three games, he has removed the protective splint in the elaborate tape job for the broken bone in his finger and has made 28 of 88 shots (32 percent).
"I have more range, I have more movement in the finger without the splint -- I just don't have enough strength to be able to shoot the ball," Bryant said. "That's why a lot of my shots were short."
The splint will be back when the Lakers play in San Antonio on Tuesday.
3. Daily Dime Live Recap
ESPN.com writers and TrueHoop Network bloggers chatted with fans and gave their in-game opinions throughout Sunday night's slate of games -- all in Daily Dime Live.
By Maurice Brooks
ESPN.com
SUNDAY'S BEST

Rondo

Rajon Rondo, Celtics: Rasheed Wallace turned back the clock for Boston on Sunday, but the biggest reason the Celtics added a W to the win column was Rondo's triple-double (22 points, 10 rebounds, 13 assists).

SUNDAY'S WORST

Jennings

Brandon, Jennings, Bucks: With Michael Redd sidelined yet again, the first-year point guard failed to step up, missing 13 of his 17 shots and giving out just three assists in 24 lackluster minutes.

QUOTE OF THE NIGHT

"In practice, we can see that he is athletic, he can jump and block shots. But you want to see it in a real game. That's what he did tonight."

-- Spurs guard Tony Parker on reserve Ian Mahinmi, who scored a career-high 15 points and grabbed nine boards against the Nets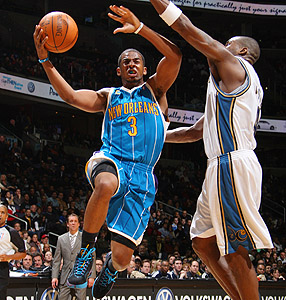 Chris McGrath/Getty Images
Chris Paul went off for 26 points and 14 assists to lead the Hornets to a five-point road win against the Wizards. After a slow start, New Orleans is now three games over .500.
By Brendan Jackson
TrueHoop Network

Wallace
On Sunday, Rasheed Wallace scored 29 points in the Celtics' 114-107 victory over the Raptors; it was the 34th time in Wallace's career that he scored at least 29 points. While he may have fond memories of filling up box scores, Celtics fans had not seen that kind of offensive explosion from their aging superstar until Sunday.
After spending most of this season as Boston's sixth man, Wallace is trying to make the most of his time replacing Kevin Garnett in the starting lineup. On Sunday, Wallace not only did his best KG impression with the efficient way he tallied his points (9-for-12 from the field), but also by continually frustrating the Raptors with his length on the defensive end.
Wallace has drawn criticism this season for his propensity to reach when guarding more mobile power forwards, but his reaching is starting to be seen more clearly through a different lens. They say that when players start feeling their mortality, they must begin to outwit their opponents rather than just outplay them.
Wallace was able to do both by showing Toronto that while he may be a step slower, he will still hit a turnaround bank shot over an outstretched hand, and he will still bat any interior shovel pass within arm's length.
This performance was one extreme NBA fans have seen out of Wallace this season. The other extreme? Getting hit with two technical fouls and being booted from a game against the Suns in which the Celtics desperately needed him to make an impact.
Wallace is an emotional player and he's not going to change anything about his on-court demeanor at this point in his career. Most of the time, the ball doesn't lie, anyway, whether Wallace is putting it in the bucket against a weak defensive team like Toronto, or whether it's the vehicle for all of his frustration.
Sunday's game served as a benchmark for what the Celtics want to see from Wallace going forward -- only dialed down, of course. Instead of going 9-for-12 in 34 minutes, Boston would be happy to see Sheed go 5-for-6 in 22.
That kind of frontline production coming off the Boston bench is exactly why the Celtics brought the kitchen sink when trying to recruit Wallace this offseason, and Sunday's game is why Boston will continue to be a tough out this year.
To read more, check out Jackson's TrueHoop Network blog, Celtics Hub.
8.

Clippers Getting It Done With D
By Kevin Arnovitz
ESPN.com

Gordon
It's always treacherous for a basketball team to circle a small subset of games on the schedule and declare those contests the be-all and end-all of a season.
But it wasn't lost on the Clippers that their calendar year began with consecutive matchups against the NBA's three most talented shooting guards -- Brandon Roy, Kobe Bryant and Dwyane Wade.
"I kind of noticed that," Clippers head coach Mike Dunleavy said prior to Sunday's game against the Miami Heat at Staples Center.
With the Trail Blazers, the Lakers and the Heat coming into Staples Center over a seven-day stint, Dunleavy was charged with the unenviable task of devising a defense to stop the unstoppable.
To read the entire Arnovitz column, click here.
9.

Kaman Dominates In Clippers' W

Kaman
• Chris Kaman scored 22 points in the Clippers' 94-84 win over the Heat. Jermaine O'Neal, who started at center for the Heat, scored only two points in 20 minutes of playing time. It was the fifth game this season in which Kaman outscored the opposing starting center by at least 20 points. He did so only four times over six previous seasons in the NBA.