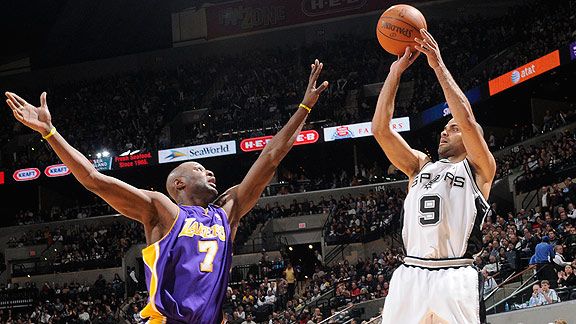 Photo by NBAE/Getty Images Tony Parker and the Spurs are rolling, topping the Lakers Tuesday for their eighth win in 10 games.
1. Spurs Still Have Work To Do
By Dave McMenamin
ESPN Los Angeles
SAN ANTONIO -- It's all coming together for Spurs forward Richard Jefferson.
Sitting in the corner of the locker room before San Antonio's 105-85 pull-away win over the Lakers on Tuesday, he talked about the places he's been, like the University of Arizona ("I hope [former Wildcats teammate] Gilbert [Arenas] starts to get it"), New Jersey ("[Lawrence] Frank had to be let go") and Milwaukee ("I feel so bad for Mike [Redd], I need to text him about his knee") before settling on where he is now.
"It's the best place in the world," Jefferson said, ranking the sleepy Texas city behind the bright lights of New York, where he lived for seven years when he played for the Nets, earning a reputation as a bit of a socialite.
"I'm done with all the other stuff. This is all about basketball for me now."
While any win against the defending NBA champion is a welcome result for a team incorporating three new starters (Jefferson, Keith Bogans and rookie DeJuan Blair) into its lineup, it's the progress of the incorporation -- and not their W-L record in January -- that matters to this Spurs bunch.
"Hopefully we're not that far," Tim Duncan said after going for 25 points, 13 rebounds and four blocks against Andrew Bynum, who is an inch taller, 25 pounds heavier and 11 years younger than the Big Fundamental. "Hopefully, we're starting to turn the corner. Every little win counts and hopefully this solidifies something for us."
San Antonio coach Gregg Popovich wants his team ready to compete for a title come June. That's why Mr. IV (to Phil Jackson's Mr. X -- titles, that is) knew he couldn't read much into this win since his team let a 22-point third quarter lead slip down to six in the fourth against a Lakers squad that was missing Pau Gasol (strained left hamstring) for the game and without Kobe Bryant (lower back spasms) for the entire fourth quarter.
"We played well tonight," Popovich said. "They obviously were wounded. Both facts are true. We're happy to get the win."
The win gives San Antonio the third-best record in the West with the season's midpoint fast approaching, but the Spurs still only claim a 4-9 record against teams with a better-than-.500 record as of Jan. 12.
Jefferson, who had 12 points on 5-for-8 shooting, said the learning curve has been so steep this season that instead of staying after practice to run or lift or get extra shots up, he often implores groups of four or five other of his teammates to stay late and practice offensive sets and defensive rotations as a team after practice.
"We have a lot of learning to do," Duncan said. "We have a lot of new guys and we're trying to get everybody on the same page. We're not a team that only has one or two plays, we got a hundred of them, so for Pop to be able to call things on the fly and be able to change things on the fly like we've done in the past, guys are going to need the extra work. That helps guys."
Jackson was asked about the new-look Spurs after the game, a team he's faced in the playoffs five out of the 10 years he's been the coach in L.A., and he doesn't see much of a difference from the San Antonio squads of the past.
"They took our kids to school out there and pulled some of their tricks that they're good at," Jackson said. "I didn't see anything new out there. It looked like the same old group."
Jefferson said he looked at this season as an "82-game learning process."
Looks like the Spurs are showing off what they've learned sooner than expected.
Dave McMenamin writes about the Lakers for ESPNLosAngeles.com
Dimes past: Dec. 22 | 23 | 25-26 | 27 | 28 | 29 | 30 | Jan. 1-2 | 3 | 4 | 5 | 6 | 8-9 | 10 | 11
2. Bryant's Body Finally Shuts Down
By Dave McMenamin
ESPN Los Angeles

Bryant
SAN ANTONIO -- Kobe Bryant is becoming kind of like the Black Knight in "Monty Python and the Holy Grail."
In the movie, the knight continues to battle King Arthur despite having limb after limb lopped off by Arthur's sword. In the end, the knight is reduced to just a stump of a man writhing on the ground as Arthur traipses on by, undeterred.
Bryant's body finally shut down on him. So far this season, he staved off a fractured right index finger, a strained right elbow and a balky left knee, but lower back spasms finally brought him to the ground on Tuesday. Literally.
Twice, Spurs guard George Hill picked up Bryant at half court and caused Bryant to turn it over while falling to the floor.
With 5:49 left in the second quarter, Hill stripped Bryant and coasted to the other end for an uncontested two-handed dunk. Then, with 1:05 left in the third, Bryant was caught off guard by Hill's presence and was called for travelling trying to elude him.
In the aftermath of both instances, Bryant was left wincing on the ground.
Bryant tweaked his back landing awkwardly after a turnaround jump shot over Manu Ginobili with 3:27 left in the first quarter. He went to the locker room to receive treatment and returned to play nine minutes in the second quarter and all of the third quarter before shutting it down altogether for the fourth quarter.
"I couldn't walk," Bryant said. "I literally couldn't walk. That's the only way I don't play."
While he wasn't playing, he could only helplessly watch San Antonio close the game on a 20-6 run on a television in the training room while getting worked on by Lakers trainer Gary Vitti.
Bryant's back injury -- which last flared up in the 2008 Western Conference semifinals against Utah -- couldn't have come at a worse time for the Lakers.
Pau Gasol has missed five straight games with a left hamstring pull, after missing the first 11 games of the season with a strained right hamstring. Ron Artest missed five games because of a concussion, is dealing with plantar fascia in his right foot, and sprained his right index finger when he got tangled up with Hill in the second quarter. Sasha Vujacic also left Tuesday's game with a sprained right hamstring.
The good news is Gasol is targeting a Friday return against the Clippers, Luke Walton is back from a pinched nerve in his lower back (and played on Tuesday for the first since Nov. 13), and Bryant says he's "pretty sure" he'll play on Wednesday when the Lakers continue their Texas two-step back-to-back in Dallas.
"It's part of the business," Bryant said when asked if L.A. was starting to feel a bit, well, snakebit. "I won't allow my guys to even think about that or have that attitude. You got to pull your boots up and get ready to play."
Dave McMenamin writes about the Lakers for ESPNLosAngeles.com
3. Daily Dime Live Recap
ESPN.com writers and TrueHoop Network bloggers chatted with fans and gave their in-game opinions throughout Tuesday night's slate of games -- all in Daily Dime Live.
By Maurice Brooks
ESPN.com
TUESDAY'S BEST

Jackson

Stephen Jackson, Bobcats: He saved his best for last, scoring 16 of his career-high 43 points in the fourth quarter of Charlotte's 102-94 win against the Rockets. Jackson was 15-for-22 from the field and also grabbed eight rebounds.

TUESDAY'S WORST

Greene

Donte Greene, Kings: He found a way to squeeze off 12 shots in just 21 minutes, making just three. Greene finished with seven points and gave out just one assist.

QUOTE OF THE NIGHT

"We always envisioned an offense with enough room for both of them and a number of other players too."

-- Kings coach Paul Westphal on pairing Kevin Martin, who has missed more than two months with an injured wrist, with rookie Tyreke Evans
5.

B-Diddy Notches A Triple-Double
AP Photo/David Zalubowski
Baron Davis stuffed the stat sheet, scoring 27 points, grabbing 12 rebounds and handing out 12 assists, but it wasn't enough to keep the Clippers from falling to the Grizzlies, 104-102.
7.

Brown Pushing The Right Buttons
By Matt Moore
TrueHoop Network

Last season Larry Brown traded superstar Jason Richardson for Boris Diaw and Raja Bell. People said he was crazy, that those players were too incomplete, they'd never improve. But the Bobcats made a serious push for the playoffs that was bested only by Chicago's easy late schedule.
This summer, the Bobcats traded franchise center Emeka Okafor for Tyson Chandler. People said that it was a terrible trade and the Bobcats would regress. Then they traded Bell and Vladimir Radmanovic for Stephen Jackson. Mercurial, high-maintenance, wanted to play for a contender. Surely this was a disaster.
The Bobcats started the season as the worst offense in the league outside of lowly New Jersey. They had no perimeter scorer, no slashing guard, no complement to Gerald Wallace, who has played at an All-Star level this season. So adding Jackson made a lot of sense, yet the jeers continued, primarily (and reasonably) because of the long-term cap complications of their roster makeup. Even though Brown has shown no hesitation or difficulty in moving contracts, it seemed the Bobcats had simply compounded their long-term limitations.
So with an incomplete roster, on a night when Wallace had a bad night, with doomed long-term viability, and after facing a very good playoff-contending team in the Houston Rockets, Brown walked to his car -- with a smile on his face. Or rather, whatever resembles a smile when it's on Brown's face.
"Captain" Jackson scored a career-high 43 points and the Bobcats' defense held Houston to just 24 points in the second half, and the Cats improved to 17-19, 14-4 at home (tied for best in the league) and 7-3 in their last 10. Once again, Brown's crazy alchemy is netting results. The East is in yet another year of mediocrity past the top four seeds, and the Bobcats find themselves in the seventh seed, just a game behind Miami for fifth.
Look out, the crazy old guy has the Bobcats playing legit.
To read more, check out Moore's TrueHoop Network blog, Hardwood Paroxysm .
8.

Delay Works Out For Grizzlies
By Matt Moore
TrueHoop Network

The Clippers were playing so well, too. DeAndre Jordan was dominating inside. Ricky Davis, Al Thornton and the whole gang were rolling. And with Baron Davis going to the free-throw line in the waning seconds of the third quarter looking to extend the double-digit lead, it was nothing but smiles for the Clippers faithful.
And then disaster struck. OK, not an actual disaster, but a disaster-prevention system. A water line broke in the sprinkler-system in a non-public area of FedEx Forum, and the building was evacuated as a precaution. The game was delayed 17 minutes as fans filed out into the cold January air where they patiently waited to return to cheer on their .500 Grizzlies. And by that, I mean most of them got in their cars and drove away.
Meanwhile, the Grizzlies and Clippers both hung out on the Clippers buses to try to keep warm. For a moment, imagine the absurdity of two opposing teams hanging out together in a visitor's bus, just chillin'.
When the game resumed, it looked as if the Clippers got the window seat next to the cold air. After the stoppage, the Clippers shot just 4-of-18, while the Grizzlies were 11-of-23. After an O.J. Mayo 3-pointer and his assist to Rudy Gay for a dunk, the Grizzlies escaped their own arena with a victory over the Clippers. For years, the Grizzlies have seemed to have everything possible go against them. Finally, it seems, the crazy things that happen in this league are going Memphis' way. As for the Clippers? Well ...
To read more, check out Moore's TrueHoop Network blog, Hardwood Paroxysm .
9.

Howard's Big Game Lifts Magic

Howard
• Dwight Howard had 30 points, 16 rebounds and five assists in Orlando's win at Sacramento on Tuesday night. The only other NBA player with a 30/15/5 (points/rebounds/assists) game this season is LeBron James, who also did it in a victory at Sacramento, although that game went to overtime.