1. Unlikely Hero Wins It For Jazz
By Dr. Jack Ramsay
ESPN Radio
SALT LAKE CITY -- The game was sluggish through the first three quarters and then down the stretch it really picked up.
LeBron James was brilliant in the fourth quarter and it looked like he was going to win the game for Cleveland all by himself. He was sensational, scoring 20 of his 36 points in the final period. But the Cavs missed some free throws, leaving the door open for Sundiata Gaines to hit the big shot to win it for Utah.
Funny thing is if Deron Williams didn't hurt his wrist, Gaines probably wouldn't have been on the floor. He got his opportunity and took advantage of it, as he played well. Gaines made his first two field goals, but then Mo Williams started harassing him on defense and he got a little tentative. Jerry Sloan took him out and put Ronnie Price in for him, but before that final possession, Sloan made sure Gaines was on the floor. The result? His shot hit nothing but net.
The Jazz showed great tenacity. Not only did they lose Williams, but Andrei Kirilenko also left the game with an injury. Their bench guys really came through -- C.J. Miles, Price and Paul Millsap did some good things. Kyle Korver hit a big baseline jumper. And of course, Gaines.
This is a typical Sloan team. They don't give up. They are a spirited group. I was talking with Sloan before the game and he said that last season they were the eighth seed in the playoffs and ended up having to play the Lakers. This season they would really like to move up and be one of the top four seeds so that they can get home-court advantage. Right now they have a half-game lead on the Thunder for the No. 8 spot.
As for the Cavs, they really struggled. LeBron needed to take charge and stop being such a team player. He waited until the end to decide to take over the game. He was 1-for-4 in the first quarter and had only eight points at halftime. Still, he always seems to do exactly what his team needs him to do at the end of games.
Shaquille O'Neal was a nonfactor in this game. He had a size advantage over everyone Utah put on the floor, but he never really contributed anything. Overall, he has been what Cleveland has needed, but this just wasn't a good game for him. He was uncertain with his ballhandling and didn't go to the basket with any authority. He will be more of a positive in the playoffs when the game slows down and there is a premium on half-court play.
Cleveland has shown that Shaq and Zydrunas Ilgauskas can play together. That could be key if the Cavs were to reach the Finals and play a team like the Lakers with Pau Gasol and Andrew Bynum.
Dr. Jack Ramsay is a regular contributor to the Daily Dime.
Dimes past: Dec. 25-26 | 27 | 28 | 29 | 30 | Jan. 1-2 | 3 | 4 | 5 | 6 | 8-9 | 10 | 11 | 12 | 13
2. What's Next For The Wizards?
By Kyle Weidie
TrueHoop Network

Arenas
Has a franchise ever been at a crossroads like the Washington Wizards? As some analysts predicted Washington to compete for a fourth seed this season, no NBA team has fallen further from expectations. That should be enough. Now, the one-time face of the team has been cast aside, partially due to his irresponsibility in bringing guns into the locker room and partially due to his resulting immature treatment of a serious situation.
Antawn Jamison is the consummate veteran, a Gentleman, as goes his nickname. Caron Butler is the during-game straw chewing guy, former mass consumer of Mountain Dew who arose from 15 arrests before 15 years on this earth to make the NBA, one whom his former coach Eddie Jordan nicknamed, "Tough Juice." Gilbert Arenas was once the guy who went to Barry Farms, D.C.'s equivalent of Rucker Park, by himself sans entourage just because he liked being around regular people. All three of these massive basketball figures in the nation's capital -- each playing a role in the four-year playoff run that resuscitated basketball in the DMV, are on the verge of being set afloat down the Potomac.
Now, one is making vain attempts for a team wrought with futility. Another only provides waning memories of a past All-Star self. A third has created an unfathomable situation, with pranks, guns, shoe turds and exposing the issue of guns and NBA players via the quiet, polite kid from Atlanta whom no one would expect to lock and load his own gun while singing. All could be gone by February. Question is, will management gut the house, bulldoze the structure and give everything away? Or will Ernie Grunfeld get some "Bubs from 'The Wire'"-like ingenuity and receive assets in return for his valuable scrap metal. Either way, if cap room is the direction, the Wizards better hope they get lucky in the draft and overpay the right veteran free-agent, else the future is a long time away.
To read more, check out Weidie's TrueHoop Network blog, Truth About It.
3. Daily Dime Live Recap
ESPN.com writers and TrueHoop Network bloggers chatted with fans and gave their in-game opinions throughout Thursday night's slate of games -- all in Daily Dime Live.
4. Celtics Fall Short At Home ... Again
Elias Sports Bureau

Allen
The Celtics lost 96-83 to the Bulls in Boston, after dropping a 102-96 decision to the Hawks in their last game at TD Garden. It's the first time this season that the Celtics have lost consecutive home games. The only NBA teams that haven't lost consecutive home games this season are the Cavaliers, Lakers and Magic. In fact, those three teams haven't lost two straight home games since late in the 2007-08 season.
By Maurice Brooks
ESPN.com
THURSDAY'S BEST

Sundiata Gaines, Jazz: Who? The rookie on a 10-day contract got extended playing time in the fourth quarter after starting point guard Deron Williams was injured and made the most of it, draining the game-winning 3-pointer at the buzzer against the Cavs.

THURSDAY'S WORST

Williams

Mo Williams, Cavs: He struggled with his shot, missing 8 of his 12 attempts from the floor before fouling out. He also failed to ignite the Cleveland offense for long stretches of play.

QUOTE OF THE NIGHT

"Portland -- there's an outside chance that could be the return game."

-- Celtics coach Doc Rivers on the possibility Kevin Garnett, who has missed seven games with a knee injury, could return Jan. 22
6.

Bulls Run Over Celtics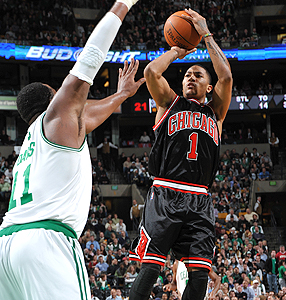 Brian Babineau/NBAE/Getty
Derrick Rose (17 points) was one of five Chicago players to score in double digits on the way to a 96-83 road win against the Celtics. He also had eight rebounds and four assists.
By Zarar Siddiqi
TrueHoop Network

Hedo Turkoglu's struggling in Toronto and no one's quite sure whose fault it is. After a humbling defeat to the Celtics at home earlier in the week, Turkoglu spoke about the differences between what he's used to doing and what he's being asked to do.
"I just run on the side and expect them to just pass it to me. When for the past three years I've been a point guard, too, leading the team and making decisions -- I'm limited," Turkoglu said.
Jay Triano's obsession with having three ball handlers on the court -- Jarrett Jack, Jose Calderon and Turkoglu -- is hard to explain as it is statistically one of the worst Raptors lineups, has a high degree of redundancy and is preventing Turkoglu from being the playmaker he was hired to be.
Triano says, "I like having three ball handlers and they can all shoot the basketball as well ... to finish games we want guys on the floor who can make free throws ... and who can make shots."
It didn't work out on Monday against the Pacers when the Raptors blew a 23-point lead and the "three-guard" lineup played the final seven minutes and went without an assist or a point. With the Raptors down three, Turkoglu's half-hearted cut to the ball was easily defended and Chris Bosh was left hung out to dry at the 3-point line.
Turkoglu's numbers are down in every category including a whopping 3.1 drop in shots attempted. With his languid play becoming ubiquitous, the emergence of Jack and strong showings from Calderon off the bench, one has to wonder whether there are enough minutes at the "playmaker" position.
The Raptors are in the market for a 3-point shooter and a scoring shooting guard. Turkoglu's $53 million/five-year contract will make him very difficult to trade and Jack is proving to be a bargain. This leaves Calderon as the bait and the rumors are already starting to swirl, the latest being a swap for Kevin Martin.
Read more from Siddiqi at Raptors Republic
9.

NBA Schedule: It All Evens Out
By John Hollinger
ESPN.com

It usually evens out in the end.
That's the message that needs to be heard when it comes to a lot of unbalanced trends we've seen at midseason. Whether it's home-road disparities or schedule strength or unusually good or bad records in close games, one has to remember that these things tend to even themselves out over the course of an 82-game season. And with e-mails pouring in about how the Playoff Odds project the final record and odds for certain teams, it's important to bring these points up again.
Read more of Hollinger's PER Diem