Duncan
"I try not to. I try not to. It'll probably be over before I want it to be."
Spurs forward Tim Duncan, when asked if he's given much thought to how much longer he wants to keep playing.
The response was predictably humble, but don't listen to him. Even though he's playing these days with a brace on his left knee that's too big to miss, Duncan has been the one source of dependability for the Spurs, who haven't been able to follow up their splashy offseason with a convincing start to the new season.
Tuesday's victory over the Lakers -- who were without the injured Pau Gasol and finished the evening without Kobe Bryant, too -- was just the Spurs' fifth in 15 games this season against teams with records of .500 or better. Creaky starts to the season for Manu Ginobili and Tony Parker, meanwhile, have led to the first audible whispers suggesting Duncan won't be forever flanked by his familiar sidekicks.
Ginobili is in a contract year and has made a hesitant return from offseason ankle surgery amid the uncertainty about his future. Parker has complained of foot soreness and fatigue after another long summer with France's national team … and stunningly popped up in trade speculation this week in a reported bid for New Orleans' Chris Paul.
All of the above has apparently made preserving Duncan's health even more of a priority to Gregg Popovich, judging by Pop's decision to force him to skip the second half of a back-to-back in Oklahoma City after the L.A. game. Duncan's coach also revealed that night that he plans to make him sit out portions of back-to-backs more than the Spurs "ever have before" to see if that strategy "pays dividends come playoff time."
After his 25 points against the Lakers, Duncan enters the weekend just 69 points shy of 20,000. He'll soon become the 35th player in league history to get there after Dallas' Dirk Nowitzki did so Wednesday night.
"It means I've been playing a long time," Duncan told San Antonio reporters when asked about the milestone. "It means I'm old. It means I'm closer to the end than to the beginning. It means a lot of things that are negative more than positive."
We repeat: Don't listen to him. Duncan is the least of the Spurs' concerns.
As usual.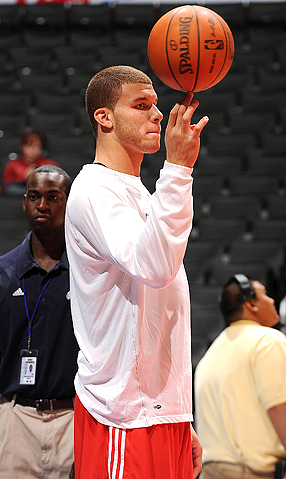 (Photo by Noah Graham/NBAE via Getty Images)
Blake Griffin won't be seen with a ball in his hands for four to six months thanks to season-ending knee surgery. (See Box 4.)
7.

Decisions, Decisions In Cambyland

Camby
On top of all the questions about
Blake Griffin
's future that will be raised by Wednesday's announcement that last June's No. 1 overall pick must undergo season-ending knee surgery, there is another Griffin-related matter confronting the Clippers as the Feb. 18 trading deadline approaches.
What to do with Marcus Camby?
The Clippers have maintained internally that Camby's $9.2 million expiring contract is the most attractive expiring contract in the league because the 35-year-old is still so effective and because so many contending teams -- such as Dallas, San Antonio, Denver and Portland -- have either chased him hard in the past or want another big man for the postseason.
The Clips, though, have resisted all trade interest in Camby to date -- most recently from Washington and a potential Caron Butler-for-Camby swap -- in part because they wanted to get a firm read on the timetable for Griffin's comeback as well a look at Griffin and Camby playing together before making such a big decision. So much for the latter luxury.
One source with knowledge of the Clippers' thinking asserted Wednesday that knowing now that Griffin is not coming back this season makes it more likely that L.A. keeps Camby for the rest of the season to continue his frontcourt partnership with Chris Kaman and rely on Camby to fill the Griffin void.
Yet you can be sure that teams will keep calling the Clips to test their determination to keep Camby . . . just like last season. It emerged after the deadline passed last February that both Portland and San Antonio engaged in serious Camby talks with the Clips on deadline day before L.A. ultimately walked away from both offers.
To read the complete TrueHoop entry, click here.

The good news: Deeee-troit finally found a way to win a bas-ket-ball game this week by pulling out a 99-90 win in Washington over the unraveling Wizards to halt a run of 13 consecutive defeats.
The bad news: Besides its ongoing need for a big man who can score and a dependable set-up man to complement its array of scoring guards, Detroit still managed to make some history with its skid even though it was not the longest losing streak in franchise history.
The Pistons actually lost 14 games in a row in both the 1979-80 and 1993-94 seasons, but this streak will be remembered because it is the NBA's fifth this season spanning at least 10 games.
Which makes 2009-10 only the second season in league annals to produce five separate double-digit losing streaks by this point in January, according to our colleagues from the Elias Sports Bureau. There were five such losing streaks by Jan. 9 in 1997-98.
Double-Digit Losing Streaks This Season
| Length | Team | Duration |
| --- | --- | --- |
| 18 | Nets | Oct. 28-Dec. 2 |
| 15 | Wolves | Oct. 30-Nov. 27 |
| 13 | Pistons | Dec. 15-Jan. 11 |
| 12 | 76ers | Nov. 20-Dec. 11 |
| 10 | Nets | Dec. 9-Dec. 28 |
10.

Alternative Listening
Even though Kobe Bryant himself admitted to NBA.com this week that he couldn't nominate anyone other than Dallas' Dirk Nowitzki as the best international player in league history -- not even Lakers teammate Pau Gasol -- Lakers alumnus and ESPN Radio 710 AM host Mychal Thompson insisted on arguing the point in this chat with ESPN.com's Marc Stein.
To hear the interview, click here.