1. Shaq Has The Answers On And Off The Court
By Brian Windhorst
Special to ESPN.com
CLEVELAND -- With his ever-expanding and creative vocabulary and his showmanship nature, sometimes it can seem like Shaquille O'Neal has an answer for everything.
Such as the issue he attempted to solve Tuesday night after his Cavs beat the Toronto Raptors 108-100. Most aren't thrilled that O'Neal's teammate, LeBron James, has effectively gone back on his word about taking part in the dunk contest next month. O'Neal has a thoughtful answer and one that pretty much takes the pressure off James.
"As his manager, I will only allow LeBron to do the dunk contest if Vince Carter comes back out, if Kobe [Bryant] comes back out and if another big name comes back out," O'Neal said. "And if we can get a big prize and half of the money go to the people of Haiti and the other half to the winner."
Some star power, a pop culture problem and a Shaq quote to tie it all together, and anything seems possible. Even if O'Neal probably shouldn't be waiting for his BlackBerry to buzz with a text from Bryant with a confirmation.
In essence, though, it's those traits the Cavs are hoping O'Neal employs on the floor when the games are the center-stage attraction. Games like Thursday, when the Cavs host a rematch with the world champion Lakers less than a month after hammering them between foam fingers on Christmas Day. And games in April, May and, the Cavs hope, June.
What happened in the victory over the Raptors is exactly the sort of on-court creative impact the Cavs had planned when they traded for O'Neal last summer.
He had 16 points on 7-of-10 shooting with five rebounds against Toronto, which like many teams doesn't have anyone on its roster who can truly slow down O'Neal when he still wants to get going. But it was his impact without scoring that has the Cavs still dreaming big dreams this season.
It was perfectly illustrated during a 90-second stretch in the fourth quarter, when O'Neal took control of the game and swung it into the Cavs' favor without even taking a shot.
The Cavs were ahead by one point and the Raptors were making a serious bid to pull off the upset. Winners of 10 of their last 13 games and putting up some impressive offensive numbers, it perhaps wouldn't have been shocking for Toronto to get it down even at Quicken Loans Arena. Then, with six minutes left, O'Neal came into the game.
First, in a crowd, he grabbed a long rebound that appeared to be headed into Chris Bosh's hands.
Then he caught a pass on the block, drew some attention, and faked a look to James before finding Mo Williams for a 3-pointer.
On the defensive end, he called for a switch when his man screened for Hedo Turkoglu. So there O'Neal was, 20 feet from the rim and one-on-one with Turkoglu. It was this play, when Turkoglu was a member of the Orlando Magic, that the Cavs were gutted with during last season's Eastern Conference finals. Well, that and a few incredible clutch 3-pointers from Rashard Lewis.
As he should, Turkoglu took him off the dribble and drove to the glass. But O'Neal, despite all the jokes about his physical ability these days, cut the Raptors small forward off and forced him down to the block. Eventually, Turkoglu ran out of rim and tossed up a weak left-handed lob that never got to the rim.
"One of the first things we noticed about Shaq was how quick his feet are," Cavs coach Mike Brown said. "We're not afraid to switch with him at times. He's been out there on Brandon Jennings and Steve Nash."
After forcing the miss, O'Neal got down to the other end and set up shop in the post again. The ball found him and the Cavs set up their action. This time O'Neal looked at Williams for a potential 3 and froze the defense for a second before hitting James on a backdoor pass for a dunk.
"Coach called a couple of my plays, and I don't like to force shots," O'Neal said. "I've been known to be able to do something with the ball."
Moments later, he grabbed another rebound in traffic and then finished off a play with a dunk of his own after James had drawn a double-team and kicked to O'Neal for a free dunk that essentially broke the Raptors' backs. This is why the Cavs -- who at 32-11 have two more road wins (17) than the Lakers have played road games (15) -- feel they may have a better mix this season.
Earlier in the game, O'Neal became just the fifth player to score 28,000 in NBA history. But his focus on everything else but the points -- the key rebounds, the facilitator role on offense, the switching at times on defense -- is what the Cavs are most pleased with. That and what he did in the third quarter, which was to knock Raptors who were driving to the hole onto their backsides (twice).
Even though O'Neal is in the final year of his contract and wants another, and even though this is by far the most limited role he's had on any team in his 17-year career, he continues to seem eager to go with the program.
"I'm happy being No. 5 -- there's some great names in front of me and some great names behind me," O'Neal said. "I've always been a player to only get happy about the big picture."
Brian Windhorst covers the Cavs for the Cleveland Plain Dealer. His coverage can be found at cleveland.com/cavs.
Dimes past: Jan. 3 | 4 | 5 | 6 | 8-9 | 10 | 11 | 12 | 13 | 14 | 15-16 | 17 | 18
2. Are The Mavericks And Spurs NBA Elite?
Matt Moore
TrueHoop Network

Duncan
For nearly a decade, they have been contenders, separated by 278 miles and four championships, all on the Southern side. Led by two of the defining players of this generation, they have battled relentlessly. This year both teams added veteran stars to attempt one more run at a title with their respective cores. But as we hit the halfway mark of the season, and with the trade deadline looming as a potential last resort, the Dallas Mavericks and San Antonio Spurs are staring themselves in the mirror with the question on their faces: "Are we elite?"
Twelve days ago, the Mavericks bested the Spurs in San Antonio behind a 42-point fourth quarter. That quarter served as a perfect example of both the Spurs' and Mavericks' seasons. The Spurs uncharacteristically surrendered 42 points in a quarter, continuing the mystifying nature of their inconsistent defense. And the Mavericks went from looking docile and meek to exploding on offense behind Dirk Nowitzki, who very often looks like a legitimate MVP candidate. Yet it's these times that make you wonder why the Mavs don't always perform at such a high level.
Since that game, Dallas has suffered a complete meltdown against the class of the West, the Los Angeles Lakers, while the Spurs beat the Lakers (sans Pau Gasol). The Mavericks defeated the surging Thunder, then got walloped by the defenseless (near-literally) Toronto Raptors, before coming from behind to topple the Celtics in Boston on Monday. During the same time period, the Spurs also defeated a strong Thunder squad in overtime, before losing a back-to-back to Charlotte and Memphis. Even for small-market, building-franchise supporters like myself, that was quite a shock to the system. Then, just to illustrate their inconsistency, the Spurs knocked the Hornets off in New Orleans on MLK Day.
But it's not the résumés of these past two weeks that illustrate the baffling nature of the teams, it's the characteristics that have defined those wins and losses. The Mavericks' offense is a classic Jekyll and Hyde tale. One minute their ball movement is stagnant, their defense lax, and you wonder how this team is currently the second seed in the Western Conference. Then their offense wakes up, they turn the tide on defense, and all of a sudden they whoosh past their opponent in a barrage of Dirk 18-footers and 3s. The only consistent thing about the Mavericks is their inconsistency.
The Spurs, on the other hand, have started to put it together. After a tremendously slow start, the Spurs have picked their defense up off the ground (currently seventh in defensive efficiency, according to Hoopdata.com). DeJuan Blair is putting up impressive numbers, Tim Duncan is playing at, well, a Tim Duncan level, and Richard Jefferson shows flashes of blending in. But the Spurs seem to be on a two steps forward, one step towards stumbling in the gutter trek. They manage to get Manu Ginobili back healthy, and Tony Parker winds up with plantar fasciitis, which is, you know, kind of painful. They find that George Hill is turning into both a worthy backup point and a complement to Parker manning the helm, and find that Ginobili is struggling with his shot (40 percent from the field). They get Matt Bonner back from injury and realize that it's Matt Bonner.
But then, you look at each team's record and discover that the Mavericks are on track for 54 wins and the Spurs for 50, and in perfect position for the playoffs. Unfortunately, that's not the target for these two teams. The Mavericks added Shawn Marion and refrained from auctioning off Josh Howard to make one more run with Howard, Jason Kidd, Jason Terry and Dirk. And Spurs' ownership dipped into its pockets to actually go into the luxury tax to acquire its offseason additions. Spurs ownership specifically said prior to the season that it was a championship-or-bust season. Now, both teams have time to hit a next gear, to gel and make a run at something special. But since the Lakers are 21-3 with Pau Gasol in the lineup and look very much like the gold standard everyone has to aspire to, the trade deadline seems like a very significant date. Making a move risks undermining any chemistry you've developed and sliding even further. Standing pat risks the idea that all the work these teams have put into finding themselves may result in nothing more than a solid understanding that it just wasn't enough.
Read more from Moore at Hardwood Paroxysm
3. Daily Dime Live Recap
ESPN.com writers and TrueHoop Network bloggers chatted with fans and gave their in-game opinions throughout Tuesday night's games -- all in Daily Dime Live.
4. Cavs Follow LeBron's Lead
Elias Sports Bureau

James
LeBron James led the Cavaliers in points, rebounds, assists, steals and blocks in their win over the Raptors on Tuesday. It's only the second time this season that a player led his team outright in all five of those categories; Dwight Howard did it against the Clippers in December. James has had three other games like that in his NBA career.
By Maurice Brooks
ESPN.com
TUESDAY'S BEST

James

LeBron James, Cavs: He may have gone 0-for-7 from deep, but that is the only thing he did wrong in a 28-point, 11-assist, 9-board performance against the Raptors.

TUESDAY'S WORST

Granger

Danny Granger, Pacers: Known for his shooting, he had one of the worst nights from the field in his career. He made just 2 of 16 shots, missing 5 of 6 3-pointers, on the way to eight points.

QUOTE OF THE NIGHT

"Last year was a tough year because I had the foot injury and pretty much missed a whole season. I knew I still had some gas in the tank and I wanted to try to get to a place to utilize my talent."

-- Jerry Stackhouse, who will make his season debut Wednesday with the Bucks after not playing regular minutes in an NBA game in 14 months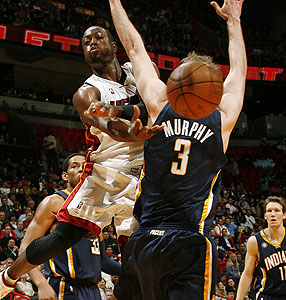 Issac Baldizon/NBAE via Getty
Dwyane Wade scored the 11,000th point of his career in Miami, while in Cleveland, Shaquille O'Neal became just the fifth player to score 28,000 career points.
8.

Wade's Quick Start Lifts Heat
By Jared Wade
TrueHoop Network

The Pacers might have actually been glad to see Dwyane Wade make his first 3-pointer of the game Tuesday night. Much like with LeBron James prior to this season or Allen Iverson always, the best defense against an elite penetrator who too often settles for jump shots often can be to just let him shoot. The last thing you want a guy called Flash to do is try to dribble by you, so if he becomes enamored with the long stuff early, you might have him right where you want him -- away from the paint.
And Wade, who was shooting 27.4 percent from behind the arc on 3.2 3-point attempts per game going into Tuesday night, is definitely someone Pacers coach Jim O'Brien likes to see standing 25 feet from the hoop.
But this wasn't O'Brien's night. It was Wade's night.
After hitting his first 3 less than two minutes after the tip, Wade would hit two more triples in the quarter and tallied 18 of his game-high 32 points before the first period ended. In the second quarter -- by which point the game already seemed over, and Miami was adding to a lead that would eventually reach 31 points -- Wade added a layup that put him over the 11,000-point mark for his career. The way things were going, it felt like he might eclipse the 12,000-point plateau before the half.
Indiana had come back to win after being down 23 against Toronto just last week and followed that up by erasing a 24-point deficit to beat Phoenix two days later, so there was still hope. But similar fortune would not return. Not on a night when the Pacers were playing in Miami instead of Indianapolis. Not on a night when Danny Granger shot 2-for-16. And not when Michael Beasley was playing Robin to Flash's ... well ... Flash.
Read more from Wade at Eight Points, Nine Seconds
9.

Hollinger's All-Star Starters
By John Hollinger
ESPN.com

Randolph
Center: Zach Randolph, Memphis You got a better idea? Look at the ballot. The two best centers in the West (Duncan and Pau Gasol) both appear on the ballot at power forward. Beyond them, we have a series of unappealing candidates. Nene, Andrew Bynum and Kaman all are having nice seasons, but it's questionable whether any has been good enough to claw his way in as the West's 12th man ... much less as a starter. The underrated Marc Gasol is a favorite around these parts, but it's tough to nominate him as the West's starter when he's neither the best center in his own family nor the best big man on his own team. Greg Oden might have worked here, but he's out for the season.
The obvious option, then, is to turn the tables on the ballot authors by writing in a power forward at the center spot. This isn't a big stretch considering that (A) a power forward is going to win the voting at the center spot, and (B) Randolph can easily slide over to the 5.
And in terms of merit, this is an obvious choice. Randolph's resurrection has been the key to the Grizzlies' shocking competence this season, with Memphis owning a greater than 50-50 shot at making the playoffs, according to Tuesday morning's Playoff Odds. Randolph's PER (22.32) isn't quite a career high -- he was a beast for a bad Portland team in 2006-07, finishing with a 22.81 PER -- but he's shooting over 50 percent from the floor for the first time since his rookie year and is setting a new career best in rebound rate (18.2).
To read more, check out Hollinger's PER Diem.