1. Cavs Get Physical With Defending Champs
By Brian Windhorst
Special to ESPN.com
CLEVELAND -- When Kobe Bryant stomped to the locker room following the Lakers' loss to the Cavaliers on Thursday night, he seemed to be nail-spitting mad. Primarily because his teammates weren't exactly spitting nails.
There are quite a few things that the Cavs aren't, especially when it comes to what they do out there when they have the basketball. For much of the LeBron James era, their offense hasn't been aesthetically pleasing. Sometimes it is hard to tell exactly how they win, save for a few remarkable James' highlights every night.
But one thing they are is physical, and they have showed it night in and night out this season. It is because of James, who is assembling another Most Valuable Player-type résumé as the season marches onward, and that relentless nature that they are 33-11, including two victories over the Lakers after Thursday's 93-87 win.
They put that physical style on display almost every night, whether they are playing a world-class team or not.
Cavs coach Mike Brown calls it making the opponent "feel you." It means shoving through screens, grinding hips and shoulders and elbows into opponents on nearly every rebound, and making sure there is contact as often as possible when someone goes to the rim.
"We just play physical," Shaquille O'Neal said. "Very, very physical."
All of it was in display in their win over the Lakers, who had trouble with the tactics in the loss to Cleveland on Christmas Day and struggled again matching the Cavs' style in the second meeting. They aren't alone; the Cavs have been doing this to teams for months now.
The Cavs have been outrebounded only once in the last 29 games and not at all in the last 18. Against the Lakers, they were down 16-7 on the boards in the first quarter and ended up with a 48-43 edge.
The Cavs lead the NBA in fewest points allowed in the paint at 34.5 a game, a result of having O'Neal and other good interior defenders like Zydrunas Ilgauskas, Anderson Varejao and even James. The Lakers scored 14 points in the paint in the first quarter and then had just 12 more the rest of the game.
The Cavs are third in the league in defensive field goal percentage, an offshoot from how they force teams to attempt so many jumpers. And they often work to contest those by using sometimes complex help-and-recover schemes. Only three times this season have the Cavs allowed an opponent to shoot better than 50 percent, and nine times they've held the other team under 40 percent. On Thursday, they did it to the Lakers for the second time (L.A. shot 38 percent in both losses to the Cavs).
The Cavs imposed their will on Bryant, too. They used four different defenders on him throughout the game. Then, in the fourth quarter, out of nowhere, they started to double-team with a big man. He went 11-of-33 from the field in the first meeting. This time, he went 12-of-31, just 4-of-15 in the second half.
The way it all went down left Bryant steaming. Especially because he felt he'd warned his teammates before the game to expect the Cavs to be physical. Despite all of their size, the Lakers once again weren't ready for it, and they know they'll get more of it on the seven games left on this Eastern trip.
"That's East Coast basketball, and we've been playing a lot of West Coast teams," Bryant said. "Outside of Denver, the Western Conference is not very physical. It's good for us on this trip to face teams like Cleveland and Boston and teams that play smashmouth basketball."
That style has done wonders against the West over the last two seasons. This season, the Cavs are 15-5 against the Western Conference after going 26-4 last season.
It has given the Cavs not just the best record in the East but some confidence after beating the NBA champs in both meetings during the regular season.
Brian Windhorst covers the Cavaliers for the Cleveland Plain Dealer. More of his coverage can be found at cleveland.com/cavs.
Dimes past: Jan. 4 | 5 | 6 | 8-9 | 10 | 11 | 12 | 13 | 14 | 15-16 | 17 | 18 | 19 | 20
2. Bryant Lashes Out At His Teammates
Dave McMenamin
ESPN Los Angeles

Bryant
CLEVELAND -- The first step towards recovery is admittance.
Despite the Lakers having the best record in the league through the first 41 games on the season, there were danger signs that the team wasn't as dominant as all those wins indicated.
They kept getting tripped up in big games and coming up with some way to rationalize their insignificance. It was Pau's hamstrings, Ron's head, Kobe's back and finger.
But, the home wins kept mounting and the minimal road challenges were met. On the nights when Bryant didn't put Los Angeles on the right side of history by nailing a dagger to lift the Lakers and his team lost to the challengers of their throne, he shrugged it off in his postgame press conference with "stay the course" type jargon.
There's a certain patience that comes with the experience of winning four rings. There's no need to jump off a bridge after a regular-season loss when you're playing for June. I get all that.
But Bryant also gets that it's about time his team wakes up and rises to meet these challenges before it's too late.
That's why he chose the first game of the second half of the season, a 93-87 road loss to the Cavaliers, to address what's not being said by the team before they continue on the remaining seven games of their road slate that just about everybody on the Lakers said will be the chance to define their season.
"I think last year we probably were a little hungrier and played a little harder," Bryant admitted to, finally.
He said he first knew something was lacking all the way back on Nov. 13, Game No. 9 of the year, when the Denver Nuggets sought revenge for their playoff ousting at the hands of L.A. and the Lakers didn't respond.
"They steamrolled us with physical play," Bryant remembered.
The same uneasy feeling popped up again on Christmas, when Cleveland came into Staples Center and clobbered them.
Three times was enough. Bryant didn't mix words.
"[The Cavaliers] were the hungrier team and I think that they sense that they want to win a championship, they want to go after it, so they're playing with a sense of urgency that we played with last year," he said.
There was a focus about him as he spoke, processing every question that came his way until he said everything he needed to say in his own personal state of the team address.
"We have to make some adjustments, we have to make some improvements," he continued. "Our mentality has to change a little bit playing against these teams. These teams are physical, tough-minded and hard-nosed type of teams and we need to make some decisions."
His solution?
"Go to practice and I'm going to strangle every one of them," Bryant said, clearly joking, but clearly getting the point across that he will be the initiator behind the change in intensity.
"You just got to go to work every day," Bryant said. "Hard. Work hard. Practice hard. Have physical practices.
"If this is the type of game we're going to face, we have to prepare for that and it starts in practice."
Satisfaction leads to complacency. The most successful people are never satisfied.
Even Bryant, a workaholic revered throughout the game as having one of the most legendary work ethics of anybody ever to play, stepped away from basketball this past summer for a little while for the first time as a professional to revel in the afterglow of his first Finals MVP.
He's ready to return, full throttle.
"We have to step up and match that [natural hunger]," Bryant said. "It's not part of our DNA. We have to step up and match that and still play skillful basketball [...] As you go through the season, you have to try to develop it, nourish and grow it so when playoffs come around you're ready to go."
The last question Bryant was posed before he left the locker room wondered if he was going to speak to the team.
"They know I'm pissed. I don't have to say anything right now."
Oh, but he already did.
The Lakers are admitting their flaws and that can only make them better.
Dave McMenamin writes about the Lakers for ESPNLosAngeles.com
3. Daily Dime Live Recap
ESPN.com writers and TrueHoop Network bloggers chatted with fans and gave their in-game opinions throughout Thursday night's games -- all in Daily Dime Live.
4. Kobe's Poor Shooting Hurts Lakers
Elias Sports Bureau

Bryant
Kobe Bryant made only 12 of 31 field goal attempts in the Lakers' loss to the Cavaliers. The Lakers have lost the last seven games in which Bryant missed 19 or more field goal tries, including four this season, all since Christmas Day.
By Maurice Brooks
ESPN.com
THURSDAY'S BEST

James

LeBron James, Cavs: In a matchup between the league's top two teams and top two players, Cleveland rode LeBron's 37 points and nine assists to a well-played victory over Kobe Bryant's Lakers.

THURSDAY'S WORST

Davis

Baron Davis and Ricky Davis, Clippers: The Clippers' starting backcourt was off target all night, combining to go 5-for-24 from the field in a 20-point loss to Denver.

QUOTE OF THE NIGHT

"These teams are physical, tough-minded, hard-nosed types of teams. That's not part of our DNA."

-- Lakers guard Kobe Bryant after his team was defeated by the Cavaliers for the second time this season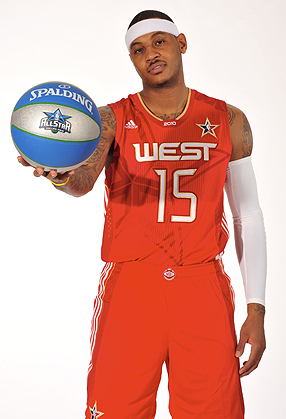 Gary Dineen/NBAE via Getty
Carmelo Anthony, who scored 28 points to lead the Nuggets past the Clippers on Thursday, will join Steve Nash, Tim Duncan, Kobe Bryant and Amare Stoudemire in the starting lineup for the Western Conference All-Stars.
8.

Guess Who Is Going To Dallas?

Iverson
NEW YORK -- Allen Iverson was voted to start in the All-Star Game Thursday, while Steve Nash and Tim Duncan made late moves to claim starting spots for the Western Conference.
Nash passed the inactive Tracy McGrady as the second guard, while Duncan disappointed Dallas fans hoping to see Dirk Nowitzki start by rallying past the Mavericks forward.
LeBron James was the leading vote-getter for the Feb. 14 game at Cowboys Stadium, becoming the first player to earn at least 2.5 million votes three times. He will make his sixth All-Star appearance, all as a starter.
"The fans still love and see what I do every night and they appreciate it, and I appreciate them for electing me as an All-Star starter," James said before the Cavaliers hosted the Los Angeles Lakers. "It's still special."
Joining James and Iverson as East starters were Miami guard Dwyane Wade, Orlando center Dwight Howard and Boston forward Kevin Garnett.
To read the entire story, click here
9.

Cavs Teach Lakers Lesson On D
By Dr. Jack Ramsay
ESPN Radio

Parker
CLEVELAND -- The Cavaliers used a strong defensive effort to beat the Lakers Thursday night. They held the Lakers to 38 percent shooting from the floor, and down the stretch they defended Kobe Bryant very well, forcing him into poor shots. Even though Kobe scored 31 points, it took him 31 shots to do so. He started the game 8-for-13, meaning he made only four of his last 18 attempts.
Kobe started off great, but as the game progressed, the Cavs' defense got tough. Anthony Parker was the initial defender, but at times Delonte West, Jawad Williams and LeBron James each defended him. Cleveland didn't use just one defender. They always had a second defender ready to help and Kobe had a tough time as the game kept going.
On the other hand, LeBron was sensational. He didn't force a shot and took advantage of screening situations, and when a bigger player such as Lamar Odom tried to defend him, he either pulled up or went by him. LeBron shot the ball well, making 13-of-25 from the field and 10-of-13 from the line. He also had nine assists. He was very impressive, and even though the Cavaliers didn't have Mo Williams, they got the job done.
Another key for Cleveland was the play of J.J. Hickson. He had 11 points and a game-high 14 rebounds.
You have to give it to the Cavs -- this was the second time this season their intensity level was much higher than the Lakers (Cleveland has now swept the season series 2-0).
Sweeping the Lakers is huge. In a potential NBA Finals meeting, the Cavaliers would have home-court advantage if they and L.A. finish with the same regular-season record. And since the Lakers have seven more road games on this trip, when it ends the Cavaliers should have the best record in the league.
Dr. Jack Ramsay is a regular contributor to the Daily Dime.