As covered further in Box 8, Philadelphia is aggressively assessing its trade options leading into the league's Feb. 18 trading deadline.
But the strict media focus on the intriguing availability of Andre Iguodala and two high-salaried Sixers who have been shopped without success (Elton Brand and Samuel Dalembert) might have to be expanded.
One NBA front-office source told ESPN.com that the Sixers would also be amenable to moving Lou Williams in the right deal. The 23-year-old guard was previously thought to be a Philly untouchable.
---
Some numbers of note in the East this week:
5-7: Boston's record since a Christmas Day win in Orlando, which includes a 4-6 mark in games without the injured Kevin Garnett.
4-8: Orlando's record since a Christmas Day home loss to the Celtics.
17: Atlanta's Jamal Crawford has scored 20 points or more off the bench 17 times and has led the Hawks in scoring as a reserve 14 times. Houston's Carl Landry is second in the latter category with 13 games as the Rockets' leading scorer off the bench.
16: With just 16 points Wednesday night in Miami's loss at Charlotte, Dwyane Wade saw his scoring average on the second night of back-to-backs drop to 21.4 points per game, nearly seven points fewer than he has averaged in all other games: 28.0 ppg.
1: In the Nets' loss at Phoenix on Wednesday night, New Jersey's Brook Lopez (26 points) and twin brother Robin (20) of the Suns became the NBA's first brothers to score at least 20 points in the same game since Dominique and Gerald Wilkins did so 11 times between 1987 and 1994.

Brown
"I think being with Allen [Iverson] for six years has helped me a little with Stephen. He's crazy, but it's a good kind of crazy."
Bobcats coach Larry Brown, on the mid-November gamble to acquire Stephen Jackson from Golden State.
Since the arrival of Jackson's unique brand of loco, Charlotte is 18-13. That includes a 9-1 record in 2010 thanks to the 6-0 homestand that the Bobcats just completed with a 39-point thrashing of Miami, moving them up to fifth in the East entering Friday's play.
Winning on the road remains a major issue, but it's clear that new running mate Gerald Wallace wasn't exaggerating in December when he told ESPN.com that Jackson has "turned this team around." In addition to Jackson's offensive versatility and limitless confidence, which have filled two huge voids for Charlotte, Jackson's arrival doubled Brown's cache of small forwards who play a much bigger game than you expect from that position.
Wallace continues to rank among the league's top five rebounders at 11.3 boards per game, combining with Jackson's edgy game and the inconsistent-but-skillful Boris Diaw to form an undersized trio that has flourished since the struggling Tyson Chandler was shelved with a foot injury.
The payoff: Charlotte will have a winning record at the season's 41-game midpoint for the first time in franchise history, which puts the Bobs on course to restore Brown's reputation as his profession's Mr. Fix-It after that disastrous stint with the Knicks. Staying that course and finally reaching the postseason might even net some very rare praise for the Brown hire and Jackson swoop for a certain Michael Jeffrey Jordan.
Brown's chief concern from here, besides improving the Bobs' 3-15 road record, is making sure Jackson, Wallace and Diaw don't wear down from trying to carry the club to its first-ever playoff berth. Before this season, Charlotte sported a winning record for only 16 days in its first five seasons of existence: 14 days in 2007-08 and two days in 2005-06. At no point during the 2004-05, 2006-07 or 2008-09 seasons did the Bobcats have a winning record.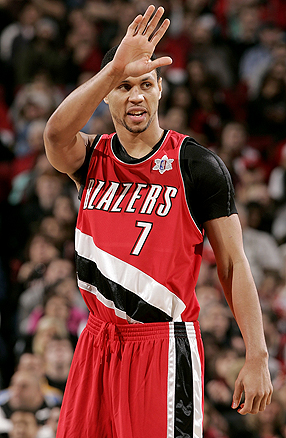 (Sam Forencich/NBAE via Getty)
Brandon Roy's All-Star-worthy numbers have helped keep his banged-up Blazers in the thick of the West's playoff chase. (See Box 1.)

Portland's Andre Miller is quietly averaging 19.6 points and 6.8 assists per game in January after entering the new year averaging just 11.1 points on 41 percent shooting.
The surge comes at a good time if the Blazers plan -- as many rival teams have suspected all season -- to shop Miller before the Feb. 18 trading deadline in search of deals to address another roster need.
But is that Portland's plan?
One source with knowledge of the Blazers' thinking insisted this week that, contrary to persistent speculation, Portland has not made Miller and his cap-friendly contract (guaranteed only this season and next season) available.
Perhaps we should say not yet, but the latest signals run counter to the notion that Miller is being shopped to secure a big man to deputize for the injured Greg Oden and Joel Przybilla or that Miller's recent spat with Blazers coach Nate McMillan guarantees his exit.
---
Some numbers of note in the West this week:
5: Entering Thursday's showdown with LeBron James in Cleveland, Kobe Bryant had been held below 20 points in five of the Lakers' 10 games in January. Playing with a broken finger on his shooting hand and through recent back spasms, Bryant is shooting just 39 percent from the field this month and averaging a mere 22.0 points per game. That's Bryant's lowest scoring average for a month in which he's played at least five games since December 2003, when he averaged 20.3 points per game.
3: Tim Duncan will become one of just three active players with at least 20,000 points and 10,000 rebounds when he records his first point Friday night against Houston. Duncan enters the weekend with 19,999 career points and 10,943 rebounds and is poised to join Kevin Garnett (21,712 points and 11,903 rebounds entering Friday's play) and Shaquille O'Neal (28,014 points and 12,816 rebounds) on that short list.
12: Twelve of the 13 retired players to reach 20,000 points and 10,000 rebounds are in the Basketball Hall of Fame. The other -- Karl Malone -- becomes HOF-eligible for the first time this year.
23: Houston will be trying to halt a run of 23 successive games under 100 points at San Antonio in Friday's road date with the Spurs. The Rockets haven't scored 100 points on the Spurs' floor since April 20, 1997, late in the season before San Antonio drafted Duncan.
25: Marcus Camby became just the sixth player to have multiple 25-rebound games during the past 10 seasons with his 25 boards in Wednesday night's win over Chicago. Ben Wallace has three such games; Camby has now matched Erick Dampier, Garnett, Dwight Howard and Dikembe Mutombo with two.
8.

Trade-Deadline Chatter

Iguodala
The Sixers are only growing more determined to make a deal before the deadline. I've heard that in strong terms from three different sources this week already.
Which tells me we should expect to keep hearing more trade scenarios that include Andre Iguodala's name.
Foiled in its long-standing attempts to move Samuel Dalembert and/or Elton Brand, Philly has apparently come to realize that its best shot at a shake-it-up move is convincing one of the risk-taking/big-spending teams out there -- such Houston, Dallas and Cleveland -- to absorb the four years and $56.3 million remaining on Iguodala's contract after this season.
Not that I'd give the Sixers great hope of hooking Cleveland.
The Cavs are still chasing a big man that can stretch the floor with 3-point range, and continue to hope they can get one by peddling Zydrunas Ilgauskas' expiring contract.
To read the complete TrueHoop entry, click here.
9.

Mavs Target Kings' Martin

Martin
The Sacramento Kings continue to insist that Kevin Martin is not going to be made available to interested teams before the Feb. 18 trading deadline.
The Mavericks, according to NBA front-office sources, continue to tell the Kings that they want a call back if that stance changes.
Sources close to the situation told ESPN.com that Dallas -- reluctant until recently to make Josh Howard available in trade discussions -- is prepared to part with the struggling former All-Star swingman in a deal for Martin.
The Kings, though, have been telling teams that they are not ready to field offers for Martin, determined to give his fledging backcourt partnership with hot-shot rookie Tyreke Evans an extended period of evaluation.
If that position changes between now and the Feb. 18 trading deadline, Dallas is expected to be one of the league's most determined Martin suitors.
The Sacramento Bee's Sam Amick recently listed Houston, Toronto, Cleveland and Phoenix as teams tracking Martin along with Dallas.
It remains to be seen whether the Kings will bow to that interest in the next few weeks or if they'll become more open to the idea of trading Martin if they hear that they can also shed another one of their long-term contracts -- such as Andres Nocioni or Beno Udrih -- in the process.
To read the complete ESPNDallas post, click here.