1. Legler's Eastern Conference All-Stars
The Eastern Conference All-Star roster will be completed later this week with the naming of the reserves. The seven players named will be no-brainers, status rewards and of debatable worthiness. This year's East squad will also be affected by a couple of starting positions being taken by guys who have been annual locks over the past decade, but who most will assuredly admit aren't deserving this time around. With that in mind, here are the players that have been voted in and those that I would personally choose to fill out the roster, starters included.
The five players voted to start for the East are Dwyane Wade and Allen Iverson at guard, LeBron James and Kevin Garnett at forward and Dwight Howard at center. Wade, James and Howard are obvious to all. Iverson and Garnett are another story.
By being voted in as a starter A.I. has proven that he has incredible staying power when it comes to his fan base. The past year has been nothing short of a nightmare for one of the greatest scoring machines in NBA history. After basically shutting it down in Detroit to voice his displeasure over coming off of the bench, Iverson signed in Memphis and proceeded to leave town before he even knew all of his teammates' names. Resurfacing in Philly, he has shown that the days of carving up opposing defenses at will are long gone. To his credit, he has been a model teammate for the Sixers, but having by far the worst year of his NBA career certainly doesn't merit a legit starting spot in the All-Star Game.
Garnett is still one of the best players in the East and his emotional leadership and intensity are vital to the Celtics' run at a title. Injuries, however, have been the biggest story surrounding Garnett's season. He simply has missed too much time to earn a starting position.
The East's starting guards should be Wade and Joe Johnson.
Wade, at times, has looked incredibly frustrated and isolated on an island with very little consistent help on a nightly basis. Despite that, he has put up great numbers and has the Heat keeping their heads above water. He is the second best player in the conference and, arguably, its most electrifying.
Johnson is the model of consistency. He gives the Hawks 21 points, five boards and five assists per night and he has the responsibility of deciding matters in the fourth quarter with his scoring or playmaking. His ability to get his own shot at will is crucial to a team trying to get to the next shelf in the East. Most importantly, he has led the Hawks to a 28-14 record, which is pressing the Celtics for second in the conference.
The forwards should be James and Chris Bosh.
To sum up LeBron's season to this point, consider this: He is averaging a shade under 30 points, 7.2 rebounds and 7.9 assists. Only three players in NBA history have put up those numbers for a full season -- Michael Jordan, Oscar Robertson and James make up that small group. His defense has been suffocating at times, spectacularly athletic at others. He has also led the Cavaliers to the league's best record at 35-11. As long as he's healthy he will be a lock as an East starter.
Bosh is having his best season individually. He has been dominant as a scorer (23.9 points per game) and rebounder (11.1) while also playing at an extremely efficient level (52 percent shooting). He has shown increased passion and relentlessness. That could be because of his impending free agency, but I'm an optimist so I'll give him the benefit of the doubt. Winning is important in my book when it comes to All-Star recognition and the Raptors' recent surge, winning 12 out of 17 to become relevant in the East, has cemented Bosh's worthiness.
The center position really isn't worth a discussion. Howard is the only viable choice. He leads the league in rebounding and blocks, has the Magic at 29-15 and overwhelms the rest of the East's centers with his athleticism. If he ever develops another option or two offensively, such as a face-up 12-foot jumper or a consistent jump hook, he will be a legit MVP candidate.
The Eastern reserves are slightly more difficult to choose, although the list of guys having All-Star caliber years is a short one.
The two guard spots should go to Rajon Rondo and Stephen Jackson.
Rondo has become a top-five point guard in the league and has given the Celtics a nightly matchup advantage at the league's most critical position. His end-to-end speed and improved decision-making make him a lock. Jackson is listed on the ballot as a West guard, and he may be a surprise pick. He is an obvious choice to me. His 20 points per game have given the Bobcats the scoring punch and toughness they needed to become a complete team. Charlotte is 18-15 since his arrival and they are making waves in the East as a legitimate playoff team.
The forward spots should go to Gerald Wallace and Paul Pierce.
Wallace has been filling up every line on the stat sheet all season. Averaging 18.5 points, 11.1 rebounds, 1.6 steals and 1.2 blocks, he has been one of the top all-around players in the league. The guy plays hard on every play and creates offense despite not getting his number called very often. Pierce has been quietly solid all season. His scoring prowess isn't what it once was, but the Celtics don't need it to be. Despite fewer shots, he is still the man Boston trusts with the ball when it gets tight.
David Lee should get his first All-Star appearance as the backup center. He is listed as a forward on the ballot but there is leeway based on how a player is actually used. Lee guards centers on most possessions so he qualifies. He has always rebounded at a high level, but now he has added big-time scoring punch to his hustle plays. His 31 points and 17 rebounds against the Lakers' front line last week spoke volumes about how far he has come.
My two wild cards are Mo Williams and Josh Smith.
I'm not entirely convinced Williams and Smith deserve the nod, but somebody has to grab these two spots. As James' main sidekick, Williams' true value will be measured in the postseason if he can provide the additional offense the Cavs will need to get by the Celtics and Magic. As for Smith, the Hawks would be in trouble without the versatility he brings to the floor defensively every night. His shot selection and turnovers can still be maddening at times, but he really defends and can match up with anyone athletically for the undersized Hawks' front line.
ESPN analyst Tim Legler is a regular contributor to the Daily Dime.
Dimes past: Jan. 6 | 8-9 | 10 | 11 | 12 | 13 | 14 | 15-16 | 17 | 18 | 19 | 20 | 22-23 | 24 | 25
2. Is David Lee An All-Star?
By Chris Sheridan
ESPN.com

Lee
NEW YORK -- One way or the other, David Lee is going to Texas for All-Star Weekend.
The question now is which city: Dallas or Houston?
Lee will learn Thursday whether the Eastern Conference coaches have voted him in as a reserve, and since those votes have already been cast, Lee's 26th double-double of the season -- 28 points and 10 rebounds in the Knicks' 132-105 victory over Minnesota on Tuesday night -- will do nothing to influence his chances.
If Lee makes it, he'll fly to Dallas and become the first member of the Knicks to make the All-Star team since Allan Houston and Latrell Sprewell represented New York at the 2001 game.
If he doesn't, Lee will fly to Houston to be the best man at the wedding of his high school buddy, Brendan Keaney.
"I wouldn't be upset if I didn't make it, but it would be a huge thrill to get to go to the game," Lee said. "It's in that cool location, that huge stadium, but I also think it would be special for our fans and our organization because we haven't had an All-Star in a while, and that makes it all the more exciting."
LeBron James and Kevin Garnett were voted in as the starting forwards for the East, and Lee did not even crack the top 10 in fan balloting. But his chances will be buoyed by the fact he plays center for the Knicks, and thus can be placed in that position on coaches' ballots should they feel two other forwards -- Gerald Wallace and Chris Bosh, for instance -- are more deserving.
Lee is fourth in scoring among NBA centers, trailing only Amare Stoudemire, Chris Kaman and Tim Duncan, and his 26 double-doubles rank him sixth in that category leaguewide.
Last season, Lee led the NBA with 65 double-doubles.
"I'm biased, but I think [Lee's chances] are good," Knicks coach Mike D'Antoni said. "There's always, when you select seven guys, a couple guys that don't make it or should have made it, or that you can make an argument for. It's almost like the Academy Awards, when one gets it when somebody who deserved it, they don't get it. That could be David. I hope it isn't, but he deserves it as much as anybody that will get it."
And if he doesn't?
A tuxedo will be awaiting him in Houston, and Mr. Keaney will not need to find a replacement to carry Ms. Karla Batarse's wedding ring to the marriage ceremony.
Chris Sheridan covers the NBA for ESPN Insider.
3. Daily Dime Live Recap
ESPN.com writers and TrueHoop Network bloggers chatted with fans and gave their in-game opinions throughout Tuesday's games -- all in Daily Dime Live.
4. Bogut Almost Perfect From The Field
Elias Sports Bureau

Bogut
Andrew Bogut was 13-for-14 (.929) from the field in Tuesday night's 108-107 Milwaukee loss at Dallas. That's the highest field goal percentage for any NBA player in a game this season (minimum: 10 FGA).
By Maurice Brooks
ESPN.com
TUESDAY'S BEST

Jackson

Stephen Jackson, Bobcats: Charlotte stayed hot thanks to Jackson's 30 points, nine rebounds and five assists, which gave the Bobcats their first win in Phoenix in their six-year history.

TUESDAY'S WORST

Maggette

Corey Maggette, Warriors: His final numbers of 19 points and 12 rebounds look good, until you realize it took him a whopping 22 attempts from the floor, making just three, to reach that point total in a three-point loss to the Kings.

QUOTE OF THE NIGHT

"The trip to the White House gave us a little energy. We want to go back."

-- Lakers forward Lamar Odom on what inspired them in their 115-103 win against the Wizards.
6.

Mavs Win Another Close One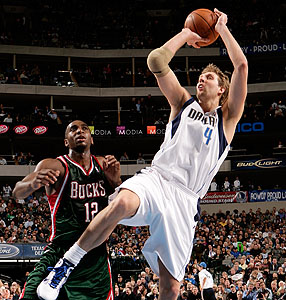 (AP Photo/Tony Gutierrez)
Forward Dirk Nowitzki shook loose for a game-high 28 points to lead the Mavericks to a 108-107 home victory -- Dallas' 10th straight one-point win, which ties an NBA record.
By Royce Young
TrueHoop Network

Let's get this out of the way: Winning is better than losing. Unless you're tanking for a chance to draft John Wall, I think that's pretty obvious.
But for the Thunder, the past two weeks may turn out to be the most valuable of the season. And that's even with the team going 3-4 in the past 14 days.
Oklahoma City dropped games against San Antonio, Dallas, Memphis and Cleveland -- three of them on the road -- by a grand total of five points. In two of those games, Kevin Durant had the ball in his hand with his team trailing and needing a bucket. And both times, Durant came up empty. While of course Thunder fans would trade the losses for wins, especially considering if OKC had won just two of the games it would be tied for fourth in the West, all is not lost.
Teams learn most when they have to sit in a locker room and feel the pain of a tough loss. You learn when you have to face the media while still thinking about a rebound you should have grabbed. You learn when you're lying in bed thinking about a free throw you missed. Or if you're Durant, you learn when you come up empty on two huge possessions when your team needed a basket.
And for a leader like Durant, staring in a mirror and hashing over a missed 3-pointer at the buzzer may be better in the long run than swishing it. It makes you hungry. It makes you anxious for that next chance. It makes you want to never feel that anguish again.
And KD will miss again. But he's willing to take the big shot and more importantly, he's willing to live with the burden of missing it. And that's what you want in your finisher.
These past two weeks have been a crash course in learning how to win close games against quality opponents for this young Thunder team. So in defeat, there's something to redeem.
But still, four wins sure would have been sweet.
Read more from Young at Daily Thunder
9.

Mavericks Know How To Win
By Rob Mahoney
TrueHoop Network

The rhetoric of basketball analysis is lined with clichés. This player "does the little things." That player "just knows how to win." The other player "gets the job done." But honestly, there isn't a better way to describe this season's Dallas Mavericks. This is a team of veteran contributors that does the little things because they just know how to win, and they've gotten the job done in each of their past 10 games decided by a one-point margin.
In most of those games, late-game heroics by Dirk Nowitzki sealed the win and topped it with a bow. He's the most productive Maverick by far, and his ability to perform in the clutch is beyond comprehension. But Tuesday night against the Bucks, Dirk faltered. Milwaukee's Luc Richard Mbah a Moute played terrific defense on Dallas' final offensive possession, and Dirk turned the ball over with three seconds to play and the Mavs aiming to protect a slim one-point lead.
But the Mavs "just got the job done." They capped off a pretty poor defensive performance by getting one stop when it mattered most. Though that doesn't make the Bucks' 53.3 percent shooting or 107 points look any prettier, it did give the Mavs a gentle nudge in the win column. Dallas did just enough to pull out a victory, and there's really no other way to explain it: this team "knows how to win."
How else could you make sense of the Mavs' merely average offense cranking up in their time of need? Or Erick Dampier, who was destroyed most of the game by Andrew Bogut (who shot 13-for-14 from the field), suddenly denying the Bucks' center shooting opportunities with the game on the line? How about Jason Terry springing to life to help the Mavs pull away in the fourth? Or Dallas somehow winning the game, despite failing to score a single point in the game's final two minutes?
So much of what the Mavericks accomplish on the basketball court fails to make much sense. But where logic fails, clichés speak. The Dallas Mavericks simply know how to win.
Read more from Mahoney at The Two Man Game