1. Legler's Western Conference All-Stars
The fans have spoken, and it turns out they know what they're talking about.
The Western Conference All-Star starters, as determined by fan voting, are the five players most deserving of the honor. In fact, there is only one debatable selection in the top five.
With the West roster to be completed Thursday with the naming of the reserves, here is a breakdown of the starters and my personal choices to grab the seven remaining roster spots.
First, let's look at the starters.
Kobe Bryant is not exactly a shocking selection. He has put up his usual numbers (per-game averages of 28.3 points, 5.5 rebounds and 4.8 assists) while leading the Lakers to the league's best record for most of the first half of the season. Even more impressive is the fact that he has played with a broken finger on his shooting hand for the past six weeks. As Bryant closes in on the all-time Lakers scoring record, it is fitting that he makes his 12th straight All-Star start.
Bryant's running mate will be Steve Nash. A late voting surge moved Nash ahead of Tracy McGrady and let the West avoid the awkward position the East finds itself in with the selection of Allen Iverson. Nash's numbers (18.5 points, 11.0 assists) are eerily similar to his nightly numbers during his two MVP seasons. He also is shooting the basketball at a ridiculous rate from all over the floor. His 53 percent field goal shooting, 43 percent 3-point shooting and 94 percent foul shooting marks all are better than his career averages in those categories. He has put to rest all questions about whether he is still at the top of his game.
The center position goes to Amare Stoudemire, although he is really a power forward playing the 5 in the Suns' version of the spread offense. In a league devoid of prolific center production, Stoudemire's 20.6 points and 8.4 boards per game put him on a different level than the rest of the West's centers. The Clippers' Chris Kaman is closing ground , but Stoudemire still gets the nod based on his superior athleticism and explosiveness.
One forward spot will be manned by Carmelo Anthony. He has led the league in scoring for most of the season (29.7 points per game), and has shown a greater commitment to conditioning, defense and rebounding. He defines the term "pure scorer" with his arsenal of post-ups, first-step blow-bys, pull-up 3-pointers and put-backs. Now that he has cemented himself as an unstoppable scoring machine, Melo has his sights set on a Finals appearance and possible MVP consideration.
The other forward position is the only debatable spot in the starting five. It's a matter of six in one hand and a half-dozen in the other. Tim Duncan got the fan votes, and he is my choice as a starter. Dirk Nowitzki (25.2 points per game) has had an amazing season so far, but Duncan (19.8 points, 10.4 rebounds) simply affects the game in more ways than Nowitzki. His rebounding, shot blocking and low-post defense still are formidable enough to deserve the recognition.
As for the reserves, it is a testament to the parity in the West that my choices for the seven available spots go to players from seven teams. In fact, only the Phoenix Suns, with two starters, should have more than one player in the game.
The first sub should be Nowitzki, the ceremonial sixth man. He has developed into one of the best clutch players in the game. He is a matchup nightmare for any frontcourt player, and has shown an increased propensity for drawing tough fouls and closing out teams at the line when the game is in the balance. Dallas has been one of the most consistent teams in the NBA, and Nowitzki is the guy who pulls the sled every night.
Another forward spot has to go to Zach Randolph. Who would have thought Z-Bo could go to a young Grizzlies team and be a positive influence? Prior to his arrival in Memphis, Randolph carried more baggage than a five-star resort bellhop. No one has ever questioned his productivity, and he is filling it up again this season to the tune of 20.9 points and 11.5 rebounds. The surprising Grizz are one of the best stories in the league, and Randolph is the biggest reason.
Another young team making waves out West is the Oklahoma City Thunder. They have a nice young nucleus, an underrated coach in Scott Brooks, a fanatical fan base and a ridiculously talented superstar to build it all around. Kevin Durant (29.3 points, 7.3 rebounds) has put himself on a very short MVP list by showing a greater commitment to rebounding at his position, making the game easier for his teammates and taking on tougher defensive responsibilities.
The reserve guards are anchored by Brandon Roy. He is easily the most unheralded star player in the NBA right now. He combines great maturity with a complete skill set to get it done every night. The only thing he is missing is a defining moment or series in the postseason that will put his name on the lips of every NBA fan when the game's great players are mentioned.
Although the Hornets have been a mild disappointment, you certainly can't blame Chris Paul (20.5 points, 11.1 assists). It is simply amazing to watch a player his size completely control the game whenever he is on the floor. The window might be closing on this particular group of Hornets, but Paul hasn't reached his prime yet.
I usually place the utmost importance on winning when considering players for the All-Star Game, but there are times when a player is producing at a rate that cannot be ignored. Monta Ellis (26.4 points, 5.5 rebounds) has torched enough defenses this season that his team's issues need to be placed to the side. Ellis is as explosive as any scorer in the league. There isn't a single defender capable of keeping him from getting his numbers.
Finally, the last spot should go to Deron Williams. The Jazz, due to their ineptitude on the road, are not serious contenders in the West, and might be pushed out of the playoffs altogether with the emergence of the Thunder and Grizzlies. Williams does all he can to see that it doesn't go down like that. Quite simply, he is the best point guard in the league. The combination of size, strength, scoring ability, vision and toughness make him a no-brainer to represent the West on Valentine's Day.
ESPN analyst Tim Legler is a regular contributor to the Daily Dime.
Dimes past: Jan. 8-9 | 10 | 11 | 12 | 13 | 14 | 15-16 | 17 | 18 | 19 | 20 | 22-23 | 24 | 25 | 26
2. Sources: Team USA To Train In NYC
By Chris Sheridan
ESPN.com

James
NEW YORK -- Team USA is in negotiations to hold training camp in New York City instead of Las Vegas in August, and to play at least one exhibition game at Madison Square Garden, ESPN.com learned Wednesday.
No agreements have been finalized, but sources said the U.S. federation is wholeheartedly committed to the idea of placing the team in the nation's largest media market prior to its departure for the World Championship in Turkey Aug. 26-Sept. 12.
Team USA still plans to conduct a mini-camp in Las Vegas in mid-July, but there is a strong possibility that several key members of the team who will be unrestricted free agents this summer (including LeBron James, Dwyane Wade and Chris Bosh) will be excused from the Las Vegas portion of camp.
Wade has publicly hedged on his commitment to playing and USA Basketball insiders also have concerns regarding how many members of their eight-man core (James, Wade, Bosh, Kobe Bryant, Chris Paul, Deron Williams, Carmelo Anthony and Dwight Howard) that won the gold medal at the 2008 Beijing Olympics might back off the verbal commitments they gave to team director Jerry Colangelo last February.
To read the entire story, click here.
3. Haunted Hotel?
By Nick Friedell
ESPNChicago.com

Gibson
OKLAHOMA CITY -- Taj Gibson was still trying to wrap his mind around what he had seen as the old elevator at the Skirvin Hotel gingerly opened its doors Wednesday morning. The rookie from USC had heard the stories about the old hotel being haunted, and now he had one of his own that surely would add to the myth.
"At one point, at around 12:15 at night, my bathroom just slammed completely shut," he said. "I don't know what it was, but it just completely slammed. It took me a minute to kind of figure out what [it] was."
Derrick Rose heard the ghost tales from all the locals, as well.
"If everybody in the town is saying it, then it's got to be true." Rose said after Wednesday's shootaround."I don't care whatever somebody said on this team, I believe in stuff like that. It was scary [Tuesday] night."
To read the entire Friedell column, click here.
4. Daily Dime Live Recap
ESPN.com writers and TrueHoop Network bloggers chatted with fans and gave their in-game opinions throughout Wednesday's games -- all in Daily Dime Live.
By Maurice Brooks
ESPN.com
WEDNESDAY'S BEST

Paul

Chris Paul, Hornets, and Tim Duncan, Spurs: The Warriors decided to make CP3 a scorer instead of a passer, and he made them pay by scoring 38 points. He still gave out nine assists.
Duncan scored 21 and grabbed a career-high 27 rebounds to help the Spurs (who lost Tony Parker to an ankle injury) snap a three-game losing streak.

WEDNESDAY'S WORST

Davis

Baron Davis, Clippers: Just when we were starting to take the Clippers seriously, they lost to the Nets -- by double digits. Davis went 2-for-10, scoring six points, in 29 minutes of action.

QUOTE OF THE NIGHT

"Nevertheless, there is no justification for their conduct. Accordingly, I am today converting Mr. Arenas' indefinite suspension without pay to a suspension without pay for the remainder of the 2009-10 season, and am also suspending Mr. Crittenton without pay, effective immediately, for the remainder of the 2009-10 season."

-- NBA commissioner David Stern on the suspension of the two Wizards guards.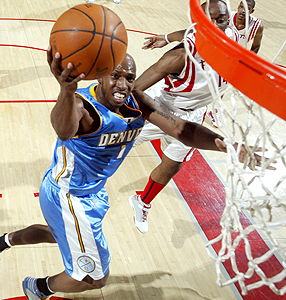 (Bill Baptist/NBAE)
Playing without Carmelo Anthony, the league's second-leading scorer, for the second straight game, the Nuggets defeated the Rockets to extend their winning streak to eight games, thanks to Chauncey Billups' 21-point effort.
By Rasheed Malek
TrueHoop Network

In what has been a challenging season, to say the least, for the Warriors, the bright spots have come few and far between. One of those bright spots has been the play of Stephen Curry.
Curry was placed in a tough situation from the get-go as his head coach had a history of not playing rookies and the star player said he couldn't play in the same backcourt if Golden State wanted to win.
Curry remarkably didn't let any of those hurdles get in his way as he's steadily improved his game throughout the season all the while seeing his team shredded by injuries and seeing the losses pile up.
Curry has put to rest most of the pre-draft worries people had of him as he entered the league. He's shown the ability to play point guard in the NBA and has been a better defender than most had predicted he'd be. Curry's greatest impact on the Warriors has been through his unselfishness and commitment to sharing the ball. Equally adept at using both hands to make the most difficult passes look easy, Curry has single handedly ratcheted up the Warriors ball movement.
Curry's true impact on the Warriors won't be felt until they become a consistent winner, which will take an influx of new talent coming in and allowing Curry to showcase his full arsenal. Playing with a patched up roster hasn't made it easy to create chemistry and continuity, which are essential in fielding a winning team. Curry can look back at this season knowing he's been through the worse and still found a way to improve through all the ups and downs.
Read more from Malek at Warriors World.
9.

NBA's Best Front Line?
By Chip Crain
TrueHoop Network

The Memphis Grizzlies have become the darlings of the NBA this season after a terrible 1-8 start that included Allen Iverson leaving the team under suspect circumstances. The team is 23-11 since Iverson "retired" and to say this caught experts by surprise is an understatement. It's been a great story.
But what happened to change the team's direction?
Zach Randolph is the easy answer. After all he's one of a handful of players averaging over 20 points and 10 rebounds a game this season. That is a big part of the resurrection of the Grizzlies franchise, but Randolph has always been able to put up numbers. What's changed is how efficiently he has been doing it. Randolph is shooting over 50 percent from the field. He's also averaging two assists per game and has become the leader on this young team with both his actions and his words. He's been a model citizen in Memphis after struggling with on- and off-the-court issues in his other stops. On Thursday, Randolph should become the second All-Star in Grizzlies history.
Yet, that isn't the whole story. One player can't make this big of a difference. The Grizzlies frontline has responded to the tougher attitude from Randolph. It's been the improvement of the entire starting frontline that has propelled the Grizzlies.
Marc Gasol, the brother of Pau Gasol, has stepped up his game from his rookie year. His 14.9 points, 9.6 rebounds and 2.2 assists had him in the discussion of All-Star votes earlier in the season. Most importantly, Marc has improved his defense averaging 2.2 blocks a night, which has helped the Grizzlies lower their points per game from over 111 in November to just over 103 now. That isn't great defense, but it is a great improvement over how the team started the year. Gasol spent the past summer working on getting into shape and that conditioning work has produced a slimmer and quicker player.
It seems funny to say this but the almost forgotten man on the Grizzlies frontline is Rudy Gay. Despite the fact he is averaging over 20 points and has been Memphis' best finisher late in games. During the offseason Rudy worked hard on conditioning and his ball control and the improvement has been as obvious as Gasol's weight loss. Rudy has hit game-winning shots and crowd-pleasing dunks, while shooting a career-high 46.6 percent from the field, and his defense has improved too. Rudy averages 1.5 steals and almost a block a game.
The Grizzlies frontline averages 56.3 points, 27.1 rebounds and 6.2 assists per game. That kind of production has made the Grizzlies a very dangerous team and allowed their young backcourt of Mike Conley and O.J. Mayo plenty of scoring opportunities as teams collapse on the bigs.
Read more from Crain at 3 Shades of Blue.