1. Celtics-Magic: Fading Stars
By John Hollinger
ESPN.com
ORLANDO -- On the surface, this was NBA excitement at its finest. Two contending teams battled down to the wire, with Orlando coming back from 16 points down to beat Boston 96-94 on Rashard Lewis's layup with 1.3 seconds left.
Scratch away that thin veneer, however, and this was one of the most depressing games I've ever seen. The story here wasn't the result but how it happened, because it told the story of why both the Orlando Magic and Boston Celtics are miles farther from a championship than they imagined at the start of the season.
The news accounts will tell you Lewis drove the baseline for his game-high 23rd point to win the game for Orlando. What they won't tell you is how four former stars conspired to create that moment by laying their weaknesses bare before a national TV audience, and what a dramatic impact those four players are having on their respective sides.
Allow me to provide an alternate account of the game's key play. First, Lewis ended up with the ball only because former All-Star Vince Carter cemented a horrid evening of awfulness by failing in the simple task of freeing himself to receive a pass at midcourt. Instead, Lewis caught the ball on the right wing on a pass from J.J. Redick, who was the primary ball handler on the final two possessions because former All-Star Jameer Nelson was on the bench -- where he remained for the final 13 minutes of the game.
Lewis proceeded to score anyway, because Kevin Garnett's knees are so creaky that Lewis could breeze past him over the course of four looping dribbles, and because at the end of his lengthy, elliptical route to the basket, Rasheed Wallace still was nowhere near ready to help from the weak side.
"I was expecting the defense to collapse," Lewis said. "I was surprised when I turned to the basket there was nobody there."
That was one of many surprises on that final play, all emanating from the fact that with nearly two-thirds of the season in the books, the four key players (except Lewis) mentioned above all seem to be shadows of their former selves.
On Orlando's side, the addition of Carter and the return of Nelson from injury were supposed to key the Magic's quest to win a championship after their Eastern Conference title last season.
Similarly, the addition of Wallace and the return of Garnett from injury were thought to cement a dominant frontcourt rotation and put the Celtics back in position to reclaim the title they won in 2008.
So much for those plans. Between their last meeting (an 86-77 Boston win on Christmas) and this one the two teams went a combined 13-16. Thursday's showing provided ample reason why.
From Orlando's end, all you need to know is that the crunch-time backcourt wasn't Carter and Nelson, but Jason Williams and Redick. Carter heard boos on multiple occasions while shooting 2-for-13 with three turnovers, and sat most of the fourth quarter. When he returned to the floor in the final 90 seconds he still couldn't get any traction, failing twice to beat a noticeably overweight Wallace off the dribble on his first crack before he was denied the ball on the Magic's final trip.
"'The closer' has become a middle reliever," cracked one local scribe afterward.
Magic coach Stan Van Gundy has steadfastly avoided criticizing Carter despite his spotty results thus far, and one wonders if it's because he knows it has more to do with age than effort. Carter defended with intensity, but his trademark elevation appears to have abandoned him. The proof is in the pudding: After converting 55.1 percent of his shots in the basket area last season, he's made only 45.9 percent this campaign. According to 82games.com, he's scoring half as many points per game on dunks as he did last season.
That scenario played out on several occasions, as Carter struggled to gain clearance to finish on his forays to the rim and never came close to earning a clean lay-in or dunk. His 2-for-13 night lowered his shooting percentage to a career-low 38.7 percent.
From Boston's end, Garnett was invisible, and not just with his defense on the final play. He finished with six points and seven rebounds in 33 minutes and twice failed to finish alley-oop plays at the basket. On the crucial play against Lewis he played his customary in-your-grill defense, only he lacked the dexterity to stay in front of him on the drive -- a recurring pattern during Orlando's second-half comeback.
Playing his third game since missing 10 games with what was diagnosed as a hyperextended right knee, Garnett appeared to favor his leg noticeably throughout. Afterward he insisted that nothing was wrong -- "I just played like [expletive]," he said, "pure [expletive]." Few observers believed him -- at least the part about nothing being wrong with his leg.
Garnett's woes are particularly concerning to Celtics fans because they so closely mirror the events of last season. In March, Garnett returned from a knee injury that seemed minor at the time, only to quickly lose effectiveness and end up missing the entire postseason. Ironically, it was a national TV game against Orlando when the extent of the problem became apparent -- he had four points in 17 minutes in a March 25 loss to the Magic and was not seen on the court again. That was his fourth game back from injury; this was his third.
"He was off today, the answer is yes, but I think he's OK [physically]," said Celtics coach Doc Rivers. "Some days you wake up and you just don't have it."
Left unanswered was the question of whether Garnett might find it. While the Celtics and Garnett continue to insist that everything will be fine, after what happened last season they have virtually no credibility in this department. Observers who saw Garnett laboring up and down the court a week after he supposedly had a clean bill of health should feel free to wonder if things are worse than the Celtics have acknowledged publicly -- much as they were a season ago.
Of course, Lewis' drive wouldn't have succeeded except that no help defense came from behind Garnett, despite having had ample time to do so. The closest defender, Wallace, inexplicably stayed next to Dwight Howard at the opposite block rather than rotating down to the baseline to stop Lewis' drive.
Wallace was thought to be the final piece of the puzzle, but he's been noticeably overweight all season and largely content to hang out at the 3-point line rather than using his considerable post skills. Thursday he started blazing from outside, making his first five shots, but finished with only two rebounds in 26 minutes and shot an air ball at the buzzer to end the game. He also moved into the league lead in technical fouls with his 12th after protesting a lack of an and-1 call on a rare post-up basket. We'd present his side of how things went, but he declined to be interviewed.
Getting back to Orlando, we have the equally confounding case of Nelson -- another former All-Star who has hit hard times in the wake of physical problems. He has battled knee problems all season after missing the second half of last season with an injured shoulder and has yet to regain his former explosiveness. On Thursday he scored 10 straight points late in the first quarter -- much of it coming at the expense of Wallace's pick-and-roll defense -- but vanished the rest of the evening, finishing with 12 points, two assists and three turnovers and watching grizzled vet Williams run things down the stretch.
All that makes it tough to put a positive spin on this game for either side, but if you're looking for a glass-half-full take, it's this: The calendar still works in both squads' favor. Garnett, Carter, Nelson and Wallace have three months to work themselves into peak shape before the real games start, and with both teams virtually assured of a top-four playoff seed, their coaches can afford to be patient.
Unfortunately, time is the reason they're in this predicament in the first place. None of the four faded stars is a spring chicken anymore, and each looks worse for the wear physically. Unless they can find a reserve of youth to tap, it's hard to see their teams presenting a legitimate championship threat come spring.
John Hollinger writes for ESPN Insider. To e-mail him, click here.
Dimes past: Jan. 10 | 11 | 12 | 13 | 14 | 15-16 | 17 | 18 | 19 | 20 | 22-23 | 24 | 25 | 26 | 27
2. After Lee's Snub, Knicks Fall To Raptors
By Chris Sheridan
ESPN.com

Lee
NEW YORK -- David Lee has grown fond of having a playful back-and-forth with a certain beat writer for a New York tabloid, always trying to pinpoint moment or the quote the New York Post will seize upon to accentuate the negative.
Following the Knicks' 27-point victory two nights earlier, Lee quipped that the Post would write that "it made Sunday's 50-point loss look even worse."
So it was no surprise when Lee immediately took notice Thursday night as the Post's beat writer began scribbling in his notebook upon hearing Lee say that the Knicks had let one slip away in Thursday night's 106-104 loss to the Toronto Raptors, and he bellowed it out again -- with emphasis.
"Knicks let one slip away!" Lee said.
To read the entire Sheridan column, click here.
3. Rose Deserves His All-Star Selection
By Jon Greenberg
ESPNChicago.com

Rose
Reggie Rose goes to all of his younger brother's basketball games. Not because he loves the high life. He just wants his brother, one of the rising stars in the NBA and the rightful heir to Air Jordan, to feel at home.
"I know he's 21, but when he comes out of the tunnel on the road, it's nice for him to have a familiar face," Reggie said in a phone conversation.
On Thursday afternoon, Reggie, on the road with his brother, found out that Derrick made his first All-Star Game. So he called Derrick as he was going to practice in New Orleans.
What did Derrick say? If you know him at all, even from a sound bite, it's not hard to imagine his response.
"He was more humble, like, 'For real?'" Reggie said. "Then he said, 'OK, that's great, that's great.' Basically that was it. He told me he had to get off the phone so he could tell Mom."
I guess it's safe to say fame hasn't tainted Derrick Rose quite yet.
To read the entire Greenberg column, click here.
4. Daily Dime Live Recap
ESPN.com writers and TrueHoop Network bloggers chatted with fans and gave their in-game opinions throughout Thursday's games -- all in Daily Dime Live.
By Maurice Brooks
ESPN.com
THURSDAY'S BEST

Lewis

Rashard Lewis, Magic: He scored a team-high 23 points, including the winning layup with 1.3 seconds left to play, as the Magic erased a 16-point deficit on the way to a 96-94 win against the Celtics.

THURSDAY'S WORST

Garnett

Kevin Garnett, Celtics: He sure didn't play like an All-Star, making just two field goals (eight attempts) and allowing Rashard Lewis to beat him to the rim for the game-winning layup.

QUOTE OF THE NIGHT

"Just to be able to be an All-Star year in and year out, that's a special feeling, but the fact that it's in Dallas is kind of a bittersweet thing. Sweet because I get to play in front of my home crowd and it's bitter because everybody wants tickets."

-- Raptors forward Chris Bosh after being chosen an Eastern Conference All-Star reserve.
6.

Playing The Role Of Host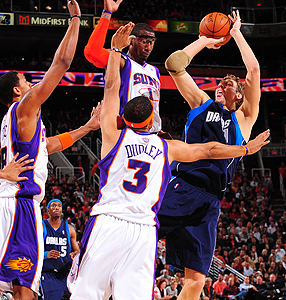 (NBAE/Getty Images)
Dallas forward Dirk Nowitzki was selected to the All-Star Game, which will be held at Cowboys Stadium, for the ninth consecutive time. Despite his 19 points Thursday night, the Mavericks were defeated 112-106 by the Suns.
8.

What's Going On With Amare?

PHOENIX -- You can tell the end of a relationship is near when there are no more denials, and the Phoenix Suns-Amare Stoudemire union has definitely reached the truth-telling stage.
Suns general manager Steve Kerr doesn't try to shoot down the rampant trade rumors about Stoudemire, nor does Stoudemire sing a nostalgic song about wanting to play his entire career in a Suns uniform.
"I'm 50-50," Stoudemire said before the Suns played the Dallas Mavericks on Thursday night. "They've shopped me around for two maybe three years. It's not a great feeling to feel that way. I feel like the confidence in me is not quite there within them, for them to want to shop me around so much."
Stoudemire has a player option for next season worth $17.7 million. If he elects to become a free agent instead he might not be able to make that much in the first year of a new contract, but he'd still be better off securing a long-term contract under the current collective bargaining agreement than signing his next contract under the new CBA in 2011, which is expected to be less favorable for players.
Another option would be tacking an extension onto his current contract, but talks between the Suns and Stoudemire's agents haven't brought them closer to an agreement that would keep him here.
So pick a region of the country and there's been a rumored trade that would send Stoudemire there.
"Obviously with a player of Amare's caliber, an All-Star player, when the rumor mill starts it's tough to stop, because he's such a high-profile player," said Kerr, who didn't exactly try to apply the brakes. "Especially when a guy is a free agent at the end of the year, potentially. That's why you're going to see Amare and Chris Bosh in the news here the next few weeks. It's just business as usual. We always look at this as, 'How can we make our team better?' Re-signing Amare long-term, or any other option, whatever we do is going to be designed to make our team better."
The immediate impact of the speculation without resolution made Stoudemire worse. A 55 percent shooter on the season, he went 15-for-37 over three games before the Suns played the Mavericks.
"It's tough, man," Stoudemire said. "But I think the most important thing is to try to stay focused. It's not easy but you've got to find somehow, some way to do it."
And if the end is approaching, he's already a little remorseful that the promise of this team was never fulfilled. Whether it was injuries, untimely suspensions in the playoffs or salary-saving trades, we'll always feel that this Suns team left a lot on the table.
"I don't think the potential of this team was ever seen," Stoudemire said. "One year we traded Joe Johnson, then we traded Shawn Marion, then we traded Shaq. Every year it's been something different. We never really had a chance to have the full potential of this team. I'm not sure of the route we're taking, but right now we have to worry about the present, so we can turn the season around and continue to win."
He scored 22 points on 7-for-13 shooting Thursday, but didn't play a minute in the fourth quarter as the Suns beat the Mavericks 112-106, and finally broke their 18-game losing streak in games played on TNT.
J.A. Adande is an ESPN.com senior writer and the author of "The Best Los Angeles Sports Arguments." Click here to e-mail J.A.
9.

Raptors' Forwards Lead The Way

Bosh
Chris Bosh tallied 27 points and 15 rebounds while Hedo Turkoglu added 26 and 11 in the Raptors' win over the Knicks. It was the first time this season that an NBA team's two starting forwards each recorded at least 25 points and 10 rebounds in the same game. The last pair of starting forwards to do that was Toronto's Bosh and Shawn Marion on April 13 at Washington. Bosh and Marion each posted 25 points and 15 rebounds in that game.