1. Time To Trade Ray Allen?
By Chris Sheridan
ESPN.com
BOSTON -- The next time the Celtics and Lakers meet, it will be Feb. 18 -- just hours after the trade deadline.
And something worth considering over the next two-and-a-half weeks as that game approaches: How different might the Celtics look on that night?
More specifically: Will Ray Allen still be a part of the team?
The record will show that Kobe Bryant hit the game-winning shot Sunday while being closely defended by Allen, and it'll also show that Allen missed the final shot of the game -- a 24-footer that could have won it in the final seconds for the Celtics.
But the ball didn't bounce Boston's way, and January ended with the Celtics having a losing month (6-8) for the first time since the Big Three took shape back in the summer of 2007.
Yes, the month ended with losses to the Magic, Hawks and Lakers -- three teams that can be considered legitimate final four contenders -- and the current three-game losing streak was preceded by victories over the Clippers and Blazers. But before that, there was another three-game losing streak comprised of home losses to Chicago and Dallas followed by a road loss to Detroit.
Look at that stretch as a whole, and there are six losses in the past eight games for a team that steadfastly maintains its confidence has not been shaken. Yet the Celtics are still going through one of the more extended periods of introspection they've experienced since the acquisitions of Garnett and Allen altered their destiny.
"Losing teams point fingers, but we are not that kind of team," said Pierce, who was double-teamed on the perimeter when he rose and rifled a cross-court pass to Allen, who was wide open at the 3-point line in front of the Lakers' bench.
"Ten times out of 10 I'll give that to him for the game," Pierce said.
To which I pose this question to Celtics fans: If Allen has a chance to hit the game winner 10 different times, how many times do you think he'll knock it down?
If your answer is five or fewer, you may be thinking the same thing I am: The time has come for the Celtics to think long and hard about whether they want to head into the postseason with their main core intact, or whether they want to explore the possibility of trading Allen and his expiring $18.8 million deal for a package of players that'll make them a better team.
Allen is aware it's a possibility.
"Nothing would surprise me," said. "I've seen guys come and go, whether on my team or another team, that you didn't expect to go. That's just the nature of the business. You can always say somebody is untradable or untouchable, but that's the guy who has all the value."
That was the lesson Allen learned back in 2003 when he was the Milwaukee Bucks' franchise player but was being pushed for playing time by a young upstart who played Allen's position, Michael Redd.
Allen was deemed expendable by then-Bucks GM Ernie Grunfeld, who called the Seattle SuperSonics to inquire about the availability of Gary Payton. Told there would be no Payton discussion unless Allen was in the conversation, too, Grunfeld decided against hanging up the phone, requested that Desmond Mason be included in the deal, and then pulled the trigger on a trade that blindsided Allen and the city of Milwaukee.
"Yup, the guy who wasn't supposed to get traded got traded. That's the lesson I learned -- if somebody ever says you're untouchable, then that's the one you need to worry about. Everyone wants you, because the value you bring to that franchise you could bring to another franchise," Allen said. "I've seen stranger things happen."
Allen's stock dropped precipitously two seasons ago when he had a prolonged postseason slump as the Celtics needed seven games to get past Atlanta and then Cleveland before they defeated Detroit in the Eastern Conference finals and went on to defeat the Lakers for the title.
He was only a 40 percent shooter in the postseason last year when defenses keyed more on him and Pierce, not having to concern themselves with the injured Kevin Garnett.
This season, Allen is averaging 15.7 points but has made better than 50 percent of his attempts in only three of the last 11 games. And it should not go unmentioned that coach Doc Rivers considered pulling Allen on the Celtics' final defensive possession in order to have Tony Allen guard Bryant instead.
But Doc stuck with his veteran, and no one could argue that Ray Allen's defense was anything less than stifling on that last play. But Bryant did what Bryant does, nailing a tough fadeaway 18-footer to give Los Angeles its first lead of the second half. And in the final 7.3 seconds the Lakers' focus was the same as it had been all game -- let anybody but Pierce, who was defended admirably by Ron Artest all afternoon, try to beat them.
The Lakers gave Rajon Rondo so much room to shoot, Rivers said they might as well have been sitting on the rim. Yes, Rondo produced another studly line of 21 points, 12 assists and five rebounds, but he played into the Lakers' strategy of never allowing Pierce, Allen, Garnett or anyone else get on a hot streak.
Allen finished 2-for-10, including 0-for-6 from 3-point range, for seven points.
"I had a good look," Allen said of the final shot. "I think I may have rushed it a little bit, but I did have a look."
Which brings us back to our original point: How many times is he going to make that shot in the future, and is it time for the Celtics to take a look at moving him?
For all the chatter about Amare Stoudemire and Tracy McGrady (with his $22.4 million expiring contract) being the most desirable pieces out there, if Allen goes on the block, it could be a game-changer leaguewide.
Would both teams be happy with a trade (and we're merely speculating here) that sent Allen and a minor player to Chicago for Kirk Hinrich, Tyrus Thomas and Jerome James (a 3-for-2 would work, because Boston has left a roster spot open since Lester Hudson was claimed off waivers by Memphis)? Or for Hinrich and Brad Miller?
Either of those deals would clear $9 million off the Bulls' cap for next summer, when they'll be going after a max free agent, and would allow Chicago to remain a viable playoff contender with a shooter who can provide what Hinrich and John Salmons haven't. The Celtics would get another guard who can't quite shoot as well (Hinrich is making only 38 percent of his shots while Allen is at 45 percent) but would gain a far more capable ballhandler and defender.
Moreover, if the Celtics could get a shot-blocker and rebounder like Thomas, it could go a long way toward getting them out of the NBA cellar in offensive boards (where they rank 30th) and restore some of their customary defensive prowess.
"We haven't had timely stops -- that's what bothers me most. Today, and against Atlanta and Orlando, they scored every time they needed to," Boston coach Doc Rivers said.
Sunday's game illustrated what Celtics fans have been seeing over the course of the past month: This Boston team is nowhere near as good as the '07-08 title team, and nowhere near as feared as the '08-09 Celtics team was before Garnett went down for the season with a knee injury.
If the time has come for a shakeup to boost Boston back into the NBA's upper echelon, the Celtics' most moveable player is the very same player who missed the last shot Sunday against the Lakers.
And if they happen to move him a few days before trade deadline day, Feb. 18, they can begin a new push to the finish line with fresher faces and younger legs beginning that night against these very same Lakers at the Staples Center.
Chris Sheridan covers the NBA for ESPN Insider.
Dimes past: Jan. 13 | 14 | 15-16 | 17 | 18 | 19 | 20 | 22-23 | 24 | 25 | 26 | 27 | 28 | 29-30
2. Nuggets Keep On Rolling
By John Hollinger
ESPN.com

Billups
SAN ANTONIO -- Sometimes one can't appreciate a player with subtle skills until circumstances push him to the forefront. The recent play of the Denver Nuggets provides a good example. With league-leading scorer Carmelo Anthony sidelined by an ankle injury, one would think the Nuggets would struggle mightily. Instead, his absence provides a great opportunity to appreciate the quiet effectiveness of point guard Chauncey Billups.
We've read and heard plenty, of course, about how his arrival early last season ignited the Nuggets. However, Denver's six wins in nine games without Anthony this month -- including five against winning teams -- reinforces how impactful his addition was.
Sunday's 103-89 win in San Antonio was the latest Melo-less conquest for the Nuggets, and perhaps the last -- Denver officials say he'll play on Monday against Sacramento. But it provided perhaps the best example of Billups' veteran savvy.
With the Spurs rallying in the fourth quarter and Denver clinging to a two-point lead with 5½ minutes left, Billups caught a rebound in the corner near the Denver bench, heard an instruction from coach George Karl, and signaled to him, in so many words, "Don't worry, I got this."
It was a tense two-point game at the time and San Antonio's Roger Mason had just missed a 3-point try that would have given the Spurs the lead, but Billups quickly put an end to any hopes for San Antonio. Dribbling upcourt and catching Richard Jefferson on a transition switch, he made a quick feint toward the basket and then pulled up for a 3, kicking off a five-minute stretch where Billups took over the game.
To read the entire Hollinger column, click here.
3. Daily Dime Live Recap
ESPN.com writers and TrueHoop Network bloggers chatted with fans and gave their in-game opinions throughout Sunday's games -- all in Daily Dime Live.
By Maurice Brooks
ESPN.com
SUNDAY'S BEST

Durant

Kevin Durant, Thunder: He knocked down 16 of 21 shots and 11 of 11 free throws on the way to a 45-point explosion in the Thunder's eight-point win against the Warriors. Durant's average of 29.6 points per game trails only Carmelo Anthony (29.7).

SUNDAY'S WORST

Robinson

Nate Robinson, Knicks: New York had a plus/minus of -33 with Robinson on the floor in its 112-91 loss to the Wolves. He missed nine of his 10 attempts from the floor.

QUOTE OF THE NIGHT

"I've got money that I'll put them in the gym naked, nobody else on them, and they probably can't make 11 out of 13 again from the same spots. They hit some shots in that first quarter that I know in 30 years of being in the NBA that I've [never] seen a team make."

-- Clippers coach Mike Dunleavy after the Cavaliers tied a franchise record by scoring 46 points in the first quarter
5.

Raptors Chasing The Celtics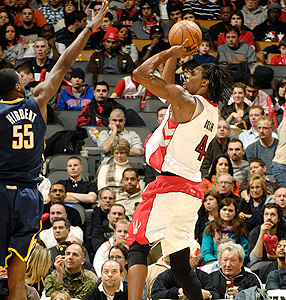 (Ron Turenne/NBAE/Getty Images)
Chris Bosh powered inside for 26 points and 15 rebounds to lead the Raptors to a 117-102 win against the Pacers. Toronto, which has won 15 of its last 20, trails Boston by just 4.5 games in the Atlantic Division.
By Ryan Schwan
TrueHoop Network

The Hornets are built around Chris Paul. Their offense is a steady diet of pick-and-roll basketball, and the team is constructed to feed off that: shooters on the wings, a center who can roll and dunk, and a stretch power forward with range. In the midst of it all is Paul, wreaking havoc and creating shots. Or that's where Paul was.
For the next one to two months, he'll be in a suit watching as the team he was barely keeping in contention for the playoffs tries to find a new identity. For Paul, he'll handle the recovery from arthroscopic knee surgery with style. Despite his almost pathological competitiveness during games, he's got the best demeanor on the bench I've ever seen in a star. He'll cheer on the team like he did earlier in the season when he had an ankle sprain, acting as an assistant coach, rookie mentor and Mark Madsen impersonator as he celebrates his team's successes on the floor.
But that's the question: Without Paul, how many successes will there be to celebrate? Rookie Darren Collison has proved he can help the team win as a starting point guard, but the Hornets just trimmed their payroll heavily and have only three guards left on the entire roster: Collison, fellow rookie Marcus Thornton and little-used Morris Peterson. That's a lot of pressure to put on a pair of rookies, no matter how capable they've been to this point.
It's particularly painful because the team finally seemed to be jelling. The backcourt was settled, the rotations were producing and the bench was stronger than it had been in years. The playoffs were a good possibility for the first time since the 3-8 start to the season. Now, in a tough Western Conference, that possibility is all but dead.
Read more from Schwan at Hornets247.com.
8.

Rip, Stuckey Thriving Together
By Dan Feldman
TrueHoop Network

Pistons fans have repeatedly asked the same question with an alternating answer. Who would you rather trade, Richard Hamilton or Tayshaun Prince?
If Detroit fans got to pick now, Prince would be packing his bags. He's looked lethargic and disinterested since returning from injury.
Hamilton, on the other hand, has injected a bit of life into the Pistons' offense after returning in late December from an ankle injury. Best of all, he's made Rodney Stuckey look better.
Stuckey plays best when he can get in rhythm by playing on and off the ball. Hamilton has assumed point-guard-like duties at times, allowing Stuckey to play the off-guard spot. All of a sudden, the Pistons' backcourt has been a lot more effective.
Both have used their ability to dribble inside to score throughout their careers. But they've begun to use that skill to draw defenders and find open teammates -- and Detroit had desperately needed better passing.
The Pistons have 11 games this seasons with 13 or fewer assists. For perspective, they had 11 such games in the previous four full seasons combined. Unsurprisingly, Detroit is 1-12 in those games this season.
In their last nine games played together, Hamilton (6.8 assists per game) and Stuckey (6.0) nearly averaged that themselves. The Pistons went 4-5, and even though they've lost five straight, that's pretty good for a 15-31 team.
Stuckey and Hamilton are playing like they could be Detroit's starting backcourt for the next few years, but that gets complicated. The Pistons signed Ben Gordon to a five-year, $58 million contract this summer, and Gordon is five years younger than Hamilton. So Detroit would obviously prefer Gordon playing well with Stuckey.
Hamilton has many Pistons fans asking a different question now. Whose signing was a bigger mistake last summer, Gordon or Charlie Villanueva? After Villanueva led that discussion for most of the season, Gordon is catching up.
Read more from Feldman at PistonPowered.
By Melissa Isaacson
ESPNChicago.com

Noah
It is believed P.T. Barnum originated the bandwagon, which was the mode of transportation for his circus bands in the 19th century. Years later, politicians began using them for campaign purposes, and soon after, Teddy Roosevelt coined the phrase "jumping aboard the bandwagon."
No record of when people first started jumping off bandwagons, but it's thought to be around the same time "us against the world" was popularized, which is the mindset Bulls center Joakim Noah said the Bulls utilized on their recent West Coast road swing.
To read the entire column, click here.