1. Who Will Own The Bobcats?
After the Lakers finally beat the Bobcats on Wednesday night, for only the second time in their past eight meetings, the Bobcats no longer own the Lakers. The lingering question is, who will own the Bobcats?
And more importantly, if new ownership comes in and team president Michael Jordan goes out, as Ric Bucher speculated this week, would that mean the departure of Larry Brown, who's only the single best thing to ever happen to the franchise?
It was Jordan and the University of North Carolina connection that first lured Brown to the Bobcats. And we all know how quickly Brown can bounce out of town as soon as the weather pattern shifts.
The Bobcats won a franchise-best 35 games last season, Brown's first as coach. This season they're on pace for their first winning record and currently occupy the sixth spot in the Eastern Conference playoff picture.
Bobcat players offer up as many unprompted tributes to their coach as I've heard in an NBA locker room. Gerald Wallace credited his breakthrough All-Star season to "Coach Brown -- I think that's it."
"Just lighting a fire under me," Wallace continued. "He keeps pushing me to do a lot of little things that players don't want to do. Being aggressive, going to the boards. He's always telling me I can be one of the top rebounders in the league with my athleticism and quickness. That was my main thing, is just try to do every little thing that he tells me to do, and so far it's worked out this year."
That would also make Brown's hiring the best transaction in Jordan's history as an executive with the Bobcats and Washington Wizards. But an NBA source said Jordan is not inclined to make a bid for the franchise that matches the number which owner Bob Johnson has in mind. It is believed that a group led by Houston investor George Postolos, the former president of the Rockets, has made a higher offer. One source familiar with the negotiations read Johnson's backing away from the sale to Postolos last summer and the continued extension of the process as a desire to give Jordan another opportunity to put together a stronger offer. But with league owners already skittish about the possible decrease of franchise values due to the perceived low-price sale of the New Jersey Nets (by Bruce Ratner to Russian billionaire Mikhail Prokhorov), there will be pressure on Johnson to go for the higher bid and not let his relationship with Jordan outweigh the prospect of more cash.
The Bobcats are finally gaining traction in Charlotte after stumbling out of the gate with a bad television deal and a failure by Johnson to connect with the city's major financial players. The team now has 22 sponsors, plus relationships with banking giants Bank of America and Wachovia, which are headquartered in Charlotte. More importantly, their games are now broadcast on a network that's in 1 million more households than their previous carrier.
Pair that with their recent success on the court, and the Bobcats -- much like Wallace this season -- are looking better than ever. It's a good time to sell for Johnson, whose desire to shed the money-losing team has been well-known in NBA circles. But would the new ownership want to keep Jordan? Would he want to stay on with an unfamiliar boss if they did? And how would Brown react to the changes?
A source expects the final decision to come by March. Whatever the final sales price for the Bobcats turns out to be, the purchase isn't the same if it doesn't include assurances from Brown.
J.A. Adande is an ESPN.com senior writer and the author of "The Best Los Angeles Sports Arguments." Click here to e-mail J.A.
Dimes past:
Jan. 18
|
19
|
20
|
22-23
|
24
|
25
|
26
|
27
|
28
|
29-30
|
31
|
Feb. 1
|
2
2. Jackson: Winningest Coach In Lakers History
J.A. Adande
ESPN.com

Jackson
LOS ANGELES -- The true reflection of Phil Jackson's stature in the NBA coaching hierarchy isn't that he surpassed Pat Riley for most victories as coach of the Lakers. It's that he no longer needs to be measured against Riley, the man who provided Jackson's first target for coaching greatness.
For historical purposes, Feb. 3, 2010, marks the date Jackson won his 534th game with the Lakers, one more than Riley. In reality, Jackson passed Riley long ago, once their Bull-Knicks battles were left back in the 1990s like Cross Colours and Jackson came within range of Red Auerbach's nine championships.
We will define Jackson by his overall number of championships much more than his regular-season victories with the Lakers.
But Riley is a part of this journey. Just as sure as Tex Winter was prodding and antagonizing Jackson alongside him on the bench, Riley was the initial figure looming in the distance. Some 6½ years ago, Jackson leaned against a wall in the Thomas & Mack Center before a Lakers preseason game in Las Vegas and told of the time he watched Riley receiving a coaching award at the NBA meetings in Palm Springs. Jackson was the second-year coach of the Chicago Bulls, when he was known more for his collection of suspenders than rings, and his old college coach Bill Fitch came up to him and told him he would win more championships than Riley, who had already concluded his run of four championships with the Lakers. Jackson couldn't even fathom it.
To read the entire blog entry, click here.
3. Howard Shows His Potential
By Tim MacMahon
ESPNDallas.com

Howard
DALLAS -- Coach Rick Carlisle wants to get something on the record: He wants Josh Howard and thinks the Dallas Mavericks need him.
Will that stop the trade rumors circulating the Mavs' struggling swingman? Certainly not.
Especially not with the owner acknowledging that there is reason for Howard to be uncertain of his immediate future with the Feb. 18 trade deadline looming.
Don't mistake that for Mark Cuban's being eager to wash his hands of Howard, whom the owner has consistently supported through the roller coaster that has been his recent career, on and off the court. Cuban said he hopes to answer questions later this season about how pleased he is that he didn't pull the trigger on a Howard trade.
To read the entire MacMahon column, click here.
4. Daily Dime Live Recap
ESPN.com writers and TrueHoop Network bloggers chatted with fans and gave their in-game opinions throughout Wednesday's games -- all in Daily Dime Live.
By Maurice Brooks
ESPN.com
WEDNESDAY'S BEST

Stoudemire

Amare Stoudemire, Suns: He posted a double-double (20 points and 17 boards) as the Suns ran past the Carmelo Anthony-less Nuggets for their fourth straight win.

WEDNESDAY'S WORST

Miller

Andre Miller, Blazers: Not that we expect him to score 52 points every night, but the point guard struggled in Portland's loss to Utah, missing 10 of his 13 attempts while handing out just four assists.

QUOTE OF THE NIGHT

"It's ridiculous how much he was scoring. He just goes about it like a business."

-- Hawks All-Star Al Horford on teammate Joe Johnson, who scored 34 points to help Atlanta rally past the Clippers
6.

Warriors Waste Monta's Big Game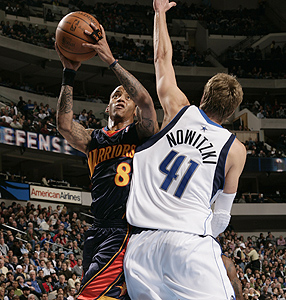 (Glenn James/NBAE/Getty)
Monta Ellis scored a career-best 46 points against the Mavericks, but it wasn't enough to prevent the Warriors from falling 110-101 -- Golden State's seventh consecutive loss.
By Chris Forsberg
ESPNBoston.com

"Let me [say] something," said Garnett. "I'm not speaking for [Rondo], but on this team we have a lot of strong personalities. At the end of day, we're all seeking, especially when you lose, man, I remember we lost to Portland, we lost three straight, I could just sense that everybody, within themselves, was trying to do more than they should, or reverting back to being leaders on this team versus the way we have been doing it. When I read the comments, I talked to him personally, because we have a lot of personal conversations. That's what it was. We're not a team here to point fingers, we keep everybody accountable, everybody knows what this is in the locker room. If we have anything that needs to be said, it will be said in closed confinement of the locker room and among each other as men. I want everyone to respect that, all right? Next question."
To read the entire blog entry, click here.
9.

Where Will Amare Land?
By John Hollinger
ESPN.com

Stoudemire
As the Feb. 18 trade deadline nears, it appears the epicenter of Rumorville has shifted. In contrast to a few weeks ago, when everybody viewed Washington as the first trade domino, now it appears that the resolution of Amare Stoudemire's status in Phoenix is the more likely tipping point for trade season.
Don't get me wrong -- the Wizards remain very active in trade discussions, and plenty of teams covet Antawn Jamison, Caron Butler and Brendan Haywood.
But Stoudemire is the highest-profile player to hit the trade market thus far. Multiple league sources have informed me that they expect him to be traded before the deadline as owner Robert Sarver looks to further cut money on a team that, at best, seems a likely first-round playoff casualty.
To read the entire PER Diem, click here.