1. A Little Bit Of MJ, A Little Bit Of Magic
By Brian Windhorst
Special to ESPN.com
CLEVELAND -- At various times during his career, LeBron James has been compared to both Michael Jordan and Magic Johnson.
There are statistics, highlights and comments from esteemed observers that back it up. It makes for nice arguments and comparisons. But rarely is it pointed out that James can play, at times, like both Hall of Famers within the same game.
He had such a game Thursday night when the Cavs extended their winning streak to 10 games with another rout, this one 102-86 over the fading Miami Heat.
James has always handled the ball a great deal. But over the last three weeks, with both Mo Williams and Delonte West out with injuries, he's played stretches of each game truly at point guard. Against the Heat, though, he really did a Magic impression when he started at point guard.
That was the first time it's happened since James was a rookie and the then-dreadful Cavs were at the start of their rebuilding process and trying to fit their No. 1 overall pick in with wings Ricky Davis and Darius Miles.
"I haven't played this much point guard since my first or second year in the league when I had to really dominate the ball for us to be successful," James said. "So it isn't something I'm used to but it is something I can do."
This time James was pressed into duty because Daniel Gibson was at the hospital with his fiancée, R&B singer and reality-show star Keyshia Cole (who says there isn't glamour in Cleveland). It turned out to be false labor. But at tipoff, Gibson -- who has been filling in nicely at point guard -- was still thinking he might have become a father on this night.
So into the point guard spot went James, the Cavs' de facto fourth-string point guard for this night.
He didn't play like a fourth-stringer, leading the Cavs' offense with eight assists by repeatedly setting up big men J.J. Hickson (12 points) and Shaquille O'Neal (13). He got the Cavs into sets when in transition, their so-called "early" offense that is vital for a team whose weakness is getting bogged down in the half court.
He has been doing this effectively for a while now, actually giving up some shots so the offense can run better. In the eight games Williams has been out -- West has been out seven of them -- James is averaging 10.1 assists, indeed Magic-type numbers.
"I make a sacrifice on my shot attempts for us to get easy baskets, for us to push the ball and get into our sets," James said. "Right now, I'm just trying to will us to some wins."
But that wasn't all. There was the Jordan aspect, too. It will never be totally fair to compare James to Jordan -- they come from different eras, play differently, and Jordan still has six titles. That often can cut the conversation short. But just like with Magic, James has some striking similarities and he's showed it in a big game against a major rival, Dwyane Wade.
While being an effective point guard, James regularly dipped into his more familiar Jordan-esque qualities. He scored 36 points on 9-of-16 shooting, doing it with brute force at times. Since Jan. 1, James is averaging 30.5 points a game, indeed Jordan-type numbers.
With O'Neal battling a headache for much of the first half, James had to take control and be aggressive. He bulled his way into the paint and challenged the Heat big men, drawing foul after foul. When it was over, he had made 17-of-21 free throws and beat Wade at his own game.
Then, in the fourth quarter, when the Heat were attempting to block his path, James started hitting midrange jumpers. He nailed four in the stretch run to turn the game into a blowout, reminding the Heat that he's shooting a career-best 51 percent this season for a reason.
"He gets better every year," said Wade (24 points and nine assists in the Heat's fifth loss in six games) of his friend and rival.
"It seemed like he didn't miss a shot. He was very aggressive and very accurate. He's playing phenomenally -- he's playing MVP basketball. That's what you expect out of him."
Doing it part Magic and part MJ, two MVPs themselves.
James can see it, not that he'll talk directly about it. He just knows that when he's playing point guard and the Cavs are using a super-big lineup -- with Anthony Parker at 6-6, Jamario Moon or Jawad Williams both at 6-8, and big men Anderson Varejao and O'Neal -- the Cavs are as long as any team in the league. Or as some of those Magic and Michael title teams.
"When I'm out there at the 1, that's an unbelievable lineup to have that type of size," James said. "It's kind of like when the Bulls had [Ron] Harper starting at the 1 with MJ, or the Lakers had when Magic was out there with [Michael] Cooper and [James] Worthy. Anytime you can have that kind of size advantage, it's good."
Brian Windhorst covers the Cavs for the Cleveland Plain Dealer. His coverage can be found at cleveland.com/cavs.
Dimes past:
Jan. 18
|
19
|
20
|
22-23
|
24
|
25
|
26
|
27
|
28
|
29-30
|
31
|
Feb. 1
|
2
|
3
2. Dunleavy Out As Clippers Coach
Ramona Shelburne
ESPNLosAngeles.com

Dunleavy
It was the kind of problem that wouldn't have been one 30 years ago.
But it was always there, in the Los Angeles Clippers' record, in the way they played, in their maddening inconsistency.
Something just wasn't right.
The team had too much talent to founder the way it sometimes did. The team played too well against good teams (such as the Boston Celtics and Los Angeles Lakers) to play so poorly against bad teams (such as the New Jersey Nets and Minnesota Timberwolves) just a few nights later.
Injuries were a factor, sure. Chemistry, bad luck, etc.
But it was more than that. The kind of problem you can never really put your finger on, except to say that something just isn't quite right.
To read the entire Shelburne column, click here.
3. Daily Dime Live Recap
ESPN.com writers and TrueHoop Network bloggers chatted with fans and gave their in-game opinions throughout Thursday's games -- all in Daily Dime Live.
4. Dunleavy To Remain Clippers' General Manager
Elias Sports Bureau
Mike Dunleavy, who had served as Clippers coach since the start of the 2003-04 season, had the third-longest tenure with his team among current NBA head coaches, behind Utah's Jerry Sloan (since December 1988) and San Antonio's Gregg Popovich (December 1996). Dunleavy is the franchise's all-time leader in coaching wins (215; Jack Ramsay is second with 158) and games coached (541; Ramsay and Bill Fitch each had 328).
By Maurice Brooks
ESPN.com
THURSDAY'S BEST

Aldridge

LaMarcus Aldridge, Blazers: The Blazers trailed by 10 early in the fourth quarter, but Aldridge (28 points, 13 rebounds) helped them rally past the Spurs for a 96-93 victory.

THURSDAY'S WORST

Richardson

Quentin Richardson, Heat: The Heat, who have lost four in a row, are struggling and so is Q-Rich, who missed all seven of his shot attempts and went scoreless in Miami's road loss to Cleveland.

QUOTE OF THE NIGHT

"Obviously, this is a tough thing for me. I have been fortunate through my career as a basketball player to not have suffered many injuries. The main thing is for me to get back healthy and to help this team however I can. Everything happens for a reason and I know I will come back stronger than ever."

-- Hornets guard Chris Paul, who will be out 4-6 weeks after knee surgery
6.

Manu Stars, But Spurs Still Fall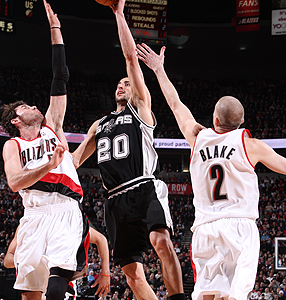 (Sam Forencich/NBAE/Getty)
Manu Ginobili came off the bench to fire in 21 points and hand out five assists, but the Spurs couldn't make a double-digit lead stand up in a three-point loss to the Blazers.
8.

Parker Watches And Waits ...
By John Hollinger
ESPN.com

PORTLAND -- All Tony Parker could do was sit and watch. Marooned at the scorer's table while he waited for a whistle to get him back in the game, he saw the clock tick inside four minutes ... and three ... and two ... while a six-point San Antonio lead turned into a dispiriting 96-93 defeat to Portland.
Parker's whistle never came, courtesy of a 3:32 stretch without a dead ball, and by the time Parker got back in, his team was trailing 88-87 and he was ice cold after spending five fourth-quarter minutes on the bench. San Antonio went 3:29 without scoring, encompassing five empty trips, until Manu Ginobili's layup with 18.5 seconds left and the outcome largely in hand.
The defeat continued the Spurs' recent pattern of floundering late in games, something Greg Popovich mentioned before Sunday's game against Denver and again after Thursday's defeat.
"We turned it over down the stretch," said Popovich, whose team made four miscues in the first 44 minutes but two in the five-possession sequence that basically cost them the game.
To read the entire blog entry, click here.
9.

Are The Nets Really This Bad?
By John Hollinger
ESPN.com

Harris
I've held off on this story for half a season because I expected regression to the mean to kick in and make this a nonissue. But it never happened, and now we have to acknowledge the reality: There's a very real chance the Nets will finish with the worst record in NBA history.
The Playoff Odds also showed hope that it wouldn't get this bad for the Nets. Even during New Jersey's record-setting 0-18 start, the algorithm figured the team would get its act together and finish with a win total in the teens. Slowly, however, a projection of 16 wins became 14, then 12, then 10. As of Thursday, that prediction is down to nine.
To read the entire PER Diem, click here.