1. Leaving Howard In Was Crucial For Magic
By Chris Sheridan
ESPN.com
BOSTON -- When the big fella was whistled for his fourth personal foul midway through the third quarter, Stan Van Gundy left Clark Kent alone. And in a phone booth measuring 94 feet across, Dwight Howard used that vote of confidence to transform into his alter ego.
When all 82 games of this regular season are in the books, there is an outside chance that the Boston Celtics and Orlando Magic will have identical records, tied for second in the Eastern Conference behind the Cleveland Cavaliers.
The Celtics and Magic might even meet in the second round of the playoffs, and if they do, Game 1 will be played in Orlando after the Magic used an overpowering third-quarter burst -- fueled by the play of Howard despite his having four fouls -- to fuel a 96-89 victory over Boston on Sunday that gave the Magic the season series, 3-1.
When Howard picked up that fourth foul with 5:58 remaining in the third quarter, the Magic trailed 60-54.
When the period ended, Howard was still out there, still playing with four fouls, and the Magic had completely turned the tables with a 25-2 run to close the quarter and put themselves ahead by 14 entering the fourth.
"That was the best quarter I think we've played since I've been here," was the mouthful of a quote that came out of Van Gundy's voice box before he explained his decision to stick with Howard despite the four fouls.
Howard had played less than eight minutes in the first half due to foul trouble, scoring just two points. When the fourth foul came, his point total was seven. When it was all said and done, Howard had 16 points, 13 rebounds and two blocks.
"We've done that several times," Van Gundy said, "and to be quite honest with you, it comes down to being this simple: We're down to begin with, and if he picks up his fifth we're going to have to deal with it, and I think our chances of winning if he's limited to 20 minutes or something, we're going to have a tough time on the road beating the Celtics.
"So, he's a smart guy anyway, you just sort of gamble that he's going to do it. Sometimes it works, sometimes it doesn't. But to me it wasn't even much of a decision today with where we were in that game. My only decision was, late third quarter do you give him a little bit of a break there, but we were playing too well and I was just going to run with it."
Boston led 60-51 with 7:16 remaining in the third quarter, but Howard's fourth foul was followed by a three-point play by Vince Carter, a 3-pointer by Rashard Lewis, a 3 by Carter, then another by Lewis, a fierce alley-oop dunk by Howard off a feed from Matt Barnes, then a driving layup by Jameer Nelson.
In the space of less than six minutes, Orlando had gone on a 19-0 run.
"Like I always say, I didn't think they left Pedro in too long," Van Gundy said, taking an easy potshot at Boston fans who remember all too well how Red Sox manager Grady Little left Pedro Martinez in when he was tiring in Game 7 of the 2003 ALCS, and the Red Sox went on to lose to the New York Yankees.
"You go with your guys, and if that doesn't work, if he gets his fifth, you guys can second-guess me. But I'm not going to have as big a problem with that as if I take him out for the whole third quarter and we're down 15 going into the fourth when he comes back in," Van Gundy said. "I'd have a problem with myself if I did that."
Orlando got its lead up to 14 entering the fourth quarter, and Boston whittled its deficit down to five before Lewis drove to the hole and tossed in a runner as the shot clock expired to make it 96-89 with 18.9 seconds left.
Ballgame.
"We were getting what we deserved," Celtics coach Doc Rivers said of Boston's third-quarter collapse. "I thought we played like crap."
That would be an apt description of the way the Celtics played their season series against the Hawks, too, losing all four games. So they are a combined 1-7 against the teams bunched together with them in the standings, a reality that mitigates any sense of pride Boston might be feeling for still having the NBA's top-rated defense.
The Celtics are undefeated this season against Cleveland (with three games remaining Feb. 25, March 14 and April 5), but that victory came oh so long ago, back on opening night before Kevin Garnett reinjured his knee, before Paul Pierce suffered a midfoot strain, before defenses began backing off Rajon Rondo even more than they had in the past, daring the Celtics to try to defeat them with Rondo having to act, by default, as their No. 1 offensive option.
And if Sunday was any indication of Boston's ability to shut down an opponent once that team has worked up a head of steam, it does not auger well for the chances of banner No. 18 being raised to the rafters next fall.
"We tend to relax and let our guard down," Rivers said. "And you know, one of the guys said, 'We're better than Orlando.' And I said, 'No, you're not. That's a bunch of crap. They beat you three times, two at your place. They knocked you out of the playoffs last year.'
"Orlando's better than us right now. Atlanta's better than us right now. L.A.'s better than us right now. Those are the teams that have beaten us. That doesn't mean we can't be better than them at some point, but right now those teams are better than us."
Sobering words from Rivers, but they were oh so true on a Super Bowl Sunday that was about as satisfying for Boston fans as the evening Van Gundy so cleverly referenced: the night Grady Little didn't take the ball out of Pedro Martinez's hand.
Chris Sheridan covers the NBA for ESPN Insider.
Dimes past:
Jan. 20
|
22-23
|
24
|
25
|
26
|
27
|
28
|
29-30
|
31
|
Feb. 1
|
2
|
3
|
4
|
6-7
2. Are The Suns Interested In Iggy?
Marc Stein
ESPN.com

Iguodala
Are the Suns inching closer to a trade with Philadelphia headlined by Amare Stoudemire and Andre Iguodala?
Separate sources close to both teams caution that it's too soon to answer that question affirmatively.
One source with knowledge of the Suns' thinking, in particular, insisted that Phoenix was still evaluating several potential trade candidates.
However ...
You can safely say that the Suns have ramped up their evaluation of Iguodala, whom they've liked dating back to the 2004 draft, when Iguodala turned pro after two years at Arizona.
We know that because the Suns quietly dispatched one of their lead decision-makers -- senior vice president of basketball operations David Griffin -- to New Orleans on Friday night to watch the Sixers play the Hornets in person.
To read the entire Stein blog entry, click here.
3. Daily Dime Live Recap
ESPN.com writers and TrueHoop Network bloggers chatted with fans and gave their in-game opinions throughout Sunday's games -- all in Daily Dime Live.
4. Trade Buzz: Who Might Move?
Chad Ford
ESPN.com
In the final two weeks before the Feb. 18 trade deadline, we are expecting to hear trade chatter increase immensely. At the moment, though, things are a little quiet, according to the NBA general managers I've spoken with this week.
One factor appears to be the looming battle over the next collective bargaining agreement, with negotiations expected to start soon. In front offices around the league, the feeling is that owners will fight for major concessions from the players in the next CBA, perhaps even a hard salary cap. With the uncertainty over the new CBA and the economy, some GMs are taking a cautious tack.
• To read the entire column, click here
By Maurice Brooks
ESPN.com
SUNDAY'S BEST

Bosh

Chris Bosh, Raptors: He continued his hot streak, tallying 36 points, 11 rebounds and five assists to lead Toronto past Sacramento. The Raptors have won seven of their past eight games.

SUNDAY'S WORST

Wallace

Rasheed Wallace and Kendrick Perkins, Celtics: Boston's two big men combined to go 2-for-9 from the floor, scoring a combined four points and pulling down just four rebounds in the loss.

QUOTE OF THE NIGHT

"I love our team on paper, but we tend to be front-runners. When we get a good lead we relax and teams take advantage of it and then you're caught and it's tough to turn it back on."

-- Celtics coach Doc Rivers after his team allowed a 19-0 run in a loss to the Magic
6.

Kings Drop Sixth Straight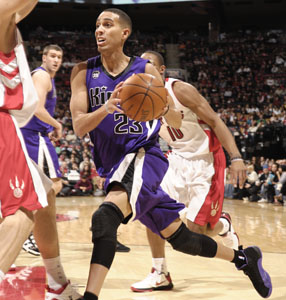 (Ron Turenne/NBAE/Getty)
Kevin Martin fired in 24 points and grabbed seven rebounds for the Kings, who failed to protect a fourth-quarter lead in their 115-104 road loss to the Raptors.
By Chris Sheridan
ESPN.com

Foyle
BOSTON -- In the strongest comments yet by a players' union official since NBA owners made a new collective bargaining proposal, first vice president Adonal Foyle of the Orlando Magic said the offer put forth last week by commissioner David Stern's office was "ludicrous."
That was the first word out of Foyle's mouth when he was asked Sunday to characterize the owners' new labor proposal, which was given to the union late last week as the sides took one of the first major steps toward replacing the collective bargaining agreement that expires at the end of the 2010-11 season.
"I think it's a proposal that's far-reaching," said Foyle, the union's second in command behind president Derek Fisher. "This [new proposal] has gone too far. It wants a hard cap, it basically will create no middle class, and which, in effect, means none of the Bird rules would apply," Foyle said, referencing the so-called Larry Bird exception that allows teams to exceed the salary cap to retain their own free agents.
To read the entire story, click here.
9.

Celtics Are Finally Healthy
By Chris Forsberg
ESPNBoston.com

Daniels
BOSTON -- For the first time this season, the Boston Celtics had their entire top 12 available Sunday afternoon against the Orlando Magic as Paul Pierce (left midfoot sprain) and Marquis Daniels (left thumb surgery) saw action.
Celtics coach Doc Rivers had said before the Celtics' 96-89 loss to the Orlando Magic that both would be on a bit of a short leash: Pierce because he's still not 100 percent after missing two games with a foot strain, and Daniels, who missed 28 games after undergoing surgery to repair ligaments in his thumb, because he's not yet up to game speed.
Pierce scored 13 points in 30 minutes against the Magic while Daniels added eight in 13 minutes.
"The foot was a little sore, but I don't think it affected too much of my movement," Pierce said after the game.
To read the entire Forsberg story, click here.