1. Thunder Turn To Bench In Win Against Blazers
By John Hollinger
ESPN.com
PORTLAND -- Forget about their youth, their inexperience, and the difficulty of the Western Conference. Forget all that, and just know this: The Thunder are going to the playoffs. Their 89-77 win over the Blazers on Tuesday showed a good example why, as Oklahoma City demonstrated how its defense and newfound depth could carry it on a night when the starters couldn't deliver.
The Thunder wrested a tough road win from Portland by going on a 15-2 run in the first six minutes of the fourth quarter with just one starter on the floor. Instead of the Kevin Durant and Russell Westbrook show, it was the likes of Serge Ibaka, James Harden and Eric Maynor who turned this one around for the Okies.
More on them in a minute. In the meantime, take note of today's standings. The Thunder are 30-21, good for sixth in the conference and a full three games ahead of No. 9 Houston in the Western playoff race. They're closer to third than they are to ninth, and looking ahead they have one of the league's most favorable schedules. Barring injury, they're going to make it, and they might even be hosting a first-round playoff series.
The reason they'll make it is the same reason they won their sixth straight game Tuesday: They've become much more than just the Durant show. Yes, there were the usual doses of Durant, who finished with 33 points and 11 rebounds and shook up Andre Miller so badly on a first-quarter crossover move that it left the Rose Garden crowed gasping.
"I just thought I ran past him and thought he was behind me a little bit so I had an advantage," said Durant. "I didn't really hear the crowd, I was just trying to make a play."
Durant also finished off the night with a pair of jumpers off crossovers over Nic Batum -- one of the few opponents Batum has faced that can shoot over him with such ease. However, Durant had an uneven night by his lofty standards, with only one assist and several defensive lapses that harkened back to his first two seasons. Point guard Westbrook was off his game too, finishing 2-of-9 with four turnovers.
Instead, it was a suffocating defensive effort from a young team that surprisingly ranks fifth in the league in defensive efficiency that got the Thunder out with a win. Although the Blazers are admittedly an easier foe minus Brandon Roy, the Thunder also forced Portland completely out of its game offensively.
Oklahoma City frustrated Portland all night by fronting LaMarcus Aldridge in the post, with many of Portland's 24 turnovers coming on botched entry passes that were stolen by rotating weakside defenders. Aldridge made life easier for the Thunder by inexplicably passing out of one-on-one matchups on the block, but some of that may have been because of how hard he had to work to get the rock in the first place. He was held to 15 points and committed four turnovers.
"The main reason why we won was Jeff Green did a great job denying the ball to Aldridge," said Thunder coach Scott Brooks. "That's been our strategy, to take the ball out of the post, don't let the guy have an easy catch, and if he does make him go out to 15 feet and then we can shrink the floor."
Despite that effort, Oklahoma City trailed 61-59 entering the fourth quarter until the second unit came in to spark a game-changing rally. Ibaka, a rising defensive force who blocked four shots, swallowed Aldridge whole in the fourth -- he held Portland's top weapon without a single shot attempt.
"That was about as good as we can possibly play [defense]," said Brooks. "Jeff did a great job and then Serge came in the fourth quarter and was just as good."
Joining Ibaka and Green on the court in that fourth-quarter run were Nick Collison, Maynor and Harden. So the Thunder were playing three rookies and sitting two of their three meal tickets, yet they held the Blazers to a mere two points in the first six minutes of the fourth.
Yes, Roy's absence helped. "Let's face it, Roy's out, it's a completely different team," admitted Brooks. "We got them on a good night."
But it was symbolic of the Thunder's progress that they were so confident they could shut down a Portland team that still had significant offensive weapons on the floor even in Roy's absence.
"As long as we got back and didn't give up offensive rebounds," said Collison, "We felt like they couldn't score against our half-court defense.
The shockingly rapid progress of Oklahoma City's young players is the primary cause of their sudden defensive prowess, but Collison showed that old dogs can learn new tricks too. He made a huge play at the five-minute mark with the Blazers down eight and trying to ride their home crowd back into the game. Andre Miller caught the ball in the wing on transition and sliced toward the basket when Collison unveiled his newfound specialty, taking a charge, to thwart his drive.
"I just ran back and saw he was going to go to the hoop," said Collison, who sprinted back to pick up Aldridge and then quickly pivoted into position when Miller angled from the right wing toward the basket. "I knew it was going to be a close play because I was running, [and] he was running. It was one of those plays where you're probably going to either foul him because he's coming into you, or you try to take a charge, and I got set in time. Or at least I made it look that way."
Harden, meanwhile, had two key deflections and scored all 13 points in the run, supplying all but two of the Thunder points in that stretch.
Add it all up, and it's another milepost for the Thunder in their rapid ascension from doormat to dominance. They already have more wins at the All-Star break than they did all of last season, and if they just win half their remaining games they'll double last year's win total.
"It's something we didn't think about early in the season," said Durant. "We just wanted to take it one day at a time and get better, and I think we've done that."
So much better, in fact, that they're well on their way to a playoff berth that, a few months ago, seemed unlikely in such a packed Western Conference field.
John Hollinger covers the NBA for ESPN Insider.
Dimes past:
Jan. 22-23
|
24
|
25
|
26
|
27
|
28
|
29-30
|
31
|
Feb. 1
|
2
|
3
|
4
|
6-7
|
8
|
9
2. Knicks' Ineptitude Gives Kings Rare Win
By Chris Sheridan
ESPN.com

Duhon
NEW YORK -- In a perverse sort of way, the fun thing about covering the New York Knicks the past decade is that night-in, night-out, there is a possibility of witnessing a new low for a team that has experienced about 328 new lows over the past 10 years.
But submitted for your approval (or disapproval, depending on your rooting interest) are the following details of the Knicks' latest loss, an abomination in which they blew a 15-point fourth-quarter lead and allowed Sacramento to snap a six-game losing streak with a 118-114 overtime victory.
With the game tied and 22 seconds remaining in regulation, Chris Duhon got the ball and dribbled. Then he dribbled some more, then some more, dribbling through the lane and back out to the 3-point line, where he pulled up from two feet behind the line as the clock was about to expire and let fly.
Air ball.
And it was an air ball that wasn't even close to grazing the rim. It didn't even graze the air four inches from the rim.
"I thought if we moved the ball three or four times we'd get a good shot," coach Mike D'Antoni said afterward, mixing in some of his most disgusted comments of the year.
"For whatever reason, the spirit has gone out of this dog," D'Antoni said. "Our spirit is all messed up, our aura is all messed up."
We proceed now to the end of overtime, when Sacramento was holding a 116-114 lead but the Knicks had the ball after Omri Casspi inexplicably failed to reach out to receive Tyreke Evans' pass, leading to an out-of-bounds turnover that gave the ball back to New York with 30 seconds left.
Duhon was gone by then, but Nate Robinson didn't do much better in the decision-making process. He dribbled into traffic, found himself double-teamed in the lane and kicked it out to Jared Jeffries for a 3-pointer.
Now, if you've never heard 15,000 people groan in unison, this was the moment your ears needed to witness.
"He threw it back out to Jared for whatever reason," D'Antoni said, mystified.
Those groans began before the ball even left Jeffries' hand, the shot missed, and Sacramento rebounded. The Kings then clinched the win -- only the Kings' second in their last 15 games, and the third in their past 22 -- by then grabbing an offensive rebound that was deflected out to Kevin Martin with seven seconds left. He passed to Evans, who sank both free throws to complete his 27-point night.
Wilson Chandler provided a fitting ending on a night he scored a career-high 35 points, firing up an air ball on the last shot attempt of the game.
We'd tell you that boos filled the building, but in actuality there was more noise voiced in support of the Kings. Casspi had drawn a vocal contingent of Israeli fans, and they serenaded him by loudly chanting his name as the Knicks slouched off the court.
The lowest of lows? Certainly not.
But it was a strikingly discouraging night nonetheless for the Knicks, who enter the All-Star break 19-32.
Even worse, their coach is now using canine comparisons to describe them. Ouch.
Chris Sheridan covers the NBA for ESPN Insider.
3. Daily Dime Live Recap
ESPN.com writers and TrueHoop Network bloggers chatted with fans and gave their in-game opinions throughout Tuesday's games -- all in Daily Dime Live.
By Maurice Brooks
ESPN.com
TUESDAY'S BEST

Boozer

Carlos Boozer, Jazz: He played like he was trying to prove a point, dominating the Clippers' Chris Kaman, who was selected as a West All-Star ahead of him. Boozer had 34 points, 14 rebounds, four steals and four assists as Utah rallied past Los Angeles.

TUESDAY'S WORST

Brooks

Aaron Brooks, Rockets: He has been one of the league's most improved players, but he struggled against the Heat, missing 13 of 16 shot attempts and handing out just one assist.

QUOTE OF THE NIGHT

"The good thing is my first game back, I didn't have to do too much. But the bad thing is, I already had been sitting out for two weeks. I wanted to play [more], but I'll take a 36-point win any day."

-- Nuggets forward Carmelo Anthony, who scored 19 points in Denver's win against Dallas. He had missed eight games with a sprained ankle.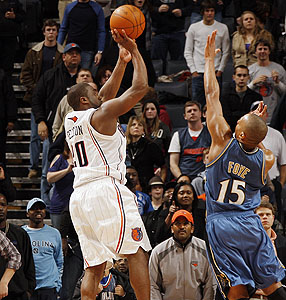 (Kent Smith/NBAE/Getty)
Playing with a twisted right ankle, Raymond Felton knocked down the game-winning jumper with 1.9 seconds left to lift the Bobcats to a 94-92 victory against the Wizards, ending Charlotte's three-game losing streak.
By Kevin Arnovitz
ESPN.com

Williams
For a good illustration of how well the basketball is moving in the Utah Jazz's offense, take the first quarter of their 109-99 win over the Clippers at Staples Center Tuesday night:
Of the 13 field goals in the period, 10 were assisted on.
The other three?
A bucket in transition by Deron Williams, and a putback each from Mehmet Okur and Williams.
"The big key to our success is how well we pass the ball," Williams said. "When we share the ball and play unselfish basketball, we're a hard team to beat."
Those might seem like standard issue quotes from a point guard whose team has won nine consecutive games and 14 out of 15. But in the case of Williams, the words are more than platitudes -- they're backed up by the numbers. The Jazz are the NBA's top-ranked team in assist rate and the only team in the league that records assists on greater than two-thirds of its field goals.
"Sometimes we have shots that are good, but we can get a better one." Williams said, "That's what makes us have confidence in each other -- you pass up a good shot to get a better one."
Utah scored its 109 points on only 93 possessions, an incredibly efficient effort during which the Jazz racked up 32 assists. One of the defining features of Utah's offense is the willingness of players with acceptable shots to defer to those with better ones.
"Our teams over the years have been pretty good about passing the ball," Jazz head coach Jerry Sloan said. "We got to share the ball and get it to where it's supposed to go."
One of those destinations is Carlos Boozer, who finished with 34 points, 14 rebounds and four assists. After the game, Boozer credited much of that production to the ability of his teammates to deliver him the basketball with solid passing.
"The deeper you get [the ball], the more successful you're going to be," Boozer said. In addition to his words for Williams ("He's dope, he's got a lot of stuff"), Boozer also threw some praise C.J. Miles' way. The Utah's swingman finished with five assists of his own in 20 minutes off the bench.
"[Miles] made some great plays," Boozer said. "He was a playmaker out there coming off that pick-and-roll. He hit me a couple of times."
Some of Utah's 32 assists came on simple entry passes into Boozer, but many of their baskets were the result of phenomenal playmaking in the half court. Even when a possession seemed hopeless, the Jazz would rescue it from the edge. Late in the first quarter, a grenade ended up in Andrei Kirilenko's hands after Paul Millsap fumbled a pass. As the Clippers tightened the vise with a double-team, Kirilenko patiently guided Millsap to the hoop with a gentle lob pass, and Millsap flushed it home.
"When you play that way and pass the basketball, it's a lot more fun for everybody," Sloan said.
"Fun" has never been a high usage phrase in Sloan's lexicon, but if the Jazz win their 10th straight Wednesday night over the Lakers, the Jazz might etch the word into the players entrance of EnergySolutions Arena.
ESPN TrueHoop editor Kevin Arnovitz is a regular contributor to the Daily Dime.
8.

Overrated Or Underrated?
By John Hollinger
ESPN.com

Kaman
Sometimes narratives take on a life of their own. For instance, let's say there's a player who we'll call "Chris." Let's say "Chris" has a bad year in 2008-09, missing a bunch of games with an injury and playing poorly in many of the others.
Let's say, further, that Chris gets in great shape the following offseason, shows up with a much-improved face-up game and a renewed zeal for scoring in the post, and puts together his best season as a pro. It's a great story, right?
To read the entire PER Diem, click here.
9.

MVP Watch: Here Comes Durant
By Maurice Brooks
ESPN.com

Durant
1. LeBron James: It is officially a one-man race. No one leaves his fingerprints all over his team's games more than LeBron, who just lit up the Knicks for 47 points, 8 boards, 8 dimes and 5 thefts.
2. Kobe Bryant: His streak of 235 consecutive games played came to a halt when he sat out back-to-back games with a sore left ankle. He's hoping to return on Wednesday against the Jazz.
3. Kevin Durant: After the Kobe-less Lakers beat the Spurs, I thought about moving KD ahead of Kobe and watching my inbox get flooded from Lakers Nation. He'll have to settle for No. 3.
To read the entire Awards Watch, click here.