1. After This, Do Cavs Still Want/Need Jamison?
By Chris Sheridan
ESPN.com
CLEVELAND -- The winning streak is up to 13 now, tied for the longest in franchise history. The injured guys are trickling back in, the new guys are fitting in, and, of course, the King is still the King.
So as we head into All-Star Weekend with just six days left before the trading deadline, it is time to ask a rhetorical question that's in keeping with the grapevine gossip that's being bandied about the NBA.
Do the Cavs still need what's known as a "stretch 4," a power forward such as Antawn Jamison who can play inside and outside, another pricey piece to add to the puzzle in an effort not only to win a championship but also to convince LeBron James to stay in Cleveland past July 1?
It's such a good question, we went ahead and asked it of James after the power forwards currently on Cleveland's roster, J.J. Hickson and Anderson Varejao, both had huge games in Thursday night's 115-106 victory over the Orlando Magic.
"I never said we needed one," James said, immediately putting himself at odds with what is being whispered around the league -- that James has made it known that he wants the Cavs to find a way to acquire Jamison. "I think our team is built to win a championship, and with the group of guys we have here, if we continue to get better we're headed in the right direction."
"So I haven't really thought about the trade deadline or what guys are on the board or whatever, so we'll continue to play the way we know how to play," James said.
The Cavs discovered early that the Magic were not going to let Shaquille O'Neal get in an offensive groove early, so they sagged off Hickson and watched him break out for 13 of his 20 points in the first 10½ minutes as the Cavs were ringing up a 37-point first quarter.
In the second quarter, Varejao did the offensive damage by scoring 14 of his 16 total points on 7-for-10 shooting.
Down the stretch, James did most of the damage as Cleveland broke open a tight game with a 14-2 run to turn a 96-96 tie into a 112-98 lead.
So Cleveland enters the All-Star break having won 13 in a row -- the longest winning streak in the NBA this season -- and the satisfaction they gleaned from finishing this one so strongly, against the team that eliminated them from the playoffs last year, was palpable.
"It's definitely fun to get one of the best teams in your house; you want to see how you match up and whether that winning streak was valid," James said, going on to describe how one of the more satisfying aspects of this game was having the type of long defenders that were missing last season available to challenge the Magic at the 3-point line.
Orlando's outside shooting and Dwight Howard's brute force in the low post doomed Cleveland last year, and the offseason moves to bring in Parker, Moon and O'Neal were made to better position the Cavs to defeat the Magic.
But the question still remains: Do they have enough to get past Orlando -- or Boston or Atlanta, for that matter -- with what they have now? And if they get through the East, are they big enough, long enough and experienced enough to match up with the favorite to come out of the West, the Los Angeles Lakers?
Again, LeBron, the floor is yours:
"I love our team. I'm all about these 14-15 guys we've got in the locker room. We'll see what happens, but I'm very excited about our team, and I'm not the GM."
If James was the GM, and he happened to be calling the Wizards to ask what it'd take to get Jamison, the name he'd hear being demanded by the other team would be Hickson. Sources say Washington is adamant that Hickson be a part of any Jamison trade, and thus far the Cavs haven't been willing to give him up.
He's another reason why they're reluctant:
When Shaquille O'Neal went to the bench with his fifth foul early in the third quarter, Zydrunas Ilgauskas came in to replace him. Not even five minutes later, Ilgauskas was headed to the bench, too, after Howard drew his fourth foul and sat with 6:38 remaining in the third -- a decision Orlando coach Stan Van Gundy openly second-guessed himself on afterward.
But when Howard was out on the floor to start the fourth quarter, it was Hickson who drew the defensive assignment on him for the first 4 minutes, 12 seconds of the final stanza.
"It was obvious that Orlando's game plan was to come out and say 'Cleveland, we want your power forwards to beat us.' They didn't guard J.J., they didn't guard Anderson, and those guys combined for 36 points -- and what made it great was they went 17-for-25 from the field," Cleveland coach Mike Brown said. "So I applaud those guys for being aggressive, but being aggressive the right way throughout the course of the ballgame."
Question is, was this a big enough of a sample size to make the Cavs stand pat? (After all, as colleague Brian Windhorst pointed out, Thursday marked the first time since Dec. 23 that Hickson had made a jumper from beyond 7 feet).
And if they do stand pat, is LeBron going to be indifferent?
Judging from his remarks Thursday night, you'd think he'd be OK with it.
But as we mentioned earlier, the word on the street around the NBA is that James has told the Cavs he wants them to get Jamison, and this is no time for the Cavs not to be doing what James wants them to do.
Chris Sheridan covers the NBA for ESPN Insider.
Dimes past:
Jan. 25
|
26
|
27
|
28
|
29-30
|
31
|
Feb. 1
|
2
|
3
|
4
|
6-7
|
8
|
9
|
10
2. Five Deals That Should Be Made
By Chad Ford
ESPN Insider
The NBA trade deadline is one week away, and we're in the proverbial calm before the storm. While trade discussions continue around the league, most GMs are frustrated. Deal parameters remain vague, with teams still overvaluing their assets and undervaluing the assets of others.
As we've seen in past seasons, one big trade can have a domino effect on others. It tends to narrow the options, focus the discussion and turn up the pressure on teams to make moves.
Given the gridlock, perhaps some fresh ideas will help. In that spirit, here are five hypothetical trades that I think could and should happen. While none of these trades have been specifically discussed, to my knowledge, all of them include teams looking to deal and players on the market.
1. Heat-Suns-Bobcats

Miami gets: Amare Stoudemire (from Phoenix), Acie Law (from Charlotte), Stephen Graham (from Charlotte), Ronald Murray (from Charlotte)
Phoenix gets: Michael Beasley (from Miami), D.J. Augustin (from Charlotte), James Jones (from Miami), Dorell Wright (from Miami)
Charlotte gets: Udonis Haslem (from Miami), Daequan Cook (from Miami)
Would Miami do it? The word out of Miami is that the Heat have been pushing to make a deal. While Miami is considered a potential destination for LeBron James and Chris Bosh this summer if the two become free agents, the danger with doing nothing now is that Dwyane Wade might walk if the team fails to get James, Bosh or another top player or two.
This trade would set up the Heat to go in a couple of directions:
(1) It could be a pre-emptive strike on the free-agent market and still provide the salary-cap space to sign another free agent or two in addition to Stoudemire. If Stoudemire were to opt out of his contract and re-sign with the Heat for a contract starting at $13 million to $15 million, the Heat would still be able to sign one max-level player, such as LeBron James, or a couple of players with a starting salary of $8 million to $10 million.
(2) If Stoudemire were to opt out and leave, the Heat, thanks to this trade, would have enough cap room to sign two max-level free agents, such as James and Bosh.
One dangerous scenario is that Stoudemire could decide not to opt out of his contract, leaving the Heat with more limited resources in the 2010 free-agency market. And of course, they'd be giving up on Beasley, a potent scorer who just turned 21.
Would Phoenix do it?

The Suns have been shopping Stoudemire but want more than just cap relief -- they want assets. This deal would provide a little of both.
Beasley is an athletic 4 who should be able to put up similar numbers to Amare in the Suns' run-and-gun system, or perhaps even better numbers, given the rebounding prowess he showed in college. The Suns would also get Augustin, a young point guard they could groom to eventually take over for Nash. Jones should be able to step right back into the system he left in 2007, and if he doesn't work out, his 2010-11 contract is only partially guaranteed. Wright has upside, and his contract is expiring, giving the Suns options with him, as well.
While I believe the Suns would prefer to add Andre Iguodala and Samuel Dalembert, this might be a better, more affordable deal for them in the long run.
Would Charlotte do it? Augustin has had a disappointing season and fallen out of favor with Charlotte coach Larry Brown. And the Bobcats have been active on the trade market, looking for a power forward who can rebound and defend; Haslem would fit the bill and he's in the last year of his contract. While Cook hasn't become the player the Heat hoped he would, he could see some minutes at the 2 for the Bobcats.
To see Chad Ford's full Insider story, click here.
3. Daily Dime Live Recap
ESPN.com writers and TrueHoop Network bloggers chatted with fans and gave their in-game opinions throughout Thursday's games -- all in Daily Dime Live.
THURSDAY'S BEST

James

LeBron James, Cavs: While the Cavs' 4s stepped to the fore with a monster performance, the King held court. LBJ posted 32 points, 13 assists and seven boards in the 115-106 win over the Magic.

THURSDAY'S WORST

Carter

Vince Carter, Magic: Half-man, half-disappointing. Three days after a 48-point spree, VC shoots 5-of-16 from the field in the 115-106 road loss to Cleveland. His minus-16 on the floor was the worst plus/minus of the night for Orlando.

QUOTE OF THE NIGHT

"I don't really consider it manning up until you play me straight up. I've never doubled anybody. So you tell me who the real Superman is."

-- Cavs center Shaquille O'Neal, who banged with Dwight Howard (both finished with five fouls)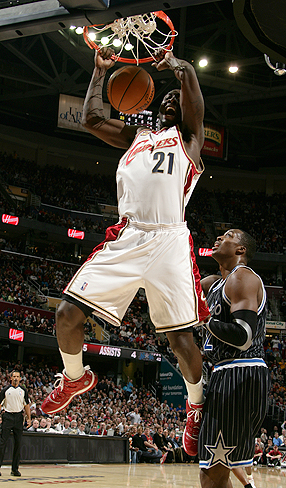 ( David Liam Kyle/NBAE via Getty)
J.J. Hickson sends home two of the 20 points he scored on the Magic. It was Cleveland's 13th straight win.
The Cavaliers' 115-106 win over the Magic was their 13th consecutive victory, tying a franchise record set in March last season. The Cavs' 13 straight wins entering the All-Star break tie them with the 1985-86 Celtics for the second-longest such winning streak in NBA history. The 1990-91 Lakers took a 16-game winning streak into that season's All-Star break.
• LeBron James scored 32 points and dished out 13 assists in the Cavaliers' win against the Magic. It was the seventh time this season that LeBron recorded at least 30 points and 10 assists in one game, and it was the second consecutive game in which he did so. James had consecutive 30/10 games (points/assists) on two previous occasions: a three-game streak in November 2007 and two in a row in March 2009.
By John Hollinger
ESPN.com

Stoudemire
Several possibilities loom on the horizon that make the Heat the league's most interesting player.
For starters, there are the Amare Stoudemire rumors that won't die. Miami can offer the Suns a package centered around 21-year-old forward Michael Beasley that's more alluring than what nearly any other team can provide. While Stoudemire's style of play seems the antithesis of the Heat's defense-first, no-layups mindset, there's no denying that the pairing of Stoudemire and Wade could wreak havoc offensively.
Additionally, there are two different angles that make such a deal intriguing. First, let's say the Heat trade Beasley for Stoudemire, who then opts in to his $17 million deal for next year. If the Heat can find somebody to take Cook's $2.1 million deal off their hands at the trade deadline, they would have enough cap space to sign another free agent starting in the $10 million to $12 million range to join Wade and Stoudemire. Maybe that's not enough to get LeBron or Chris Bosh, but it could bag them the likes of Rudy Gay, David Lee or Carlos Boozer. Plus, the addition of Stoudemire would likely take the doomsday scenario of Wade's potential departure off the table.
If the Heat acquire Stoudemire and he opts out, that adds risk for Miami but also might be even better. The Heat could offer Stoudemire a long-term deal for less than the max and still make the case to him that he would come out ahead financially, both in terms of security and the total dollars, since he could get six years with the Heat on the open market as opposed to only three years if the Heat gave him a contract extension.
If his deal started in the $13 million range, Miami could create enough cap space to sign James (or Bosh) to a max deal in addition to retaining Wade and Stoudemire. That's the home-run scenario, and given the apparent lure of Miami for Stoudemire -- he is from Florida and wants to play for a winning team, so presumably he would stay -- it's a possibility worth contemplating.
To read the entire PER Diem, click here.