1. With Haywood On Board, Mavs Keep Winning
By Tim MacMahon
ESPNDallas.com
DALLAS -- Coach Rick Carlisle wasn't in the mood Monday night to discuss where his Dallas Mavericks fit in the mix of Western Conference contenders.
"I'm happy we won playing like crap," Carlisle said without cracking a smile after the Mavs' 91-82 home win over the Indiana Pacers. "Really, we played poorly. This was not winning playoff basketball. The last three games, we have had ourselves playing at that level."
And those comments came after a victory that was comfortable enough to let 36-year-old point guard Jason Kidd rest the entire fourth quarter, saving his legs for Wednesday's showdown with the Los Angeles Lakers at American Airlines Center.
Hey, the standards were raised in Dallas after the seven-player blockbuster deal with the Washington Wizards. The Mavs wouldn't have done the deal, which came with an eight-figure price tag for Mark Cuban, unless they thought it gave them a legitimate shot to challenge the Lakers.
The early results are certainly encouraging. After coming out of a break with a loss to the Oklahoma City Thunder, Dallas has reeled off four victories in a row, its longest winning streak since mid-December. That run includes double-digit wins over the Phoenix Suns and Orlando Magic.
"You can tell there's new energy in this locker room," Mavs president of basketball operations Donnie Nelson said.
Brendan Haywood -- the key to the trade, from the Mavs' perspective, despite Caron Butler's being the bigger name -- has fit phenomenally well in Dallas. And the timing of the trade couldn't have been better, considering that Erick Dampier suffered an open dislocation of his right middle finger against the Thunder, sidelining him for up to a month.
The 7-foot Haywood, who had 20 rebounds against the Pacers, has more than filled Dampier's shoes, averaging 12.3 points, 12.3 rebounds and 2.8 blocks in his four starts. He's anchored a defense that has reverted to its early-season form, when an active, healthy Dampier helped the Mavs build a lead in the Southwest Division race.
The Mavs like the swagger and toughness Butler gives them. At some point, they believe he'll also provide points in bunches. With the exception of a 20-point performance in Saturday's win over the Heat, that has yet to happen.
Butler, who shifted to shooting guard in the Mavs' starting lineup, has struggled to find a rhythm with his new team. That's understandable, considering the ex-Wizard's first full practice with the Mavericks will come Tuesday.
"I haven't even reached the surface of what I'm capable of doing," said Butler, who has averaged 14.4 points on 37 percent shooting since the trade. "I'm happy that we're winning and we're not even all the way clicking yet. That's a good thing."
Butler, Haywood and reserve swingman DeShawn Stevenson were ecstatic to escape what had become a bad situation in Washington. The newcomers arrived from Washington willing to be complementary players to a core that features future Hall of Famers Kidd and Dirk Nowitzki.
The Mavs were thrilled to get good value for Josh Howard, who had fallen out of favor in the last two seasons and no longer was a good fit for the franchise.
"At least everybody is fired up and on the same page," Nowitzki said. "We'll just see how it goes." We'll see whether the remodeled Mavs are good enough to really challenge the West's best, getting a glimpse Wednesday night.
Tim MacMahon covers the Mavericks for ESPNDallas.com and is a regular Daily Dime contributor.
Dimes past: Feb. 1 | 2 | 3 | 4 | 6-7 | 8 | 9 | 10 | 11 | 16 | 17 | 18 | 21
2. Lineup Changes Better For Bucks Than Knicks
By Chris Sheridan
ESPN.com

Salmons
NEW YORK -- John Salmons didn't want to give himself a grade for his first night as a member of the Milwaukee Bucks' starting five.
So we'll do it for him, calling it a C -- or a C-plus at best -- as Salmons scored 15 points on 7-for-18 shooting, including 1-for-7 from 3-point range, to back Andrew Bogut's 24 points and 20 rebounds as Milwaukee defeated New York 83-67 on Monday night.
"We won the game, so that's all that matters," Salmons said. "I missed some shots I usually make, but it was all right. We did as a team what we were supposed to do."
That they did, mostly by finding ways to get the ball to Bogut in the low post, where the undersized Knicks (whose depth chart at center reads David Lee, Al Harrington, Jonathan Bender) couldn't find a way to stop him. (Fouling was not used as an option, as Bogut did not attempt a single free throw.)
The victory moved the Bucks (27-28) to within one game of .500 as they began a stretch of five games in seven nights, their sights set on qualifying for the postseason in what has essentially become a nine-team race for the eight available spots.
This was Salmons' third game since being acquired from Chicago at the trade deadline, and he had scored 19 points in each of his first two games coming off the bench before being moved in as a starter ahead of Charlie Bell. Interestingly, the crucial stretch of the game came when coach Scott Skiles subbed Salmons out with the score tied 53-53, and the Bucks immediately went on an 11-0 run to take control with point guards Brandon Jennings and Luke Ridnour playing alongside each other.
"Well, New York puts so many different kind of lineups out there that you can almost out any lineup you want out there as well," Skiles said. "We've played our point guards together multiple times this year, and it just gives us an added ball handler on the floor, and that enabled us to get a little breathing room there."
The Knicks also went with a lineup change, but had a season low in points. And in a performance that should have inspired a "We want Duhon" chant, new starter Sergio Rodriguez had just one assist and two buckets in 29 minutes. But he also had eight steals.
"Hopefully we can iron out the offense a little bit and just try to be a little bit more fluid," said Knicks coach Mike D'Antoni, whose team dropped to 19-36 and would need to go 22-5 over the remainder of the season to reach .500 -- the break-even mark Milwaukee will try to reach at home Wednesday night against New Orleans.
Chris Sheridan of ESPN.com is a regular contributor to the Daily Dime.
3. Daily Dime Live Recap
ESPN.com writers and TrueHoop Network bloggers chatted with fans and gave their in-game opinions throughout Monday's games -- all in Daily Dime Live.
4. Hopes For Windy City
By Chris Sheridan
ESPN.com

Bryant
Zach (Chicago): Why do people keep writing off the Bulls for the LeBron sweepstakes? They can offer a max contract & Chicago is a very desirable place to be both market wise and talent wise.
Chris Sheridan: Miami: warm in January. New York: never sleeps. Chicago: bitterly cold, have to walk past Michael Jordan's statue on the way to work.
I will say this, though: If Kobe Bryant continues to say no to the extension the Lakers are offering him, and if Phil Jackson starts to talk as though he's leaving, Chicago comes onto the radar in a big, big way. Remember, when Kobe was trying to force a trade two and a half years ago, the Bulls were the team working most diligently to get him -- right up until two days before the season opener.
To check out Sheridan's full chat transcript, click here.
MONDAY'S BEST

Bogut

Andrew Bogut, Bucks center: The former No. 1 pick went for 24 points, 20 rebounds and five swats, sending Milwaukee to a 83-67 win over the Knicks. Bogut's good for 16 ppg and 10.3 rpg this season.

MONDAY'S WORST

Jackson

Stephen Jackson, Bobcats: While Gerald Wallace was going off, S-Jax went 1-for-16 from the field in a road loss to the Clippers. S-Jax finished with seven points as Charlotte fell into a tie with Milwaukee for eighth in the East.

QUOTE OF THE NIGHT

"Flip says he wants to see blood. That means you're working hard."

-- Wizards forward Andray Blatche, joking about a bloodied right eyebrow he sustained during the third quarter. Flip Saunders is hoping for a more aggressive Wizards team.
6.

Rare Win Sighting In Utah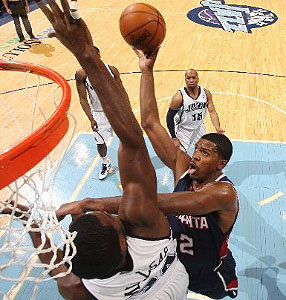 (Melissa Majchrzak/NBAE/Getty Images)
Hawks guard Joe Johnson couldn't be stopped by Paul Millsap and the Jazz, scoring 11 of his 28 points in the fourth quarter. He also had six assists and six boards in Atlanta's first win in Salt Lake City since 1993.
By Kyle Weidie
TrueHoop Network

WASHINGTON -- Believe it or not, Flip Saunders is a relieved man. Out the door are the failed expectations of the previously constructed team. Now he can get back to what he likes to do: teaching.
Watch the Wizards coach on the sidelines now. He's taking time to talk to his young players immediately after subbing them out the game. He's pointing and instructing, imploring his students to do the same with one another. It's not as though Flip wasn't giving it his coaching all before; it's just that now he doesn't have to stand by while the fruits of his labor go untrusted by inflexible veterans whose play insisted they knew better.
"Well, I could always apply for a job as an air traffic controller," Saunders said when asked how his in-game teaching has increased after the Wizards' flurry of recent trades. Since then, his team has gone 3-1, defeating the Chicago Bulls 101-95 on Monday night. "As a coach, that's what you kind of enjoy. You live for those types of things, especially when you have a group that we have. They want to learn. So when you tell them something, they're trusting. When you get your players to trust what you're doing, what happens is they do it a lot more aggressively and you usually have a little better outcome."
You wouldn't immediately know it, but that's a pretty damning statement about the past regime of players. When Caron Butler, Antawn Jamison, and even Gilbert Arenas for a brief time were the offensive cogs, lack of trust, in the system and in one another, was the prevalent reason why a team with high preseason expectations just wasn't clicking. "Selfish basketball" is the idea that team president Ernie Grunfeld has opted for in several recent public statements.
"Not taking away from the guys we had, but I think they thought that we'll just play and get back in it when we have to. That doesn't always work. So we [now] play with a greater sense of urgency," Saunders said, complimenting the effort of his new team. But it also serves as an indictment of yesterday's team. Who would have thought that less than a week removed from the trade deadline, Wizards fans would be saying good riddance to their former heroes?
Heading into the All-Star break, Saunders was given a C-minus for his work. And while these Wizards shouldn't exactly get their hopes up with playoff pipe dreams, fans should trust that Saunders' A-plus beginnings to the season's second session will guide the franchise toward a better future.
Read more from Weidie at Truthaboutit.net.