1. Kidd's Fountain Of Youth
By Jeff Caplan
ESPNDallas.com
DALLAS -- Jason Kidd has apparently found the fountain of youth in 12-ounce plastic bottles.
The Dallas Mavericks' iron-man point guard is racking up big minutes this season, in particular during the team's eye-opening 5-1 run since the All-Star break. That's when owner Mark Cuban pulled the trigger on a seven-player trade, shipping the discontented Josh Howard to Washington and delivering three playoff-starved souls in Caron Butler, Brendan Haywood and DeShawn Stevenson.
The newcomers have clearly added a spark to a previously lethargic team that limped into the break having lost five of seven while playing no defense. Suddenly, though the Lakers, Nuggets, Jazz and Thunder are the rage of the Western Conference, the re-energized Kidd and the Mavs are lurking beneath the surface.
More proof came Wednesday night when the Mavericks outgunned Kobe Bryant and the visiting Lakers in the fourth quarter for a 101-96 victory, tying Dallas' longest win streak of the season at five and pushing it to a season-best 16 games over .500. While Dirk Nowitzki scored 19 of his 31 points in the second half and Jason Terry poured in 18 of his 30 in the first half -- on a night when Caron Butler was a late scratch due to a bad reaction to medication -- it was the consistent, end-to-end play for 40 solid minutes by old man Kidd that stamped this victory.
Kidd finished with 14 points, 13 assists and seven rebounds. All four of his field goals were 3-pointers. His bomb to beat the third-quarter buzzer put the Mavs back up by two and set up a quick burst to start a fourth quarter in which they never trailed.
Kidd will turn 37 on March 23. When he does, his age will finally be greater than the minutes he's currently averaging this season (36.1). In the past six games, he's made age seem irrelevant. He's averaged 37.7 minutes while posting 40 or more minutes in four of the six games. Only a 28-minute outing in a blowout of Indiana on Monday dipped his average.
He's averaged 14.2 points during the stretch, pouring in double figures in each game, while knocking down 45 percent of his 3-pointers (18-of-40), not bad for a guy who hasn't averaged double-digit points since the 2007-08 season. During the six-game stretch, Kidd has also dished out 9.0 assists, grabbed 6.3 rebounds and made 16 steals, mostly by anticipating the passer's intention and picking it off.
"I feel as if I'm 20-something years old. I mean, I don't have any aches or pains when I wake up, nothing's really sore," Kidd said. "I've just been doing my same routine I've been doing for the last some-odd years."
For a player who has missed just eight games in the last six-plus seasons, there's nothing terribly scientific or cutting edge about Kidd's maintenance program.
"After games I sit in the ice tub for 15 minutes," Kidd said, "shower, go home, have something to eat."
Then he paused and thought about one thing he has changed in his routine since coming to Dallas, a change inspired by team trainer Casey Smith, who Kidd has come to know closely not only with the Mavs but also with Team USA during the Summer Games in Beijing. Smith served as an athletic trainer for the gold-medal winners.
"The biggest thing Casey has helped me with is to drink water," Kidd said matter-of-factly. "He started with baby steps, getting me to three bottles a day and now I drink a lot more than that and it's made me feel a lot better.
"It's funny how you take things for granted, but water has helped me."
Nowitzki has certainly been impressed with Kidd's post-All-Star stretch, easily Kidd's most productive run since February 2008 when he returned to the team that drafted him 17 years ago.
"I think he just knows that after the [All-Star] break you have to step your game up. He's been around for so long and he's just taking it a little further, taking his game to the next level after the break," Nowitzki said. "He's been phenomenal. He looks energized, he's pushing the ball. He's battling big guys in the paint, so he's been great."
Water, Nowitzki was informed, is Kidd's anti-aging secret.
"Water?" Nowitzki said, chuckling. "All right, sweet. Whatever it takes."
Jeff Caplan covers the Mavericks for ESPNDallas.com and is a Daily Dime contributor.
Dimes past: Feb. 1 | 2 | 3 | 4 | 6-7 | 8 | 9 | 10 | 11 | 16 | 17 | 18 | 21 | 22 | 23
2. The Race For No. 8 Out West
By John Hollinger
ESPN.com

Paul
Portland also will have to earn a playoff spot on the road. The Blazers have played a league-high 32 home games and have only nine left. If Roy misses any more time, their current hold on the No. 8 spot would become extremely tenuous.
The good news for the Blazers and Spurs is that they probably need to go only .500 to make the playoffs. Such finishes would leave Portland with 44 or 45 wins and San Antonio with 45.
The three teams chasing the Blazers and Spurs are the Rockets, Hornets and Grizzlies, and each has a less-than-1-in-4 shot at the postseason, according to Wednesday's Playoff Odds. Memphis, in particular, seems to be a long shot, at just 9.2 percent. The Grizzlies haven't been playing terribly well of late, having won just three of their past 10 games, and face a fairly difficult schedule the rest of the way. Their best hope is to win their remaining game against Portland and their final two against San Antonio to earn the tiebreaker over both.
To check out the entire PER Diem, click here
3. Daily Dime Live Recap
ESPN.com writers and TrueHoop Network bloggers chatted with fans and gave their in-game opinions throughout Wednesday's games -- all in Daily Dime Live.
4. Can The Celtics Stop The Cavs?
By Brendan Jackson
TrueHoop

Pierce
Kobe Bryant returned to the Lakers' lineup Tuesday night in dramatic fashion, scoring 32 points on 13-for-19 shooting and leaving L.A. fans elated. Unfortunately, the same can't be said for their cross-country rival, the Boston Celtics.
For the sake of equilibrium, just as the Celtics seemed to be hitting their second-half-of-the-season stride, they were dealt another blow by the injury bug. Paul Pierce is out indefinitely with a sprained right thumb and Marquis Daniels left practice Wednesday with flu-like symptoms.
One city is elated, while the other is deflated.
While it's uncertain how much time Pierce will miss, there is one impending DNP that is nearly guaranteed: Thursday night against the Cleveland Cavaliers.
LeBron James and his Cavs will come to the Garden looking to exact some revenge from the season-opening loss they suffered against the healthier and younger Celtics. Newly acquired Antawn Jamison is finding his place with Cleveland, while the Celtics will be down their leading scorer, emotional leader and starting small forward.
While the Celtics will undoubtedly miss Pierce's offensive production, they will really miss his size, strength and lateral quickness on the defensive end. With the chance that both Pierce and Daniels could be out for Thursday's game, coupled with the Celtics' shipping out Bill Walker and J.R. Giddens in the Nate Robinson deal, Boston will have few options at small forward.
While Ray Allen and Tony Allen could potentially match LeBron's quickness and athleticism, the Celtics may turn to Marcus Landry to match James' size. Originally perceived as a salary dump in the Robinson deal, this could be the type of assignment that gets Landry noticed.
Chances are that Landry's being "noticed" for anything Thursday night will not be career-making in the way he hopes, since all signs indicate the Cavaliers will prove to be too strong for this short-handed Celtics team.
To check out the Celtics Hub blog, click here
By Maurice Brooks
ESPN.com
WEDNESDAY'S BEST

Boozer

Carlos Boozer, Jazz: Utah erased an 11-point deficit against Charlotte thanks to Boozer, who scored 20 of his 33 points in the second half. He also pulled down 16 rebounds.

WEDNESDAY'S WORST

Hamilton

Richard Hamilton, Pistons: He had made 51 consecutive free throws heading into the game against the Clippers. He missed his first attempts of the night on the way to going 2-for-8 from the charity stripe in a six-point loss.

QUOTE OF THE NIGHT

"The schedule will get tough, but we're confident in the team that we have. When we play our best, we feel like we can play with anybody."

-- Chicago's Luol Deng, who scored a season-high 31 points in the Bulls' 10-point win against the Pacers
6.

Record-Setting Performance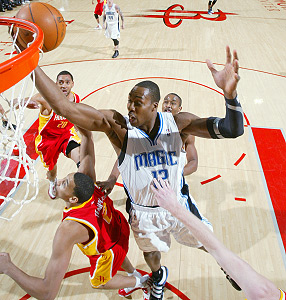 (Bill Baptist/NBAE/Getty Images)
Dwight Howard went 11-for-11 from the floor en route to scoring 30 points, and also pulled down 16 rebounds in Orlando's rout of the Rockets. Howard broke Shaquille O'Neal's franchise record by notching his 19th straight double-double.
8.

Pacers Miss Their Mark
By Jared Wade
TrueHoop Network

Jones
Luol Deng and the Bulls bum-rushed the Pacers off the tip Wednesday night. Chicago outscored Indiana 37-18 in the first quarter, seemingly putting the game away before it ever started. But it wasn't entirely over. On the strength of long-range shooting from Brandon Rush and Danny Granger, Indiana's offense awoke from its coma to knock down six 3-pointers in the second quarter, turning what was once a 23-point deficit into a manageable four-point hole at the half.
Might we have a ballgame on our hands? No. Not really.
Indy's offense went right back to sleep, and Chicago began scoring just as easily as it had to start the evening. Derrick Rose and Kirk Hinrich got hot from the outside, and with no Pacers' defense to speak of, the Bulls cruised to another 37-point quarter. After that, the rest was academic.
Indiana coach Jim O'Brien's calling card has always been his team's reliance on the 3-point shot, and while that is what -- momentarily -- got them back in this game, such accuracy has been a rare sight this year. For the season, Indiana takes 22.4 3s per night (fourth-most in the NBA) but connects on only 33.1 percent of its long-range attempts (fourth-worst in the NBA).
So while Rush, a second-year guard, knocked down five 3s, his puzzling unreliability showed up in other areas -- specifically his 2-for-8 performance inside the arc, which included a head-scratching missed layup on a follow attempt in transition.
Granger's night was much the same. He shot 4-for-8 from long range, yet only 1-for-6 on 2-point attempts. Dahntay Jones was much more aggressive, letting the others handle the 3s and getting to the line 10 times. But his 2-for-7 shooting from the field soured what was otherwise a nice offensive night for the defensive specialist.
All told, the Pacers were able to connect on only 40.9 percent of their shots. And particularly on a night when they couldn't guard anybody, that was the ballgame.
To check out the Eight Points, Nine Seconds blog, click here
9.

Love Cleaning Up Off The Bench
Kevin Love scored 19 points and gathered 12 rebounds for the Timberwolves, his third straight game with 17 or more points and at least a dozen rebounds off the bench. Love's streak is the longest of its kind for any NBA player since the Pacers' Detlef Schrempf had 20-plus points and 12-plus rebounds in three straight games, all as a nonstarter, way back in 1992 (April 3-8).