1. Cavs Rally After Shaq Gets Hurt
By Chris Sheridan
ESPN.com
BOSTON -- Shaquille O'Neal was not around when the visiting team's locker room door opened, depriving everyone of an explanation as to exactly how he hurt his thumb, how badly he hurt it and how strange it was that the game completely flip-flopped after he was gone.
The Cavs started playing faster. They started locking down on defense. The paint opened up and LeBron James used that space to draw away multiple defenders and leave Mo Williams wide open for three consecutive fourth-quarter 3-pointers that turned this tale of two halves into a steamrolling.
If you only saw the first 12 minutes, you'd be convinced the Celtics were the far superior team.
If you only saw the last 12 minutes, you'd be saying to yourself: "Geez, those Cavs sure are going to give the Lakers a tough time in the Finals."
It was one of those nights that ended so differently than the way it started, it practically begged for O'Neal to sum it up with one of his quips.
But since he absconded, we're going to have to take a page out of the Big Fella's playbook and christen this game with a nickname all its own -- one O'Neal himself would appreciate despite the turnaround coming somewhat at his expense.
"The Big Thumbthing."
If we were writing with a lisp, we'd tell you that yeth, thumbthing thuperlative happened to the Cleveland Cavaliers midway through their 108-88 victory over the Celtics as they chipped away at an early 13-point deficit, lost their big man to an injury that they would only call "significant," then put the pedal to the floor in the final 12 minutes and outscored Boston 35-14 in the fourth quarter.
The end result was a 20-point victory that should put at least a temporary halt to the debate about pinpointing exactly what ailment had befallen the Cavs since the All-Star break, which they entered with a 13-game winning streak and exited by losing three of their last four.
"It's about keeping up the momentum throughout the year and being able to go into the playoffs on a high,' James said. "You don't look too far into a regular-season game -- you want to compare yourself against those teams, because Boston's playing well, the Lakers are playing well, Orlando's playing well, so you want to see where you are at that point in time. But as far as looking too far into it, saying that if we meet them in the playoffs this is exactly what'll happen again? No, we won't do that."
O'Neal injured his right thumb midway through the second quarter, realizing the severity of the injury when he received the ball on the perimeter, tried to grip it and couldn't.
Despite playing without Paul Pierce (sprained thumb), Ray Allen was hitting from outside, Kevin Garnett had enough lift in his legs to convert one of those alley-oop dunks he had been coming up short on all season, and the Cavs' lack of defensive intensity that coach Mike Brown had railed against pregame was manifesting itself again.
Then the O'Neal injury happened, and the thought flashed through the mind: They've lost Shaq, they aren't sure if they're getting Zydrunas Ilgauskas back (actually, they're 99 percent convinced he's returning, even if they won't say so publicly), and they look like they're on the way to losing the headlock they've held on the rest of the conference since mid-December.
And then …
Boston couldn't shake 'em. And when the Cavs hit, boy, did they hit hard.
The Celtics' lead actually shrank to eight by halftime, the Cavs kept chipping away throughout the third quarter, and then Williams -- who had looked so helpless and overmatched trying to stop Rondo in the early going -- got wide open for three consecutive 3-pointers to turn an 84-80 edge into a 93-83 lead.
Cleveland's advantage never dropped below double digits after that.
"It was a little bit of both. We didn't shoot the ball well and we didn't guard well in the first half, and then, you know, the 3-point shot is a back-breaker in this league, and to get three of them from Mo, that was huge," James said.
It was especially huge considering how little Williams contributed offensively during the Cavs' playoff demise last year after he'd been chosen for the Eastern Conference All-Star team.
Williams was a combined 3-for-18 in Cleveland's previous two games, including 1-for-9 on 3-pointers, and the talk around Cleveland was that no matter how the Antawn Jamison-Anderson Varejao-J.J. Hickson timeshare ends up being resolved, it ain't gonna matter much if Mo is chipping paint off the rim.
But now?
"It does a lot for your psyche," Williams said. "More than anything this game is 90 percent mental, and your approach means everything, your confidence is everything. Talent plays a part, but you have to mentally be prepared."
So the Cavs now bring the NBA's best record (45-14) with them as they move on to Toronto for the second night of a back-to-back, knowing they won't have O'Neal for at least one game, but also knowing that their Boston bugaboo -- their inability to win there for nearly four whole years -- had been overcome.
And the way it happened? It sure was thumbthing.
Chris Sheridan covers the NBA for ESPN Insider.
Dimes past: Feb. 1 | 2 | 3 | 4 | 6-7 | 8 | 9 | 10 | 11 | 16 | 17 | 18 | 21 | 22 | 23 | 24
2. Five Teams For Four Spots
By John Hollinger
ESPN.com

Wade
It's a simple equation: Of the quintet of teams trying to grab the remaining four playoff spots in the East, one won't make it. And for each club, the consequences of missing would matter to an unusual degree.
The race is a close one, too. Only one game separates the last three teams, and the Playoff Odds expect only two games will separate the last four by the season's end. Among the Raptors, Heat, Bucks, Bobcats and Bulls, each has at least a 63.5 percent chance of making the playoffs (with Miami's 92.6 percent chance leading the way). In other words, each of these five teams is more likely than not to make the playoffs, as strange as that sounds.
To check out the entire PER Diem, click here
3. Daily Dime Live Recap
ESPN.com writers and TrueHoop Network bloggers chatted with fans and gave their in-game opinions throughout Thursday's games -- all in Daily Dime Live.
4. Which Style Works Best?
By Brendan Jackson
TrueHoop

Williams
Rajon Rondo and Mo Williams engaged in a battle of opposite playing styles that ended in a draw Thursday. Rondo is a point guard that prides himself on penetration and distribution, only looking to score as a fourth option. Williams is a deadly accurate sharpshooter from long range who has the propensity to score in bunches.
Both players finished with 19 points, and while Rondo edged Williams in nearly every other statistical category, Williams' team got the win.
So the argument goes: Which playing style is better?
The argument can easily be made for both sides. On a team full of scorers, a distributor is necessary to manage the game and make sure the team gets the best option every time. On a team with one superstar and three star role players, that extra offensive boost is essential.
As evidenced by Thursday night's blowout win for the Cavaliers, opposite playing styles can beget opposite production. Rondo started the game fast, dictating the pace by racking up six assists in the first quarter. Conversely, Williams struggled to find his rhythm in the early going, only shooting 1-for-3 in the first half.
As momentum began to favor the Cavaliers in the third quarter, Rondo was forced to take jumpers because of the exceptional way Cleveland stymied his penetration. Due to his lack of offensive production in the first half, the Celtics were baited into leaving Williams open in the corners. The result was catastrophic for the Celtics, as Williams hit four of his five 3s in the fourth quarter.
The bottom line is that whichever team forces the other player out of his game the most will have the advantage. Both the Cavaliers and the Celtics turned their respective opposing point guards into jump-shooters in the second half, and the result speaks for itself.
Magic Johnson showed us that point guards can come in all sizes. That being said, the NBA has entered an age in which the smaller but lightning-fast point guard is a coveted commodity. What remains to be seen is whether or not it pays off to shoot first and pass later or pass first and shoot later.
To check out the Celtics Hub blog, click here
By Maurice Brooks
ESPN.com
THURSDAY'S BEST

James

LeBron James, Cavs: Cleveland trailed Boston for three quarters before James (36 points, nine assists, seven rebounds) and Mo Williams took over in the fourth. James led the defense and Williams scored 14 of his 19 in the final period as the Cavs closed the game on a 35-14 run.

THURSDAY'S WORST

Ellis

Monta Ellis, Warriors: Sure, Ellis has the green light on offense, but every now and then he needs to pass the ball. He fired up 22 shots -- making only six -- while handing out just three assists in Golden State's loss to Denver.

QUOTE OF THE NIGHT

"Obviously, with Michael Redd out, we need someone to come and get some points for us. He's a proven scorer in the NBA and he's done a [heck] of a job."

-- Bucks big man Andrew Bogut on newly acquired John Salmons. Milwaukee is 5-0 with Salmons in the lineup
6.

Billups Wins Duel Against Curry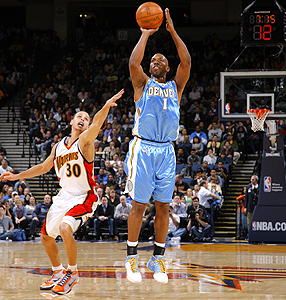 (Rocky Widner/NBAE/Getty Images)
Rookie Stephen Curry shook loose for 30 points and 13 helpers, but Chauncey Billups fired in a game-high 37 points and gave out nine assists to drive the Nuggets past the Warriors.
8.

Bobcats Closing In On New Owner

Jordan
Is Michael Jordan, at long last, about to have his own NBA team?
Likely.
To answer that first question fully, we first need to answer two others.
Is the sale happening now?
Two sources close to the process tell me an announcement is imminent and could come at any time, as Rick Bonnell of the Charlotte Observer has reported. Other sources insist that kind of talk is premature, and point out that in May and August of last year there were also reports saying a sale was imminent, but nothing materialized either time.
Lending special credence to the idea that the time is now, however, are the comments of NBA commissioner David Stern at All-Star Weekend, who said he thought a sale of the team was certain. "And I think that might happen sooner rather than later," he added, "within the next 60 days or so." Those involved in the process found such specific comments to be meaningful. Not only were they coming from a very careful and lawyerly speaker in Stern; they also seemed to suggest he had insider's knowledge of how the process was playing out -- if key issues remained unresolved, it would surely be foolish to predict a swift outcome.
What's more, any deal would likely become public at the time a deal was struck, which is typically long in advance of the actual closing. (Think about buying a house: You agree to a price with the seller, who takes the house off the market by placing it "under contract." Then there's an interlude for inspections, radon tests, mortgages and the like before you get the keys at the closing.)
If the sale of the Bobcats is to be completed within 60 days of Stern's press conference -- as those close to the situation believe Stern intended -- it would have to be agreed to and announced weeks before that.
To read the entire TrueHoop blog, click here
9.

Bogut Extends Block Streak
Andrew Bogut blocked two shots for the Bucks on Thursday, giving him at least one blocked shot in each of his past 22 games. That's the longest streak for any NBA player this season.
Bogut's streak is the longest of its kind for a Bucks player since Ervin Johnson blocked shots in 24 straight games in 1997-98, but he'll have to continue his streak into next season to match the franchise record of 61 straight games, shared by Kareem Abdul-Jabbar (overlapping the 1973-74 and 1974-75 seasons) and Elmore Smith (1975-76).