Grizzlies owner Michael Heisley was not the only big Hasheem Thabeet fan in the organization when Memphis used the No. 2 overall pick in the 2009 draft to select the UConn big man.
One source with knowledge of Memphis' thinking told ESPN.com that Grizzlies coach Lionel Hollins was high on Thabeet going into the draft as well.
Yet Heisley is widely regarded as the voice that pushed hardest for the selection of Thabeet, which only makes this story wilder. You'd figure box-office reasons would be the primary consideration when an owner wants a certain player drafted. The decision not to select local collegiate star Tyreke Evans at No. 2 gets even more curious when you're reminded that Heisley was hooked more than anyone else in the organization on Thabeet's size (7-foot-3) and wingspan.
The immediate challenge Thabeet faces is shaking off the stigma that comes with being the highest draft pick ever assigned to the D-League, but the reality is that the move will give him the game time he sorely needs. For all the jabs he's going to take a result of the painfully slow start to his pro career, compared to Rookie of the Year favorite Evans, it's easy to forget that the Tanzanian has only been playing basketball for six years. He's clearly still learning the game, and certainly didn't ask the Grizzlies to heap even more pressure on him by drafting the project big man one slot after Blake Griffin went No. 1 overall to the Clippers.
The D-League isn't the most center-friendly league in the world with its up-and-down pace, so many guards looking to score and very few traditionally sized bigs for Thabeet to match up with. But he's expected to spend 10 days with the Dakota Wizards, play six games in that span and log the sort of extended minutes he has little chance to claim in Memphis with Zach Randolph and Marc Gasol ahead of him. Add it all up and, like the Grizzlies did, you just might spot a positive or two attached to the most attention-grabbing NBA assignment in D-League history.
---
Some numbers of note in the West this week:
0-19: Sub-.500 teams, according to the Elias Sports Bureau, are 0-19 at Staples Center this season: 0-10 against the Lakers and 0-9 against the Clippers. San Antonio (11-0) is the only other team in the league that hasn't lost a home game to an opponent that currently sports a losing record.
26: With 20 points and 14 rebounds in Tuesday's home loss to the Lakers, Memphis' Zach Randolph set a new franchise record with his 26th 20-point/10-rebound game of the season. The previous single-season best in team history: 25 20-and-10 games by Shareef Abdur-Rahim in 1999-2000 in the Grizzlies' second-to-last season in Vancouver.
37: With 37 points in Tuesday's loss at Cleveland, New Orleans' Marcus Thornton became only the second rookie since the 1981-82 season to score that many points in a game as a non-starter. The only rookie with more off the bench in that span: Sacramento's Walt Williams with 40 points in a 154-98 rout of Philadelphia on Jan. 2, 1993.
20: Dallas' Brendan Haywood, with 20 rebounds in Monday's win over Indiana, became just the third player in the past 20 years to post a 20-rebound game for two teams in one season. Haywood also had a 20-rebound game for Washington before being dealt to the Mavericks on Feb. 13; Dikembe Mutombo (Atlanta and Philadelphia in 2000-01) and Olden Polynice (Detroit and Sacramento in 1993-94) are the last two players to pull that off.
9: Darren Collison has logged at least 40 minutes in nine straight games for the Hornets in place of the injured Chris Paul. The only other active NBA players with streaks of at least nine consecutive 40-minute games as a rookie are Grant Hill (1994-95 with Detroit), Michael Finley (1995-96 with Phoenix), Allen Iverson (1996-97 with Philadelphia) and Shane Battier (2001-02 with Memphis). Collison also moved into some really exclusive company by recording seven consecutive games with at least 18 points and nine assists; Oscar Robertson is the only other rookie (1960-61) in league history to hit such heights.
---
Warriors assistant Scott Roth has again been offered the job as coach of the Dominican Republic's national team, according to NBA coaching sources.
After two successful qualifying campaigns coaching the DR -- which counts Atlanta's Al Horford, Detroit's Charlie Villanueva and Sacramento's Francisco Garcia among its eligible players -- Roth could not reach terms on a new contract last summer and left the post. But sources say the Dominican federation is now trying to bring Roth back, after the DR -- even with its three NBA stars -- failed to qualify for this summer's FIBA World Championships in Turkey under Puerto Rican coach Julio Toro.
Warriors coach Don Nelson, who previously had Roth on his staff in Dallas, brought the 46-year-old to Golden State after watching Roth win plaudits for the job he did coaching the D-League All-Stars to a 3-2 record in last July's NBA Summer League in Las Vegas. Roth emerged last season as one of the top coaching prospects in the D-League with the Bakersfield Jam, after leaving a scouting position with the Milwaukee Bucks to focus on his coaching career.

Ilgauskas
Even if Zydrunas Ilgauskas goes back to the Cleveland Cavaliers in March -- which is the outcome quietly expected even by the dreamers, er, contenders in Atlanta, Dallas, Denver and Utah trying to secure a free-agent commitment from Big Z this weekend -- it appears that history has been rewritten.
No longer can Ilgauskas unequivocally claim he is No. 2 in the NBA behind Kobe Bryant on the list of players with the longest unbroken tenure with one team.
Although representatives from the league office and the Elias Sports Bureau stress that no formal ruling has yet been made on the subject, let's review the facts.
• Ilgauskas was dealt to Washington in the three-way deal that landed Antawn Jamison in Cleveland.
• Ilgauskas was assigned No. 17 by the Wizards.
• And he had to be bought out and waived by the Wiz on Thursday to have the freedom to rejoin the Cavs after a mandatory 30-day wait … or sign with one of the dreaming teams.
So …
Ilgauskas never came close to playing for Washington, but he undoubtedly was a Wizard for nine days. Which means his tenure with the Cavs was undeniably interrupted, even if they will remain the only team he ever plays for.
Which means we have no choice but to update our recent All-Longevity Team published in early December:
Longest Unbroken Tenure Current NBA Players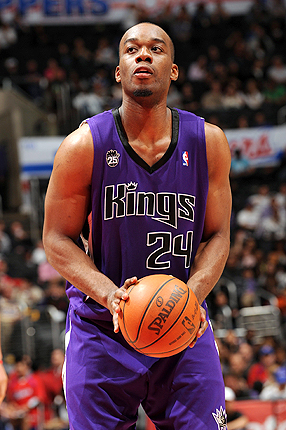 (Noah Graham/NBAE via Getty Images)
Carl Landry is now a starter with the Kings, but his time averaging 16.1 ppg off the bench for the Rockets puts him at the head of the Sixth Man chase at this juncture. (See Box 2.)

Wilkins
"Is he better than Josh Smith?"
My 6-year-old son Alexander the Greatest, after meeting Hawks legend Dominique Wilkins during All-Star Weekend, and then responding to his breathless father's hurried history lesson explaining why he was so lucky to get a fist-pound from Nique.
Nique was thankfully out of earshot when Alex questioned how anyone could be more synonymous with the Hawks than Smith … and fortunately there was plenty of YouTube footage waiting at Stein Line HQ to slam home my case.

Bryant
I'm guessing by now you've probably heard that Kobe Bryant -- on the night he became the youngest player in league history, at 31 years and 184 days old, to appear in 1,000 regular-season games -- drained a game-winning triple in Memphis in his first game back from a five-game injury absence.
I'm guessing you also already know that it was hardly Bryant's first game-winner of the season.
But for those of you who haven't memorized the specifics of Bryant's five daggers to date, here's your breakdown:
December 4, 2009 (Lakers 108, Heat 107)
Bryant banks in a wild 3-pointer at the buzzer from the top of the key.
December 16, 2009 (Lakers 107, Bucks 106 OT)
Bryant drains a jumper at the buzzer from the left elbow after missing a similar shot at the end of regulation.
January 1, 2010 (Lakers 109, Kings 108)
Bryant shakes loose on an inbounds play and splashes a 3 at the buzzer from the left wing right in front of the Kings' bench.
January 31, 2010 (Lakers 90, Celtics 89)
Bryant swishes a go-ahead fallaway jumper over Ray Allen from just beyond the free-throw line with 7.3 seconds left.
Tuesday (Lakers 99, Grizzlies 98)
Bryant calmly drains a long 3 from the right wing off a feed from Lamar Odom with 4.3 seconds to go.
And here's more dagger data:
Most Field Goals Made In Final 24 Seconds, One-Possession Games 2009-10 Season
Kobe Bryant, Lakers, 5
Chris Paul, Hornets, 5
Raymond Felton, Bobcats, 4
David Lee, Knicks, 4
Dirk Nowitzki, Mavs, 4

Bell
It sounds as though contending teams that expected to have a shot at signing defensive ace Raja Bell for the stretch run are going to be disappointed.
Reason being: Bell is not seeking a buyout from the Golden State Warriors.
The 33-year-old had wrist surgery in early December but is on course to make his comeback next month. After the trading deadline passed without the Warriors plugging his $5.3 million expiring contract into a deal, Bell would have been a natural free-agent target for playoff teams, such as Denver and San Antonio, seeking an extra wing defender to throw at Kobe Bryant.
Bell, though, told ESPN.com that he is not pursuing a buyout, which would have to be completed before March 1 for Bell to be eligible for the playoffs with a new team.
"I'm fully prepared to play here," Bell said last Friday.
Hearing that will undoubtedly please the Warriors, who want Bell to finish the season with them and still hold out hope that they can convince him to re-sign in Golden State this summer, since this is a young team clearly in need of example-setting vets who know how to win.
Can't say I'd give the Warriors great odds of pulling off a re-signing -- since it's hard to picture the ultra-competitive Bell being able to stomach a non-playoff situation for long -- but Bell did return to Oakland last week to start preparing for his return to the floor after spending the past two months after surgery at home in Miami.