1. Do The Nuggets Have What It Takes?
Two weeks of watching the Winter Olympics and one game of watching the Nuggets and Lakers have me in flaw-finding mode, like an ice skating judge looking for a missed rotation or a wobbly landing.
Now that the Lakers have established they can actually beat Denver this season, doing so for the first time in three games with a 95-89 victory Sunday afternoon at Staples Center, it's time to nitpick the Nuggets to see whether they really have what it takes to win a playoff series between these teams.
First, the valid Nuggets excuses for their loss Sunday: It was their third game in three cities in four days, having zigzagged from Oakland to Denver to L.A. They had to play the second half without Ty Lawson, who bruised his left shoulder. And they had to play the final 2:13 without Carmelo Anthony, who was whistled for his sixth personal foul, a dubious call when he cleared Ron Artest's arm with a defensive lineman-style swim move while establishing post position.
Next, some complimentary quotes from the victors, led by Lamar Odom calling the Nuggets, "a really tough team -- they play hard, they push us to the limit."
Kobe Bryant explained why he abandoned the Lakers' offense and set up shop on the right block, where he surveyed the floor and found cutting teammates often enough to get 12 assists on a night he shot 3-for-17 from the field.
"God knows I love the triangle, but we kind of had to get into playoff mode a little bit tonight," Bryant said.
That's a testament to the Nuggets, because the Lakers sure weren't inspired to enter playoff mode during an unimpressive victory over the 76ers on Friday night.
The question is whether the Nuggets are capable of getting into playoff mode themselves, of winning when the pace slows and the transition opportunities diminish, as they so often do in the postseason.
As much as they insist they're not as running-game dependent as they used to be, here's some evidence to the contrary: Denver now is 0-3 when scoring fewer than 90 points and 5-13 when scoring fewer than 100 points.
Coach George Karl expounded on the Nuggets' half-court issues, saying, "A lot of our losses, it's because we don't offensively trust the pass and have enough patience to fight through the defensive intensity. When we find the open man, when we move the ball and have a high assist night, it's the key to us winning games."
When it goes bad, they'll pull up for the quick jumper or they'll forget to put the ball in the hands of Anthony, the third-best scorer in the league. It all gets back to the focus issue, the annoying label that has dogged this team for much of the season. It stems from the Nuggets' 24-10 record against winning teams and 14-10 record against teams below .500. They claim they're past that now ("We had a team meeting; guys spoke up," Anthony said), and can point to victories against Golden State and Detroit last week as proof.
And part of me says it's irrelevant because during the playoffs, they'll face only winning teams. But it's indicative of a group that can't find its consistency. Besides, great teams win games when they don't play well. They manage to squeeze out just enough good minutes to prevail.
Then there's the issue no other team is facing, the one you wish no team ever had to deal with. Treatment for Karl's recently revealed throat cancer already caused him to miss the game at Golden State last week, and he said he definitely will miss the March 10 game at Minnesota and possibly back-to-back games in New Orleans and Memphis the weekend after that. Games at Orlando and Dallas at the end of the month are in question as well.
"There are going to be days I'm not going to be with them," Karl said. "I'll try to keep that upfront and ahead of the curve. I'm not going to hide anything from them. They've been great. They've been a great team all year long. I believed in this team, I think, last year before anybody did. And I really do believe in the team this year. I don't want to be a distraction from the standpoint of taking away from the opportunity. The opportunity is there for us. My staff is talented enough to fill in the holes when I'm not there. And they're talented enough, if they accept the opportunity and the challenges to get better in the next 25 games, I think we have that opportunity to be the best."
You get the sense that Karl, who survived a battle with prostate cancer, is particularly frustrated by this go-round because he feels this could be the group that wins him his first NBA championship and he doesn't want to be a burden on these players. His own health is far more important than the impact his absences could have on the Nuggets' place in the Western Conference. Still, for Karl and everyone else connected to him, there is business to address.
"It is a major thing, but George's attitude has given us so much positivity," Chauncey Billups said. "He's so positive and upbeat about it. If we see him like that, we have no choice but to kind of be the same way. If we see him coaching games like this and coming out and putting his heart out for us, we kind of owe it to him to return the favor."
Karl sounds both brave and realistic.
"I'm going to be tough," he said. "But I'm not going to be stupid-tough."
It sounds like good advice for the Nuggets as well. Tough but not stupid. Focused, not foolish.
They have defeated the Lakers twice. Their aggressiveness had the Lakers out of whack and behind by 13 points in the second quarter Sunday. And despite everything that went wrong Sunday, including the 32 percent shooting and 37 points in the second half, the Nuggets still were tied with about three and a half minutes remaining and within four points inside of two minutes. Except they never scored again.
It was their inability to sustain their style of play or to counter the adjustments by the Lakers that let this game get away -- and let doubts about their ability to get it done in the playoffs creep in.
J.A. Adande is a columnist for ESPN.com.
Dimes past: Feb. 1 | 2 | 3 | 4 | 6-7 | 8 | 9 | 10 | 11 | 16 | 17 | 18 | 21 | 22 | 23 | 24 | 25
2. Nowitzki's Big Night Lifts Mavs
By Jeff Caplan
ESPN Dallas

Nowitzki
DALLAS -- Dirk Nowitzki scored 14 of his 36 points in the fourth quarter to save the Mavericks from an embarrassing letdown after leading the New Orleans Hornets by 25 points in the third quarter. Dallas picked up its seventh consecutive victory and is now 7-1 since the big trade at the All-Star break.
Caron Butler, in his return after missing two games, stripped impressive New Orleans point guard Darren Collison in the final minute and Brendan Haywood slammed Butler's missed layup to finally seal the victory.
To check out the entire blog, click here.
3. Daily Dime Live Recap
ESPN.com writers and TrueHoop Network bloggers chatted with fans and gave their in-game opinions throughout Sunday's games -- all in Daily Dime Live.
4. Mental Mistakes Hurt Bucks
By John Hollinger
ESPN.com

Ridnour
ATLANTA -- A play here ... a play there. That may be all that separates the playoffs from the lottery for five teams in the Eastern Conference, a quintet that projects to finish within one game of each there according to this morning's Playoff Odds.
So you'll excuse Milwaukee coach Scott Skiles for lamenting a couple of particularly egregious mistakes in his team's 106-102 overtime loss to Atlanta that allowed the Hawks to rally in the extra period. The Bucks had the ball and a five-point edge with 3:17 left when Luke Ridnour drove the basket and tried a wild over the head pass to the corner that Joe Johnson intercepted. At the other end, Ersan Ilyasova inexplicably crowded Josh Smith on the perimeter instead of backing off, and Smith breezed past for a lay-up that cut the lead to three.
That wasn't the whole game, obviously, but once Johnson followed that sequence with three straight difficult contested jumpers and John Salmons misfired on two attempts to tie, the Bucks headed home with their first defeat in seven games.
To read the entire TrueHoop blog, click here.
By Maurice Brooks
ESPN.com
SUNDAY'S BEST

Blatche

Andray Blatche, Wizards: He continued his stellar play since the All-Star break, scoring a career-high 36 points while pulling down 15 rebounds and handing out four assists in Washington's four-point win over New Jersey.

SUNDAY'S WORST

Beasley

Michael Beasley, Heat: Foul trouble limited him to just 18 minutes, but he didn't do much with his time on the floor, missing all four of his shots and grabbing just one rebound in Miami's loss to Orlando.

QUOTE OF THE NIGHT

"I think we'll be all right. We'll weather the storm while the big fella gets some rest."

-- Cavs guard Mo Williams on Shaquille O'Neal, who will be out six to eight weeks after getting thumb surgery Monday
6.

Amare Goes Off In Defeat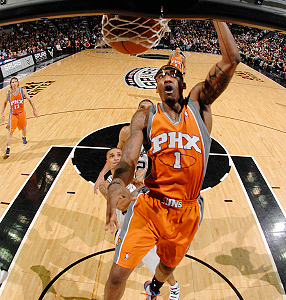 (Rocky Widner/NBAE/Getty Images)
Amare Stoudemire was a force, firing in a season-high 41 points and pulling down 12 rebounds, but the Suns couldn't keep pace with the Spurs in a 113-110 road loss.
8.

Defense Is The Key For The Lakers
By Arash Markazi
ESPN Los Angeles

Artest
As far as Ron Artest is concerned, the Lakers haven't done anything yet. They may be 45-15 after beating the Denver Nuggets 95-89 on Sunday, giving them a five-game cushion atop the Western Conference, but none of that registers for Artest as he sits in front of his locker, fiddling with his iPhone.
"We haven't beaten any good teams this year," Artest said. "I don't know a big win that we've had. I think this is big win but we haven't proved anything this year. We've just beaten the teams we're supposed to beat."
To read the entire Markazi column, click here.
By Chris Sheridan
ESPN.com

Battie
EAST RUTHERFORD, N.J. -- At some point Monday, perhaps at the proverbial 11th hour, Tony Battie is going to have to ask himself a question: What price is worth paying to gain freedom from the worst team in the NBA?
Monday is March 1, the final day for players to be waived and retain playoff eligibility if they sign with another team.
Battie, an 11-year veteran, is the prime candidate to be bought out by the New Jersey Nets, whose season of misery continued Sunday with an 89-85 loss to Washington that dropped their record to 6-53.
Battie is still owed $1.7 million of his $6.3 million salary, and Nets team president Rod Thorn said he has had no conversations with Battie's agent, Lon Babby, regarding a buyout.
But Babby and Thorn likely will speak Monday, and they'll have until 11:59 p.m. ET to see whether they can strike a deal.
"Honestly, I'm not sure," Battie told ESPN.com. "I'm going to be professional about it, and whatever happens happens. That's kind of where I'm going to leave it because I honestly feel that way.
"It's not smart to leave money on the table knowing that you still have to go out and find a team that's going to be a taker, so you don't want to put yourself in limbo to leave a situation and not have a 100 percent guaranteed deal waiting somewhere else," Battie said.
There might not be a 100 percent guarantee awaiting Battie, but judging by the number of teams other than Cleveland (Denver, Dallas, Atlanta, Boston, Utah) pursuing free agent Zydrunas Ilgauskas, there is certain to be a market for him. Remember, this is the same player Stan Van Gundy turned to instead of Marcin Gortat when he made his last-gasp effort at using a Twin Towers lineup against the Lakers in Game 5 of the NBA Finals last year.
Atlanta and Utah still have the full midlevel exception ($5.86 million) at their disposal, while Denver and Dallas each have the $1.99 million biannual exception (Denver also has $1.29 million of its midlevel exception), whereas the Celtics, who used their midlevel exception on Rasheed Wallace and their biannual exception on Marquis Daniels, would be able to offer only a prorated portion of the veteran's minimum salary.
What can Battie offer after battling a knee injury for much of the season and appearing in only 15 games?
"Just what I bring: an extra big body, a guy who can come in and put in a P.J. Brown-type effort like P.J. had on that [2008 NBA champion] Celtics team, whether it's four points, four rebounds or four hard fouls in a playoff series -- that can be huge on any given night," Battie said.
The Nets have several players on expiring contracts, but none are considering giving up guaranteed money to escape as Rafer Alston did earlier this season.
"It's not even in my ballpark," Keyon Dooling said. "I still have a team option. That's a non-negotiable for me."
Larry Hughes and Kenny Thomas recently were waived by Sacramento and reportedly have drawn interest from Charlotte and Portland, respectively. The Wizards have been trying to negotiate a buyout with point guard Mike James, who left the team and returned home to Houston after he was not dealt at the trading deadline. But James is not interested in giving back any of the $6.47 million he is, ahem, earning, and the chances of him taking a buyout are extremely remote, two sources told ESPN.com.