MONDAY'S BEST

Brooks

Aaron Brooks, Rockets: Makes 11-of-18 from the field en route to 28 points, seven assists and five boards in a 116-92 win over the Chris Bosh-less Raptors. Houston stayed four games out of the final Western Conference playoff spot.

MONDAY'S WORST

Hinrich

Kirk Hinrich, Bulls: Nights like these make the Lakers and Celtics glad they didn't deal for Kirk. Shoots 1-for-9 in a loss to the Hawks. His worst shooting of the season also came against Atlanta, when he was 0-for-9 on Dec. 9.

QUOTE OF THE NIGHT

"It's leadership, or lack thereof. It's contagious where one guy's miserable and it's contagious throughout the team. Someone has to stand up and try and rally the troops, your teammates."

-- Sixers coach Eddie Jordan, taking veiled aim at Andre Iguodala after the Sixers' 126-105 home loss to Orlando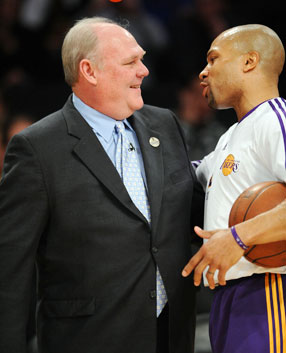 (Noah Graham/NBAE via Getty Images)
Nuggets coach George Karl, wearing a "Hoops For St. Jude" pin, has helped lead the effort by coaches and players to support the children's research hospital. For more information, check out
hoopsforst.jude.com
.
By Chris Sheridan
ESPN.com

Shaq
Jeff (Colorado): How do you think Shaq will fill in for the Cavs come playoff time, will it be an easy transition or will the team struggle with him being absent for such a long period of time? Do you have any thoughts on if this will actually strengthen the Cavs while learning how to fill in for the big man? Sure hope Z ends up back in Cleveland!
Chris Sheridan: Shaq is basically there to be used against Dwight Howard and/or Kendrick Perkins in the postseason, and I think his absence will actually benefit the Cavs over the remainder of the regular season because they won't have to switch up their game when he's in there. They still have enough size until Z returns, especially with Leon Powe finally healthy. So I wouldn't worry too much about the Shaq factor if I was a Clevelander. Besides, Clevelanders already have enough to worry about. :)
To read the full chat transcript, click here.