By Maurice Brooks
ESPN.com
TUESDAY'S BEST

Wade

Dwyane Wade, Heat: Miami had dropped four games in a row. Their franchise player made sure the streak didn't reach five, posting 35 points, 12 assists, six rebounds and four steals in a 110-106 win over the Warriors.

TUESDAY'S WORST

Granger

Danny Granger, Pacers: He came into the game against the Lakers averaging 23 points and six rebounds, but he struggled, scoring just nine points and grabbing zero rebounds (he also had four turnovers) in the loss.

QUOTE OF THE NIGHT

"I have no problem. Basketball is basketball. I don't think people realize that. No matter what city, overseas, D-League, park league -- I just want to play."

-- Wizards guard Gilbert Arenas, who is suspended by the NBA for the rest of the season for bringing guns to the locker room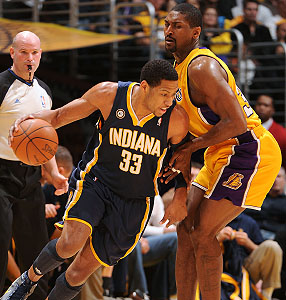 (Andrew D. Bernstein/NBAE via Getty Images)
Ron Artest had five steals and helped hold Danny Granger to 2-for-9 shooting from the field in the Lakers' 122-99 home victory against the Pacers.
8.

Iverson Done In Philadelphia

Iverson
The 76ers confirmed what has been whispered for some time: Allen Iverson won't be back in a Sixers uniform this season.
As a parent, I can't doubt for a moment that Iverson has far more important things on his mind than NBA basketball. Word is that until his daughter's health situation is resolved, he won't even think about what's to come of his NBA career. Fair enough.
What's less clear is: When his family situation is in order, and if he decides he's ready to return to the NBA, will there be a job waiting for him?
Worth pointing out that Iverson was recently voted an All-Star starter in this bizarro season.
Despite his lack of size and shot-happy game, Iverson was always a productive player early in his career, as a Sixer and then as a Nugget. In Detroit, things began to fall apart. This season was Iverson's chance to make NBA executives and fans forget that unfortunate stain on his record. Unproductive, odd stints in Memphis and Philadelphia had the opposite effect. Any worries people had about employing him have been compounded, instead of erased.
To read the full TrueHoop blog, click here.
9.

Sixth Man Of The Year Watch
By Maurice Brooks
ESPN.com

Love
1. Jamal Crawford, Hawks: Despite coming off the bench, he's one of the league leaders in fourth-quarter scoring, is the Hawks' second-leading scorer and is one of the biggest reasons for all the optimism coming out of Atlanta. (Last week: 1)
2. Manu Ginobili, Spurs: Rumors of Manu's demise have been greatly exaggerated. His all-around game has been fantastic for the past month. (Last week: 3)
3. Jason Terry, Mavs: Dallas is rolling (eight straight wins) and Terry is showing off the form that earned him last season's Sixth Man of the Year award. He made several big shots in the Mavericks' win against the Bobcats on Monday. (Last week: 4)
4. Kevin Love, Wolves: He has embraced his role of coming off the bench and is a threat to notch a double-double on a nightly basis. (Last week: NR)
5. Anderson Varejao, Cavs: His combination of energy, ability to keep the ball alive and always being in the right position is one of the keys to what the Cavs do defensively. (Last week: 5)
To read the full Awards Watch, click here.