By Maurice Brooks
ESPN.com
WEDNESDAY'S BEST

Lee

David Lee, Knicks: The All-Star flirted with a triple-double, posting 21 points, 18 rebounds and eight assists to power the Knicks to a 128-104 win over the Pistons.

WEDNESDAY'S WORST

Evans

Tyreke Evans, Kings: He may be the favorite to win rookie of the year, but his performance against the Rockets won't help him earn many votes. He missed 18 of his 22 attempts, finishing with nine points.

QUOTE OF THE NIGHT

"I wanted to make [Darren] Collison work on the defensive end because he's going to do a lot of the work on the offensive end, so we just wanted to make him guard a lot."

-- Grizzlies point guard Mike Conley after scoring a season-high 26 points against the Hornets to help Memphis extend its franchise-record road win streak to five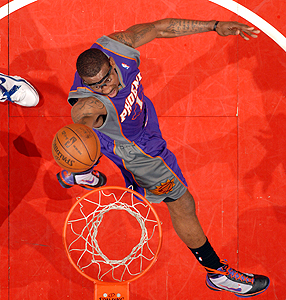 (NBAE via Getty Images)
Amare Stoudemire tallied 30 points and 14 boards to help the Suns complete a four-game sweep of the Clippers with a 127-101 win.
8.

LBJ Booed For Lame Dunk
By Chris Sheridan
ESPN.com

James
EAST RUTHRFORD, N.J. -- The final word on LeBron James' latest and last visit of the 2009-10 season to the New York metropolitan area: He got treated better at Jay-Z's concert the previous night at Madison Square Garden than he did Wednesday in his final game at the Meadowlands.
A non-sellout crowd of 17,502 gave James an earful of boos after he came up with a steal in the first quarter and took off for a breakaway dunk, only to jump awkwardly off the wrong foot before gently throwing down a two-handed dunk that would rate no higher than a 2 on a scale of 1-10 in a dunk contest.
"That's how much they love you -- when they boo you, I guess," James said after the Cavs improved the NBA's best record to 48-14 with a 111-92 victory over New Jersey. "I had a few others that got them out of their seats."
James himself was out of his seat and dancing up a storm the previous night at Madison Square Garden as Jay-Z performed, and there was quite a bit of Twitter talk late Tuesday that James seemed especially giddy as he grooved to the hit "Empire State of Mind."
Folks in New York might take that particular dance move as a positive sign for the Knicks, who will make LBJ their No. 1 target in free agency July 1.
In Ohio, meanwhile, folks right now are laughing at that previous sentence, asking "What did you expect him to do, sit still?"
The fact of the matter is this: In trying to read the tea leaves in these days of uncertainty leading up to James' free agency, every public moment is worthy of scrutiny. Whether it's a dunk that draws boos or a dance that elicits hope, all eyes in this area are glued to the calendar and to the player who makes that date, July 1, so significant.
James has ceased discussing his impending free agency, so we can offer you nothing from Wednesday night regarding his future.
As for the concert, here's LBJ's take on his buddy's show:
"I'd rate the show five stars, two thumbs up. It was great, it was awesome, it was Jay-Z," James said. "Every song he had last night for the most part I gravitated to, the fans were unbelievable, they respected his music, respected everyone who came out there. It was fun."
ESPN Insider Chris Sheridan is a regular contributor to the Daily Dime
9.

Celtics Show Some Fight
By Chris Forsberg
ESPNBoston.com

Pierce
BOSTON -- With the Boston Celtics nursing a near-30-point advantage late in the fourth quarter and a message on the JumboTron advertising that Gino, Boston's celebratory "American Bandstand" dancer, was warming up backstage, Paul Pierce and Glen Davis playfully sparred in front of the bench during a timeout.
It was an appropriate visual considering that, just a couple of hours earlier, Pierce likened the final 23 games of the regular season to a boxing match, stressing that the Celtics needed to get their training in before the main event -- the postseason.
On a night in which Pierce produced one of his finest outings of the past two injury-riddled months, his team followed suit as the Celtics stomped the Charlotte Bobcats 104-80 on Wednesday night at TD Garden.
Pierce registered a game-high 27 points on 9-of-13 shooting (4 of 6 3-pointers) with four assists, three steals, two rebounds and a block over 26 minutes.
To read the full Forsberg column, click here.