By Maurice Brooks
ESPN.com
THURSDAY'S BEST

Wade

Dwyane Wade, Heat: Kobe Bryant led all scorers with 39 points, but Dwyane Wade shook loose for 27 points and a season-high 14 assists to help Miami even its record with a 114-111 win against the Lakers.

THURSDAY'S WORST

Amare

Phoenix Suns: The Suns took an 11-point lead into the fourth quarter but stopped playing defense, getting outscored by 19 in the game's final 12 minutes in a 116-108 home loss to the Jazz.

QUOTE OF THE NIGHT

"It's official now. I'm soon to be a Celtic."

-- Veteran swingman Michael Finley, who recently received a buyout from the Spurs, confirming that he will be joining the Celtics
6.

Matchup Of All-Star Point Guards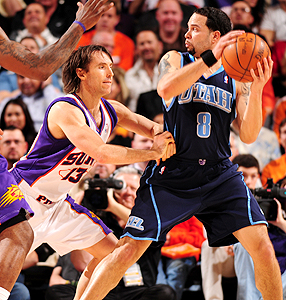 (Barry Gossage/NBAE via Getty Images)
Steve Nash scored 14 and handed out 15 dimes, but Deron Williams posted 27 points and nine assists to lead the Jazz to a 116-108 victory against the Suns.
By Dave McMenamin
ESPN Los Angeles

Beasley
MIAMI -- The marquee matchup Thursday was Kobe Bryant versus Dwyane Wade. The most intriguing matchup was Andrew Bynum versus Jermaine O'Neal, if only for the "what if?" aspect of it (there was a rumor of a swap between those two in the summer of 2007). But the rarest matchup was Lamar Odom versus Michael Beasley.
Or should I say, lefty versus lefty.
"Every time we play each other, we have fun," Beasley said. "He was one of my favorite players growing up just because he was left-handed, he's 7 feet almost and can do all the things he can do."
Odom laughed when asked if this could be a passing-of-the-torch type of game for lefty supremacy in the league, but did call Beasley a "great offensive player, just great."
"Left-handers basically have an advantage in the game," Lakers coach Phil Jackson said. "There was a reunion for the Knicks [1969-70 championship] team a week ago, Monday. I was thinking about that team; we had five left-handers on that basketball team, I think. It was a very unique team because of it. It's an element that's an element of surprise. I rarely could guard Billy Cunningham; he's one of the guys I had a tremendous amount of difficulty with and he's a left-hander, so I know what it's like."
I had a high school baseball coach who used to videotape baseball games by dominant southpaw pitchers and watch them in a mirror placed next to his television because it made it look like they were throwing right-handed and he felt like he had a better eye for judging right-handed pitchers than lefties.
There's just something different about them.
Beasley said that being left-handed doesn't help him when it comes to guarding somebody who is a lefty.
"It's going to be a tough matchup going against a left-hander," Beasley said. "I'm used to guarding right-handers all the time.
"Left-handers, we got an advantage because everybody is so used to playing right-handers and people going up for layups with their right hands. And shot-blocking, we can use that advantage with shot-blocking, too. It's cool.
"We got a unique style of play."
Marc Stein wrote about the phenomenon in November, naming Odom, Josh Smith, Chris Bosh, Brandon Jennings, Michael Redd and Manu Ginobili to his All-Lefty Team.
Beasley would find a place for Zach Randolph on that squad, calling Memphis' All-Star forward the best lefty in the game right now.
"It's gotta be Zebo," Beasley said. "Zebo, you don't really know he's left-handed until he takes you out 15 feet and you're like, 'Whoa, timeout. He's setting up to shoot the other way?' By then you're already messed up."
9.

Udrih, Evans Perfect Together
By Zach Harper
TrueHoop Network

Evans
When the Kings traded Kevin Martin to the Rockets, it was assumed that either Tyreke Evans would move to the shooting guard position (while Beno Udrih stepped in to play the full-time point) or the Kings would go big by keeping Evans at the point and sliding someone like Donté Greene to the 2-spot. Instead, what they've done lately is keep Tyreke as the main point guard and start Beno Udrih as more of a combo guard next to him.
While the possessions and pace of the game have actually declined a bit by doing so, the fast-break points for the Kings have seen a boost from playing two point guards at the same time.
Before Martin was traded, the Kings were averaging 15.3 fast-break points per game (good for top seven in the NBA). Since the deadline deal, the Kings have seen their fast-break points jump to 16.4 per game. Not to mention, if you throw out the offensive debacle that was the 84-81 win over Houston on Wednesday night, the Kings are averaging 18.1 fast-break points per game since Martin was dealt.
The reason for this jump has something to do with Martin being gone and a lot more to do with the presence of two floor generals on the court at the same time. Martin was never a strong dribbler and therefore struggled to push the ball against transition defenses. Beno and Tyreke don't have that problem. They're both very adept at pushing the tempo and finding easy scoring opportunities in the open floor. The big men can get the ball to either guard and push the defenses back on their heels immediately. Easier points equal easier wins for the Kings. They're 3-1 since going back to a backcourt of Tyreke and Beno.
To read the entire Cowbell Kingdom blog, click here