---
By Maurice Brooks
ESPN.com
SUNDAY'S BEST

Prince

Tayshaun Prince, Pistons: The Pistons had dropped six games in a row before riding a 29-point, 10-rebound effort by Prince to a 110-107 victory against the Rockets.

SUNDAY'S WORST

Roy

Brandon Roy, Blazers: He struggled with his shot, misfiring on 11 of his 14 attempts from the floor, as Portland's three-game win streak was halted by the Nuggets.

QUOTE OF THE NIGHT

"I felt pretty good. It's going to take some time. I've still got to get my legs under me. Once I get my legs and my strength back, I think I'll be fine."

-- Raptors' forward Chris Bosh, who had missed Toronto's past seven games but was on the floor in a loss to the Sixers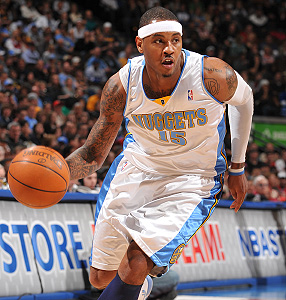 (Garrett Ellwood /NBAE via Getty Images)
The Blazers couldn't come up with a way to slow down Carmelo Anthony, giving up 30 points to the Nuggets' forward in a 118-106 loss in Denver.
8.

Saunders Not Happy With Wiz
By John Hollinger
ESPN.com

Blatche
BOSTON -- Wizards coach Flip Saunders has let his displeasure with his team be known on several occasions this year, but even by his recent standards this postgame press conference was a doozy. After Washington blew a 13-point lead in the final six minutes and lost to the Celtics 86-83 on Sunday night, Flip let fly, and one wonders if it signals a disconnect between Saunders and emerging forward Andray Blatche.
"We choked," he said. "Six minutes to go, we're up 13. We start talking at [Kevin] Garnett, we start talking trash and everything else, we got Garnett juiced up and we just pissed on our leg the last six minutes. Instead of letting a sleeping dog lie, we juiced up their energy."
The Wizards scored only four points in their final 13 offensive trips, and one of the baskets was a fortunate coincidence after a deflected Randy Foye pass ended up in JaVale McGee's mitts for a dunk. Boston noticeably dialed up its defense, as Rajon Rondo increased the ball pressure on Foye while Garnett and Paul Pierce denied entry passes to Blatche and Al Thornton, respectively. Those two combined for 47 points but had none in the final six minutes when the Wizards' offense fell apart.
Saunders was infuriated that his young charges couldn't keep their composure, and felt Blatche was particularly unwise in talking to Garnett -- who limited him to two missed shots and a turnover in the last six minutes.
"Randy had bad decisions, 'Dray had terrible decisions. 'Dray's woofing the whole time at Kevin Garnett. You can't do those things. He had 23 points with six minutes to go [but] he didn't piss a drop the last six minutes." (Except, one presumes, for the portion that went down his leg above).
Blatche disagreed with Saunders' opinion -- he felt Garnett was stepping over the line with his trash talk and was just defending himself. He's certainly not the first player to register displeasure with Garnett's on-court vocal antics.
"I was defending myself as player," said Blatche. "I'm a man just like he is. A man is talking to me this close to my face, I'm going to say something back. He has to respect me just like I respect him."
"I could feel his lips touching my cheek," he added, emphatically. "I wasn't bragging, I was just saying back up."
Regardless of his choice of metaphors, one assessment by Saunders rings true -- the Wizards lost their composure. On a night when neither Garnett (0-for-7, four turnovers) nor Nate Robinson (0-for-3, but weirdly selected for the in-arena postgame interview) made a basket, the game was there for the taking until Washington's offense melted down late. It was the most attempts without a made field goal by Garnett, with the previous high coming on Jan. 27, 1996, against New York (in his rookie season with Minnesota).
9.

Allen Sparks Rally For Celtics
By Chris Forsberg
ESPN Boston

Allen
Celtics coach Doc Rivers stressed to his team that Ray Allen had the potential for a big night before Sunday's game. It took the better part of three quarters to get him going, but Allen produced timely shots for the Celtics.
Allen scored 18 of his game-high 25 points after the intermission, hitting 4-of-6 shots for 10 of Boston's 24 third-quarter points; then, he hit 3-of-4 shots (including a pair of monster 3-pointers) in the final two minutes to lift Boston in the final frame.
To read the entire blog, click here