1. JJ On Free Agency: 'I'll Sacrifice'
By Chris Sheridan
ESPN.com
NEW YORK -- The inquisition of Joe Johnson began at about 6:20 p.m. ET, lasted approximately 10 minutes and yielded the following nugget:
If a certain someone, like maybe this certain guy in Cleveland, accepted a max offer from the Knicks and wanted Johnson as a sidekick, Johnson would be willing to sign for less than the maximum.
"I'll sacrifice," Johnson said.
Those words will carry some weight as we head toward July 1, 2010, because there aren't a whole lot of max-level free agents out there who are willing to go on the record saying they'll sacrifice money if it translates into success on the court.
But Johnson went ahead and said it Monday, and given the fact that he turned down a five-year max contract extension from the Atlanta Hawks last summer, that statement ranks as an eyebrow-raiser.
"If you really want to win, if that's your main goal, then you'll sacrifice," said Johnson, whose Atlanta Hawks lost ground atop the Eastern Conference playoff race by losing 99-98 to the New York Knicks on Monday night after Al Horford's apparent game-ending and game-winning putback was taken off the scoreboard after a video review showed it came too late.
So as gratifying as the result was for the home crowd (which went nuts after the video-review reversal was announced), the focus backstage -- as has been the case for the better part of the past two years -- was again on the future and the possibility that Johnson could end up in New York, either as LeBron James' sidekick or as part of a secondary plan if the Knicks strike out on Plan A and fail to land LeBron.
Team president Donnie Walsh is not giving any hints as to what his Plan B might be, but if James stays in Cleveland or goes to Miami, or if Dwyane Wade stays in Miami or goes to Chicago, the Knicks will be turning to Plan C or Plan D. That's likely where Johnson would fit in, perhaps as a sidekick to Chris Bosh -- who the Knicks can pursue by offering David Lee to Toronto as part of a sign-and-trade deal -- or as a sidekick to Lee if he stays in New York.
LeBron will be the alpha free-agent domino, and no one can say for sure how long he'll take to make his decision. But the thinking among league executives and agents is that if James makes a commitment to the Knicks, he'll do so only if he is secure in the knowledge that the player(s) he wants as his running mate is coming, too.
"I'm sure there's going to be a lot of conversations between players when the season's over with, whether it's trying to team up together or seeing what guys have got going, or where they're looking at," Johnson said. "I'm sure that's going to happen, definitely."
Staying with the Hawks also is an option Johnson is considering, and the primary reason he turned down that max extension last summer is because he stands to make $30 million to $45 million more over the long term if he signs a max deal in 2010 and commits to Atlanta for another six years.
But if the Big Three decide to remain in Cleveland, Miami and Toronto, Johnson has the fallback of being arguably the top free agent available, aside perhaps from Amare Stoudemire.
Chicago, Miami, New York, the L.A. Clippers, New Jersey and Minnesota will all have max cap room, and they'll be determined to spend on the best available talent. And the player who fits that bill may just happen to be the soft-spoken 6-foot-8, 28-year-old, four-time All-Star with roots in Little Rock, Ark.
"I can't base my decision on what LeBron does, but I'm not going to really worry about that 'til July, man," Johnson said. "We got something special going right here, so we're going to ride this wave and see how far we take it. It's important that I'm happy and that I'm in a situation that I feel is best for me. You never know what is going to happen."
Truthfully, even with Johnson speaking fondly of Knicks coach Mike D'Antoni from their time together in Phoenix, that is the cold, hard reality of the situation. James is the key piece in this season's free-agent puzzle, and until people know what LeBron is doing, everyone is playing a guessing game.
So when Johnson says he doesn't know what'll happen, he's being genuine.
The only thing Johnson can say with certainty is that he does not want to walk into a rebuilding situation resembling what awaited him in Atlanta upon his arrival in 2005, after he signed his first mega-contract and went from the Suns to the Hawks in a sign-and-trade deal that fractured Atlanta's ownership group.
"I cannot go back. I can't backtrack," Johnson said. "With basketball, I've been playing the game pretty much my whole life. I could care less where I was at, I'm going to give you the best I've got."
OK, Joe. Then what would be the best-case scenario?
"My number one choice? I don't really know," Johnson said. "I do not know what LeBron's going to do."
ESPN Insider Chris Sheridan is a regular contributor to the Daily Dime
Dimes past: Feb. 17 | 18 | 21 | 22 | 23 | 24 | 25 | 26-27 | 28 | March 1 | 2 | 3 | 4 | 6-7 | 8
2. Pop Can't Stop Defensive Slide
By Timothy Varner
TrueHoop Network

Popovich
CLEVELAND -- Gregg Popovich began the season by saying he wanted the Spurs to regain their status as an elite defensive team. "We're going back to the good old days when we tried to lead the league defensively," Popovich said during an October presser.
But try as they may, the Spurs are far from being a league-leading defensive squad. Coming into Monday's 97-95 road loss to Cleveland, the Spurs were ranked 11th by John Hollinger's defensive efficiency rating. And while this loss found a silver lining in Manu Ginobili's heroic shooting (12-of-23 FG, 7-of-11 3PA, 7-of-7 FT, season-high 38 points), Popovich punctuated the game with a combination of white-hot timeouts and lesson-delivering substitutions.
Consider that rotation mainstays Richard Jefferson and DeJuan Blair were replaced by seldom-used bench staples Malik Hairston and Ian Mahinmi with nearly three minutes remaining in the first quarter. The Cavs held a thin 26-22 lead, but Jefferson had committed a bad pass, and Blair had a blown rotation. Neither player was getting back in transition.
After the game, Pop was asked what most contributed to the loss. "Turnovers," he said disappointedly. And a moment later, "Our transition defense was very poor in the first half." With that, Popovich described the loss and presented the Spurs' season in miniature.
The word on Popovich is that he rarely looks at box scores, and he's the last guy Daryl Morey expects to turn up at the Sloan Sports Analytics Conference. The number Popovich cares about -- the championship-defining number he looks for after each half -- is the opponent's field goal percentage. In Monday night's loss, Pop's Spurs allowed a Shaq-less, LeBron-less, Z-less, half-Jamisoned Cavs squad to shoot 47 percent from the field and 42 percent from distance. And although he's quick to credit opponents, Popovich left the impression that his team lost this game as much as the Cavs won it.
Sixty-one games in and the future Hall of Fame coach is still working toward the restoration of his once-vaunted defense. But one wonders whether this season's rock will simply, stubbornly withstand his pound.
•
For more from Varner, check out 48 Minutes of Hell
3. Daily Dime Live Recap
ESPN.com writers and TrueHoop Network bloggers chatted with fans and gave their in-game opinions throughout Monday's games -- all in Daily Dime Live.
---
MONDAY'S BEST

Gallinari

Danilo Gallinari, Knicks: Gallinari led the Knicks to their third win over Atlanta, going for 27 points with the help of 4-for-5 shooting on 3s. The Hawks fell behind Boston into fourth in the East.

MONDAY'S WORST

Mason

Roger Mason, Spurs: Missed all eight of his 3-point attempts, helping derail the San Antonio bid to knock off the LeBron-less Cavs at home. It was the Cavs' first win without LeBron James in 10 tries.

QUOTE OF THE NIGHT

"LeBron wasn't playing, Jamison didn't play the second half and Shaq wasn't there. We blew a big one."

-- Spurs guard Manu Ginobili, who had a season-high 38 points in the loss to Cleveland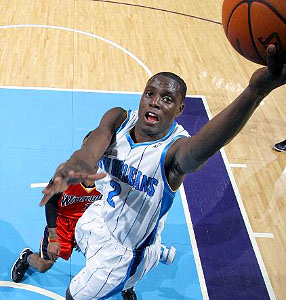 (Layne Murdoch/NBAE via Getty Images)
Darren Collison mixed in an occasional drive to the hoop when not dishing 20 assists (tying Steve Nash for a season high) in the Hornets' 135-131 win over the Warriors.
7.

Chatting With Sheridan
By Chris Sheridan
ESPN.com

Bryant
Barry (Florida): It took the Celtics losing a TON of games for people to finally jump off their bandwagon. How many more games do the Lakers have to lose before the media stops saying they can't be beaten in a seven-game series? They are doing the same thing the Cavs did last season. They are beating the weaker teams while losing to the best teams.
Chris Sheridan: Your point is a pretty good one, Barry, although the thing with the Cavs last year was that there was one team everyone should have seen matched up with them perfectly (Orlando), and that was the team that knocked them out soundly.
In the West, is there anyone you can say matches up perfectly with the Lakers (like Houston did last year)? The best case can be make for Denver, but I would not pick them to beat L.A. on the road in a Game 7. Same for Utah and Dallas.
There tends to be a lot of bandwagon jumping when the dog days of March arrive, and they are upon us. (And to directly answer your question more directly, if they lose their next two, against Toronto and at Phoenix, then this particular media member might be willing to change his tune. I can't speak for others.)
To read the entire chat transcript, click here
By Jeff Caplan
ESPNDallas.com

Marion
Who needs centers? The Dallas Mavericks have played two games now without a true center and they've scored 247 points. Monday night saw Shawn Marion score a season-high 29 points to lead Dallas to its 12th consecutive victory.
Talk about stepping up: Marion is averaging 19.0 points and eight rebounds in the last four games.
The Mavs need one more win to tie the Cleveland Cavaliers for the longest win streak of the season. Think it can't get any easier than Monday in Minneapolis? The Mavs come home Wednesday to play the seven-win New Jersey Nets.
So it must get tougher after that, right? Hmm. On Saturday the New York Knicks are in town. The last time the Mavs saw the Knickerbockers, they drilled them by 50 at Madison Square Garden -- without point guard Jason Kidd.