---
By Maurice Brooks
ESPN.com
TUESDAY'S BEST

Williams

Deron Williams, Jazz: He knocked down 11 of his 15 shots from the floor on the way to 28 points and also gave out a season-high 17 assists as the Jazz routed the Bulls for their third straight win.

TUESDAY'S WORST

Pierce

Paul Pierce, Celtics: Not only did he miss the potential game-tying shot at the buzzer, but he was only 3-for-13 from the floor as the Celtics lost by two to the Bucks.

QUOTE OF THE NIGHT

"For a second, I thought I was Magic [Johnson]."

-- Magic center Dwight Howard after going coast-to-coast and passing to teammate Brandon Bass for a dunk in Orlando's 26-point win against the Clippers
6.

Bogut's Big Double-Double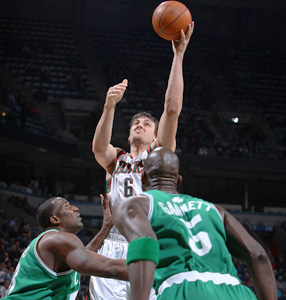 (Gary Dineen/NBAE via Getty Images)
Andrew Bogut added another highlight to his career season, scoring 25 points, grabbing 17 rebounds and blocking four shots to help the Bucks edge the Celtics 86-84. Milwaukee's 34 victories match last season's total.
8.

Bucks Not An Easy Opponent
By Chris Forsberg
ESPNBoston.com

Garnett
If the NBA season ended today, the Boston Celtics would (barely) hold the third seed in the Eastern Conference. It's a spot they'd be well-served to be holding when the season actually ends in a little more than a month.
The Milwaukee Bucks -- the team that stood nose-to-nose with Boston on Tuesday night in Milwaukee and emerged with a gritty victory -- have surged to the fifth seed in the East and would be in line to meet the fourth seed in the opening round of the playoffs.
That's a spot where the Celtics could very easily find themselves sitting when the 2009-10 season ends on April 14. While Boston currently holds a one-game edge in the loss column over the Atlanta Hawks (having played one fewer game), Atlanta holds the tiebreaker after sweeping Boston during the regular season.
To read the entire column, click here
9.

Most Improved Player Watch
By Maurice Brooks
ESPN.com

Brewer
1. Aaron Brooks, Rockets: He leads the league in 3-pointers made with 156. So much for Kevin Martin slowing him down. Brooks has averaged 23.8 points, 6.0 assists and 3.4 rebounds in his past five games. (Last week: 1)
2. Josh Smith, Hawks: I have to ask again, why wasn't this guy an All-Star? He scored a season-high 29 points Friday against the Warriors and has averaged five assists in his past five games. (Last week: 2)
3. Marc Gasol, Grizzlies: The rugged big man has posted double-doubles in five of his past six games and, along with Zach Randolph, is the main reason Memphis has been one of the league's top surprises. (Last week: 4)
4. Carl Landry, Kings: The power forward has changed uniforms, but his level of play hasn't slipped one bit. In nine games with Sacramento, he is averaging 17.7 points, 7 rebounds and 1.2 steals. (Last week: 3)
5. Corey Brewer, Wolves: His franchise record of consecutive games with at least one 3-pointer is now at 28. He is averaging career highs in points, rebounds, assists, steals, blocks and shooting percentage. (Last week: NR)
To read the entire Awards Watch, click here