---
By Maurice Brooks
ESPN.com
WEDNESDAY'S BEST

Evans

Tyreke Evans, Kings: On a night the Kings decided to honor Evans, he didn't disappoint, notching his first career triple-double (19 points, 10 rebounds and 10 assists) to help the Kings defeat the Raptors.

WEDNESDAY'S WORST

Turkoglu

Hedo Turkoglu, Raptors: His slump continued (he has failed to score in double digits in four of five games). The forward went 2-for-8 from the floor, tallying just six points in a Raptors' loss.

QUOTE OF THE NIGHT

"We'll keep fighting for them. We'll keep playing hard. I've been in this league a long time and I believe in our talent."

-- Forward Elton Brand after the Sixers were booed during their loss to the Bobcats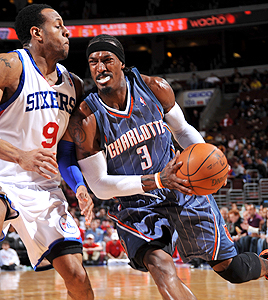 (Jesse D. Garrabrant/NBAE via Getty Images)
Gerald Wallace fired in 28 points on 9-for-10 shooting from the floor to lead the Bobcats to their fourth straight win, 102-87 over the Sixers. Philadelphia has dropped seven of eight.
8.

Grizzlies Rough Up Celtics
By Chris Forsberg
ESPNBoston.com

Garnett
Celtics forward Kevin Garnett didn't sugarcoat a lopsided loss.
"I think it speaks for itself," said Garnett. "They came in and just totally annihilated us. Nothing to it. I thought we played hard in spurts, but it seemed like whatever they threw up, it went in."
The Celtics dug themselves a hole early, but it truly did seem like the Grizzlies could do no wrong at times. In one sequence, Marquis Daniels missed a driving layup and Memphis pushed the ball quickly up the court. O.J. Mayo drove hard to the basket and threw up a desperation reverse layup that floated through the net. That was Boston's night in a nutshell.
To read the entire blog, click here
9.

Mr. Clutch: Kobe Bryant

Bryant
Through the years, there have been many different sets of data about clutch shooting. Any which way I have ever seen it sliced (last five minutes of close games to last 10 seconds), as I have written on TrueHoop before, it has looked like Kobe Bryant has been a guy who shoots a ton in crunch time, and hits at a pretty good, but not elite, rate.
I'm open to the idea that he could still be the best clutch player in the NBA. At that time of the game, there's value in being able to create scoring opportunities. Bryant may shoot those difficult fallaways that often miss, but he'd be a far worse player if he couldn't get a shot off at all. And that's the situation some lesser players would find themselves in.
Quite honestly, I think the real way to crown a crunch-time king would be with video. Somebody should make a TV special where they string together every crunch-time touch of the handful of elite end-game players (Bryant, LeBron James, Chris Paul, Carmelo Anthony, etc.) If we want to tell the world that somebody is the most likely to succeed in a certain setting, let's take an honest and complete look at how they do in that setting. Show me the turnovers, the misses and all that. Let everyone watch all of that video -- not just the makes! -- and at the end of that I think we'll end up with a good sense of who's the best.
To read the entire TrueHoop blog, click here