---
MONDAY'S BEST

Brooks

Aaron Brooks, Rockets: Sinks the winning shot with 2.9 seconds left, one of 11 buckets he had on 17 shots. Brooks finished with 31 points and nine assists in Houston's 125-123 win over the Nuggets.

MONDAY'S WORST

Iguodala

Andre Iguodala, 76ers: Iggy missed all seven of his 3-point attempts in a loss to the Knicks, keeping him with Dwyane Wade, Baron Davis and Rasheed Wallace as the only players below 30 percent from 3 (minimum 200 attempts).

QUOTE OF THE NIGHT

"I have a painting of him in my garage. I just walk by it with my head down."

-- Suspended Wizards guard Gilbert Arenas, talking about late Wizards owner Abe Pollin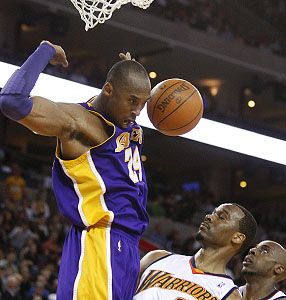 (AP Photo/Ben Margot)
Los Angeles Lakers guard Kobe Bryant scores two of his 29 over Chris Hunter and Anthony Tolliver during the Lakers' 124-121 win.

Wall
It's March Madness, baby! It's the big stage for some of college basketball's best players to show off their games. NBA scouts and general managers will be out in force over the next few weeks scouting everyone in the Big Dance.
A great March can really help a player's stock. Last season, Tyreke Evans and Jonny Flynn rode strong tournament performances to high lottery picks.
In 2008, Derrick Rose moved past Michael Beasley on most NBA teams' boards with an excellent performance, while other players like Russell Westbrook and Brandon Rush also helped themselves with strong tournament play.
In years past, Florida's Al Horford and Joakim Noah, LSU's Tyrus Thomas, Illinois' Deron Williams, Syracuse's Carmelo Anthony, Marquette's Dwyane Wade, Maryland's Chris Wilcox, Arizona's Richard Jefferson, Florida's Mike Miller, Miami University's Wally Szczerbiak and Connecticut's Richard Hamilton helped their draft position significantly in March.
Who will take advantage of the national stage to supercharge their draft stock this year? We've talked to multiple NBA scouts and GMs over the course of the season to give you a look at the top five NBA prospects they'll be watching in each NCAA regional. We'll start with the East.
To read the entire Ford blog entry, click here