---
By Maurice Brooks
ESPN.com
TUESDAY'S BEST

James

LeBron James, Cavs: The league's leading scorer showed he does more than just get points, grabbing 12 rebounds and handing out 12 assists to go with his 29 points in the Cavs' win over Detroit. He has four triple-doubles this season and 28 for his career.

TUESDAY'S WORST

Love

Kevin Love, Wolves: Not everyone was able to find the mark in the Suns' rout of the Wolves. Love missed all seven of his shots, finishing with just three points off the bench.

QUOTE OF THE NIGHT

"When he's Manu Ginobili, we're a significantly better basketball team, and he's been Manu for the last month."

-- Spurs coach Gregg Popovich after Ginobili led San Antonio to its eighth win in nine games (88-76 over the Heat)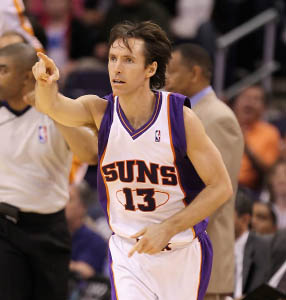 (AP Photo/Ben Margot)
Steve Nash gave out 14 assists for the Suns, who scored an NBA season-high 152 points in a 38-point win against the Wolves. Jason Richardson (27 points), Amare Stoudemire (25) and Louis Amundson (20) powered the Phoenix attack.
8.

Rose On Kentucky's Wall
By Nick Friedell
ESPNChicago.com

Rose
MEMPHIS -- At least once a week, somebody will ask me some variation of this question: How does Derrick Rose's game compare to John Wall's?
I decided to ask the Bulls' 21-year-old point guard the same question Tuesday morning about the freshman point guard from the University of Kentucky.
"Wow," Rose said after a pause. "My game to John Wall's ... I really don't know. I haven't watched him really enough to look at his game like that or say anything about his game. All I know is that he is a great player. And they're playing good basketball right now, so I can't say anything about him."
Rose does know that John Calipari, his former coach at Memphis and Wall's current coach at Kentucky, is getting ready for March Madness in his own special way.
To read the entire column, click here
9.

Coach Of The Year Watch
By Maurice Brooks
ESPN.com

Brooks
1. Scott Brooks, Thunder: Oklahoma City extended its win streak to five thanks to a defense that surrenders 96.6 points per game. (Last week: 1)
2. Scott Skiles, Bucks: The Bucks already have won two more games than they did all last season. They have reeled off six straight victories and won 12 of their past 13 games. (Last week: 2)
3. Nate McMillan, Blazers: Maybe it's because Portland plays in the toughest division in basketball, but how come there aren't a lot of people talking about the red-hot Blazers, who have won nine of their past 11? (Last week: 3)
4. Larry Brown, Bobcats: Charlotte has won six in a row, already has established a franchise record for home wins (24) in a season and needs just one more victory to tie the franchise mark (35) for most total wins in a season. Not bad. (Last week: NR)
5. (tie) Lionel Hollins, Grizzlies, and Rick Adelman, Rockets: Neither one of these coaches has a team headed to the playoffs (the eight playoff teams in the West -- Lakers, Nuggets, Jazz, Thunder, Blazers, Suns, Mavs and Spurs -- are set), but both deserve kudos for getting their overachieving teams three games over .500. (Last week: 5 and NR)
To read the entire Awards Watch, click here