---
By Maurice Brooks
ESPN.com
WEDNESDAY'S BEST

James

LeBron James, Cavs: The Cavaliers clinched their second straight Central Division title thanks to 32 points, nine rebounds and nine assists from LBJ in a 99-94 victory against the Pacers.

WEDNESDAY'S WORST

Duncan

Tim Duncan, Spurs: He scored just five points, missing nine of his 10 attempts from the floor, as the Spurs were routed by the Magic.

QUOTE OF THE NIGHT

"Every team that we are facing is in playoff mode right now, so they have a light at the end of the tunnel -- something to fight for. So our guys are going to have to look within themselves to find that fight."

-- Minnesota coach Kurt Rambis on the Wolves, who have given up a combined 274 points in their past two games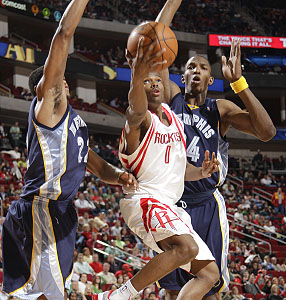 (AP Photo/Ben Margot)
Aaron Brooks set a Rockets' franchise record by going 7-for-7 on 3-pointers en route to scoring 31 points to lift Houston to its fourth straight win -- 107-94 against the Grizzlies.
8.

Celtics' Pierce Gets Aggressive
By Chris Forsberg
ESPNBoston.com

Pierce
BOSTON -- The night couldn't have started much worse for Paul Pierce.
The Boston Celtics' captain picked up a foul nine seconds into the game and his second shortly thereafter, putting him on the bench less than two minutes into Wednesday's game at TD Garden against the New York Knicks.
When Pierce checked back into the game early in the second quarter, he missed a technical free throw, committed a turnover on a bad pass, watched former Celtics bench-warmer J.R. Giddens drive on him for a layup, and was whistled for a defensive three-seconds violation.
Few would have blamed Pierce if, for the second straight game, he retreated to the locker room before intermission -- this time for the night. It seemed everything he did kept him from falling into the rhythm coach Doc Rivers has been desperately seeking from him this month.
To read the entire column, click here
9.

Bulls' Losing Streak At Nine
By Nick Friedell
ESPNChicago.com

Rose
DALLAS -- Exactly what you thought was going to happen happened on Wednesday night.
Playing without Derrick Rose (sprained wrist), Luol Deng (calf strain) and Joakim Noah (plantar fasciitis), the Bulls got beat by the Mavericks 113-106.
The final score shouldn't come as any kind of surprise. The Bulls are simply undermanned right now. For the second straight night, they put up a fight late in the game; but for the second straight night, it wasn't enough. The team's losing streak has reached nine games and it's clear that even the optimistic Vinny Del Negro can see the season slipping away.
"Oh yeah, absolutely," the Bulls' coach said. "It's just a really tough run for us right now with everything we've had to deal with. But, no excuses. Handle it the right way. Try to keep the confidence up. Keep them battling. Hopefully find a way to get some long rebounds and turnovers and make plays down the stretch. Whether it's defensively or offensively."
The bottom line for Del Negro and his team is that they don't have any answers right now. Who can blame them? Without Rose, Deng and Noah they simply aren't good enough to compete right now.
To read the entire column, click here