---
By Maurice Brooks
ESPN.com
THURSDAY'S BEST

Anthony

Carmelo Anthony, Nuggets: He had his third straight double-double, scoring 26 points and grabbing a career-high 18 boards, to power Denver to a 13-point win over the Hornets. The Nuggets have won eight of their past nine.

THURSDAY'S WORST

Beasley

Michael Beasley, Heat: In 32 minutes he had four turnovers, missed eight of 11 shots from the floor and finished with just eight points. Fellow starters Jermaine O'Neal and Quentin Richardson also struggled with their shots.

QUOTE OF THE NIGHT

"We threw every punch we had at them. They came back and countered it."

-- Heat guard Dwyane Wade after Miami's home loss to Orlando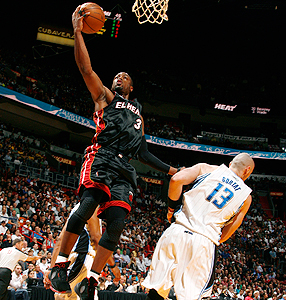 (Issac Baldizon/Getty Images)
Dwyane Wade did it all, shaking loose for 36 points, grabbing 10 rebounds and handing out seven assists, but the Heat struggled in overtime of their 108-102 loss to the Magic. Orlando has won 10 of its past 11 games.
8.

LeBron's NCAA Tourney Picks

James
Countless NCAA tournament brackets were torn to shreds Thursday when No. 3 Georgetown lost to No. 14 Ohio, No. 4 Vanderbilt was toppled by No. 13 Murray State and No. 6 Marquette fell to No. 11 Washington. While those three defeats may have drastically reduced a lot of fans' chances of winning their office pool, maybe they can take a little solace in knowing that Cleveland's LeBron James made those same incorrect selections.
LeBron does deserve some props. He correctly picked No. 11 Old Dominion's victory over No. 6 Notre Dame.
To check out all of LeBron's picks, click here
9.

Are The Heat More Than Wade?
By Rob Mahoney
TrueHoop Network

Wade
Believe it or not, the Miami Heat employ players that are not named Dwyane Wade. That means there are players who score for Miami that are not named Wade, who collect rebounds and are not named Wade, who rack up assists yet are not named Wade.
These are facts that may be surprising to both long-term followers of the Heat and their most casual fans; the past two seasons have been all Wade all the time. Rightfully so. He's one of the league's truly elite players, and despite the perceived rift between Kobe, LeBron and the rest of the superstar pantheon, Wade is within a stone's throw of the pinnacle of today's game.
The more substantial gap exists between Wade and everyone else in a Heat uniform. It's a matter of sheer magnitude: Wade is All-World, the rest of the roster merely All-Miami proper. Even more substantial is the very difference that separates would-be stars from the best in the game: consistency. Wade's supporting cast is actually chock-full of useful role players, but their strength in individual skills is more than countered by a complete lack of dependability.
Carlos Arroyo's 11 points and five assists were much needed in Miami's overtime loss to Orlando, but he failed to top five points on four occasions so far this month. Dorell Wright looked to be finding a small slice of redemption for his long-unfulfilled potential, but wore out his welcome with poor shot selection. Michael Beasley looks well worth the second overall pick in the 2008 draft at times, but the game slips through his fingers at others. The closest thing Miami has to a stable second option is Jermaine O'Neal, who, despite his solid play this season, manages to go from a 6-foot-11 presence to completely invisible in a matter of seconds.
In so many ways, Thursday night's game was a microcosm of the Heat on the whole: O'Neal's five blocks were balanced by his lack of effort on the boards and his questionable shot selection. Beasley's brightest moments -- a made bucket in the final minute of regulation and a pair of free throws off a drawn foul late in overtime -- were overshadowed by his four turnovers. Every conceivable positive from the Heat rotation was offset with a negative, culminating in a loss for Miami and another headache for the franchise player.
So the Heat do employ players that aren't named Dwyane Wade. The trouble is, there's no way of knowing who, on a game-by-game basis, will actually show up.
To read more from Mahoney, check out Hardwood Paroxysm and The Two Man Game