1. Durant One Reason For Hope In OKC
By Royce Young
TrueHoop Network
Oklahoma City dropped a heartbreaker at home Monday night against San Antonio, losing 99-96 despite Kevin Durant pouring in a season-high-tying 45 points. It was a playoff-like atmosphere at the Ford Center, with playoff-like intensity. And before the season, who really thought the Thunder would be playing a game of that magnitude in late March? If you raised your hand, you're probably telling friends you totally called Northern Iowa over Kansas too, right?
But somehow around mid-February, the question for the Thunder went from "Can they make the playoffs?" to "Can they do some damage in the playoffs?" Which is absolutely insane, considering the expectations coming into this season. To not just be competing for the postseason but for playoff seeding is flat-out wild. So the question is: Can the Thunder actually make some noise in the playoffs this year? Here are five reasons they can … and one reason they can't.
Yes, They Can!
1. Experience is overrated. Yes, the Thunder's average age is 24. Yes, they're the youngest team in the league. The starting five features four guys age 25 or under, and the fifth guy is just 26. Only four guys on the roster have any kind of playoff experience, with just two of them being rotation players. Yet this isn't really a concern. While having a veteran, playoff-savvy team is nice, it's not like these guys will entirely forget how to play basketball.
Just because the intensity is kicked up a notch doesn't mean Durant will forget how to shoot and Russell Westbrook won't know how to dribble. These guys have played in big games. Westbrook and Jeff Green played in a Final Four. Durant played in the NCAA tournament. Eric Maynor hit a famous shot to beat Duke.
While the team is young, they don't really care about their supposed inexperience. They've played a lot of basketball, and it hasn't really affected them thus far, and there's really no reason to think it will in the postseason.
2. Kevin Durant. One of the key ingredients of a successful playoff run is having a player that can take over, that can shoulder the load when times get tough. And even though he's just 21, Durant can be that guy. He's nearly 7 feet tall, can get his shot from anywhere and in late-game situations can be absolutely unguardable. Most times, your best defense is just hoping he misses his jumper.
3. Defense. For such a young group, the Thunder has been one of the league's best defensive teams. They're sixth in defensive efficiency, fifth in opponent field goal percentage and ninth in points allowed per game. Defense is what wins in the postseason, and the Thunder does it well.
4. Road success. Unless you're the top seed in your conference, you're going to have to win at least one road game at some point if you want to reach the NBA Finals. Winning away from home is hard anytime, but it's amplified in the playoffs. And while the regular season isn't the only indicator of road success, the fact that the Thunder have the sixth-best road record in the league means something.
5. Intangibility. Oklahoma City is one of those clubs that has a host of glue guys. Nick Collison always seems to take a big charge at a big moment or tip out a rebound when OKC has to have an extra possession. James Harden has hit a number of big shots and has the capability to take over late in a game. Green is a good crunch-time performer. All good teams have big-play players, but OKC seems to have accumulated a number of them.
No, They Won't!
1. Matchups. If there is a chink in the young Thunder's armor, it's their performance against the Western elite. As good as the team has been through 69 games, the one major blemish is an 8-12 record against the West's current playoff teams. Subtract a sparkling 3-0 record against the Jazz and OKC is just 5-12. So against the teams they'd be playing, the Thunder haven't won a lot.
They've definitely been competitive, but just haven't come out on top much. For the most part, the team has done an excellent job in beating sub-.500 teams (27-5). So if the Thunder have any visions of advancing, they'll have to figure out how to close those tight games against the West's elite and finish with more points than the other guys. Sounds pretty simple when put that way, huh?
Royce Young blogs about OKC on the Daily Thunder.
Dimes past: 28 | March 1 | 2 | 3 | 4 | 6-7 | 8 | 9 | 10 | 12-13 | 14 | 15 | 16 | 17 | 19-20 | 21
2. Post-Winning Streak Slump For Dallas
By Tim MacMahon
ESPNDallas.com

NEW ORLEANS -- Mark Cuban reckons that his Dallas Mavericks relaxed after reeling off 13 consecutive wins.
"I just think it's natural," Cuban said before Monday night's game, pointing out that the Cleveland Cavaliers lost three consecutive games after their 13-game winning streak earlier this season.
Well, how many blowout losses to lottery teams do the Mavs need to suffer before they stop hitting the snooze button?
The 115-99 loss to the New Orleans Hornets dropped the Mavs to 1-3 since they matched the longest winning streak in the NBA this season. And this ranked right up there in the embarrassment department with getting routed at home by the New York Knicks to snap the winning streak.
The Mavs managed to blow a 16-point lead by halftime. The Hornets seized control of the game with a 23-0 run, with the Mavs failing to score for a stretch of 6:31 spanning the second and third quarters.
But scoring ranked far down the list of the Mavs' problems. The Hornets had three consecutive 30-plus-point quarters. The Mavs played shoddy defense and sloppy offense, committing 20 turnovers that New Orleans converted into 35 points.
3. Daily Dime Live Recap
ESPN.com writers and TrueHoop Network bloggers chatted with fans and gave their in-game opinions throughout Monday's games -- all in Daily Dime Live.
---
MONDAY'S BEST

Durant

Kevin Durant, Thunder: Another day, another guy on a losing team who takes top honors. Durant goes for 45 points on 15-for-24 shooting in a 99-96 loss to the Spurs. KD also made 14 of 15 free throws.

MONDAY'S WORST

Brooks

Aaron Brooks, Rockets: AB shoots 3-for-17 en route to nine points in a 99-89 loss to the Bulls. Averaging 19.9 ppg, the most-improved candidate was held under double figures for the first time since Dec. 22.

QUOTE OF THE NIGHT

"I asked, 'Could I play more?' but they was like, 'No, no way.' It was like I had a cell phone. At halftime, I kept telling the guys I only had 12 minutes left. That's all I had left on my daytime minutes."

-- Hornets guard Chris Paul, who returned to action. Coach Jeff Bower limited his playing time to 21 minutes. Paul finished with 11 points and three assists.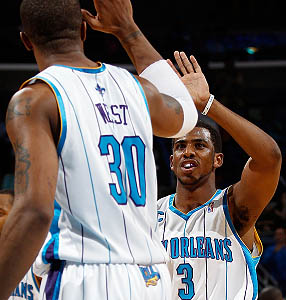 (Chris Graythen/Getty Images)
David West and Chris Paul celebrate near the end of the Hornets' 115-99 win over the Mavs.
By Nick Friedell
ESPNChicago.com

Vinny Del Negro has spent most of his two-year tenure with the Chicago Bulls being criticized.
Some say he's not a very good in-game strategist. Some say he doesn't have nearly enough experience to be a head coach. The list goes on and on. The criticism I've heard more than most at various points throughout this season is that Del Negro doesn't show enough fire. There's been a segment of fans that always wished Del Negro would be more animated on the sidelines. He's certainly not as laid-back as Lovie Smith, but he isn't exactly Stan Van Gundy, either.
Make no mistake, Del Negro is filled with fire, but he doesn't usually show it on the sidelines. Sure, he'll pick up the occasional technical, which he did several times over the Bulls' recent 10-game losing skid. But he usually prefers to chomp on his gum or shake his head in disgust whenever the mood to burst hits him. On Monday night, all that changed.
With 58.5 seconds left in the third quarter of his team's 98-88 win over the Houston Rockets, Mount Vinny finally erupted.
To read the entire blog entry, click here
By Chris Sheridan
ESPN.com

James
Rob (NY): Any credence to the rumor that if Knicks sign Joe Johnson, LeBron James is more likely to come to MSG?
Chris Sheridan: No credence to that rumor, but you get the distinct impression that word was somehow passed to the Knicks that having enough cap room for just one max player was not going to cut it for a certain free agent, which was why they were willing to throw so much into the Jared Jeffries deal to get Tracy McGrady's contract.
I ask this: Why would anyone in their right mind trade away what amounts to three No. 1 picks just to clear cap room? It's just plain crazy … unless there is a confidence among the Knicks their Plan A will succeed.
To read more from Sheridan's chat, click here