1. Gallinari, Douglas Are Keepers. Is Lee?
By Chris Sheridan
ESPN.com
NEW YORK -- The primary reason the Denver Nuggets are now another game back in the Western Conference loss column is because two of the rarest commodities -- players the New York Knicks view as keepers -- were fantastic for a night.
Danilo Gallinari and Toney Douglas are two of the four players (the others are injured veterans Eddy Curry and Wilson Chandler) the Knicks have under contract for next season.
Galinari scored 17 of his 28 points in the third quarter, and Douglas had all seven of his assists in the same period, as New York used a 34-21 surge in the third to defeat the Nuggets 109-104 on Tuesday night.
The Knicks also got another double-double of 12 points and 16 rebounds from David Lee, but Lee does not necessarily fall into the same category as Gallinari and Douglas.
His numbers say Lee is a keeper, but the free-agent market may dictate otherwise. And there is a very strong chance that Lee is about to play the final 11 games of his Knicks career, because New York will not be able to keep him for financial reasons if they hit the jackpot and bring in two of the top unrestricted free agents on the market.
New York is currently projecting itself to have $33-plus million in cap space this summer, enough to sign two max-salary players. But that $33 million also could be enough to sign one max perimeter player, be it LeBron James, Dwyane Wade or Kobe Bryant (yes, Bryant has an opt-out, too, though the subject of him joining this summer's free-agent class is almost never publicly broached), and then to use the remainder to re-sign Lee (at a starting salary in the $10 million range), while still leaving enough money to go out and get another player -- perhaps a center to take away much of the low-post defensive burden that Lee has had to shoulder for two seasons.
"At this point there's not much that can happen, so many different things, and a lot of it is a trickle-down effect from what other guys do, what other teams decide to do and what direction the Knicks decide to go. So there's so many different factors, it's impossible to look at it right now and guess what the outcome is going to be," Lee told ESPN.com.
Tuesday night's double-double was Lee's 46th of the season, tying Utah's Carlos Boozer for third-most in the NBA behind Dwight Howard and Zach Randolph.
Lee led the NBA in that category last season with 65 double-doubles, and he is the first Knick to reach that mark at least 45 times in consecutive seasons since Patrick Ewing did it from 1992-94.
Lee also was named to the Eastern Conference All-Star team this season, and the Knicks gave him a $7 million contract last summer when he was a restricted free agent as a reward for his four years of diligent service, rather than forcing him to sign his qualifying offer worth a fraction of that amount.
"When I got here, what I didn't understand was how good he was in the area of scoring around the basket," Knicks president Donnie Walsh told ESPN.com. "I mean, he's got phenomenal use of both hands, his shots around the basket are attempted while going at shot-blockers -- and he makes them. So he's got a real ability to score. Last summer he spent the whole summer working on his shot as he did the summer before, but now he's hitting from the outside. So offensively he's a big guy that's very talented."
Still, the Knicks are not ready to commit to Lee beyond this season, because doing so might take them out of the running for James, their No. 1 choice.
That's because if James decides to leave Cleveland and sign with New York, he'll likely want to have a strong say in who is going to be lining up alongside him for the next three to five years. James and Lee have a cordial relationship, but if James tells the Knicks he wants Bosh as his running mate, and if Bosh is on board, too, guess who's going to be dangled in a sign-and-trade offer to the Raptors?
It'll be Lee.
"I wouldn't say I've been a victim [of circumstances] in a bad way. Last summer, I guess it happened for a reason. I guess I would have been a victim if I came back and had a horrible season, but the Knicks decided they wanted to save their money for the upcoming summer, and I still got a great one-year deal with it," Lee said.
"Now, you could say there's a lot more good players, but there's also a lot more teams with cap space. So it works both ways: It's a big buyer's market, but also a big spender's market. There's a lot of supply, but there's also a lot of demand," Lee said.
Tuesday night's win was only the 26th of the season for the Knicks, and one of the knocks against Lee is that for all his statistical production over the past five seasons, New York has never won more than 33 games with him on the roster.
Granted, those losing seasons have been accompanied by all manners of fits, starts and changes in direction for the franchise, but how much of that failure can truly be pinned on Lee? And how much will that impact what he is offered, when Miami, Chicago, New Jersey, Minnesota and the Clippers will all be flush with cap space as soon as the calendar turns to July 1?
One of Lee's veteran Knicks teammates said Lee should accept a starting salary of no less than $10 million in his next contract. Whether someone will be willing to bid higher remains to be seen.
"That is going to reflect on his market value in the sense that if you're playing him at a certain level, you expect that guy to take you to wins. But I don't think he's had the components around him that he can take the blame for that," Walsh said. "He's a very good player, and I don't think anybody at his position could have done any better than he did, so I don't think you can hang all the losses on him."
One factor that no one is quite certain about is how the timing of James' decision could impact the market.
If James makes up his mind by the fourth of July, the other dominoes will start to fall rhythmically.
But if James takes his time and drags his decision into mid-July or later, it'll be a mad scramble and an excruciating decision for teams deciding whether to act immediately or to wait.
"I'm not going to talk specifically about one player, but I expect these things to get worked out rather quickly, because that's usually what happens," Walsh said. "I think if you really look at the practicality of it, there are going to be five, six, seven free agents that are top-level guys. Not at the very top, but some team is going to walk in and say 'OK, I'll give you this offer. You either take it by tomorrow morning or it's gone.' I don't think they'll do that with certain guys, but with some they will. So the market will start moving."
But where Lee lands in that market -- and whether circumstances allow him to stay in New York, his No. 1 choice -- will remain unknown until this summer's free-agency madness begins to play out.
Only then will Lee learn if he is like Gallinari and Douglas -- a keeper.
ESPN Insider Chris Sheridan is a regular contributor to the Daily Dime
Dimes past: March 1 | 2 | 3 | 4 | 6-7 | 8 | 9 | 10 | 12-13 | 14 | 15 | 16 | 17 | 19-20 | 21 | 22
2. Daily Dime Live Recap
ESPN.com writers and TrueHoop Network bloggers chatted with fans and gave their in-game opinions throughout Tuesday's games -- all in Daily Dime Live.
3. Would Carmelo Leave Denver?
By Jeremy Wagner
TrueHoop Network

Anthony
Fans of the Cleveland Cavaliers have suffered through what seems like a lifetime of conjecture regarding the looming free agency of LeBron James. It looks like Denver Nuggets supporters could be about to experience the turbulence Cavs fans know all too well.
Donnie Walsh has proclaimed that the Knicks will not necessarily spend all their monetary resources this year, and speculation has already begun that Carmelo could be a target of New York in the summer of 2011.
There are some factors playing in New York's favor. Carmelo is an East Coast guy, hailing from Baltimore. He played his entire college career -- all one season of it -- in Syracuse, N.Y., and his first college contest was played at Madison Square Garden. Plus, if you go to his Web site, you see an illustration of him in front of a skyline that might not be an exact replica of New York, but sure as heck isn't Denver. Another thing in the Knicks' favor is that they should be in a much better place next summer than this one, with at least one quality free agent in place from this offseason and possession of their future draft picks, while Denver could be in for another round of salary-slashing this offseason.
However, before Knicks fans start ordering No. 15 jerseys -- which Carmelo should be told is double-retired -- there are a few things to keep in mind. One is that with a potential lockout hanging over the NBA in the summer of 2011, who knows what kind of salary system will be established? Smaller maximum salaries are practically a certainty, and knowing that, Melo would be crazy to pass up a payday of $18.5 million for the 2011-12 season. Furthermore, as much fun as it is to be wooed by other teams, it would be financially prudent to sign an extension under the current CBA.
Personally, Carmelo loves being the face of a franchise, and I think he enjoys the thought of spending his entire career in Denver, where he would be hailed as the best player in the history of the Nuggets, which is undoubtedly one of the most cherished titles in all of sports. The only evidence we have for how Carmelo will deal with free agency is that when he agreed to his current five-year contract, word leaked out that James and Dwyane Wade were going to sign three-year pacts in order to hit free agency before the end of the current CBA. Carmelo could have reneged and demanded his own three-year deal, but he stuck to his original agreement.
Frankly, the chances of us seeing Melo take Manhattan are quite slim. Even so, if you're a Nuggets booster, you might want to pray that a couple of big names take the Knicks' money this year, just to be safe.
Jeremy Wagner blogs about DEN at Roundball Mining Company.
---
By Maurice Brooks
ESPN.com
TUESDAY'S BEST

Kidd

Jason Kidd: Kudos to Drew Gooden for posting 26 points and 20 rebounds in defeat, but this night belonged to the birthday boy, who had 26 points and 12 assists and took over once Dirk Nowitzki was ejected to lift the Mavericks past the Clippers.

TUESDAY'S WORST

Blatche

Andray Blatche, Wizards: Can it get any worse for the Wizards? On top of losing a dozen games in a row, Blatche, their best player, got into a disagreement with Flip Saunders in the first quarter and refused to go back in the game -- a nine-point loss to the Bobcats.

QUOTE OF THE NIGHT

"If I would've left and the team won a championship without me, I don't think I could've ever forgave myself."

-- Center Zydrunas Ilgauskas on why he re-signed with the Cavaliers on Tuesday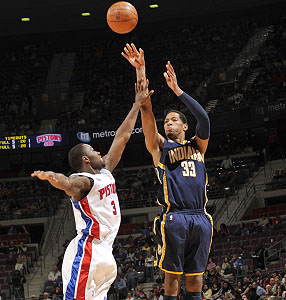 (Allen Einstein/NBAE/Getty)
Danny Granger scored 32 points to help the Pacers end their nine-game road losing streak with a 98-83 win against the Pistons. The win gave Indiana a four-game sweep of Detroit.

Arenas
Wizards guard Gilbert Arenas is scheduled to be sentenced on Friday for bringing guns into Washington as part of a dispute with teammate Javaris Crittenton.
Prosecutors are now calling for Arenas to serve three months in jail, three years' probation and 300 hours of community service.
The judge is scheduled to make a decision Friday. It will be a tricky one.
Prosecutors outlined their views in a new memo. They called for Arenas to be treated like anyone else in the D.C. legal system. Who could disagree? Misbehaving with guns is serious business, and should be treated seriously. For that reason, prosecutors are asking for three months in jail. The prosecutor points out that if any regular person brought four guns into the district for the purposes of confrontation, they would almost certainly be locked up. The right and true point is: Why should celebrities be any different?
To read the entire column, click here
8.

Kidd Celebrates His Birthdate
By Tim MacMahon
ESPNDallas.com

DALLAS -- A man whom Mark Cuban has paid millions of dollars probably saved him several grand tonight.
Man, oh man, would Cuban have been mad if the Mavs had lost to the lowly Los Angeles Clippers. He spent most of the second half with veins popping out of his forehead, screaming at referee Bill Kennedy, who gave Dirk Nowitzki the thumb minutes into the second half. The third ejection of Dirk's dozen-year career came after what appeared to be a pretty routine arguing of a no-call when Dirk thought he was shoved in the back by Drew Gooden in a battle for a rebound.
Cuban bit his tongue the other night after he felt a few bad calls made a major impact in the Mavs' loss to the Celtics. I'm pretty sure we could have gotten him to pop off if the Mavs had suffered their fourth loss in five games after Dirk got an early trip to the showers.
Jason Kidd made it a moot point, carrying the Mavs to a 106-96 win.
9.

DPOY Watch: Howard No. 1
By Maurice Brooks
ESPN.com

Howard
1. Dwight Howard, Magic: With the exception of Steve Nash (assists and free throw percentage), Howard is the only player leading the NBA in more than one statistical category (double-doubles, field goal percentage, rebounds and blocks). (Last week: 1)
2. Andrew Bogut, Bucks: He is averaging a league-high 3.4 blocked shots per game in March. (Last week: 4)
3. Anderson Varejao, Cavs: He is second in the league in terms of plus-minus and is slowly but surely removing his reputation of simply being a flopper. (Last week: 5)
4. Josh Smith, Hawks: Fans in Atlanta are frowning now that Smith has returned to his jump-shooting ways instead of driving the ball to the basket. But as long as he continues blocking shots, grabbing boards and making steals, they should be happy. (Last week: 5)
5. (tie) Ron Artest, Lakers and Gerald Wallace, Bobcats: Although Artest is still capable of turning back the clock and playing lockdown defense, he doesn't do it consistently enough to be ranked higher on this list.
Wallace has returned from his three-game hiatus and resumed his energetic baseline-to-baseline play. (Last week: 2 and 3)
To read the entire Awards Watch, click here