1. How Far Can the Spurs Go?
The popular mindset surrounding the chance of the San Antonio Spurs' making another title run is that Tim Duncan and his cast of veteran mainstays will be a speed bump in someone's path to the NBA Finals.
It is difficult to make a case to the contrary based on the lack of success the Spurs have enjoyed versus the NBA's elite teams this season. The Spurs fell to the Lakers 92-83 on Wednesday night, and they have been anemic against the 10 NBA teams that currently hold a better record than their 42-28 mark. The Lakers used suffocating defense in the second half and just enough scoring from Kobe Bryant (24 points) to rally for their seventh straight victory.
So the debate that will be settled over the next month-and-a-half is whether we are watching the Spurs play out the end of a decade in which they have set the gold standard for team excellence, or if they can muster one last adrenaline-fueled run and make themselves a real factor in the Western Conference playoffs.
Spurs' Time Up?

"Duncan 2night=an aged MJ. TD would've had Gasol 4 lunch back in the day. Not easy to see Father Time put another notch on his sickle."
-- @RicBucher
---

"Ideal scenario for Lakers: good D, Kobe distributes, then enters closer mode. Nightmare for Spurs: Duncan no impact at all."
-- @jadande
Whether they can extend their season beyond one round really depends on where they end up being seeded. As long as they avoid the eighth spot and a first-round matchup with the Lakers, they will be competitive against the Mavericks, Nuggets or Jazz. Now, I understand that my saying they can be merely "competitive" is hardly a ringing endorsement for a fifth championship parade. However, that's where it gets interesting.
Is there really anyone out there who is so blown away by the championship qualities of Dallas, Denver or Utah that they are willing to dismiss the chances of the Spurs getting past two of these teams if the pairings play out in that manner?
The word "competitive" implies that the Spurs will be in every game. Under that scenario, the Spurs will put themselves in a position to allow their money players to dictate the outcomes of critical games with precise decision-making and game-changing playmaking under the most intense pressure that NBA players can possibly experience. If they can just get to those moments, coach Gregg Popovich likes his chances. The Spurs deserve the benefit of the doubt. Their sustained excellence has earned the expectation that this core group, a collection of winners, can make things very interesting for the top seeds in the West.
The Mavericks are more complete. The Nuggets are more explosive and athletic. The Jazz are more relentless. All of those teams have been more consistent, healthier and deeper than the Spurs all season long. And that may very well carry over to the postseason. If it does, the loud noise you hear will be the window of championship opportunity slamming shut on the Duncan era. This is it.
To be honest, no one knows what to expect. There are more questions than answers. Will Tony Parker be healthy? Can DeJuan Blair and George Hill give them an infusion of energy? Will Richard Jefferson ever find a comfort zone? Will Duncan and Manu Ginobili have the stamina to get through the grind of a long series or two? Are they simply too old and too slow?
The fun for this team begins April 15, the day after the season ends. That's when we get answers. That's when the San Antonio Spurs wake up and find themselves preparing for the only time of the year that really matters to them. Perhaps, if we are lucky, the Spurs will give us one more ride. If not, the memories they have created will be indelibly etched into our minds. Either way, we all win.
Tim Legler is a regular Daily Dime contributor.
Dimes past: March 2 | 3 | 4 | 6-7 | 8 | 9 | 10 | 12-13 | 14 | 15 | 16 | 17 | 19-20 | 21 | 22 | 23
2. The Real Leader Of The Celtics
By Brian Robb
TrueHoop Network

Rondo
On a night when the Celtics dominated the Nuggets for the majority of 48 minutes on their way to a 113-99 victory at the TD Garden, there were plenty of heroes to choose from.
There was an efficient offensive performance from Paul Pierce, who scored 27 points on 10-of-16 shooting. An unexpected spark off the bench in the form of Tony Allen, whose 10 second-quarter points helped lift the C's to a double-digit halftime lead. Yet it was the young point guard, Rajon Rondo, who set the tone for his team from start to finish, punishing the Nuggets on both ends of the floor while leading Boston to their sixth victory in seven games.
Rondo has been the rock of this Celtics' squad all year, putting forth a strong case to be considered this team's MVP, a case he improved upon Wednesday night. The fourth-year guard was relentless in all facets of the game, putting up his second triple-double of the season, with 11 points, 11 rebounds and 15 assists in 36 productive minutes. While the Big Three get most of the notoriety, Rondo's value is not lost upon his new teammate, Nate Robinson.
"It's like you got this guy out here, young guy, running the show, and the vets, and everyone else are just listening to him and playing together," Robinson said. "That's what makes the team, nobody plays with egos."
Rondo's progression this year to an All-Star has been one of the few constants this team has been able to count on. With injuries to Pierce and Kevin Garnett, Rondo had to adapt his role at the point guard spot, focusing a lot of his energy on picking up the scoring slack for the two All-Stars.
The Celtics have slowly returned to full strength now, maintaining some consistency for the first time since Christmas. With a healthy supporting cast, Rondo has been able to return to his old role, focusing on setting the table for his teammates and wreaking havoc on all parts of the floor.
Rondo was aggressive and relentless against a weary Denver squad. He pushed the tempo from the opening tip, making an effort to get out in transition, keeping the Nuggets on their heels for the majority of the evening. Coach Doc Rivers heaped the praise upon his guard after the win.
"He was terrific. He was absolutely terrific. He just ran the show," said Rivers. "We put the ball in his hands and he just made good decisions. He was our leader."
It is that on-the-floor leadership that will be one of the biggest indicators of this team's success during the NBA playoffs. Rondo is the engine of this team -- as he goes, so does the team. If Rondo can keep his foot on the gas through the next month, any opponent will have trouble slowing this Celtics team down in a seven-game series.
Brian Robb blogs about BOS at Celtics Hub.
3. Daily Dime Live Recap
ESPN.com writers and TrueHoop Network bloggers chatted with fans and gave their in-game opinions throughout Wednesday's games -- all in Daily Dime Live.
4. The Nets Win!
By Elias Sports Bureau

The Nets ended their home losing streak at 14 games with a win over the Kings on Wednesday. That tied the third-longest single-season home losing streak in NBA history. The record is 19 consecutive home losses by the 1993-94 Mavericks; the Providence Steamrollers had a 16-game streak in 1948-49; and the Magic had a 14-game home drought in 1989-90 (their first season in the NBA).
• Deron Williams had 18 points and 16 assists for the Jazz, his seventh game this season with at least 15 points and 15 assists. That gives him the NBA lead in 15-15 (points-assists) games this season by one over Steve Nash and by two over Chris Paul.
---
By Maurice Brooks
ESPN.com
WEDNESDAY'S BEST

Jackson

Stephen Jackson, Bobcats: Despite playing with a finger injury, he exploded for 37 points, on 15-for-24 shooting from the floor, to lead Charlotte to an easy win against the Wolves. Minnesota has dropped 14 in a row.

WEDNESDAY'S WORST

Duncan

Tim Duncan, Spurs: Playing on national television wasn't enough to motivate Timmy, who made just 2 of 11 shots from the floor and finished with six points in San Antonio's nine-point loss at home to the Lakers.

QUOTE OF THE NIGHT

"I think there's a good chance [of staying in San Antonio]. I think they want me here -- I've been in San Antonio eight years, this is my home. I would like to stay, but when the time comes we'll see what the offers are, what different possibilities are out there and if San Antonio really wants me."

-- Spurs guard Manu Ginobili on his impending free agency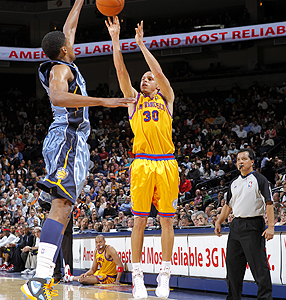 (Rocky Widner/NBAE/Getty)
Kings guard Tyreke Evans may be the favorite for Rookie of the Year, but Stephen Curry, who had 30 points and 11 assists in the Warriors' 128-110 victory against the Grizzlies, is making a late push for the honor.
8.

Allen Steps Up For Celtics
By Chris Forsberg
ESPNBoston.com

Allen
BOSTON -- To the untrained eye, it might have looked like Tony Allen has been sitting on the Boston Celtics bench in a green-and-white warm-up suit that he has found difficult to shed since the addition of veteran swingman Michael Finley.
To Allen, he might as well have been wearing an all-black suit with a hood. Just like a ninja.
"Well, I just look at it like we've got a quiet assassin and whenever you all want to unleash him, he's going to be ready," Allen said after pouncing off the pine to score 13 points on 5-of-6 shooting in 20 high-energy minutes in the Celtics' 113-99 triumph over the Denver Nuggets on Wednesday.
To read the entire column, click here
9.

No Suspension For Blatche
By Kyle Weidie
TrueHoop Network

Andray Blatche has had quite a past 36 hours. He went from NBA Most Improved Player candidate (well, at least according to Tuesday's pregame fliers handed out by the Wizards' marketing team), to playing only seven minutes that night against Charlotte and sulking on the bench, to being accused by coach Flip Saunders of wanting neither to play nor be coached, to hitting the D.C. sports media circuit on Wednesday to defend himself and call his coach's charges a bold-faced lie, to starting Wednesday in Indiana and leading his team in scoring with 21 points in a 99-82 loss to the Pacers.
Yep, quite an eventful 36.
More curious to most is not how Blatche responded on the court after such a tumultuous run, but how he was not suspended for the game against Indiana after his prior actions. Whether Blatche really refused to go back into Tuesday's game against the Bobcats as his coach originally indicated remains a "he said, he said" situation. But the fact which Blatche cannot contest is that when his coaches tried to talk to him, he refused and planted himself at the end of the bench.
So why no suspension? Maybe Saunders wanted to see how the 23-year-old would react as a player. Maybe Wizards team president Ernie Grunfeld stepped in with an executive decision. Just as with what really happened between Gilbert Arenas and Javaris Crittenton, we may never know. Right now Blatche seems content with calling the ordeal a misunderstanding, while still curiously maintaining that he did nothing wrong, and the coach seems content with moving on.
And how did Blatche fare on the hardwood? Well, he came out with 12 first-quarter points, taking the ball to the hoop like his coach wishes he did more often, and earning four free throws in the process. Unfortunately for Blatche, he finished the game displaying the flaws that have become expected of him. In a team-high 39 minutes, he managed just six rebounds, carelessly turned the ball over five times, and didn't attempt another foul shot after the first quarter.
The Wizards also performed as expected. Trailing by only seven to the Pacers at intermission, they emerged from the locker room for the second half unfocused and uncoordinated. For the 16th time this season, Washington had more turnovers (12) than assists (11) en route to losing its 13th game in a row, tying the franchise's worst streak of futility. But with the '09-10 Wizards, what else would you expect?
To read more from Weidie, check out his blog Truth About It.Net