1. Bulls' Playoff Hopes Take A Hit
By Nick Friedell
ESPNChicago.com
CHICAGO -- It takes a lot to shock Joakim Noah.
The Bulls' outgoing third-year center usually takes life in stride and responds to questions that focus on the impending doom of his team's playoff fate accordingly. He is convinced, and has been for quite some time despite missing almost two months due to plantar fasciitis, that his team will be fine. Who cares if they were a few games out of a playoff berth at the moment? They would all get healthy again and start playing well. It was that simple. Why sweat it?
That's why his response was so surprising when I asked him Thursday morning whether he knew how many games his team had left or not. "I know it's around 15, 16 games, right?" he said.
"Twelve," I said.
"Twelve games left!" he said, with the type of excitable emotion that people have grown to love and/or hate about the two-time NCAA champion. "Wow, that's unbelievable, man. I wasn't sure but -- I know it's not a lot of games. That's why we got to make sure we take care of business tonight."
The only thing the Bulls might have taken care of on Thursday night was any shot at a playoff berth.
In a game they absolutely had to have, they played their worst game of the season, getting crushed by the Heat 103-74. After the game, even Noah -- a man who is never at a loss for words -- had a hard time explaining what had just occurred.
Shocked wasn't even the word to describe his mental status. He was completely stunned.
He sat in his chair under the guise of a gray hoodie and tried to make sense of everything. "I think they played very well and we played terrible," he said. "We didn't play with a lot of energy. Our help defense was pretty bad. Every aspect of the game we played really bad. Tough day at work. Every loss is tough right now because it is the end of the season. To lose this ... at this point of the season is tough."
So tough, that Bulls head coach Vinny Del Negro admitted that it was probably his team's most disappointing defeat of the season. "We did not have enough fight in us tonight," he said. "We beat each other up more in practice than we did the opponent tonight. That is the frustrating part -- their effort was better, their energy was better and that is why they beat us up."
The Bulls' effort and execution was so bad on this night that even the Heat players took notice. "We were a little shocked," Heat center Jermaine O'Neal said. "We talked about it a little bit on the bench. Especially all the conversation that was kind of here in the papers and stuff like that, their struggles and the importance of the game for them, also. We were a little shocked about it, but more than anything we felt that we needed to come out and jump on those guys and handle our own business. We were prepared for a fight. It didn't quite happen that way, but you got to commend our team, too, for what we did on the defensive end."
That's exactly what Bulls rookie Taj Gibson did after the game was over. "They just came out ready to play," Gibson said. "They just let us know how the playoffs would be if we were in it. They really punched us in the mouth tonight."
All the major problems that the Bulls faced throughout the season came to the forefront during this contest. They shot poorly (33 percent from the field), they didn't play with consistent aggression or energy (outrebounded 36-29), and they couldn't get a basket when it mattered (scoring a season-low 74 points).
Both Noah and Gibson tried to tell everyone that the team was just going to forget about Thursday night and try to turn things around, but deep down both players knew better. Their words sounded just as flat as the Bulls looked.
There are still three weeks of games left to play, but this particular one might have left the kind of mark that can't be erased. "The situation is what it is," Noah said. "There's 11 games left and we have to be on edge every time we step on the court. Unfortunately, we didn't play with the edge we needed to, to compete tonight."
The harsh reality of the 82-game NBA schedule becomes a lot more serious when you realize that time is running out and there isn't much you can do to change it.
Nick Friedell is a regular Daily Dime contributor.
Dimes past: March 4 | 6-7 | 8 | 9 | 10 | 12-13 | 14 | 15 | 16 | 17 | 19-20 | 21 | 22 | 23 | 24
2. West Playoff Race Wide Open
By John Hollinger
ESPN.com

Duncan
As predictable as this season has been so far, we might be in for a change as we head into the postseason. Oh, not in the East, where things couldn't be any chalkier: Orlando and Cleveland seem destined for a battle royal in the conference finals, and it's likely that the only drama between now and then will come when either the Hawks or Celtics meet Milwaukee in the first round.
Out West, however, it's a different story. The Lakers are running away with the top seed, leading No. 2 Dallas by six games. But that masks a new West reality: A postseason that once appeared to be the Laker Invitational now seems to be anyone's game.
That's partly because the Lakers have looked increasingly beatable. Aside from an Achilles injury to Andrew Bynum, the Lakers have been reasonably healthy -- at least, as healthy as their main competitors. Yet their play since the All-Star break has been a bit uninspired.
You don't believe me? Consider that the Lakers are 12-5 since the All-Star break despite playing a steady procession of bottom-feeders. In that span, L.A. has played Golden State twice, Sacramento, Indiana, Philadelphia, Minnesota and Washington. The Lakers won six of those seven games by more than 10 points. But in the 10 games against real teams, they're 5-5 with a negative scoring margin.
To read the entire PER Diem, click here.
3. Daily Dime Live Recap
ESPN.com writers and TrueHoop Network bloggers chatted with fans and gave their in-game opinions throughout Thursday's games -- all in Daily Dime Live.
4. Clippers Finally Win In Houston
By Elias Sports Bureau

The Clippers snapped their 11-game road losing streak with a 99-93 win in Houston. It was the first time that the Rockets lost at home to a team on a double-digit road losing streak since Feb. 26, 2007, when the Celtics ended their 12-game road losing streak with a 77-72 win.
---
By Maurice Brooks
ESPN.com
THURSDAY'S BEST

Smith

Craig Smith, Clippers: The Clippers hadn't won a game away from home since Feb. 2. Thanks to a season-high 25 points and 10 rebounds from Smith, Los Angeles halted its 11-game road losing streak with a 99-93 victory over the Rockets.

THURSDAY'S WORST

Rose

Chicago Bulls: Chicago, which made just 33 percent of its shot attempts, fell behind by 30 at halftime and was never competitive in a 29-point home loss to the Heat. The Bulls have dropped 11 of their past 13 games.

QUOTE OF THE NIGHT

"That's the hardest part about this game. We work all season with those guys and they go down. It takes a lot out of you. We know that coming into a game we just got to figure out ways to keep it going."

-- Houston's Trevor Ariza on his team missing players because of injuries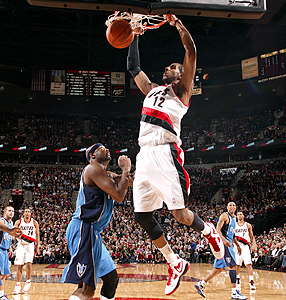 (Sam Forencich/NBAE/Getty)
LaMarcus Aldridge muscled inside for 20 points and 10 rebounds for the Blazers, who stayed hot with a 101-89 home win against the Mavericks. Portland has won six of its past seven games.
8.

Blazers Turn Away Mavs
By Tim MacMahon
ESPNDallas.com

Miller
PORTLAND, Ore. -- The Mavs just can't beat the Blazers this season.
A Portland team that had lost 18 of 20 to the Mavs entering the season is a win away from sweeping the season series. The Mavs get one more crack at the Blazers in Portland on April 9 ... unless the teams meet in the first round of the playoffs, which is a distinct possibility.
This 101-89 win for the Blazers was by far the most lopsided game in the season series. And Portland didn't even need a 52-point performance by Andre Miller!
A balanced Blazers offensive attack worked fine, with the Mavs faltering in the fourth quarter.
To read the entire blog, click here.
By Matt McHale
TrueHoop Network

According to conventional wisdom, every loss is created equal. Whether a team finishes a game down by one point or 30, it still counts only once in the loss column, right?
Well, I'm here to tell you that some losses are worse than others. The Bulls have had a handful of ugly setbacks this season -- losing a 35-point lead to the Sacramento Kings and suffering a 103-101 home loss to the eight-win New Jersey Nets spring to mind -- but Chicago's 103-74 embarrassment against the Miami Heat might be its most devastating of all.
The immediate and seemingly most pressing implication is that it hurts the Bulls' postseason chances. Chicago now trails Toronto by 2½ games with 11 games remaining. And, according to John Hollinger's Playoff Odds, the Raptors are a much better bet to reach the NBA's second season.
However, the biggest hit the Bulls took was to their reputation. Remember, Chicago management has spent the past two seasons cutting salaries in hopes of acquiring a big-name free agent during the already legendary summer of 2010. In addition to the cash, the Bulls need to offer potential free agents the hope for a brighter future.
Getting obliterated so thoroughly in such an important game couldn't have impressed Dwyane Wade or any of the other free-agents-to-be who might have been watching (assuming they had the stomach to sit through the horror show).
If the Bulls are going to target Wade, Chris Bosh, Carlos Boozer, Amare Stoudemire or Joe Johnson, they need to narrow their focus. Making the playoffs would be nice, but being competitive is critical. The Bulls won't be given a mulligan because Luol Deng is out and Joakim Noah isn't 100 percent. If the Bulls want a better tomorrow, they need to start playing like there is no tomorrow.
To read more from McHale, check out his blog By The Horns.