1. Name Of Marion's Game: Shut Down Melo
By Tim MacMahon
ESPNDallas.com
DALLAS -- Carmelo Anthony didn't give Shawn Marion much credit after the Dallas Mavericks seized control of the race for second place in the West with a convincing win.
Anthony didn't agree that Marion made a major impact in the Mavs' 109-93 victory over the Denver Nuggets at American Airlines Center. What about Anthony's awful shooting (3-of-16 from the floor) in his 10-point performance? According to Anthony, that was the product of constant double-teams and getting poked in the eye during the first quarter, not Marion's terrific individual defensive performance.
"Not being funny," Anthony said, "but I don't think he did nothing but play his game."
The Mavs agree that Marion played his game, but the take on how much that mattered was certainly different in the Dallas locker room.
"Shawn definitely was the player of the game," said Dirk Nowitzki, who made a pretty strong case for that honor himself by notching his second career triple-double with 34 points, 10 rebounds and 10 assists.
Mavs coach Rick Carlisle opened his postgame news conference by lavishing praise upon Marion, whom the Mavs acquired in a sign-and-trade this summer to address their problem of defending elite wing scorers such as Anthony.
"The key to the game was the job Shawn Marion did on Carmelo," Carlisle said. "He's one of the toughest guys to guard in the league, and [Marion] took the challenge."
Guards Jason Kidd and Jason Terry were among others who echoed the opinions of Nowitzki and Carlisle. They all painfully experienced the damage Anthony did during the playoffs last season when the Mavs had nobody to match up with him.
Anthony dominated while Denver dismissed Dallas in five games, averaging 30 points on 49 percent shooting. But he's been miserable in the two meetings against the Mavs in which Marion has played this season.
Melo's offensive numbers in those losses: 13 points per game on 8-of-35 shooting.
Games like this are what attracted Marion to the Mavs. He wanted to play for high stakes, and he thrives on the challenge of guarding stars, especially Anthony.
"Shoot, that was my All-Star spot," said Marion, a four-time All-Star whose most recent appearance on the NBA's midseason stage came in 2007. "Truth be told, it still should be mine.
"I'm taking nothing away from him. I think he's talented as hell.
"But that's not even what it boils down to. Right now, I'm at the point of my career when I want to win a championship."
Marion flashed back to his All-Star scoring form in the win over Denver, pouring in 21 points on 9-of-13 shooting in 29 minutes. That continued a magnificent March for Marion, whose offensive numbers have peaked, averaging 15.6 points on 57 percent shooting this month.
Some might consider Marion's offensive production to be a bonus, considering that the Mavs rarely run plays designed for him. He considers it a key part of slowing down guys like Anthony.
"You've got to make him play defense, too," Marion said. "Most of the high scorers in this league don't play the other end. When you play the other end, it's that much harder to get off."
This is exactly the type of night the Mavs had in mind when they acquired Marion. They thought they needed a tough, rangy, versatile veteran to give them a chance at a championship.
"You think of all the big wing guys, thinking about how disadvantaged we were by playing small lineups last season," said Terry, who scored 13 of his 15 points as the Mavs slammed the door on the road-weary Nuggets in the fourth quarter. "What if? What if we had a long, active defender? It's here now. [Marion] knows his role. He's comfortable in it, and we love him."
The Matrix needs no love from Melo.
Tim MacMahon covers the Mavericks for ESPN Dallas. You can follow him on Twitter or leave a question for his weekly mailbag.
Dimes past: March 12-13 | 14 | 15 | 16 | 17 | 19-20 | 21 | 22 | 23 | 24 | 25 | 26-27 | 28
2. Hawks Swept C's? Doesn't Matter
By Peter May
Special to ESPNBoston.com

Simply put, if Boston and Atlanta finish the season with identical records, the Celtics will receive the higher seed (most likely the No. 3) even though they lost all four regular-season games to the Hawks. That is because they will be champions of a division (the NBA's Hindenburg) while the Hawks will not, losing out to Orlando.
"I don't understand that at all," said ESPN analyst Jon Barry. "Why wouldn't head-to-head be No. 1? There's no fairer barometer than head-to-head. It doesn't seem right. I'm shocked. The Celtics are in a terrible division, which they're going to win. But realistically, what does a division title mean anyway?"
Here's what it means: a better seed, with possibly huge implications in the playoffs.
Should the Hawks and Celtics finish with the same record behind Cleveland (duh!) and Orlando (all but a lock), then the Celtics would get the third seed and Atlanta the fourth seed. Not only does that give Boston a (theoretically) easier opponent in the first round -- say Miami or Charlotte instead of Milwaukee -- it also takes the Celtics out of the Cavaliers' bracket until the conference finals. So should the Celtics and Hawks both prevail in their first-round series, the Hawks would then draw the Cavs in the second round. The Celtics would be in line to meet the Magic, assuming everything goes according to Hoyle.
• See the full story from May
3. Daily Dime Live Recap
ESPN.com writers and TrueHoop Network bloggers chatted with fans and gave their in-game opinions throughout Monday's games -- all in Daily Dime Live.
---
MONDAY'S BEST

Nowitzki

Dirk Nowitzki, Mavs: The triple-double (34-10-10) wasn't the biggest surprise. How about Dirk retro-launching five 3-pointers (making four), his most 3 attempts since Dec. 5? Might we see more treys in the playoffs?

MONDAY'S WORST

Anthony

Carmelo Anthony, Nuggets: Posting his worst shooting night of the season from the field, Melo went 3-for-16 (18.8 percent) facing the D of Shawn Marion. His 10 points were almost 20 off his season average.

QUOTE OF THE NIGHT

"Absolutely it's a relief. You don't want to go down in history as the worst team ever."

-- Nets guard Keyon Dooling, after the Nets beat the Spurs for their 10th win of the season. The 1972-73 Sixers will remain the sole holders of the worst mark (9-73) in league history.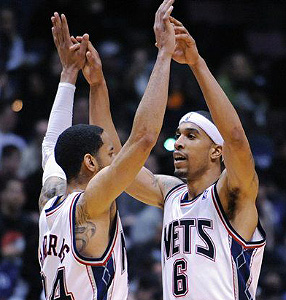 (AP Photo/Bill Kostroun)
Nets guard Courtney Lee, right, celebrates with Devin Harris after the Nets beat the Spurs 90-84. The win was the Nets' 10th of the season.
By Chris Sheridan
ESPN.com

Shaq
Will (Iowa): Do you see any problems coming from Shaquille O'Neal's return for the playoffs? The teams point margin is negative with him in.
Chris Sheridan: Given that the Cavs will have a cupcake opponent (maybe I should call it a donut opponent, because Toronto and Chicago aren't big at the center position) in the first round, I think they'll be able to work him back in gradually rather than rely on him to contribute offensively. They're already getting enough offense from LBJ, Antawn Jamison and Mo Williams (and J.J. Hickson lately, too). The bottom line with Shaq is he's there to stop Dwight Howard in the playoffs, because that's what knocked Cleveland out a year ago. So the Cavs don't really need him to be in peak form until the conference finals, when they could be playing Orlando again.
To read the entire Sheridan chat, click here.
By Elias Sports Bureau


Thornton
Marcus Thornton scored 18 points, and fellow rookie Darren Collison scored 17 points in the Hornets' win over the Lakers. It was only the second time over the past six seasons the Lakers lost a game to a team that had two rookies score at least 17 points. It also happened March 27, 2007, against Memphis, when Rudy Gay (20) and Tarence Kinsey (24) completed the feat in an 88-86 Grizzlies win.
By Arash Markazi
ESPNLosAngeles.com

The Lakers are beginning to look more and more like a group of high school seniors during the final two weeks before graduation. With their college acceptance letters in hand and their grades all but decided, they are simply going through the motions.
Maybe it's time to consider the Lakers' current five-game road trip one big senior ditch day, or perhaps an extended spring break.
After all, the Lakers have only shown up for all of two quarters during this trip, which was actually good enough for two wins and a 2-2 record after their 104-97 loss to the New Orleans Hornets on Monday.
To read the entire Markazi story, click here.
10.

Talking With Broussard