1. Something Is Strange With The Suns
By Nick Friedell
ESPNChicago.com
CHICAGO -- Jared Dudley couldn't help but chuckle at the situation that was unfolding in front of his face. It was two hours before the start of Tuesday night's Suns-Bulls game, and most of his teammates were spread across the cramped quarters of the United Center's visitors' locker room looking for any place to try to get their pregame routines in. Grant Hill was on one side of the room doing some kind of stretching exercise with a rubber-band-like contraption. Amare Stoudemire was on the other end doing some kind of awkward-looking stretch that seemed like it had been taken from a late-night infomercial. Jason Richardson lay on the ground in the front trying to loosen up his back.
The surrounding media horde was mesmerized.
Dudley, the 24-year-old jokester, surveyed the scene that was more reminiscent of a crowded Bally's Fitness Club and tried to put into words what everyone else was thinking. "Does any other team do stuff like this?" he said, before pausing for effect. "But, you're thinking if Stoudemire does it, then maybe it works ... "
While Dudley's teammates may have some unorthodox ways of warming up, the truth, of course, is that everything is working right now for the Suns.
Stoudemire has been otherworldly over the past month, averaging almost 30 points a game -- and was again Tuesday, scoring 21 points and grabbing 11 rebounds in the Suns' 111-105 win over the Bulls. The Suns wouldn't have an eight-game winning streak going had it not been for the improved play of his surrounding cast. Richardson scored 27 points. Steve Nash had 22 points and 10 assists, including several big buckets down the stretch. Heck, even Channing Frye nailed a huge 3-pointer with the game hanging in the balance.
In the span of just a few weeks, the Suns have turned from a team that couldn't figure out which direction it wanted to go, to a team that no Western Conference opponent wants to see come playoff time.
So, what happened?
Suns head coach Alvin Gentry said it all boils down to closing out games, something his veteran-led team had a hard time doing earlier in the season. "That's what I think we've done, and we've had different people do it," he said after his team's latest win. "Steve made a couple of big shots, but then Channing came up and probably made the biggest shot of the game."
As Gentry is the first to tell you, though, closing out games doesn't just mean making a big play on the offensive end. "We've been able to come up with stops when we need them, too," he said. "I think that's the big thing right there because we got in the habit of exchanging baskets and that puts so much pressure on your offense that it [can overwhelm you]."
Richardson believes that he and his teammates have formed an entirely new identity over the past couple of months. "We're a totally different team," he said. "Two months ago we were a team that had big leads that we'd end up giving back. We weren't focused on the defensive end. This half of the season now we're really focused on the defensive end and helping each other out. The way we're playing now is huge. We're going to need to play like this in the playoffs. With the game on the line you have to come up with stops to get wins."
That's exactly what Richardson & Co. did against the Bulls late in the game, and that's the biggest reason they are most likely headed to the playoffs and the Bulls most likely are not. "Give Phoenix credit," Bulls head coach Vinny Del Negro said after the game. "They executed when they had to. That is why they have been so successful over the years and lately this year."
Stoudemire believes there is another key reason as well. "I think our intensity has been improved," he said. "I think we've gotten better defensively. We're scoring the ball at will. We're defending guys one-on-one and also collectively. Our rotations have been on point. We turned our focus up a notch. That also adds to determination. With all that being said, that's what allowing us to play better so far."
A Suns team that can score -- and play defense when the game is on the line?
Now, there's something that's a lot stranger looking than some bizarre pregame stretching routines.
Nick Friedell covers the Bulls for ESPN Chicago.
Dimes past: March 14 | 15 | 16 | 17 | 19-20 | 21 | 22 | 23 | 24 | 25 | 26-27 | 28 | 29
2. LeBron Chasing Jordan
By John Hollinger
ESPN.com

James
Normally at this time of year, we would be writing breathless articles about the MVP race, rallying our support behind one candidate or another and sifting through torrents of angry e-mails supporting that player's rivals.
Not this year.
The MVP race has been over since about mid-January. LeBron James has run so far away from the pack that he could shoot 0-for-100 from the field over his final eight games and still win the award going away. (For fun, I fact-checked this: Even with 100 straight misses, no assists and no rebounds in his next 200 minutes, he'd still lead the league in PER.)
Only two items of interest remain. First, will some sycophant homer screw up what should be a unanimous decision with a completely indefensible vote for his local guy? And second, is this the best individual season a player has ever had?
As you might suspect, today's topic deals with the second of those questions. Some of this may sound familiar, as this time a year ago I mentioned that James was en route to one of the best statistical seasons in history.
Here's the thing: This season, he's been better.
Once again, a hallowed record (at least in my world) is in play for James as we enter the final eight games: He could surpass Michael Jordan's 1987-88 campaign for the greatest single-season PER in the modern era. I have to add the "modern" qualifier because the league didn't keep track of things like blocks and individual turnovers before 1973-74, rendering the PER exercise a guessing game for players from previous eras.
James' current PER of 31.81 is second-best in "modern" history, and with eight games left (of which he'll probably play only five or six), he retains an outside shot at breaking Jordan's all-time mark of 31.89. At the very least, he's going to be within hailing distance.
To read the entire PER Diem, click here.
3. Daily Dime Live Recap
ESPN.com writers and TrueHoop Network bloggers chatted with fans and gave their in-game opinions throughout Tuesday's games -- all in Daily Dime Live.
---
By Maurice Brooks
ESPN.com
TUESDAY'S BEST

Granger

Danny Granger, Pacers: The former All-Star waited until the second half to show off his shooting touch, scoring 25 of his 33 points following intermission, pushing the Pacers past the Kings for Indiana's eighth straight home win.

TUESDAY'S WORST

Kapono

Jason Kapono, Sixers: He is known for his ability to hit from deep, but that wasn't the case against the Thunder. The sharpshooter went 0-for-5 from the field, missing all three of his 3-point attempts, finishing scoreless.

QUOTE OF THE NIGHT

"I'm going to take full responsibility for the loss. I made tough decisions down the stretch and I didn't rely on my teammates. ... I tried to do things I shouldn't. I thought there was no way we could lose that game. I need to show more trust in my teammates."

-- Washington's Andray Blatche after the Wizards failed to hold a six-point lead in the fourth quarter against the Rockets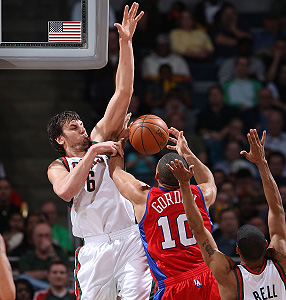 (Gary Dineen/NBAE/Getty)
Defensive Player of the Year candidate Andrew Bogut, who scored 14 points and grabbed nine rebounds, blocks one of his two shots in the Bucks' 107-89 victory over the Clippers.
7.

Wizards Extend Losing Streak

The Wizards lost to the Rockets on Tuesday, 98-94, extending Washington's losing streak to 16 games. Not only have the Wizards lost 16 straight, they've been held under 100 points in each game. They've tied the second-longest streak in NBA history of losses in which the team did not reach 100 points. The Grizzlies had a 17-game streak in the 1995-96 season and the Nuggets had a 16-game streak in the 1997-98 season.
By Jared Wade
TrueHoop Network

For Indiana, every win is bittersweet. Danny Granger is again looking like the unstoppable scorer he was last season, and after posting 33 points Tuesday in a 102-95 win over Sacramento, he has now put up at least 29 points in six of his past seven games. Furthermore, the franchise's young talent, Roy Hibbert and Brandon Rush, are now producing consistently. And the whole team is finally playing the hard-nosed, fun-to-watch brand of basketball that made the state famous.
On the other hand, each win is lowering the Pacers' hopes to draft the franchise-altering, blue-chip rookie that the team so badly needs to pair with Granger if it wants to return to respectability.
On March 15, the Pacers had a 21-45 record and looked like they would be all but assured to get a top-six pick in June's draft -- or possibly even one in the top three if the team went into a complete tailspin or caught a lucky break on draft lottery night. But after beating the Kings, the Pacers are 7-3 in their past 10 games and have vaulted up the standings to become the NBA's 21st-best team, which, if the season ended today, would give them an almost 90 percent chance of getting only the 10th pick in the draft.
Making matters worse, the other bottom-dwellers jockeying with the Pacers for a better draft pick have played abysmally. The Wizards, Pistons, Clippers, Kings, Sixers, Warriors and Knicks have combined to go 16-54 in their past 10 games, meaning that even if the Pacers fell off tomorrow, they are not going to make up much ground.
For any fan, it's tough to root for your team to lose. But when this is the reality that victories bring, it's hard to crack a smile when the team wins. But, hey, one thing's for sure: Two more wins will have the whole state celebrating in the streets.
Of course, only if the team doing the winning is Butler.
To read more from Wade, read his blog Eight Points, Nine Seconds.
9.

DPOY Watch: Where's Artest?
By Royce Young
TrueHoop Network

Howard
1. Dwight Howard, Magic: If you were trying to name the most terrifying thing about Howard's game, there would be a number of candidates on your list. But here's the topper: He's not even close to reaching his ceiling as a defender. Even as a big man who dominates the paint like no other in the league, he could be better. Yikes.
2. Gerald Wallace, Bobcats: It's simple: He's the stopper on maybe the league's best defensive team. Charlotte has a number of gifted defenders, but it all starts with and centers on Wallace's effort on the defensive end.
To read the entire Awards Watch, click here.