1. Who Else Can Reach The Finals?
A dozen of our NBA writers were asked the following question: Other than the Lakers and Cavaliers, what two other teams do you see as most capable of reaching the NBA Finals and why? Here are their responses.
Tim Legler, ESPN
The Mavericks can play with any style. Fast, slow or in a defensive-oriented game. They are the most complete team outside of the Lakers in the West. Shawn Marion and Caron Butler have given them the defensive-minded size on the wings that they have lacked. Plus they can both score consistently without having to be the primary option in sets.
Orlando looks completely different with Jameer Nelson playing the way he was prior to his injury last season. He has his confidence and rhythm back. Now they have a change-of-pace scoring option at that position again. He puts a lot of pressure on defenses, which frees up 3-point shooters and gives room to Dwight Howard inside. They are a legit contender now.
---
John Hollinger, ESPN.com
The Magic are clearly the Cavs' only rival for supremacy in the East, and of course they've done this before. Utah is playing the best of anyone in the West, although it's a more equal field in that conference.
---
David Thorpe, Scouts Inc.
I like the Magic in the East. They're back to defending like champs, and to beat them you have to hope they have four bad shooting games, thanks to Dwight's inside dominance. And you could still lose because you can't score either.
And if the Nuggets get Kenyon Martin and their coach back, they will play with a purpose and a passion we've never seen before. It will be especially tough to beat them in Denver, where the emotion will be a factor the way Golden State's crowd was a few years ago.
---
Tim MacMahon, ESPNDallas.com
Utah has played the West's best ball for the last few months.
Derek Fisher
helped teach
Deron Williams
the NBA ropes, but that's a major mismatch in the Jazz's favor.
Orlando dismissed LeBron and Co. in convincing fashion last spring. Why wouldn't the Magic be able to pull off the same trick this season?
---
Henry Abbott, TrueHoop
To me, it's a four-team race and the only reason everyone doesn't think that is because Deron Williams and Dwight Howard aren't as famous as
Kobe Bryant
and
LeBron James
.
---
J.A. Adande, ESPN.com
I thought Denver was a strong candidate to knock off the Lakers, but with Kenyon Martin injured and George Karl focused on his health, they haven't been the same. Orlando has exceptional depth and has that attitude that comes from losing in the Finals last year.
---
Chris Sheridan, ESPN.com
Orlando in the East, because they're just as crafty as ever, and they're deeper this year, and Dallas in the West, because they've been on the upswing since the big trade, and 1 through 5, with everyone healthy (and which Utah and Denver are lacking), they're as strong as anyone.
---
Nick Friedell, ESPNChicago.com
I think the Magic are still going to give the Cavs a lot of problems in the playoffs because of the way they're constructed.
[+] Enlarge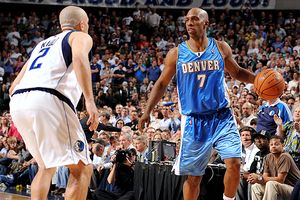 Garrett W. Ellwood/NBAE/Getty ImagesOur writers think the Mavericks and Nuggets are next in line if the Lakers stumble in the West.
Stan Van Gundy will have them ready to play, and it sure seems like they are starting to play about as well as they did earlier in the year. If
Vince Carter
raises his game, which is a big
if
of course, the Magic are probably headed to the Finals once again.
The Nuggets haven't been playing as well over the last couple of weeks, but I still believe in the Carmelo Anthony/Chauncey Billups tandem. Those two players have the ability to take over games, and I think this may be the year where Anthony takes the team on his back and leads them to the promised land.
---
Chris Broussard, ESPN The Magazine
With Kenyon Martin and George Karl questionable for the rest of the season (regular and post), Dallas is the second-best team in the West. The addition of Caron Butler and Brendon Haywood gave them some Eastern Conference toughness that the Lakers always find troubling. Shawn Marion's experiencing a resurgence of late, and while I don't see the Mavs beating L.A., I give them a better chance than anyone else out West.
Orlando is a legitimate threat to Cleveland in the East. If Dwight Howard can send Shaq to the bench in foul trouble, thereby forcing Cleveland to double-team Dwight, the Cavs will find themselves scrambling and rotating on D just like last year. That'll open up the trey for Orlando and make things tough on Cleveland. I like Cleveland in this series, but the Magic won't go quietly.
---
Kevin Arnovitz, ESPN.com
Orlando has a powerful two-pronged attack: They can kill you in transition, or they can pick you apart in the half court by luring you into double-teams, then exploiting those opportunities.
The Jazz have been running the same stuff for more than 20 years, but for whatever reason, teams are having a difficult time this season combating it. Part of that is Deron Williams cracking the code. Part of that is that their big men -- particularly Carlos Boozer -- are able to set up as deep as any in the league. In addition, their flex offense gets them mismatches all over the court and runs the defense ragged with all those screens and cuts.
---
Marc Stein, ESPN.com
Orlando was my Eastern Conference favorite coming into the season and I still rate the deepest Magic team we've ever seen ahead of everyone else in the East outside of Cleveland -- even though I also believe Boston can (and) will give Orlando more of a push than anyone expects if those teams meet in the second round. The belief here is that the three-headed combo of a healthy Jameer Nelson, an improving Vince Carter and the ever-pesky
Matt Barnes
make up for the matchup mojo that the Magic can no longer throw at the Cavs because
Hedo Turkoglu
is in Toronto.
[+] Enlarge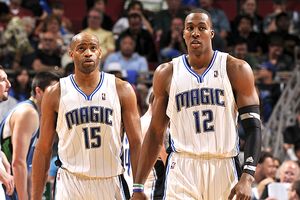 Fernando Medina/NBAE via Getty ImagesThe Magic, led by Vince Carter and Dwight Howard, have all of the pieces in place to return to the Finals.
As for the West ... wow. Not so easy to narrow it down when you have eight playoff teams on pace to win at least 50 games. But I'm going with Dallas because the Mavs -- for what they lack in continuity after changing their team so dramatically at the trade deadline -- appear to have the requisite size and versatility to compete with the Lakers thanks to the arrival of Brendan Haywood and Caron Butler in that deal. Don't think the Jazz, for all they've shown us during this scorching second half, are quite big enough. And we know the Suns aren't big enough, even though they've quietly thrust Alvin Gentry into the Coach of the Year discussion with a 14-3 start and a hotter finish. The Nuggets would have been my choice here, since they do have the been-there continuity Dallas lacks, but Denver might be without Kenyon Martin and coach George Karl for the rest of the season and might not even have home-court advantage in the first round of the playoffs.
---
Arash Markazi, ESPNLosAngeles.com
The Nuggets almost beat the Lakers last season and are better than anyone thought while the Lakers are certainly playing worse than any of us expected when the season began. The Nuggets won't be scared of the moment after blowing out the Lakers by an average of nearly 20 points in their first two meetings this season. The Magic made the NBA Finals last year when everyone thought the Cavs would just sweep their way to an East title and I think the same thing might happen this season. I still don't think the Cavs can match up with Dwight Howard in the paint and
Rashard Lewis
and Vince Carter from the perimeter. Nuggets-Magic is the Finals we almost got last season and I can certainly see it being the one we get this season.
Dimes past: March 15 | 16 | 17 | 19-20 | 21 | 22 | 23 | 24 | 25 | 26-27 | 28 | 29 | 30 | 31
2. Howard For Most Valuable Player?
By Tim MacMahon
ESPNDallas.com

Howard
DALLAS -- Don't tell anybody in the Orlando Magic locker room that LeBron James has lapped the field in the MVP race.
Point guard Jameer Nelson passionately lobbied for Magic big man Dwight Howard following Orlando's 97-82 victory Thursday night over the Dallas Mavericks. Considering that Howard had a 17-point, 20-rebound, five-block, no-foul performance in the win over a Western Conference contender, the Nelson case ought to at least be heard.
"I think he should be the MVP," Nelson said, admitting bias. "It's not even about the Defensive Player of the Year. Somebody who does the things he does night in and night out defensively, it goes far beyond the Defensive Player of the Year.
"He's controlling the game defensively. All the rest of the guys that are being mentioned for MVP are just scoring the ball and making plays."
Is that convincing enough for Howard to make a serious MVP run? Probably not.
Is Howard dominant enough to make the Magic a legitimate title contender? Without a doubt.
Orlando's defensive dominance against the Mavs, who shot 38.3 percent from the floor, came as no surprise. A Dallas team playing with heavy legs less than 24 hours after rallying for an overtime win in Memphis was no match for Orlando's elite defense, which holds foes to a league-low .437 field-goal percentage.
The Magic's defense is peaking as the playoffs approach. While going 12-2 over the last month, the Magic have held opponents to 90.9 points per game on .429 percent shooting.
Matt Barnes, one of two non-centers on the roster who coach Stan Van Gundy considers an above-average individual defender, mentions the Magic's improvement in executing coverages and increased trust as factors in the defensive surge. Of course, the key is "the monster in the back," as Barnes refers to Howard.
"We've got the human eraser," Barnes said. "You get up in your man and really take pride in locking your man down, but just know that if you get beat, you have that help."
Added Van Gundy: "Our other guys' effort has picked up, and Dwight is just a great anchor back there. He really makes our defense."
Howard readily admits that he coasted too often on defensive possessions earlier in his career. That changed a couple of years ago after he was challenged by Orlando assistant coach Patrick Ewing, whose message was reinforced by fellow former shot-blocker Dikembe Mutombo.
The 7-footers told Howard that he ought to own the Defensive Player of the Year award, as well as the rebounding and blocked-shot crowns, for the next decade.
"Defense is all effort," said Howard, who should be a lock to repeat as Defensive Player of the Year after leading the league in rebounding (13.3 per game) and blocked shots (2.74) for the second straight season. "If you want to play defense and stop people, you will. If you don't want to, they will score every play. There's not really a technique you can work on to be a better defender. You just have to really want to stop people."
It helps to have a chiseled 6-foot-11, 275-pound frame and the ability to jump out of the gym. Or it helps to have that guy making up for the mistakes you make.
Tim MacMahon covers the Mavericks for ESPN Dallas. You can follow him on Twitter or leave a question for his weekly mailbag.
3. Daily Dime Live Recap
ESPN.com writers and TrueHoop Network bloggers chatted with fans and gave their in-game opinions throughout Wednesday's games -- all in Daily Dime Live.
---
By Maurice Brooks
ESPN.com
THURSDAY'S BEST

Howard

Dwight Howard, Magic: He is first in the league in double-doubles, shooting percentage, rebounds and blocked shots, yet few people are mentioning him as a top-three MVP candidate. He tallied 17 points, 20 rebounds and five blocked shots against the Mavericks.

THURSDAY'S WORST

Roy

Brandon Roy, Blazers: The Blazers go as Brandon Roy goes, so it shouldn't come as a surprise that they were defeated by the Nuggets. He made just 3 of 13 shots from the floor and gave out only three assists in 37 minutes.

QUOTE OF THE NIGHT

"We know how good we are. We're not cocky or overconfident or anything, but we know we can beat anybody when we play our game."

-- Magic guard Jameer Nelson after Orlando improved to 53-22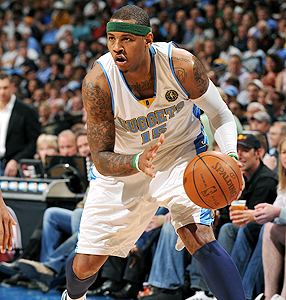 (Garrett Ellwood/NBAE/Getty)
The Nuggets had dropped five of six heading into Thursday night's game with the Blazers, but thanks to Carmelo Anthony's 25 points and five rebounds, Denver was able to post a W, 109-92.
6.

Introducing the Playoff Predictor
By John Hollinger
ESPN.com
We have a new tool to share today, the ESPN NBA Playoff Predictor -- it allows you to replay the playoffs again and again. You can set the pairings however you want and see all the potential outcomes.
You can look at the current standings or use the Hollinger Playoff Odds to set the postseason matchups. There is also an AccuScore Rankings option and a Custom Rankings option, in which you set the seedings yourself.
Better yet, you can replay it as many times as you like: I have visions of Henry Abbott doing this 674 times until it spits out Portland as the champion.
The tool is a collaboration between ESPN.com and AccuScore, and I should emphasize that it uses AccuScore's secret sauce to predict the winners, not anything in the Hollinger Power Rankings. Their simulator has some similarities, but also a few important differences -- in particular, it seems to rate teams with strong late-game performances much higher than my data does, so that Dallas and the Lakers have far better outcomes here than in, say, the Playoff Odds tool.
To read the entire blog entry, click here.
7.

Another 20-Board Game For D12

Dwight Howard pulled down 20 rebounds in Orlando's 97-82 win at Dallas. Howard has had at least nine 20-rebound games in each of the last three seasons (11 in 2007-08, 10 in 2008-09, 9 in 2009-10). Over the last 30 years, the only other NBA player with nine or more 20-rebound games in each of at least three consecutive seasons was Dennis Rodman, who had a seven-year streak from 1991-92 through 1997-98.
Howard's 20 rebounds for the Magic in its win over the Mavericks ended an unlikely streak. Before Thursday night, the last eight instances of NBA players with 20-rebound games were all by players on the losing team.
By Jeremy Wagner
TrueHoop Network

Heading into the 2009-10 season, the Portland Trail Blazers were a hot pick to challenge the Los Angeles Lakers for supremacy in the Western Conference. Brandon Roy had already proven himself to be a tremendous player and even better closer. Greg Oden was healthy and would be part of a great tandem at center with Joel Przybilla. Plus, they both fit perfectly with the perimeter play of LaMarcus Aldridge at power forward. Add in depth that most teams could only dream of and a tiny bit of playoff seasoning from the season before, and it was easy to see Portland taking another big step forward.
Fast-forward to today and things have not gone according to plan. Injuries have robbed them of any chance of contending for an NBA title, and strife in the front office has taken some of the luster off what seemed to be a model organization a few short weeks ago.
After all the talk of youth and potential, the best story for Portland may have come from a fallback plan free-agent signing and the acquisition of a creaky old center at the trade deadline.
Andre Miller was not Portland's first choice in the free-agent market. Miller was more of a last-ditch effort to find someone to take their money. At the time of the signing, it certainly seemed to be a poor fit, and speculation ran rampant that they signed Miller only to trade him at the deadline.
The fact is, Miller has been tremendous for the Blazers and has allowed Brandon Roy to avoid having to carry too much of the load. Miller, who recently turned 34, has played some of the best ball of his career this season and gives the Blazers a legitimate starting point guard for next season and perhaps beyond as he shows no signs of slowing down.
Miller was not the only nice find for Portland, as they were able to acquire Marcus Camby prior to the trade deadline. Camby is a very good fit for Portland as a center who can rebound and pass. Camby's contract does expire this summer, but he has made it known he would like to return to the Northwest to play next season.
For a team built on young talent and persevering through a difficult campaign, the good news for Blazers' fans is that both Miller and Camby should be around to help the youngsters get back into contention next season.
To read more from Wagner, check out Roundball Mining Company.
9.

Lakers Vulnerable In Round 1?
By John Hollinger
ESPN.com

Length up front? The Blazers' LaMarcus Aldridge and Marcus Camby stack up inch for inch with the Lakers' Gasol-Bynum pairing. The Spurs, of course, have Tim Duncan, one of the longest players in the league; however, they lack another rotation player with comparable size. Oklahoma City probably rates worst in this category, although secret bench weapon Serge Ibaka makes up for inches with his timing and leaping ability.
Kobe stoppers? The Blazers can throw Nicolas Batum and Martell Webster at Bryant and bother him with length -- the most reliable way to guard him since he's become so dependent on shooting post-up jumpers. The Thunder own one of the best individual defenders in the league in Thabo Sefolosha. The Spurs don't have quite as good an arsenal, with Keith Bogans the most qualified candidate. So San Antonio would be the preferred opponent in this situation.
Size up the three categories, and I think it's clear the Lakers don't want anything to do with Portland, and wouldn't be real excited to face Oklahoma City either. San Antonio is playing the best of the three teams right now, and the Spurs are always a scary proposition in the postseason ... but matchup-wise, this looks like the one L.A. can handle most ably.
It's also the most probable pairing, according to Thursday's Playoff Odds -- Portland and San Antonio both project to finish with 50 wins, but Portland's tiebreaker drops the Spurs to eighth. Conveniently enough, the Spurs also visit Staples Center on Sunday to offer us a potential preview. Take a good look, because what you see might surprise you.
The Lakers may very well avoid joining the 1994 Sonics, 1999 Heat and 2007 Mavs in the infamous group of top-seeded first-round losers, but it won't be an easy ride. That in itself is quite a statement about how the defending champs' play has fallen over the past two months. We're no longer granting them a bye into the Finals and debating whether they can repeat. Instead, we're arguing over whether they can even win a series.
To read the entire PER Diem, click here.