1. The Spurs Following Ginobili's Lead
We can't go through the rest of the buildup to this summer's free-agent frenzy without Manu Ginobili's name featured prominently among the impact players. Can't.
Ginobili is just as important to the Spurs as Kobe Bryant is to the Lakers, with one fewer championship on his résumé and about 86 million fewer dollars scheduled to be deposited in his bank account from 2011 to 2014. On Sunday, Ginobili was the impact player on the court, his 32 points on 10-for-22 field goal shooting leading the Spurs to a 100-81 victory over Bryant and the Lakers at Staples Center, in a game that made you rethink who should fear whom if they meet in the playoffs -- and made you believe the Spurs might want to hurry up and get an extension done for Ginobili before he becomes a free agent July 1.
Ginobili has been the driving force behind the Spurs' run of six victories in their past eight games, with the Cavaliers, Celtics, and Magic among the victims. He assumed some of the ballhandling duties after Tony Parker went down with a hand injury March 6, and had to run the offense for most of the second half Sunday when George Hill sprained his right ankle. All Ginobili did was score 17 points in the fourth quarter, which the Spurs owned 33-22. This after he baited Ron Artest into a little push-fest near the end of the first half that drew a double technical foul and locked the officials into Artest, which quickly led to another personal foul on him when he stayed close to Ginobili and got the Lakers on the wrong side of the officials, according to Phil Jackson.
Ginobili's all the way back from the lower leg injuries that hampered him from the 2008 playoffs through the duration of last season. As a consequence, the Spurs are back from being a team on the fringes of the playoffs to one that could do serious damage once the postseason starts. There are other factors, including Richard Jefferson's integration into the team (finally) and Tim Duncan's healthier knees. But Ginobili has been the gauge of the Spurs for some time now. As he has gone from 13 points a game and 40 percent shooting before the All-Star break to 22 points and 49 percent shooting since the big bash in JerryWorld, the Spurs have moved to within 2½ games of the No. 2 seed (with a showdown against Dallas awaiting at the end of the season).
"He had a tough first half of the year, as we all know, but he's been playing All-Star-caliber basketball for the last month," Spurs coach Gregg Popovich said. "That's the major reason why we kick-started it. Our rotations are more solid; trust on the team on both ends, execution-wise, has been better -- but Manu's play has been instrumental in us winning games."
The Spurs have almost $52 million committed to Duncan, Parker, Jefferson and Antonio McDyess next season, money that's all wasted if they don't bring back Ginobili. And Ginobili's cost is going up on a nightly basis. It's like Tyronn Lue's 2001 NBA Finals again, but extended over two months.
"Of course it's really helping me," Ginobili said. "But it's not a consequence of my free agency. I just play as hard as always. I'm in a good stretch now, I'm feeling good, shots are falling."
Now that people are clamoring for Ginobili from New York to Spain, is his preference come back to the Spurs?
"Ohhh, uhh, yeah," Ginobili said. "I've played eight great years in San Antonio. I love everybody: front office, teammates and fans. Of course. But I'll be a free agent, so I'm going to listen to everybody."
The Lakers said they got Bryant's extension finalized last week because they didn't want it to be a distraction during the playoffs. For Ginobili, there's no indication that his uncertain status has affected him or the team.
"Manu, he's just such a competitor," Popovich said. "If you told him you were going to sign him to a gazillion bucks or if you had no interest in him coming back again, he'd play the same way. It really wouldn't affect him a bit.
"I was worried earlier in the year watching him. I was worried athletically. I was worried energy-wise. He just seemed to be off. He's the Manu now that we've seen help us win championships in years past."
If he helps them win another, they've got to bring him back. The prospect of a championship seems much less preposterous than it was a month ago. The Spurs have taken down the best the league has to offer in the past couple of weeks. They'd likely have to start every series on the road, which could drain the energy from their old legs. But if any team has the mental capacity to overcome the lack of home-court advantage, it's San Antonio. The Spurs sure seemed more committed to their plan Sunday than did the Lakers, who once again turned to 3-point shots (they fired 21, hitting only five) when they couldn't work their offense.
The Spurs did their best to stay ahead of the current eighth seed Portland Trail Blazers and avoid a first-round matchup with the Lakers, which Popovich said is the main objective.
"The ones that say 'We don't care who we play,' they're full of baloney too, because we're all trying to hide from the Lakers," Popovich said. "I mean, really. 'Who do you want to play in the first round?' 'Oh, the Lakers'. What an idiot."
He reiterated that stance after the game, even though it's easy to imagine the Spurs giving the Lakers fits. They played a tough series in the 2008 Western Conference finals, which turned on a call the league later admitted was blown. They've split the four games this season, winning their two by a total of 39 points. Parker, who always gives the Lakers problems, averaged 21 points the two times he played against them, and Hill scored 21 when he played a full game in Parker's place.
Popovich says the broken bone in Parker's right hand should be healed enough for him to return between the final two games of the regular season and the first two games of the playoffs, with the April 12 game against Minnesota as the target. He said Hill, who will have further tests on the ankle Monday, "is probably going to be out a while."
That mean more work for Ginobili. And if current pattern holds, that means even more money for the Spurs to spend this summer.
J.A. Adande is a columnist for ESPN.com.
Dimes past: March 16 | 17 | 19-20 | 21 | 22 | 23 | 24 | 25 | 26-27 | 28 | 29 | 30 | 31 | April 1
2. Big Three Talk It Out
By Chris Forsberg
ESPNBoston.com

Allen
BOSTON -- Following Friday's frustrating overtime loss to the Houston Rockets, Boston's Big Three huddled for a rare postgame meal to discuss what was ailing the team.
"I thought Houston was pretty much the last straw for us. That's why we decided to go out after that game and talk about it," explained captain Paul Pierce, as Kevin Garnett nodded in affirmation at their joint postgame news conference after Sunday's 117-113 triumph over the Cleveland Cavaliers at the TD Garden.
To read the entire column, click here.
3. Bad Rivalry: Celtics-Cavaliers
By Peter May
Special to ESPNBoston.com

James
BOSTON -- It was a woof-a-thon that lasted almost three hours. It featured six technical fouls, constant jabbering, the ejection of a coach and the sight of LeBron James in the Celtics' huddle, of all places. Yes, there was basketball as well on this Easter Sunday, and for now, Doc Rivers does not need to visit Craigslist to inquire about car starters, ham carvers or personal tasters.
The Celtics avoided what would have been a monumental disaster in taking a 117-113 decision from the Cavaliers, snapping their three-game home skid. They blew a 22-point lead in the second half. They blew a 17-point lead after three quarters in the first 9:02 of the fourth. But they somehow found a way to win, with Rivers offering that "Easter is about resurrection, right?"
To read the entire column, click here.
4. Daily Dime Live Recap
ESPN.com writers and TrueHoop Network bloggers chatted with fans and gave their in-game opinions throughout Sunday's games -- all in Daily Dime Live.
---
By Maurice Brooks
ESPN.com
SUNDAY'S BEST

Allen

Ray Allen, Celtics: In a battle between two of the top teams in the East, the Celtics rode Allen's 33 points to a two-point home win against the Cavs. Allen nailed six 3-pointers, including a key one in the game's final minute.

SUNDAY'S WORST

Weems

Sonny Weems, Raptors: Toronto fell behind early and spent the rest of the afternoon trying to recover in a 113-112 loss to Golden State. Weems didn't make the situation any better, making only two of 13 shots from the floor.

QUOTE OF THE NIGHT

"I thought I did. I thought I did. My teammate robbed me, man. My own teammate robbed me. I was shocked and appalled."

-- Wizards forward Andray Blatche joking after falling one rebound short of his first career triple-double
7.

Sometimes 40 Is Not Enough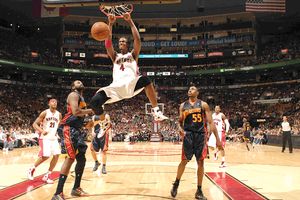 (Garrett Ellwood/NBAE/Getty)
Chris Bosh and LeBron James both shook loose to score 42 points, but it wasn't enough for the Raptors or Cavs, as both teams suffered losses.
8.

Jackson Not Happy With The Refs
By Dave McMenamin
ESPNLosAngeles.com
LOS ANGELES -- With 59.0 seconds remaining in the second quarter of the Lakers' 100-81 loss to the Spurs on Sunday, Los Angeles forward Ron Artest and San Antonio guard Manu Ginobili were called for a double technical foul after getting tangled up while the ball was waiting to be inbounded.
On the Spurs' ensuing possession, just one second of game clock later, Artest was called for a personal foul, and Kobe Bryant was then whistled for a technical foul for approaching the official during the dead ball.
All the calls were made by 25-year NBA veteran referee Bennett Salvatore, and left Lakers coach Phil Jackson in a foul mood after the game.
"Tonight they wouldn't let Ron play the way he played prior to [the technical-foul call]," Jackson said. "[Ginobili] could hook Ron; [Artest] didn't get what was going on and ended up getting too many fouls on him."
Artest finished the game with two personal fouls, plus the technical. San Antonio was leading 40-37 at the time of the double-technical call and finished the half on an 8-0 run in the final minute.
"The way we ended up the half I think turned the referees against us, and when you do that, that's an unfortunate thing," Jackson said. "Ron didn't back off and didn't read that official well enough to know you got to back off, you got to lighten the load, he's not going to take any more of that. Ginobili forced the issue and got the calls."
To read the entire column, click here.

Eight players scored in double figures for the Pacers in their 133-102 win over the Rockets: Roy Hibbert (20), Danny Granger (18), Josh McRoberts (18), Troy Murphy (17), A.J. Price (17), Mike Dunleavy Jr. (15), Dahntay Jones (11), and Earl Watson (10). It was the first time in 10 seasons that eight Indiana players scored at least 10 points in the same game. The Pacers' last such game was a victory over the Hawks on April 19, 2000.
Dwight Howard scored only eight points in the Magic's 107-92 win over the Grizzlies, but he blocked five shots and held his opposing starting center, Hasheem Thabeet, scoreless. Only two other starting centers blocked at least five shots in a game this season in which their counterpart failed to score: Andrew Bogut (versus Nazr Mohammed) and Andrea Bargnani (versus Theo Ratliff). It was the first such game of Howard's career.