1. Are The Lakers Playoff-Ready?
LOS ANGELES -- Even with
Brandon Roy
sitting out the second half with a knee injury Sunday, the
Portland Trail Blazers
still beat the
Los Angeles Lakers
. And that might be the worst thing that happened to them. By beating L.A. 91-88, the Blazers decreased their chances of facing the Lakers in the first round of the playoffs, thus decreasing the chances of facing the coldest postseason-bound team in the West, a squad with a cold-shooting superstar, shaky defensive rotations and injury concerns of its own.
Now's as good a time as any for teams to rethink the conventional wisdom that you don't want to finish in the eighth spot and play the Lakers first, or be in the 4-5 pairing that means a likely date with the Lakers in the second round. This is the exact time to play them, when Kobe Bryant's touch is gone and their swagger is diminished and we're still not certain when Andrew Bynum will return from injury and how effective he'll be.
Give the Lakers some time and they can figure it out. Perhaps they'll even raise their intensity to start the playoffs, as coach Phil Jackson promised. But they don't seem close to a remedy. Each of their three possible opening-round foes -- Portland, San Antonio and Oklahoma City -- can claim a victory over the Lakers in their last meeting. In the case of the Spurs and Thunder, convincingly. The Spurs even did it without Tony Parker, who has since returned from a hand injury.
At a lengthy postgame media session, Bryant's mood alternated between amused about some of what transpired Sunday (a play for Pau Gasol to try a game-tying 3?) and gravely serious about the upcoming postseason.
"Very concerned," he said. "It's going to be tough. It's not going to be easy. We've got a really, really tough road ahead. And I think it's important that we understand that, and I think we do. It's not something that we're taking lightly at all. We know it's going to be a dogfight. It's going to be a dogfight no matter who we play."
He discounted the lullaby edgy Laker fans are using to put themselves to sleep, that somehow this team will magically activate championship mode once the playoffs arrive.
"It's not about flipping the switch," Bryant said. "We're playing hard."
In that case, the Lakers should be even more concerned. It's as if they're trying to pose and smile for a portrait and they're still looking goofy.
Very little about Sunday's stat sheet was fluky. The Lakers had only six turnovers. They shot a low-but-not-dismal 43 percent. They got double-doubles from Gasol (23 points, 12 rebounds) and Lamar Odom (16 and 15). They also fell into their recent habit of hoisting 3-pointers even when they aren't falling, making only 5-of-22.
The biggest issue is Bryant's shooting. He was 8-for-23 Sunday, making him 21-for-70 in his past three games. Sitting out the Lakers' previous two games didn't fix the issue, which the Lakers attribute to a swollen right knee in addition to a fracture in his right index finger. He says he will play in the final two games (Phil Jackson said the rest of the starters will get their usual allotment of minutes as well).
"I've got to get out there and move around a little bit," Bryant said. "Get my legs underneath me, get moving. After having some days off, your body's trying to get some rhythm."
It's still not there, and the Lakers as a whole are as out of synch as a Tiger Woods-Steve Williams high-five. They lost to the Blazers even though Roy went down with a right knee injury in the first quarter and didn't play in the second half. And they lost in a playoff-style game, with reduced possessions and points at a premium. Even when they somewhat miraculously found themselves with a chance to win, Bryant missed two free throws and Derek Fisher missed one of two after Gasol got the rebound.
Then they made a silly foul as Martell Webster attempted a 3-pointer. Webster made all three free throws with 3.1 seconds left. Everyone in Staples Center knew the Lakers had to shoot a 3. And Jackson actually drew up a play for Gasol.
"When have you ever seen me set a damn down-screen?" said Bryant, trying to prove that Gasol was actually Jackson's first choice. "That was new. He just drew it up. I just cracked up. I cracked up."
Bryant even managed to shake his head and laugh after missing a shot during the game. He even smiled on the bench during a discussion with an official following a technical foul that Bryant received at the end of the first quarter. When I asked him if there's any humor to be found in this situation, the laugh lines quickly disappeared from his face.
"The looks that I'm getting, I'll take in a seven-game series," Bryant said. "With those kind of looks, it's going to be tough for a team to beat us four times."
The reporters surrounding his locker room stall didn't seem convinced or satisfied. There is still so much to account for. Bryant said it felt like a press conference.
Finally he announced, "I'm calling it off. Y'all got questions for days."
Seven days, to be precise.
J.A. Adande is a columnist for ESPN.com.
Dimes past: March 25 | 26-27 | 28 | 29 | 30 | 31 | April 1 | 2-3 | 4 | 6 | 7 | 8 | 9-10
2. Important Victory For The Magic
By Dr. Jack Ramsay
ESPN Radio

Howard
Sunday's game between the Cavs and Magic was strange. The Cavs started off great with a makeshift lineup (without LeBron James) and had the game in control, while the Magic, with all of their guys, never got it going early. Then, coach Stan Van Gundy finally found a lineup that worked and Orlando managed to scrape together an ugly win.
This was an important win for the Magic. Now, combined with the Lakers' loss to the Blazers on Sunday, Orlando has the second-best record in the league. If things finish this way, the Magic have the home-court advantage in the Finals if they meet the Lakers.
During the regular season, the Lakers have been considerably better at home than on the road. The Lakers don't look like a championship team when they are on the road. The Lakers need to get good contributions from all the players in the rotation, but they haven't been receiving that on the road.
As for the Magic, if they were to face the Cavs, that would be the best series of the playoffs. Orlando leads the league in field goal percentage defense, while Cleveland is not bad, either. The Cavs have LeBron James, while Orlando is deep and gets it done thanks to a lot of players. Van Gundy doesn't hesitate to go to his bench guys. He is a great coach -- one of the top three in the league.
Magic center Dwight Howard has been very good. He has improved his game dramatically from last season. He makes better moves with his back to the basket and can finish with either hand. He has shown improved footwork, is a willing passer, and doesn't turn it over when he's doubled. He finds the open man, rebounds, blocks shots and shoots a high percentage.
Dwight's only problem is his free throw shooting. In practice he can make 18 out of 20, but in games he may be thinking too much. The ball tends to come off the heel of his hands, not his fingertips.
Even though the Cavs lost to the Magic on Sunday, they played well without LeBron. I question what coach Mike Brown was doing with his rotation. The Cavs were ahead, lost it and then got back into it, and then Brown finished the game with a weird lineup. It was almost like didn't want to win a very winnable game.
When it comes down to it, this was a game between two of the top three teams in the league (L.A. is the other).
Dr. Jack Ramsay is a regular contributor to the Daily Dime.
3. Daily Dime Live Recap
ESPN.com writers and TrueHoop Network bloggers chatted with fans and gave their in-game opinions throughout Sunday's games -- all in Daily Dime Live.
---
By Maurice Brooks
ESPN.com
SUNDAY'S BEST

Amare

Amare Stoudemire, Suns
Phoenix knocked off Houston thanks to its 3-point shooting, but Amare set the tone by posting 35 points, 13 rebounds and three blocked shots. The Suns have won seven straight home games.

SUNDAY'S WORST

Martin

Kevin Martin, Rockets
He played only 22 minutes, but that didn't stop him from squeezing off 12 shots, making just two, in a loss to the Suns. The high-scoring guard finished with just eight points.

QUOTE OF THE NIGHT

"I was the doctor on that one. I decided against it."

-- Heat guard Dwyane Wade on declining to take an X-ray after a fall against the Knicks
6.

Durant's 40 Not Enough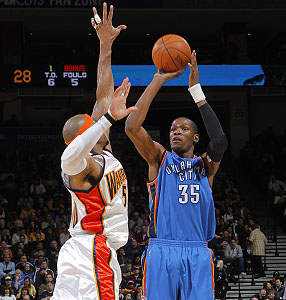 (Rocky Widner/NBAE/Getty)
Kevin Durant fired in 40 points and grabbed 10 rebounds, but he missed a 3-pointer at the buzzer in the Thunder's 120-117 loss to the Warriors.
7.

Bulls In Driver's Seat
By Nick Friedell
ESPNChicago.com

Noah
TORONTO -- With two games remaining in the regular season, the Chicago Bulls once again control their own destiny. But just because they knocked off the Toronto Raptors on Sunday night doesn't mean they have secured a playoff spot, and coach Vinny Del Negro knows it. He knows how up and down his team has been all year and he isn't about to concede anything.
"We just got to win," he said. "We've got to focus in on Tuesday [against the Boston Celtics]. There's nothing easy. We know what we have to do. It's not going to be easy. We put ourself in this situation, now we've got to handle it. Tonight was a good step for us."
To read the entire blog, click here.
8.

Barron A Keeper For Knicks
By Chris Sheridan
ESPN.com

Barron
NEW YORK -- Great news, Knicks fans: A 7-footer with a championship ring in his safe-deposit box is signing with New York on Monday after producing his second double-double in the past six days Sunday.
OK, maybe that's not quite such a cause for rejoicing, so pardon the hyperbole. But Earl Barron has been the most productive low-post 7-footer we've seen in these parts in a good three years, and he'll be in the pivot for New York's final two games -- at home Monday against Washington and at Toronto on Tuesday -- after the Knicks decided to re-sign him for the remainder of the season following the expiration of his 10-day contract Sunday.
To read the entire blog, click here.

Roy
Portland Trail Blazers guard Brandon Roy will miss Monday night's game against the Oklahoma City Thunder because of a right knee injury he suffered against the Los Angeles Lakers on Sunday.
Roy had an MRI exam on his right knee after the team returned to Portland Sunday night. The Oregonian, citing an unnamed team source, reported that Roy has a bone contusion.
In text messages to ESPN.com, Roy confirmed he will not play Monday, but said a final diagnosis has not been made because a radiologist was unavailable to look at the MRI results.
To read the entire story, click here.