1. Camby Steps Up For Blazers
By John Hollinger
ESPN.com
PORTLAND -- It's an ongoing theme of the Blazers' season: Every piece of bad news has been greeted with an unexpected bolt of energy that seemingly came out of nowhere. When they lost Greg Oden for the season, they rallied to beat Houston. When they lost Joel Przybilla just 18 days later, they beat Dallas on the road. They lost Brandon Roy three times, and responded by beating San Antonio, Orlando and the Lakers.
So Monday, when the Blazers found out Roy's "bone bruise" was actually a torn meniscus in his knee that would probably end his season, we shouldn't have been surprised how they reacted. Portland started slow but stormed back from en eight-point halftime deficit with reserves of energy that didn't seem possible, and won a crucial playoff seeding battle with Oklahoma City, 103-95.
"The rest of our guys are raising their level of play," said Blazers coach Nate McMillan. "It's been a total team effort."
Wait, it gets better: 36-year-old Marcus Camby had game highs of 30 points and 13 rebounds. To put this in perspective, his last 30-point game came on Dec. 2 -- that would be Dec. 2, 2005. He couldn't even remember it.
And yet the numbers sell Camby short. His biggest contribution wasn't his scoring but his near-constant effort at the defensive end. The signature play came midway through the fourth quarter when he picked up guard Eric Maynor on a switch, knocked the ball out of Maynor's hands, and then dove on the floor to corral the loose ball and flip it back to Andre Miller. The play ignited a 17-4 run that Camby bracketed with a dunk and a tip-in.
The Blazers' crowd roared its approval at the end with a "Mar-cus Cam-by" chant, something that's common in New York but I've never heard in Portland -- and I've been going to Blazers games since 1995.
"I haven't heard anything like that since I was at the Garden," said Camby. "But they should have been chanting the whole team's name. They weathered the storm without B-Roy tonight, being down eight at halftime."
By winning, the Blazers banished the Thunder to the No. 8 seed and a first-round matchup against the defending champion Lakers. Of course, in a season full of irony, the Blazers' most likely reward is a first-round meeting with either Denver or Utah, a pair of teams they've beaten just once in eight tries. Portland may have the No. 6 seed clinched before they take the court on Wednesday, as they'll own it if San Antonio loses to Dallas in a game that starts 2½ hours earlier.
They'll deal with that another day, however. For now, the story is how the Blazers once again stared adversity in the face and prevailed. Camby led the way, but veteran guard Andre Miller was nearly as important. He dominated his matchup with Oklahoma City's Russell Westbrook, scoring 22 points and twice picking Westbrook to set up transition baskets. Westbrook committed five turnovers and finished without an assist for the first time this season after producing at least three in every other contest.
That, in turn, takes us to the underrated story about Camby's arrival: his impact on Portland's defense. The Blazers are now 16-3 in the last 19 games Camby has played, and in those 19 games only three opponents have hit the century mark; seven of the last 10 have failed to hit 90.
"I think our defense the last month-and-a-half has been tremendous," said Camby. "We've been holding teams way below their scoring average and their field goal percentage."
For the Blazers, the road ahead doesn't get any smoother. They'll have to soldier through the playoffs without Roy, most likely, and without home-court advantage. While Roy talked bravely about postponing surgery on his knee and trying to play at some point during the postseason, his injury normally requires surgery and 4-6 weeks of recuperation. His returning to uniform seems a long shot; his being able to perform anywhere near his former level seems even longer.
"It's just something we've had to deal with all year long," said Blazers coach Nate McMillan, whose team has lost a whopping 307 games to injury. "We'll rest him this week and see if he can do something."
For now, however, they'll savor one more sweet victory that defied the odds and, in the process, clinched a 50-win season -- an important goal that Blazers staffers had been talking about for a while. The Blazers may yet go down as a result of all these injuries, but they sure aren't going quietly.
John Hollinger covers the NBA for ESPN Insider.
Dimes past: March 25 | 26-27 | 28 | 29 | 30 | 31 | April 1 | 2-3 | 4 | 6 | 7 | 8 | 9-10 | 11
2. Ode To The Swamp
By Chris Sheridan
ESPN.com

Williams
EAST RUTHERFORD, N.J. -- The young fellow who scored the final NBA points at the Meadowlands was surprised to hear that he shares the same last name with the guy who scored the first two points at what was then known as Brendan Byrne Arena.
Surprised, but not dumbfounded.
Because if there is one thing Terrence Williams learned in college from Louisville coach Rick Pitino, it was to respect the elders, including former Net Buck Williams, who made it possible for Terrence's generation to earn millions.
"He would talk about all the older guys he thought were great -- Buck Williams, Bernard King, Junior Bridgeman, Dr. Dunkenstein [Darrell Griffith], stuff like that. So you've got to get a little history class before you actually get to play for him," Williams said.
Williams became the answer to a trivia question on an evening when Larry Brown also achieved a rare feat as the Charlotte Bobcats defeated the New Jersey Nets 105-95 Monday night in the final NBA game to be played at the Meadowlands.
Brown ended up being the winning coach of the final game, which is especially noteworthy since he was the coach of the losing team, the Nets, when the building first opened in 1981. (The Nets opened 0-4 that year before winning their first game, with current Hawks coach Mike Woodson icing the victory with a pair of free throws -- one of the highlights that was shown on the Meadowlands' outdated overhead scoreboard on a night of nostalgia at the arena unofficially and not-so-affectionately known as "The Swamp.")
To read the entire column, click here.
3. D'Antoni Gets A Failing Grade
By Ian O'Connor
ESPNNewYork.com

Gallinari
Mike D'Antoni was going to improve the product, at least that was the plan. He was going to entertain the fans with his helter-skelter approach, make the Knicks watchable and credible until they signed some real talent in the summer of the city's wildest hoop dreams.
Knicks president Donnie Walsh said so when he hired him. At the introductory news conference, Walsh maintained D'Antoni was the coach "to get our team playing the right way," a prerequisite to seducing free agents who otherwise might be turned off by a franchise showing an alarming lack of hustle and heart on the floor.
To read the entire column, click here.
4. Daily Dime Live Recap
ESPN.com writers and TrueHoop Network bloggers chatted with fans and gave their in-game opinions throughout Monday's games -- all in Daily Dime Live.
---
By Maurice Brooks
ESPN.com
MONDAY'S BEST

Camby

Marcus Camby, Blazers
With Brandon Roy out of the lineup, the Blazers received the All-Star's offensive production from an unlikely source. Camby scored a season-high 30 points and grabbed 13 rebounds to push Portland to a 103-95 win against the Thunder.

MONDAY'S WORST

Flynn

Jonny Flynn, Wolves
The rookie point guard shot 1-for-7 from the field, finishing with five points in a loss to the Spurs. Minnesota (15-66) finished 5-36 on the road and needs a win on Wednesday to avoid tying the franchise record for fewest victories in a season.

QUOTE OF THE NIGHT

"It's disappointing losing the last game at Izod, but it's been like that for us all season."

-- Guard Devin Harris after the Nets fell to the Bobcats in the final game at Izod Center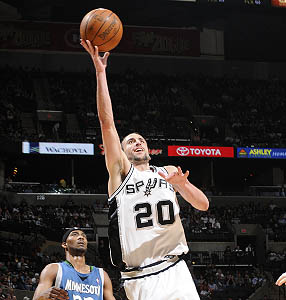 (D. Clarke Evans/NBAE/Getty)
Manu Ginobili and the Spurs raced out to a big early lead and didn't look back on the way to a 133-111 win over the Wolves. San Antonio has won at least 50 games for 11 straight seasons.
By Kevin Arnovitz
ESPN.com

Butler
On the surface, the big trade -- which brought Brendon Haywood, Caron Butler and DeShawn Stevenson to Dallas in exchange for Josh Howard, Quinton Ross, Drew Gooden and James Singleton -- has been conclusively positive for the Mavericks. Prior to the deal, the Mavericks were 32-20 -- respectable by any stretch, but hardly contender material.
Post-trade, Dallas has been an entirely different team. They've compiled a 22-7 record since the arrival of Butler, Haywood and Stevenson. Soon after the deal, the Mavericks ran off 13 consecutive wins, vaulting them to the top of the Southwest Division.
By and large, the trade has produced the intended consequences for Dallas. Entering Monday night's action, Dallas' offensive efficiency after the trade is 108.2 points per 100 possessions; before, it was 107.6 . Defensively, the improvement has been even more pronounced. Before the deal, Dallas allowed a respectable 105.8 points per 100 possessions. Since the deal, that number has dropped to 104.5. On both ends of the floor, Dallas has made progress. Their true shooting percentage has grown from 55.1 percent to 55.5. In turn, their opponents are having a marginally tougher time -- a drop from 53.7 to 53.4 in true shooting percentage.
Haywood's presence was supposed to help Dallas on the glass, but whether it's his limited minutes or Erick Dampier's prolonged absence, the Mavericks have actually suffered a bit on the boards -- particularly on the offensive end. Prior to the trade, Dallas collected 24.9 percent of all available rebounds on the offensive end; since the deal, only 23.7 percent. Under the opposing basket, the drop-off has been negligible, from 73.7 to 73.4.
But here's where the stats fail to tell the whole story. The Mavs have lost only seven times since Butler, Haywood and Stevenson set up shop in Dallas, but when the Mavs lose, they lose ugly. None of those seven losses since the trade has been closer than nine points -- six of the seven by double digits. (In contrast, Dallas beat only one opponent during the streak by greater than 10 points.) This collection of blowouts has skewed the Mavs' spreadsheet. Reduce the cataclysmic effect of, say, the Mavs' 128-94 stink bomb against New York and others like it, and the picture appears much rosier.
What's the takeaway from all this? Dallas' mean stats since the deal might not give you the impression of a team that has improved dramatically, but the median Dallas Mavericks effort shows a team that is shooting better and making it harder for opponents to score. Now that their frontline is getting well, look for those rebounding numbers to follow.
By John Hollinger
ESPN.com

Because of an upset on Monday, we may know all the West pairings before much has been settled in the East. The Thunder's 103-95 loss to Portland not only sets the Lakers-Thunder matchup as the 1 vs. 8 pairing in the West, it also takes much of the starch out of Wednesday's Dallas-San Antonio game. The Spurs have basically nothing to play for -- if they lose they're No. 7, and if they win they're probably still No. 7 since Portland only needs to beat Golden State at home in the season finale on Wednesday to get the No. 6 seed.
To read the entire entry, click here.