1. Tony Allen Turns Tide With Defense On Wade
By Chris Sheridan
ESPN.com
BOSTON -- By the time the pushing, shoving, elbowing and jawing commenced late in the fourth quarter, and well before Quentin Richardson dismissed Paul Pierce and Kevin Garnett as "actresses," it was already too late for Dwyane Wade and the Miami Heat.
He, and they, had already had the life squeezed out of him by Tony Allen, the designated defensive specialist on one of the league's most intense defensive-oriented teams.
For the first 27½ minutes, this game was all Miami. For the final 20½, it was all Boston -- and all because of the lesser-known of the Celtics' two Allens, the one without the sweet jump shot, the nine All-Star appearances and the Jesus Shuttlesworth movie role on his résumé.
That other Allen, the one named Tony, put on a display of defensive proficiency against Wade that rendered the superstar a non-factor for a key long stretch of the second half as Boston came back from a 14-point deficit and defeated Miami 85-76 on Saturday night in a game that featured a full-blown skirmish (not a fight, however, since there needs to be at least one punch thrown to qualify for a fight) with 40 seconds left that prompted Q-Rich to go after Pierce and Garnett afterward with everything short of a wheelchair reference.
But by then, this one was decided. And Allen was the reason why.
When Allen checked in with 6:30 left in the third quarter, Wade had just reached 20 points by hitting a 7-foot floater, giving him 10 points in the period and putting Miami ahead 61-47.
The next time Wade scored from the field, only 1:26 remained in the game, and Boston had gone ahead by eight. For those especially fond of plus-minus stats, that's a plus-22 in a stretch of 17 minutes -- a stretch when Rajon Rondo found a way to regain his energy, Garnett rediscovered some lift in his legs, and the entire Celtics team refamiliarized itself with the one character trait -- defensive intensity -- that has fueled its three-year run as one of the NBA's elite teams.
Tony Allen was never considered all that much of a key player over the course of those three years, but Boston coach Doc Rivers had turned to him more and more as this season wore on and he lost faith in Marquis Daniels.
And when Rivers called Allen's number to put a stop to what Wade was doing, which was everything, he was able to turn to a player with some newfound experience and confidence stored upstairs.
In hindsight, it probably didn't hurt that Allen had spent the better part of the previous two days cramming, watching film and studying Wade's tendencies instead of practicing with his teammates after Allen came down with a case of boo-ray flu (more on that particular strain in a moment).
"I watched a lot of film, listened to [assistant] coach Tom Thibodeau and basically tried to learn their sets. They run a lot of sets that put him in the pick-and-roll, and if you don't have your antennae up while he's got that ball, he can do a lot of stuff with that ball. We just tried to lock in on him and try to let their other guys beat us. There's no taking nothing from him. He's got everything, a lot of attributes. He can drive, he can shoot, he cuts, rebounds, steals. He does everything. The whole thing is just going out and competing with him, and that's just how I looked at it today."
The Celtics knew they'd need a competitive boost from somebody after spending the past two days watching Rondo vomit because of the flu.
Rivers said Rondo was unable to keep any solids or liquids in his stomach throughout the day Friday before improving on game day to the point where liquids -- but still not the solids -- were staying down. (Glen Davis also caught the flu, and Rivers mentioned that the only players who caught it were the ones who play cards together. Allen later clarified that it should not be called "poker flu," because the card game the three play is boo-ray, aka Bourre, a variation of spades and euchre that is especially popular among NBA players.)
It was noticeable that Rondo ran out of juice early in a first half in which the Heat controlled the boards and the pace of play, but Rondo got the crowd back into the game when he flicked an alley-oop pass toward Garnett at the rim, and Garnett was able to summon enough leap out of his still-sore legs to slam this one down. That play came four minutes after Allen checked in to defend Wade, and it got the Heat's lead down to three.
Boston finally tied it with 9:41 left in the fourth, and went ahead for good on the next possession when Glen Davis converted a three-point play off an assist from Rondo.
Moments later came the possession by Miami that defined its final quarter and a half, Wade getting the ball out on the right perimeter, isolated against Allen, whose hand was in Wade's face as his 3-point attempt sailed a good two feet left of its target.
By then, it had been a full 12 minutes since Wade had scored a single point.
The only thing resembling one was the fracas right next to the Miami bench that happened when Pierce fell out of bounds, Garnett came over to check on him, and Richardson walked over and said something to Garnett that infuriated him.
"He started to talk to me, so I talked back," Richardson said. "I don't have any business talking to [Pierce]; he was on the ground crying. I don't know what was going on -- two actresses over there, that's what they are. …
"I don't like them, and they know it," Richardson added. "Sometimes [Pierce] falls like he's about to be out for the season, and then he gets right up. That's all I said."
Garnett, who appeared to throw an elbow, was ejected for a double-technical, and Richardson, Davis and Udonis Haslem all drew technicals.
It took a good eight to 10 minutes to sort the whole mess out with the assistance of video replay, but that only prolonged Miami's agony. This game had been theirs just a short time earlier, but then Tony Allen showed up and turned into a latter-day version of Dennis Johnson. One prolonged lockdown of D-Wade later, Game 1 was Boston's.
ESPN Insider Chris Sheridan is a regular contributor to the Daily Dime.
Dimes past: March 29 | 30 | 31 | April 1 | 2-3 | 4 | 6 | 7 | 8 | 9-10 | 11 | 12 | 13 | 14
2. Did Shaq Find The Fountain Of Youth?
By Chris Broussard
ESPN The Magazine

O'Neal
CLEVELAND -- He is supposed to overpower you, dip his shoulder into your chest, take away your wind and your will, and dunk ferociously as you tumble to the floor. After all, 325 pounds is 325 pounds, two months off or not.
But finesse? Spin moves that leave opponents tottering like a tenpin as he rolls to the cup? Shimmy shakes that send a defender who's (almost) young enough to be his son stumbling like a man who's had too much scotch?
Those days are supposed to be over.
But Saturday, in the opening act of the biggest postseason in Cleveland Cavaliers history, Shaquille O'Neal defied age and reason. In his first game since Feb. 25, The Big Aristotle, The Big Witness Protection, Shaq Diesel -- let's just call him The Man With Many Nicknames -- shook off rust like Adrian Peterson shaking off would-be Cleveland Browns tacklers in the Cavs' 96-83 victory over Chicago.
His line in the box score wasn't the most impressive, certainly not for an all-time great of his stature. But the way he ran the court, the crispness of his post moves, the seamless way in which he fit into the offense, even the look of his body, all spelled P-R-O-B-L-E-M-S for Cleveland opponents. Shaq is back, and in some ways, it looked as if he and his Cavaliers teammates hardly missed a beat since he went out with that sprained right thumb in late February.
To read the entire column, click here.
3. Bulls Not A Threat To Cavaliers
By Melissa Isaacson
ESPNChicago.com

Rose
The thing about one-sided matchups like the first-round Cleveland Cavaliers-Chicago Bulls playoff series is that they can deceive. For it was when the Bulls looked their best Saturday that their chances looked the worst.
Cleveland ended up winning 96-83, but the score was immaterial. The Cavs maintained a lead that hovered around 16 in the second quarter, then built it to 22 in the third before becoming bored long enough for a seven-minute scoring drought to allow the Bulls to climb to within single digits in the fourth.
The Bulls will tell themselves that if they can just shore up their poor shooting, improve their offensive rebounding and maybe jack up their intensity, they can be right back in this series.
But they will be wrong.
To read the entire column, click here.
4. Daily Dime Live Recap
ESPN.com writers and TrueHoop Network bloggers chatted with fans and gave their in-game opinions throughout Saturday's games -- all in Daily Dime Live.
---
By Maurice Brooks
ESPN.com
SATURDAY'S BEST

Anthony

Carmelo Anthony, Nuggets
He scored early and often on the way to a playoff career-high 42 points, plus four rebounds and five assists, to power the Nuggets to a 126-113 victory against the Jazz.

SATURDAY'S WORST

O'Neal

Jermaine O'Neal, Heat
If the Heat are going to upset the Celtics, they are going to need a bigger offensive game from their former All-Star, who made just three of 14 shots from the field, finishing with eight points.

QUOTE OF THE NIGHT

"I don't have any business talking to [Pierce]; he was on the ground crying. I don't know what was going on -- two actresses over there, that's what they are."

-- Miami's Quentin Richardson after his scuffle with Kevin Garnett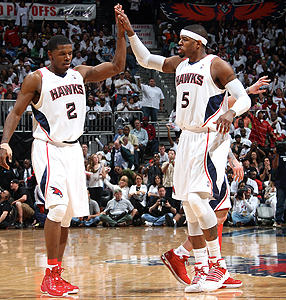 (Scott Cunningham/NBAE/Getty)
Joe Johnson and Josh Smith had solid games for the Hawks, who raced out to a 22-point lead at halftime and cruised to a Game 1 victory against the visiting Bucks.
8.

Jennings Stars In Playoff Debut
By Ric Bucher
ESPN The Magazine

Jennings
ATLANTA -- Brandon Jennings' shoes and the entire Milwaukee Bucks team were tight going into Game 1 of their first-round series with the Atlanta Hawks.
The shoe problem was an easy fix. Jennings switched out of his black Under Armours into a pair of low-cut white ones and poured in 34 points in his playoff debut, two shy of the record for a rookie, which is shared by Kareem Abdul-Jabbar and Derrick Rose.
"The white ones made me feel faster," Jennings said.
Loosening up everyone else took considerably longer, which is why, despite outscoring the Hawks 52-40 in the second half, Milwaukee is down 1-0 in the series after a 102-92 loss.
"It just seemed like we were scared to shoot," Jennings said. "It didn't sink in that we were in the playoffs until they were kicking our butts. But coming into the locker room after the game, we were hyped. We feel like we can compete with this team."
The Hawks pounded the Bucks by taking advantage of center Andrew Bogut's absence. Bogut was on the Milwaukee bench with his right arm, mangled on April 2 against the Suns, encased in both a cast and a heavy metal brace. Hawks forward Josh Smith and center Al Horford took turns posting up Carlos Delfino and Kurt Thomas, respectively, and scoring at will. It took a full half before the Bucks started executing coach Scott Skiles' antidote -- pressuring the entry pass, digging once the post man made his move and forcing him to catch farther from the basket.
Jennings scored at will, too, but he was clearly feeling the pressure of his first postseason appearance. He's usually glib and personable, but his comments were rushed and clipped beforehand.
A scrambling runner that just beat the shot clock for Milwaukee's second basket got him rolling. Perhaps most impressive, he made 15 of 24 shots (62.5 percent), a major improvement over his regular-season pace of 37 percent.
He also kept coming at the Hawks, even though those misses included at least three shots swatted.
"I don't think he's a rookie," Horford said. "He started aggressive and he stayed that way. Usually guys get discouraged after they get their shot blocked, but he kept coming. He showed he can play with anyone."
9.

Jazz Have No Answer For Melo
By Kevin Arnovitz
ESPN.com

Anthony
DENVER -- Before tipoff, Utah Jazz head coach Jerry Sloan recognized the challenge of containing Denver Nuggets forward Carmelo Anthony. Sloan dryly lamented that the daunting task would be a lot easier if longtime Jazz defensive nuisance Matt Harpring were still around.
The quasi-retired Harpring was just one of many incapacitated bodies Sloan could have used to slow down Anthony. Lanky forward Andrei Kirilenko could've helped, but he's out for the series with an injured calf. Defensive specialist Tyrone Corbin would've been extremely useful, but the retired swingman hasn't suited up for Sloan since 1994. Instead, Utah had to rely on a platoon of younger, less experienced defenders to cover Anthony.
The results weren't pretty: Anthony walloped the Jazz with 42 points in Denver's 126-113 win over Utah.
"Melo was great," Nuggets guard Chauncey Billups said. "I could just see it early in the game. He wasn't even hitting the rim."
Early, middle, late -- it didn't matter. Anthony set up shop on the right side of the floor for the duration of the evening and torched the likes of C.J. Miles and Wesley Matthews, hitting 18 of his 25 shots from the field. When he wasn't pulling up in transition and knocking down 18-footers, Anthony was taking Utah's overwhelmed defenders off the dribble. And when he wasn't posting up poor Ronnie Price on a mismatch, Anthony was kicking the ball out to a flashing Kenyon Martin at the foul line.
Anthony was asked to explain what inspired his virtuoso performance.
"It's the playoffs," Anthony shrugged. "I told myself that in order for us to succeed in the playoffs, it's going to come down to me. I know I shouldn't tell myself that, but me being the leader of this team, I have to set the tone. Tonight, I wanted to do that."