1. Turning Back The Clock
By John Hollinger
ESPN.com
PHOENIX -- It's common to think of the Portland Trail Blazers as a young team, and for the most part they still are. But Sunday, a pair of old geezers with a combined age of 70 -- 36-year-old Marcus Camby and 34-year-old Andre Miller -- helped the Blazers to a 105-100 Game 1 upset of Phoenix, providing the first genuine drama of the 2010 playoffs.
Miller dominated offensively with 31 points and eight assists, exploding for 15 points in the deciding fourth quarter. The highlight was a 3-pointer with 4:28 remaining in which the career 20.9-percent shooter held his snapped wrist up for effect as if he were another Miller from L.A. -- one named Reggie. His rare triple gave Portland an 88-87 lead it would never relinquish, kicking off a 14-5 run over a three-minute span that all but put the game away.
"We talked about forcing the issue a little bit and not relying on jump shots," said Miller. "I was just trying to get the ball upcourt before they could set their defense and force some mismatches."
"He did a fantastic job," said Suns coach Alvin Gentry. "He is one of those guys that is very comfortable with the basketball in his hands as far as backing down and making plays. He's not a great outside shooter, but he controls the game with his isolation. We've got to do a better job of guarding him and we've got to do a better job coming down on him like we're supposed to. We had some breakdowns in that area."
Miller had to save the game one more time at the end, making the game-icing free throws with 3.7 seconds left after some loose foul shooting by the Blazers in the final 90 seconds gave the Suns a chance to tie the game late. But Steve Nash's long 3-point attempt with five seconds left hit the front of the rim and bounced away, and the Blazers had the win.
Portland made six trips to the line in the final 90 seconds, but only Miller produced two points -- the other Blazers missed six of eight to make the final seconds far more interesting than they should have been. When Jerryd Bayless bricked a pair with 12 seconds left and the Blazers leading 103-100, the Suns had a chance to tie. However, without a timeout the Suns couldn't get a great look. Nash dribbled across half court behind a double screen and fired for the tie from well beyond the line but couldn't send the game to OT.
Yet it was Camby who arguably had an even greater impact. Going against the league's top-ranked offense, the veteran shut down top scorer Amare Stoudemire and dominated the defensive glass. Camby scored only four points, but finished with 17 rebounds and three blocks while playing on a gimpy ankle that he rolled in practice on Saturday.
While Camby acted his age on a couple of late-game plays -- missing two free throws with 1:21 left and then a breakaway dunk with 50 seconds remaining that could have put the game away -- by then he'd already done his damage.
Camby's biggest play came just seconds earlier, when he stole the ball from Stoudemire on a left-block isolation with 1:29 left and the Suns down five. Just prior, he teamed with Miller on a similar play to draw a charge on Stoudemire, after Camby had forced the right-dominant Stoudemire left and into an awkward shot attempt that sent him crashing into a rotating Miller. For the night, Stoudemire had 18 points on 19 shots, committing four turnovers and handing out just two assists.
"He's a long guy and does an excellent job of blocking shots," said Gentry. "So Amare is going to have to step it up and find a way to score for us, and we've got to get him the ball in a good location."
"They did a phenomenal job defensively," said Stoudemire, "They clogged up the lane there a little bit so it was kind of difficult to get in our offense."
The upgraded defense continued a late-season trend for Portland. The Blazers went 16-3 down the stretch in games played by Camby, including Brandon Roy-less victories over the Lakers and Thunder. Only three of those 19 opponents hit the century mark, and while Phoenix just scraped over the line Sunday, the Blazers held the Suns to 41.8 percent shooting and eliminated their transition game (only four fast-break points).
As one Blazers spy pointedly told me before the game about the trade that brought Camby to Portland, "We thought he was a good player. He's a very good player."
For the Suns' part, they insisted that they can play better and perhaps they're right. Phoenix made only 11-of-32 from 3-point range after leading the league in the regular season at 41.2 percent. As if to drive home that point, Nash said, "We just didn't play well" four times in his postgame press conference.
However, one wonders if there's something deeper that favors Portland in this matchup. The Blazers won two of three in the regular season, including once without Roy, and now have stolen home-court advantage from the Suns in this playoff series. While it's still early, the game played out almost exactly like the team's three regular-season meetings. And as long as the Blazers' two old guys keep leading the way, they seem like the team best-poised to break the favorite's monopoly on the first round.
John Hollinger covers the NBA for ESPN Insider.
Dimes past: March 30 | 31 | April 1 | 2-3 | 4 | 6 | 7 | 8 | 9-10 | 11 | 12 | 13 | 14 | 17
2. How To Keep Howard Off The Floor
By Ric Bucher
ESPN The Magazine

Howard
ORLANDO -- If All-Star center Dwight Howard has to be on the floor for the Magic to win an NBA title, the Charlotte Bobcats provided the blueprint for keeping him off it. Actually, the blueprint has been utilized before. The Bobcats simply proved it still works by limiting Orlando's leading scorer to five points and seven rebounds in 28 foul-plagued minutes. It might've been less, but when the Bobcats closed to within six with 5:19 left, coach Stan Van Gundy put Howard back on the floor with five fouls. He survived to the end, as did the Magic, 98-89, thanks to 32 points from Jameer Nelson. But, in spite of all the happy chatter about Howard's nine blocked shots, it had to be troubling to see their anchor reduced to role-player status.
For while the Cats might not have enough bricks and mortar to actually build a series upset from the blueprint, there's a good chance some other team in the East does.
The Plan, Part I: Double-team or crowd Howard early.
"Keep the ball out of his hands and he'll get frustrated," says Bobcats center Tyson Chandler. "If you get him frustrated, then he'll force things."
It took Howard nearly 3½ minutes to get his first shot, and when he did, Theo Ratliff immediately fouled him and Stephen Jackson suggested he get used to it.
Part II: Make Howard earn his points with that iffy 59.2 percent free throw stroke. Howard's first free throw was wide left, nearly missing the rim. The second was not nearly as wide, but still missed. He would finish 1-for-6. Adding a few more ticks to the Frustration Meter.
Part III: Make him earn every inch of ground and air space near the paint. Howard, tangled up with Chandler, swung his arms in frustration and picked up a second foul with 30.6 seconds left in the second quarter.
"Their big guys are going to hit him every chance they get," said Van Gundy. "And if they get one foul in retaliation, they've done their job. He can't get any of those."
Part IV: Challenge him at the rim. Eight of those blocks were in the first half. Charlotte's aggression finally paid off when drives by Gerald Wallace and Jackson drew Howard's third and fourth fouls 27 seconds apart in the third quarter. A lead that had grown to 22 then shrunk to 10 by the end of the period with Howard watching.
"I was frustrated," Howard said. "Defensively, I just tried to help my team out. I told my guys, 'Don't foul them. Send them to me.' And that's what they did."
But that's not what Van Gundy wants, at least not often enough for the Bobcats to outscore the Magic in the paint 38-26. "They can't be coming at him 25 to 30 times a game," Van Gundy said. "It's just going to be tough to avoid fouls if that's the situation."
When asked how he might avoid the ticky-tack frustration fouls, Howard said, "Good question," but didn't have an answer. Nelson rescued him again.
"Not get frustrated," said Nelson. "Once he gets frustrated, he flails. As a point guard, I have to be in his ear the whole game, the whole series. We don't need those fouls."
They also need Howard to figure that out.
Ric Bucher is a senior writer at ESPN The Magazine.
3. Nowitzki Comes Through For Mavs
By Jeff Caplan
ESPNDallas.com

Nowitzki
DALLAS -- If Sunday night was Dirk Nowitzki getting lucky, then San Antonio Spurs coach Gregg Popovich will have to come up with something more creative and a whole lot more effective than his third-quarter Hack-a-Damp for when Nowitzki is just plain good.
It was Nowitzki who called himself lucky, mentioning really just a few off-balance toss-ups early on that found the bottom of the net. Then just about everything he touched ripped nylon in a huge 36-point effort on just 14 shots.
Nowitzki made 12 of them and he drained all 12 of his free throws. That's a final tally of 26 shots, 24 buckets and one perturbed Popovich, who mostly tried, unsuccessfully so, to employ single coverage on the Dallas Mavericks' star. A few attempts at double coverage turned into a Mavericks layup drill, and ultimately Pop took out his frustrations on the mediocre foul-shooting big man Erick Dampier in Dallas' 100-94 Game 1 victory at American Airlines Center.
"We wanted to put him at the line," Popovich said of the stiff-shooting Dampier, "and hoped he would miss free throws rather than Dirk killing us the way he was."
To read the entire column, click here.
4. Daily Dime Live Recap
ESPN.com writers and TrueHoop Network bloggers chatted with fans and gave their in-game opinions throughout Saturday's games -- all in Daily Dime Live.
---
By Maurice Brooks
ESPN.com
SUNDAY'S BEST

Nowitzki

Dirk Nowitzki, Mavericks
He wasn't perfect, but he was really close. Nowitzki went 12-for-14 from the field and 12-for-12 from the line on the way to scoring 36 points as Dallas knocked off San Antonio in Game 1.

SUNDAY'S WORST

Stoudemire

Amare Stoudemire, Suns
Phoenix was minus-16 with their All-Star on the floor. He finished with four turnovers and six fouls and was held to 18 points, five below his season average of 23 points per game.

QUOTE OF THE NIGHT

"I was frustrated. I was missing shots I normally make. They felt good leaving my hand."

-- Thunder guard Kevin Durant after going 7-for-24 in his postseason debut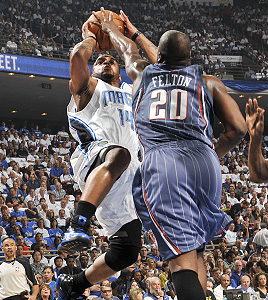 (Fernando Medina/NBAE/Getty)
With Dwight Howard struggling to score points, the Magic turned to Jameer Nelson to carry the offense and the guard didn't disappoint, scoring 32 points in Orlando's win against Charlotte.
8.

Jefferson Gets A Failing Grade

Jefferson
DALLAS -- Publicly unloading on his players already? After a six-point road loss in Game 1 of the first round?
That seems early even for the famously volcanic Gregg Popovich.
Yet when it comes to the struggles of Richard Jefferson -- who sits at the forefront of the San Antonio supporting casters who so enraged their coach in Sunday's 100-94 loss to the Dallas Mavericks -- what we heard from Pop at the postgame podium was almost certainly a season's worth of frustration spilling out.
This series with their familiar in-state rivals is only just starting, but the Spurs have been waiting more than six months for their expensive trade gamble on Jefferson to pay off with a reasonable degree of frequency. The onset of the playoffs, however, did not spawn a new Jefferson, who regressed to a virtual nonentity in his Spurs postseason debut.
While his old New Jersey pal Jason Kidd was threatening to record a triple-double (13 points, 11 assists and 8 rebounds) in support of Dirk Nowitzki's ridiculously efficient 36 points on 14 shots, Jefferson managed just four points (on a layup and a couple free of throws) in 32 quiet minutes.
"I think we've got to have a few more people step up and play worth a damn," Popovich said. "I thought we had a lot of guys that played like dogs."
It was the sort of biting commentary that only a few coaches in this league -- Phil Jackson and Jerry Sloan might be the only others -- can deliver without repercussions. It also couldn't have helped Pop's mood that George Hill tried to play on his injured ankle and lasted only 18 scoreless minutes before it became clear that he's not yet ready to go.
But there was little doubt on this night that Jefferson was one of the main targets of Pop's ire, along with the 17 turnovers the Spurs committed as a team and what he deemed to be a substandard group effort on the boards.
You could actually rationalize the sloppiness on both sides -- "It was a lot of turnovers for Mavs-Spurs," Nowitzki conceded -- because the teams know each so well and are so good at disrupting each other's offenses. It's harder for the Spurs to accept that a player making just over $14 million who nudged their payroll to nearly $80 million for the season can't find more ways to make an impact. Dallas' Caron Butler was the newcomer to the rivalry you noticed most, with his 22 points and considerable aggression.
The reality, though, is that Jefferson has always done his best work in transition but now plays in a system that favors spot-up shooters and doesn't allow for much creativity unless you're named Parker or Ginobili. The Spurs also won't generate the open looks on the perimeter in this matchup as often as they once did because Tim Duncan doesn't command double-teams against Dallas.
The Spurs are the last team in the NBA tournament field that's going to overreact to 1-0 series deficit, but it's likewise clear that they've got multiple issues to address -- on top of their long-standing problem defending Nowitzki -- to manufacture four wins in the next six games over the surging-in-confidence Mavs.
While Erick Dampier and Brendan Haywood were taking turns making Duncan work for his 27 points, Manu Ginobili (26 points) and Tony Parker (18) continue to get reacquainted after not playing together regularly since early January. That resulted in the strange sight of Parker's spotting up on the weak side for much of Sunday's fourth quarter while Ginobili dominated the ball.
So ...
Two things to watch for from here from the Spurs' perspective:
1. How Jefferson responds to Pop's call-out.
2. How Parker handles his new sixth-man role as he continues his recovery from a broken hand ... and whether he stays in that role.
Parker insisted after the defeat that he expects to keep coming off the bench because Popovich always wants a potential game-changing scorer to send in behind the starters. "I'm Manu Junior now," Parker keeps saying.
But we'll see whether Popovich can resist re-instating Parker to the starting lineup and keep using him as a Ginobili-style wild card. Although he surely doesn't want to start both Parker and Ginobili, Pop might find that easier to stomach than waiting for Jefferson to find a niche.
9.

Bynum Provides A Lift For Lakers
By Dave McMenamin
ESPNLosAngeles.com

Bynum
LOS ANGELES -- If Andrew Bynum and Pau Gasol hugged like they did Sunday at any point in the last month, Bynum would have a pile of ruined dress shirts lying on the floor at the back of his closet, as his strained left Achilles tendon kept him out of uniform and in street clothes since March 19.
The two 7-footers, who play so much bigger than their combined 14 feet when they're on the court together, held their sweaty embrace, celebrating the Lakers' 87-79 victory over the Oklahoma City Thunder that served as a welcome-back party for Bynum. It just so happens that the team's oft-missing championship swagger decided to crash the party, as well.
To read the entire column, click here